Recently on Cyclingnews.com
Robbie McEwen: still keen on the green
Lotto-Domo's sprinter Robbie McEwen has not had the easiest of runs in the 2003 Tour de France, but with Alessandro Ptacchi abandoning, the Queenslander is looking forward to the battle for green with fellow Australian Baden Cooke, he told Gabriella Ekström on the rest day.
Robbie McEwen
Photo: © C. Henry/Cyclingnews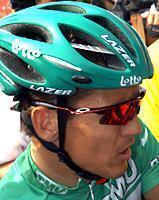 After having worn the green sprinters' jersey during the early sprint stages of the first week of the Tour, Robbie McEwen (Lotto-Domo) looked as if he had a good chance of repeating his win in the sprinters' classification last year, but with Alessandro Petacchi (Fassa Bortolo) collecting stage win after stage win, the gap between he and McEwen was soon down to a few points. In Lyon it came down to a question of a single point, and Robbie knew he had to place ahead of Petacchi in order to keep the green jersey safe.
Although disorganised, the peloton was once again lined up for a bunch sprint, but a crash in the final kilometres cut top sprinters Erik Zabel and McEwen out of the action. "I'm beyond being pissed off now, "McEwen told Cyclingnews after that stage. "I have kept making mistakes during the first part of the race, and I haven't been able to get my sprints right, so I was PO'd with myself even before that crash, and now I'm totally over it. I think there must have been a spill of oil on the road going into that corner, because we hadn't even started cornering when we fell. From the helicopter shots you could see that there was a line of something on the road. Alexander Vinokourov fell on top of me, and I think his handlebars hit me in the face, because I'm all swollen over my mouth and nose. Other from that, I didn't get any injuries, except that some skin came off. I was quick on my wheels after that, and tried hard to get back to the peloton, but I had already lost my train of course. When being that close to the finish, you don't have any cars to follow either, so I was about twenty metres behind them when they finished."
The maillot vert went to Petacchi who won his fourth stage, and young Baden Cooke (FDjeux.com) climbed up to second spot on the green list. After the stage, Fassa Bortolo director sportif Giancarlo Ferretti said his top sprinter's form was anything but good, and not unexpectedly, he climbed off his bike and got into the team car on the first climb during the following stage to Morzine-Avoriaz. Cooke, who stood next in line, took over the jersey at the end of the stage and defended it through the Alps to the first rest day in Narbonne. Only nine points separate he and McEwen and from now on, every intermediate sprint and bunch gallop will be take seriously.
McEwen has a lot of respect for the sprinter from the country town of Benalla, in central Victoria, Australia. "Baden has been riding very well, with one win and lots of high placings, and we are very close to each other now." McEwen said. "He totally missed out on one day, just as I did, so that makes us equal again. I think we have even chances in this competition. Another bunch sprint could probably decide it all, but there are a lot of riders who are still dangerous in the competition for the green jersey, because there has been a lack of organised sprints, and the scores in the competition are lower this year compared to how they looked at this point of the race last year.
Hushovd the danger man
"Whoever wears it into Paris will do so on a low score too. I will just keep looking for points wherever. Another rider who stays up there is Thor Hushovd. He is a dark horse with lots of high placings. He isn't a pure sprinter, but he is strong enough to stay close to the really fast guys, although he will loose out to some of us on pure strength."
With the Alps over, the two sprinters will continue their pursuit of points until they enter the Pyrenées on stage 13. After the first week of the Tour, there are five flat stages that could end in sprints and McEwen said that at best, three out of those five will come down to sprints.
"It has been harder this year to keep the peloton together at the end of the stages, we don't have the Cipollini train that we are used to. Not only are there a lot of sprinters up front, but also a handful of each and everyone's team-mates and the GC riders who don't want to loose a single second. The sprints have been a little bit dangerous this year, but that hasn't stopped anyone so far," McEwen said.
Stage 10 finished on the long and wide avenue in Marseille that was certainly one designed for sprinters, but a nine-man break altered their plans. Instead, McEwen and Cooke had to fight it out for tenth and by the look on their faces afterwards, you could tell that they took the sprint seriously. Gasping for air, Cooke turned to David Millar and Bradley McGee and asked if he got it, and they confirmed that he had indeed won the bunch sprint, but in addition to that, McEwen had won the first intermediate sprint in Tallard ahead of Cooke.
After Marseille, McEwen wants to have a go at the stages to Toulouse and Bordeaux, and the most precious of them all, the final stage along the Champs-Elysées in Paris. Having won that last year, McEwen would love to win it again, and it's not hard to imagine that it will come down to a fight between he and Cooke, the rider who was runner-up on the famous avenue last year.
Other Talking Cycling Interviews
Cyclingnews' live coverage of the 90th Tour de France is powered by