Recently on Cyclingnews.com
90th Tour de France - July 5-27, 2003
An interview with George Hincapie
Ready to roll
For the first time in his career, George Hincapie was sidelined with a mystery illness that western medical journals had no answer for. It took a wise move by US Postal Service directeur sportif Johan Bruyneel, two months of solid rest and a dose from the East to bring him out of his cocoon, but as Anthony Tan discovers, Hincapie's 100 per cent and ready to roll.
George Hincapie
Born: June 29, 1973
Place of birth: Queens, N.Y.
Hometown: Charlotte, N.C.
Resides when in USA: Greenville, S.C.
Resides when in Europe: Gerona, Spain
Height: 6' 3"
Race weight: 185 lbs
Team: United States Postal Service
Turned pro: 1994
Web site: www.hincapie.com

Career highlights (1994-2003)
2003 - US Postal Service
2nd stage 7 and points clasification, Volta a Catalunya
7th GC, Tour of Belgium

2002 - US Postal Service
2nd, Classic Haribo
2nd, Stage 3B, Trois Jours de la Panne
3rd, US Championship
3rd, Gent - Wevelgem
3rd, Trois Jours de la Panne
3rd, Volta Ao Algarve
4th, Ronde Van Vlaanderen
6th, Paris - Roubaix
7th, World Cup
2001 - US Postal Service
1st, Gent - Wevelgem
1st, BMC San Francisco Grand Prix
3rd, First Union USPRO Championships
3rd, Trofeo Luis Puig
3rd, First Union Invitational
3rd, Stage 2, Vuelta Valenciana
4th, Paris - Roubaix
10th, Meisterschaft Von Zürich
2000 - US Postal Service
2nd, US Championship
3rd, First Union Classic
3rd, Stage 8, Paris - Nice
3rd, Stage 3, Vuelta Valenciana
6th, Paris - Roubaix
1999 - US Postal Service
1st, First Union Classic
1st, Points Competition, Tour de Luxembourg
1st, Stage 6, Prutour
2nd, Stage 4, Volta a Catalunya
2nd, Stage 1 & 2A, Prutour
3rd, First Union Invitational
3rd, Stage 1, 2 & 5, Volta a Catalunya
3rd, Stage 5, Tour de Luxembourg
4th, Paris - Roubaix
4th, Gent - Wevelgem
1998 - US Postal Service
1st, US Championship
2nd, First Union Classic
3rd, Christiana Care Cup
3rd, Stage 3, Tour de France
3rd, Stage 1, Ruta del Sol
1997 - US Postal Service
1st, Stage 1, Setmana Catalana
1995 - Motorola
1st, Acht Van Chaam
2nd, Stage 2, West Virginia Kmart Classic
3rd, Thrift Drug Classic
3rd, Corestates Njnb Classic
1994 - Motorola
1st, Young Rider Competition, Tour de Luxembourg
1st, Points Competition, Tour de Luxembourg
1st, Stage 1 & 4, Tour de Luxembourg
1st, Stage 3, West Virginia Classic
2nd, Tour de Luxembourg
2nd, Stage 2, Tour de Luxembourg
3rd, West Virginia Classic
3rd, Stage 3, Vuelta A Murcia
"By doing this, I'm confident we took the right decision to have George at 100 per cent for the second part of the season, for the Tour de France and all the races after the Tour."
These were the wise words of US Postal directeur-sportif Johan Bruyneel to the public on March 16, some three and a half months ago. George Hincapie had been suffering a mystery illness first spotted at the Volta ao Algarve, complaining of breathing difficulties and sinus problems. One week later at the Tour of Murcia, Hincapie decided not to start the final stage - a very atypical occurrence in the American's cycling career. By the end of the month, Hincapie found himself back home - home home, that is - in Greenville, South Carolina.
Not being there was hard to take
Photo: © Sirotti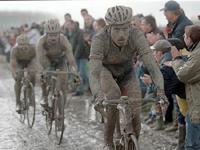 "Y'know, that was a really hard time for me because I was very disappointed about missing the [spring] classics and not feeling healthy, and I actually felt sick a lot of the time," says Hincapie, now back at his European home in Gerona, Spain.
And so began the search for an answer to a then unknown problem. Traveling far and wide across the country, Hincapie was eventually diagnosed as having a respiratory infection compounded by a co-existing parasitic infection. Sounds simple enough, but how did it happen?
"It was kind of a mix of a bunch of things that threw me over the edge," he says, still a little perplexed as to the cause. "Obviously the training and racing did not help at all and probably impeded the recovery process, but sometimes you get these type of viruses that don't have a name and aren't in the medical books, so the only thing the doctors can tell you to do is take a long rest."
However, the words 'long rest' to a professional athlete spells danger. Maybe not so much in Hincapie's case where his past performances in the classics and the previous Tours de France speak for themselves, but for your average pro, extended time away from the bike could mean an end to your career.
"I felt that if I reached the level I was at before, I deserved that spot. "
Even for one as mentally strong as Hincapie and reassurances from his friends and family saying otherwise, thoughts that his career may come to an abrupt halt did cross his mind: "What people were telling me throughout - which is hard to see when you're in this illness - is that you're still the same person; you're not going to lose the last ten years of being a professional cyclist," he says.
In his desperate search for a cure, Hincapie saw or was treated by a macrobiotic chef, a haematologist, a pathologist and a cardiologist. In the end, however, the majority of his treatment was a combination of non-traditional, eastern medicinal techniques and natural remedies from the Orient that brought him out of his cocoon. Hincapie also tells me (and with some conviction) that he would recommend such an approach to any of his friends or team-mates suffering from a similar illness.
"There's been conventional medical studies which have shown that with sinus problems, 20 per cent of the time they're bacteria-based, but 80 per cent they're fungal or viral which you can't treat with antibiotics - in fact, antibiotics will make it worse," says Hincapie in an authoritative tone. "Here in Europe or a lot of other places, you get sick and you take antibiotics, and I found out through this experience that it's not the route to take."
Had his hands full this season
Photo: © Sirotti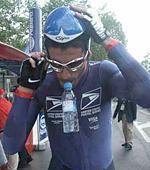 Two months after the announcement that his classics season was over, Hincapie began training again, and within the space of a month, he was back in Spain. In his first race back on European soil, the Tour of Belgium, Hincapie finished in seventh place overall behind eventual winner Michael Rogers. While the race was certainly not out of Hincapie's league, his performance after just a few weeks back on the bike was nothing short of incredible.
"You know what, it wasn't anything crazy," he says. "I think it was just from doing some longer rides and some lighter intervals, but most of all, I think my body responded to feeling so healthy again and overcompensated for feeling so unhealthy and sick for so long."
Hincapie was happy, but his spot on the team for the Tour was not yet assured. "There were no guarantees, but I had confidence in myself; I felt that if I reached the level I was at before, I deserved that spot," he says.
That level he is referring to is 100 per cent fitness and 100 per cent motivation, which is exactly how he describes his form right now. Hincapie earned the equivalent of a university level high distinction with his performance at the hors catégorie classified Volta a Catalunya, riding strongly all week in a class field of riders and finishing 24th on general classification.
Directeur-sportif Dirk Demol was delighted: "After a full week of racing, George rode strong again today and nearly won. He is really back and in great shape," said Demol after the final stage into Barcelona, where Hincapie was pipped at the line by Angel Vicioso from ONCE-Eroski.
White and Hincapie: Postal workhorses
Photo: © Elmar Krings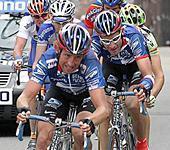 Other stuff

So what did you do when you were back home and couldn't ride your bike? "That was a really difficult period for me, not being able to ride the classics or the bike, but fortunately I have some really great friends all over the States and my parents, my brother and my sister were very supportive of me all the time; they helped me tremendously and I'm very thankful for that."
Favourite music? "Depends on what time of day we're talking about; if I'm getting ready for a race, I like listening to hip-hop, techno or rock and roll, but if I'm trying to wind down, I tend to listen to more chill-out music."
Favourite TV shows or movies? "We all have DVD players here, so nowadays we can get whatever we want, but I enjoy hanging out with friends though too."
Car? I've got a BMW M5 back home; I enjoy that a lot!
Your podium choice for the Tour? "Geez, good question... I would say Lance, Ullrich and then between [Joseba] Beloki and [Tyler] Hamilton. I think Ullrich's being ridin' great, and you know what, he's been quiet too - he's not a big talker or anything, but he's been slowly progressing; for me, that's the most impressive part."
The absence of Hincapie would have been a significant blow to US Postal. In the past Tours de France, he has acted as Lance's faithful lieutenant throughout the race, filling the void left by Frankie Andreu, and has been something of a 'MacGyver' when it comes to varied and often difficult situations.
"I think they selected me because they know they can use me in lots of different situations," says Hincapie about his selection (he was one of the first to know). "Even though we have riders for the mountains and riders for the flat stages, you have to be able to do everything. You have to be able to improvise."
The French women would also have missed him. When asked about his reputation as a bit of a ladies' man, I can feel someone on the other end of the line blushing a little. But does George Hincapie subconsciously try to emulate that other famous George who also has a certain je ne sais quoi that make women go wild?
"George Clooney? I don't think so! Definitely not consciously, anyways!" he laughs. Damn. The Casanovas of this world never give anything away.
Back to the bike. While the focus for the next four weeks will be the Tour de France, Hincapie wants to ride all the classics after the Tour, including San Sabastian, Paris-Tours and the Tour of Lombardy. "And I also want to ride the Tour of Spain and the World Championships," adds Hincapie with the zest of a first-year pro.
Ready to do it all over again
Photo: © AFP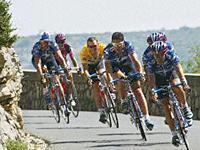 "I've had a look at it on paper, and I know there's some hard hills in it, so I think it can suit me. Michael Barry is doing the national championships in that area this weekend, so I'll be able to get the full report from him. But either way, I'm planning on doin' it and being 100 per cent ready for it," he says.
As mellow as Georgie Hincapie may be, there's a certain spring in his voice that's hard not to detect. Clearly, Johan Bruyneel's forethought to exclude Hincapie from the classics should bode well for US Postal and George Hincapie himself for Le Tour and beyond.
Says Bruyneel, "This will be very different for George, as no classics will give him his first peak at the Tour de France, then the after-Tour classics and the World Championships. This is something new for him, this is a big change."
Other Talking Cycling Interviews
Cyclingnews' live coverage of the 90th Tour de France is powered by