90th Tour de France - July 5-27, 2003
Juan Antonio Flecha - "Mine and nobody else's!"
What better place to break a two-year win drought than at the Tour? Despite the imminent demise of his team, iBanesto.com Tour rookie Juan Antonio Flecha is optimistic about his future, and naturally delighted with a stage win "from the heart" as he tells Gabriella Ekström.
Follow the arrow
Photo: © Olympia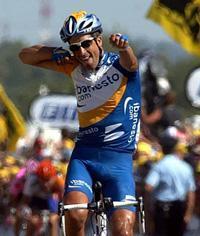 With the patron teams of the Tour tired and reluctant to chase, a nine man break could finally ride clear in the strong head winds on the road to Toulouse. Among the riders sat Stuart O'Grady, short of a stage win so far, and hungry to win at his home away from home, Toulouse. But iBanesto.com rider Juan Antonio Flecha, who became known for his aggressive riding style when he started his career with the Fuenlabrada team, had no desire to come into the airport runway in Toulouse together with the Australian champion.
"I knew the last part of the stage very well, because my girlfriend Lourdes lives in Toulouse, and I often visit her here. I had a strong desire to win today, and knew that I had to continue to attack if I wanted to win. My victory today comes from the heart, because for every meter I rode in the break, I got closer to her."
Approaching the line, Flecha sat up and looked behind, and when he saw that he wouldn't be caught he reached behind his back and picked up an arrow. With a smile of satisfaction he aimed and shot. "My name Flecha means arrow, and I picked up that gesture after my friend made a pun about my name," he said. "I used it for the first time when I won the Vuelta Aragón, and after that I haven't had an opportunity to do it again. I really enjoyed doing it today, and I think and hope that my friend saw it on TV."
Juan Antonio gets interrupted, and an older lady hands him a little basket of flowers which have not lasted the day, and a can of honey. "It will make you strong and keep you on your bike!" she says, and Flecha, who is the happiest of winners, thanks her enthusiastically.
Flecha hasn't had a win since 2001, and he admits that the win today was timely, although it will not change what is already written in his palmares. "I felt very confident today, and I knew I would finally succeed if I just kept on attacking. Now my name will forever be written in the history books, because I won a stage at the centenary Tour."
It is already known that iBanesto.com will no longer sponsor a cycling team after the year is over. Irony however is a cruel thing, and this year iBanesto.com is having one of its best Tours of the post-Indurain era. The team's young Russian rider Denis Menchov holds the white young rider's jersey; Flecha was awarded the most combative rider for the stage; iBanesto.com took top spot in the teams competition today, and in addition to Flecha's stage win the team has two riders in the top ten on the general classification.
"I am not too concerned about the sponsorship though," says Flecha. "My job is to ride, and someone else's job is to find a sponsor. I don't think any of the riders in the team feels very bothered by that, we just focus on the race, because that is the most important thing for us right now. If our performances can help to find a new sponsor, then that is good of course."
Before Flecha, it has been 38 years since a Catalan rider last won a Tour stage, and he hopes that younger riders will be able to benefit from his achievements today. "I hope the press will see this, and pay more attention to cycling in Catalunya. There's a fine new generation of cyclists coming, and I doubt we will have to wait another 38 years before we see a new Catalan rider win at the French national tour."
Before this day came and forever changed his career, Flecha had made himself known as a very atypical Spanish rider. "I am peculiar, but I just love the spring classics. My dream is to win a race like the Ronde van Vlaanderen or Paris-Roubaix. There is something abut those races that draws my attention. I love the cobbles, the way they are ridden and how they are organised. I have been very lucky, and my team has always given me the freedom to ride all the World Cup races I'd like to. I can just hope that one day I'll be able to repeat what I did today in one of those races."
He finished by saying, "I wouldn't exchange my win here today for a win in one of those races though, because no wins are alike. My win here is special, and it belongs to me and nobody else!"
Other Talking Cycling Interviews
Cyclingnews' live coverage of the 90th Tour de France is powered by