90th Tour de France - July 5-27, 2003
Cadel Evans: Wish I was here
A broken collar bone, his second this season, sidelined Telekom's Australian Tour hopeful Cadel Evans. But while training for his return to racing this week, Evans has been avidly watching the Tour and wishing he was there to help team-mate Alexandre Vinokourov, as he tells Gabriella Ekström.
Cadel Evans sweeps through a corner in the Tour Down Under
Photo: © Tom Balks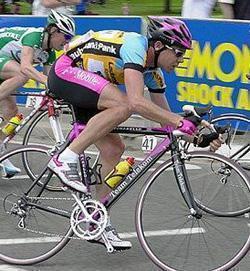 Cadel Evans was meant to be an important part of Telekom's Tour de France squad, but a crash in the German one-day race Rund um die Hainleite on May 31 resulted in a broken collarbone and two weeks off the bike.
"When I started to train seriously again on June 12 I realised how much condition I had actually lost," Cadel told Cyclingnews on the second rest day of the Tour. "It's not only the broken collarbone in itself, but the surgery and the anaesthetics really leave you in a bad shape. A normal person would be told not to do anything strenuously for six weeks or so, but as a cyclist you have to get back to work."
Cadel gets back to racing in the Sachsen Tour, that starts today, and his new aim is the Vuelta in September.
"I'll do the Sachsen Tour as my first race. I haven't done it before, but it's pretty much the only stage race that runs during the Tour. I'm actually worried about how bad I might go, because of my lack of racing. I'm looking ahead to the Vuelta, but I still need to see how my training goes. Will I be at a 100 percent then?"
Not able to take part in the Centenary Tour, Cadel spent most of July training to get back in shape, and of course, in front of the TV.
"I have been watching it on TV every day, and it's the best Tour I've seen for years. Look at all the attacks, the new riders emerging, the awesome time trial by Ullrich and Lance's spectacular crash. I also find it interesting to see Haimar Zubeldia and Iban Mayo trying for good GC placings."
With Jan Ullrich and Lance battling it out as expected, Cadel has also followed the amazing progress of his teammate Alexander Vinokourov, who is currently in third place.
"He has been incredible! He has already done a big spring season, and now he is doing the Tour of his life. I have been watching him closely on TV and I've been talking to my team and we are all very excited about his racing. He did the time trial of his life to Cap Decouverte, where he only lost 30 seconds to Armstrong. He is doing more than anyone could ever expect, and if he manages to lose less than a minute to Lance on the time trial on Saturday, then that is a great ride."
However, when you know you were supposed to be there, it's not only a pleasant feeling to watch the Tour on TV, and that became very clear to Cadel while watching the stage to l'Alpe d'Huez.
"Oh, I wish I could have been there to help him. I wished that more than anything when I saw Alexander on that climb. He is not even a climber, and still he took a minute out on Armstrong that day. That is something, and I'm not sure if it has ever been done before? With my help, he could have done more."
Another rider who has progressed during the race is Cadel's fellow Australian Baden Cooke, who holds on to a small but important lead in the sprinters' competition.
"Good on him. I hope he holds on to it," Cadel says. "He is a good guy and he has worked hard for it. It's good to see all the Aussies up there at the start every day."
With the Tour in its last week, Lance looks to have his fifth yellow jersey in a pretty secure grip, and Cadel agrees with the common opinion.
"Lance was off to a bad start, but now he is back to his old self again it seems. I don't think he'll lose out to Ullrich in the final time trial. It's the Tour de France, and in the end, the best rider always win."
Other Talking Cycling Interviews
Cyclingnews' live coverage of the 90th Tour de France is powered by