90th Tour de France - July 5-27, 2003
The Brad and Baden show
FDJeux.com's Australian double team
By Gabriella Ekström in Sedan
Victory!
Photo: © J.Devich/CN

Baden Cooke's amazing win in the second stage means that the yellow jersey could possibly make a change of shoulders tomorrow. After an off day in Meaux yesterday, Baden has closed to within four seconds of teammate and mentor Brad McGee's yellow jersey. McGee, who rode strongly in the stage, showed his full hearted support for young Baden both during the stage and afterwards.
"There's a clear possibility that he could take the jersey tomorrow, and if I have to give it to anyone I will be happy to give it to him," McGee told Cyclingnews after the stage. "Both because he is my friend, and most important when it comes to racing, because he is on my team. I'm so very happy about Baden getting this win, because this is something we have talked about all since his second placing on the Champs Elysées last year."
Until around ten kilometres to go, it was unclear weather the yellow jersey would stay with McGee. Early breakaway Frederic Finot had dropped Lilian Jégou and was riding strongly. With 25 kilometres to go he still had almost five minutes to the peloton where the yellow jersey sat.
"At that point I really thought my jersey was in danger," said Brad after the stage. "I was afraid but I remembered that the finish was quite hilly and that there was a climb with six kilometres to go. I thought that would be to my advantage. My legs were really hurting at that point, but I figured Finot's legs must have been worse."
Finot, who had been flying up to that point, started to lose ground quickly, and when the peloton almost broke up at the final climb, Brad was well placed and aggressive. Quotes like "The little one brought back almost half a minute on that climb," were heard in the press tent when newly crowned Italian champion Paolo Bettini went to the front and put the hammer down.
Congrats mate
Photo: © Sirotti

When the peloton regrouped with three kilometres to go, it was all set for another one of those bunch sprints. "At first, Baden was not at my wheel," Brad commented. "But today's finish allowed a wide variety of tactics to be played. Delatour took the first pull for Jean-Patrick, and there's where I attacked to break up the rhythm. I then got J-P on my wheel, and slowed down with 600 metres to go and then everyone kind of had to start over with their sprints again."
Baden didn't stay on Brad's wheel all the way either, but lost it with some five hundred metres to go and had to search for a new position. "I lost Brad's wheel before the finish, but was able to stay cool and find another wheel to follow. From time to time I find myself losing races because I have started the sprints too early, and then running out of power just to get caught from behind, but this time I had perfect timing, mainly because I was forced to go late by Kirsipuu who was moving closer to the barriers. I also changed from yesterday's 53 teeth chain wheel to a 54 before the stage, and that made a difference too."
Behind the podium after the stage, Baden was clearly moved by his achievement, but confessed that it had yet to sink in. "I still can't believe I have won a stage in the Tour. Yesterday I didn't feel good before the stage and we decided I would help Casper out, but at the end of the race, because of the crash, he wasn't there so I just went for it instead. Today my tactic was to sit back in the race and not go for the early sprint bonuses. By doing that I could see how much energy the other sprinters were wasting when chasing after those points, and I figured I'd just put all my energy into the final sprint instead, because there's where the most points are awarded."
"It is a fantastic feeling to have the yellow jersey doing the leadout. Who could have imagined that? Brad normally leads me out all the time, but it is different when he is the Maillot Jaune. That just sums up Brad though. That's the kind of leader and guy he is. He doesn't expect all the other guys to do all the job for him without returning the favours. Actually, by winning the sprint, I permitted him to keep the jersey, but I think he would still have helped me win even if it meant him losing the jersey to me."
Both Brad and Baden agree that the atmosphere in the FDJeux is really incredible, and Brad stated that it started back in the Giro and then grew stronger during Tour de Suisse and that they all are now ecstatic. "It is really important to have a good team in moments like this when you are tired and stressed. In our team we are always able to feel joy for whomever it is that takes the stage win."
Poor Jimmy
Photo: © J.Devich/CN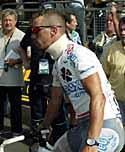 Baden's thoughts went to Casper who was one of many casualties in yesterday's big crash. "I'm sorry for Jimmy who hurt his neck in the crash yesterday, but with the team riding as well as it is right now, he just put on a brave face to get to the start today, and rode at the back of the peloton all day. However, he was able to finish with us. I just hope he'll get better and better as the days go by."
Ever since the crash in Dauphine Libéré, Baden has had to put up with a lot of comments about his riding style in the sprint, and after yesterday's sprint he was actually accused of causing the crash. "Ah, yes. Ever since the Dauphine some people have been really fast to throw their hands in the air as soon as there's a crash in a race I'm participating in, and say that I caused it. Yesterday I was actually far from the crash, and I have that on video," he smiles. "Some journalist probably saw Casper go down and instantly though it was me at the bottom of that pile. It annoys me a bit. I mean, I wont give up my place in a sprint easily, but that goes for Zabel and McEwen and all the other sprinters too. I come from the Australian track scene, which is a tough school, and that has taught me to rub shoulders. I do admit that maybe I have some learning to do, but I'm only 24, and I progress all the time."
Other Talking Cycling Interviews
Cyclingnews' live coverage of the 90th Tour de France is powered by