90th Tour de France - July 5-27, 2003
The five-times club, part four: Miguel Indurain
An event with a hundred years of history naturally attracts statistics-hounds who love to catalogue Tour numbers such as the youngest rider ever to win the Tour (Henri Cornet in 1904, just days before his twentieth birthday), the oldest (Firmin Lambot in 1922, at age 36), the average stage distance in 1930 (229.43km) and so on. But one Tour qualification most powerfully captures everyone's imagination: the elite club of riders who have won five Tours de France.
Every cycling fan can recite their names: Jacques Anquetil, Eddy Merckx, Bernard Hinault and Miguel Indurain. More serious trainspotters can recite the years of the victories, their winning margins, the decisive moments in each win and the riders they left in their wake wishing they'd been born outside the reign of one of the Tour's supermen.
In the fourth of our series on the five-Tour winners, we look at the only rider with five consecutive wins, Miguel Indurain.
Five in a row
By Anthony Tan
Like the other five-time winners, Indurain dominated the time trials
Photo: © AFP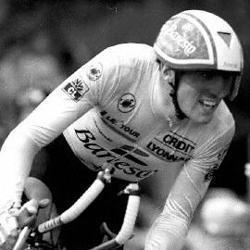 The most recent member of the five-times club, Miguel Indurain Larraya, holds the record for not only winning five Tours de France, but five in succession - a feat as yet unmatched in the history of the sport.
While Indurain's prowess on two wheels spoke for itself, the Navarran didn't attract the same kind of adulation as Merckx, Hinault or even Anquetil during his reign on the Tour. This was perhaps because he rarely showed any signs of suffering; his dominance in the time trials made winning the remainder of the race a formality; and his calm persona off the bike led Indurain to be thought of as boring when compared to the outspoken Hinault or the energetic Eddy Merckx.
Not only that, but the Spaniard rarely contested any other race with as much determination after his first TdF win in 1991, adopting a similar strategy to that of Jacques Anquetil or more recently, Lance Armstrong.
No slouch in the mountains either
Photo: © AFP

"I didn't feel I had to prove anything more," said a much more relaxed Indurain in a recent interview with Belgian newspaper Het Nieuwsblad. "I didn't feel the need to show my joy or my sadness to the rest of the world. That's just how I was. If I had been born with an aggressive character, then maybe my palmares would have been longer. My strength was that I am more balanced and calmer than most other riders. I inherited that calm from my father, who was a farmer. You sow, you wait for good or bad weather, you harvest, but working is something you always need to do. The sense for responsibility I have got from my mother."
To give Indurain his due, many forget that during his five year stranglehold on the Tour de France, he also won a few other significant events including two Giros d'Italia (1992 and 1993), the Spanish National Championship (1992), the Dauphiné Libéré and World Time Trial Championship (1995), and broke the world hour record in 1994. Using a massive 59x14 gear ratio, Big Mig clocked 53.040 kilometres around the Bordeaux velodrome, breaking Graeme Obree's mark set five months earlier at the same venue.
Finesse
Photo: © AFP

Between 1991 and 1995 Indurain's only stage wins were time trials, and while the ability to go hard against the clock is vital for a Tour winner it's rarely the stuff of legend. Indurain's most memorable moments were on stages he didn't win; two occasions where the Spaniard displayed what the Italians call "grinta" - real guts and determination. The first was 1994 Tour stage finishing at Hautacam; conditions were so atrocious that fans and officials only knew who the winner was in the final 20 metres when Indurain and Luc Leblanc emerged from the dense mist that had enveloped the entire mountain. The following year, on the seventh stage to Liège, Big Mig boldly attacked the peloton with around 20 kilometres remaining and time-trialed into Liege with current USPS directeur sportif Johan Bruyneel glued to his wheel. Bruyneel rolled the Spaniard at the line for stage honours, taking the maillot jaune in the process and afterwards likened his trip on the Indurain Express to sitting behind a motorbike!
A more relaxed moment
Photo: © AFP

Asked whether he thinks of himself as one of four cycling legends, Indurain is humble in reply: "The only thing you can compare is the figure five. According to me, Merckx remains the greatest cyclist of all. He dared to strain his body to the extremes. When I was racing I thought: 'They are legends, I'm just Indurain.' I will never think I'm like Merckx or Hinault."
With a resting heart rate of 29 (a few beats lower and he'd be clinically dead) and lungs that could suck in eight litres of air, Miguel Indurain's finesse in the time trial was and still is unmatched: his tall, lean frame, shoulders unwavering despite his deeply tanned legs turning over a huge gear at 95 to 100 revolutions per minute, his teardrop shaped helmet with dark tinted lenses concealing any emotion, and the pearl-white, low profile Pinarello time trial machine, slicing through the air at 55 kilometres per hour. This is how Indurain won his five Tours - minimising his losses by riding defensively in the mountains, and maximising his advantage in the chrono.
Roles reversed
Photo: © AFP

In 1996, Indurain appeared set for a sixth consecutive victory, but faltered in the Alps and Pyrénées against the might of the powerful Telekom duo of Bjarne Riis and Jan Ullrich, eventually finishing 11th. A subsequent fall-out with his manager José-Miguel Echavarri and Unzue Eusebio led to an announcement five months later that he was leaving the sport.
Today, Indurain still lives in Pamplona with his wife Marisa and their two children Miguel and Jon. Big Mig continues to ride his bike regularly, and has attended the Tour de France as a guest every year since his retirement. Although it's family first for Miguel, Indurain is a member of the Spanish Olympic committee, dabbles in real estate and writes a column for the Spanish sports daily Marca.
"I am a happy man," he says, "because I can determine my own rhythm of life. No money in the world could persuade me to tie myself to something. I have earned enough to take it a bit easier now. To be free and to live a free life - that is the most beautiful thing there is."
Indurain's victories
Year  Team          Time          Distance    Average       Winning
                                              Speed         Margin
 
1991  Banesto       101.01.20     3,915km     38.75km/h      3.36
1992  Banesto       100.49.30     3,983km     39.50km/h      4.35
1993  Banesto        95.57.09     3,720km     38.77km/h      4.59
1994  Banesto       103.38.38     3,972km     38.32km/h      5.39
1995  Banesto        92.44.59     3,535km     38.11km/h      4.35

Cyclingnews' live coverage of the 90th Tour de France is powered by