90th Tour de France - July 5-27, 2003
On the road with FDJ: Full of Desire for July
What's the plan boys?
Photo: © Rodney McGee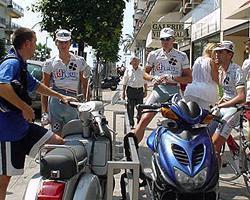 How does the Aussie contingent of FDJeux.com ready themselves for the world's biggest cycling event? Elder brother of Bradley and a former world champion on the track himself, Rodney McGee, goes to their 'home away from home' in Nice to find out.
We (yes, after much discussion I convinced the wife for the first time in seven years to leave the kids at nan and pop's for more than one night) disembarked the plane at Nice airport to meet up with Brad's wife Sharni. I was eagerly awaiting to view this place that we had heard so much about and seen so many pictures of from all the previous visitors that have passed through. They have set up their 'home away from home' here in Nice on the beautiful Cote d'Azur (translation: the blue coast).
The anticipation soon changed as we were leaving the airport to collect the car and security would not allow us to pass, as they were in the process of blowing up a bag that had been left unattended. First mental note of trip: leave back pack on back.
First to Italy
After a few days of acclimatising to the very hot and sweaty conditions which is normal here at this time of the year, it was off to tackle the eye-opening and sometimes heart pounding experience of driving the autostrada system through Europe, with the AIS [Australian Institute of Sport] base in Italy our destination.
Nice: home away from home
Photo: © Rodney McGee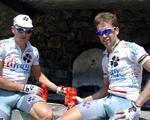 First port of call was the under 21 program, which for the first time this year is being run as a separate squad to the under 23 squad. A small town called San Baronto in Tuscany region is their base for the two months they are here in Europe. Driving to this hill-top town brought back many memories, as this is a town that we stayed between tours during my time in the national track team. The hill in which the town is situated has a constant flow of bike riders, all challenging their own levels of fitness. From the elderly gentlemen who has trouble getting their knees around their well fed bellies to the seasoned pro's like Brett Lancaster who, by the bucket of sweat that was at his feet after stopping for a quick chin wag with myself, was obviously not going out for a Sunday stroll.
It was then on to Reggio dell'Emilia to catch up with Shayne Bannan and the rest of the Aussie crew at the AIS under 23 and women's road squad base. The squad rents three houses, all with in five kilometres of each other, with the house that accommodates the staff being an old farm house which also doubles as the storage, mechanical, gym, meeting place and soon to be finished education headquarters.
I was really impressed to see the set up they have in place here; it is not just the hard racing that they get in this program that will hopefully help these athletes turn into better riders, it is the added life skills that they learn by having to run a house - from cleaning it to buying and cooking there own meals. Note that all the riders are given a small allowance and they must budget their own food supplies around this.
It was only a quick visit but well worth it, as I now know what the riders that are coming through the State institutes are heading for if they gain selection into the AIS.
Then back to Nice
Seeing what they're made of
Photo: © Rodney McGee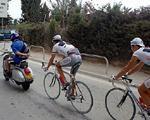 So it is now back to Nice and to finally catch up with the little bro who has been putting his body through a battering of racing, having just finished a straight 18 days of racing in two hors categorie tours. His win in the Suisse time trial was a real show of form, considering it was ridden on the 17th of those 18 days of racing.
Along with Brad in Nice, there are two the other Aussies in the FDJeux.com team: Matt Wilson and Baden Cooke. As a matter of fact, they are right next door in the block of apartments where they come to rest and recuperate before tackling their next race.
In this case, that next race is of course THE BIG ONE: the Tour de France.
After just one day off the bike, it was organised that we would all head out for a nice three hour recovery ride (damn, no scooter required for this ride, but can't wait to get these guys behind a motorbike to see what they are made of).
Nice: home away from home
Photo: © Rodney McGee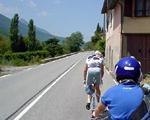 I soon learnt that scooter would not be required to see what these guys are made of. Maybe I approached this ride with the wrong frame of mind, but I was quietly thinking that these guys, having all just come out off a very hard tour (the Tour de Suisse), would roll along the flats in the 39 x 17 at maybe 28km/h enjoying the coastal views.
This was true for the first 15 minutes, but then the big chain ring soon come into play and the speed was soon up into the high 30s. What amazed me, however, was that there was no change in the conversation or even the way the guys were sitting on their bikes; they just kept riding as if we were still in the little ring, dawdling along at 28 km/h. We then veered off the flat roads and climbed up through the foothills of one of the many valleys that surround Nice - still the pace did not drop to what you would class as a recovery ride. As I was riding along with these guys, I was thinking about how big a step it still is from racing and training in Australia to being a rider in the European pro peloton.
Let's see what these boys are made of
The day finally arrived for me to throw my leg over a 'real' bike, and instead of pushing down on the pedals fighting the onset of lactic acid, all I would have to do is twist my wrist, with maybe the occasional discomfort of pins and needles while trying to keep an even speed on Matty's [Matt Wilson] Vespa scooter.
I was not without a small feeling of apprehension as we headed out of the busy streets of Nice, destined for some quieter wider roads more suited to motor pacing. Here I was with three riders about to embark in the world's biggest annual sporting event, sitting millimetres behind the rear wheel of the scooter I am riding - one slip of the accelerator hand and the three guys behind me could be looking more like a stack of pancakes, and with all three already with fresh battle wounds, I don't think I would be invited back to assist in any training rides in the near or distant future.
Someone's enjoying himself
Photo: © Rodney McGee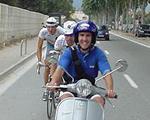 The attitude that these guys approach there training is nothing but totally positive, negative thoughts are soon turned around and either forgotten or a solution mapped out to turn it into a positive. The efforts were pretty straightforward for this session: a few 15 minute build ups to simulate a stage finish with Cookie sitting on the scooter for the last five minutes and doing a full-on sprint at the end. As with most training efforts, the last one was by far the fastest and at last glance we were doing just over 70 km/h at the end of a 15 minute effort. I was very impressed.
The next few days will involve similar efforts, but with some time trial events on his time trial bike for Brad. All in all, although only a short trip, I have learnt a lot more than I anticipated.
A final dip
One thing that I did not think I would learn while over here is that it is also a good idea to wear a helmet while swimming at the beach. I learnt this the hard way, as the beaches do not have sand but instead pebbles; I was swimming around minding my own business when all of a sudden, a "donk" of sharp pain on the side of my scone [head] was followed by a flow of that red stuff that no-one likes to see.
On looking around the busy beach, I could see two young locals amusing themselves by skimming rocks. What could I say? Nothing that they would understand anyway; they were only doing what I, and I'm sure kids all the around world would do with an endless supply of good skimming rocks and water at hand.
With the first week of the Tour still to witness, I am sure my memory tank will be filled up by the time we sit in our seats bound for Sydney.
Photos
Images by Rodney McGee
Cyclingnews' live coverage of the 90th Tour de France is powered by