90th Tour de France - July 5-27, 2003
Cyclingnews at the le Tour
Ready to roll
Photo: © Chris Henry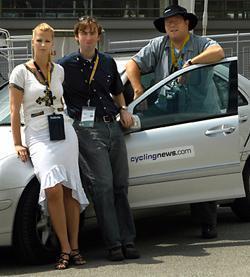 It takes more than a mobile phone to cover le Tour, although having three of them at once certainly helps. Cyclingnews publisher Gerard Knapp introduces the crew and provides an overview of the site's coverage of the TdF.
This year's centenary Tour de France commenced in dramatic fashion, with a prologue won by 0.08 of a second and a final-corner pile-up on stage 1 which spelled the end of the Tour for GC favourites, Tyler Hamilton (Team CSC) and Levi Leipheimer (Rabobank).
At these and other major incidents at the Tour, Cyclingnews.com was there, providing comprehensive coverage of this year's edition with a team of journalists and photographers following the race each day, as well as columns and race diaries by some of the major protagonists.
A maillot jaune diary
Among the group of riders and expert commentators, Cyclingnews is delighted to present the current maillot jaune, Bradley McGee (Fdjeux.com), as one of our rider diarists, as well as Floyd Landis (USPS), Paolo Bettini (Quick Step - Davitamon). We're also working with Fred Rodriguez (Vini Caldirola) and Danilo di Luca (Saeco) who will soon be sharing their thoughts on Cyclingnews.
A special column by ONCE's Igor Gonzalez de Galdeano - currently convalescing at home with a broken collarbone - provides insights into the Tour which only a racer can see: the tell-tale signs riders look for when analysing their competition. We also have Dr Michele Ferrari writing in with his comments on the demands being placed on the riders as they negotiate each stage of this year's parcours.
She's bad, she's back
Podium girls undergoing treatment
Photo: © Chris Henry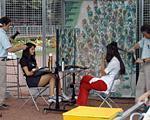 The Tour has become more than a race - it's a cultural event - and as such it has its fair share of the absurd. Once again this year we have your PGGB (Podium Girl Gone Bad) to provide a special insight behind the publicity caravan and podiums.
Meet the crew
So who is out there bringing back the reports? On the road for Cyclingnews is : Tim Maloney (European Editor), Jeff Jones (Chief Online Editor), Chris Henry (Online Editor/Photographer), and Gabriella Ekstrom (Reporter). While all our reporting staff use digital cameras, we also have two professional photographers, Jeffrey Tse and Jonathon Devich, supplying images exclusively to Cyclingnews. In addition, there are our regular photo suppliers - the world-leading Agence France Presse (AFP) and Fotoreporter Sirotti from Italy.
Live coverage
Each day Cyclingnews is providing complete live commentary of each stage and special mention goes to our telco partner T-Mobile, which has provided us with the latest mobile technology to ensure you get the latest updates and news from the parcours.
Support crew
Special mention also goes to the production crew of John Stevenson, Paul Mirtschin, Anthony Tan, Melanie Leveau, Karen Forman, Theo Muller, Roger Hughes and Lucy Power, as well as valuable contributions from Cycling Australia's Gennie Sheer (and well as her mum's baking skills. The Cyclingnews team in Sydney team is powered by the best home-baked cakes in the city!).
In preparation for the TdF, Cyclingnews and its technical partner, Economic Outlook, have upgraded the infrastructure to ensure that you will not have to wait any longer than necessary to receive the latest updates, news and pictures. The unsung heroes of Cyclingnews are undoubtedly Adrian Butterworth and his team at EO, who are responsible for this infrastructure.
Take a Tour, play the game
If you want to take a stage-by-stage look over the route of the 2003 Tour de France then visit the Cyclingnews.com TdF section where Tim Maloney describes each stage with a detailed course profile on every single stage of this year's centenary edition. Just start with the prologue and then click on each "Next Stage" link to stay on the parcours until you reach Paris. If you're also in the planning stages of putting together your own dream team for our Fantasy Game, or just enjoying a wager with friends or bookies, then the TdF teams form guide is a must. Parts 1, 2 and 3 of our teams' Form Guide is now posted.
Why is it the 90th TdF when it's the centenary?
Finally - and while we're always appreciative of readers' comments and try to attend to all questions - we should (once again) explain that it is the centenary edition of the Tour de France, because the race started in 1903. However, this does not mean it's the 100th edition of the race; rather, it's the 90th edition because the race was not held due to the somewhat catastrophic interruptions caused by WW1 and WW2. All things going to plan, by the year 2013, we will certainly call it the 100th Tour. Please see our Tour FAQ page for answers to other vexing questions.
Cyclingnews' live coverage of the 90th Tour de France is powered by