Vic Roads Herald Sun Tour 2003 - 2.3
Australia, October 16-26, 2003
Main Page Results Previous Stage Next Stage
Stage 3 - October 18: Geelong, 77 kms
Win for Macca as Fanelli takes overall lead
By Rod Morris in Geelong
Dave McKenzie claims his 11th
Photo: © Shane Goss/CN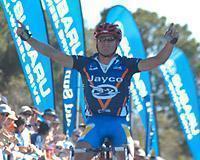 Three stages into the 2003 VicRoads Herald Sun Tour and already three different riders have worn the prized yellow tour leader's jersey. After American Michael Sayers (Ballarat*eureka!) had claimed the early lead on the opening day and then talented Australian Jamie Drew (Jayco) took over on Friday, Europe decided it wanted some of the action.
It was delivered by Italian Ivan Fanelli (Europcar - Pelaco), who, on his first ever visit to Australia now finds himself leading the race. Fanelli did not win yesterday's stage - that honour went to Victorian David McKenzie (Jayco) - but he now leads Drew by 10 seconds with 10 stages still remaining.
McKenzie etched his name into the Herald Sun Tour record books with an 11th win, after outgunning fellow Victorian Matthew Goold Malaysia Airlines) and Queensland rider Tony Mann (Caravello) in a hectic sprint. In recent years no rider has won more stages of the Herald Sun Tour than McKenzie. The stage history of the event is incomplete but it is believed Barry Waddell won an amazing 48 stages, Belgian Jan Bogaert 25 and Tasmanian Frank Atkins 20. McKenzie is now seriously challenging as one of the all time greats.
"I would love to have my Herald Sun Tour record in some of the major races in Europe, particularly the Tour de France," McKenzie said. "I am quite proud of my record in this tour and in today's race, everything went to plan.
"We had Jamie Drew (previous day's tour leader) in the main bunch and me out front, so the team worked extremely well together," he added.McKenzie said he felt fresh and enthusiastic for the day's ahead. He is currently in fourth place in General Classification and has not ruled out a serious challenge for overall honours.
"People think this is not a hard race because it's not in Europe. Well they need to think again, it's a tough event and one that is respected the world over," McKenzie said.
Picturesque surroundings
Photo: © Shane Goss/CN

The third stage of the HST was positioned in picturesque surroundings on Geelong's Eastern Beach, but the for the 85 starters there was little time to enjoy the scenery. Attack after attack was the norm before a solid group of eight riders made a substantial break at around the halfway mark.
The breakaway group maintained the pressure - so much pressure that some of the octet couldn't hang on. As the race neared its closing stages, McKenzie, Goold, Mann and Finland's Kjell Carlstrom (Europcar -Pelaco) were riding as a solid quartet. But disaster struck for Carlstrom on the third last lap when he punctured his front tyre.
Carlstrom's luck
Photo: © Shane Goss/CN

Under normal race regulations, punctured riders are allowed a free lap to repair or replace the damage, but unfortunately for Carlstrom that rule doesn't apply when there are less than five laps of the race remaining and he was destined for the "Hard Luck Story of the Day."
By now the peloton was closing fast and there was no room for the faint-hearted. McKenzie - a criterium specialist - didn't make his final tactical move until the last 1 km and his legs were fresher than his challeners - Goold and Mann.
"Macca (McKenzie) is a great sprinter and I knew I would have to produce something special to beat him. I didn't have that something special," Goold said.
But while McKenzie and his Jayco team were celebrating the stage win, they were also lamenting the loss of the leader's jersey.
Fanelli on the podium
Photo: © Shane Goss/CN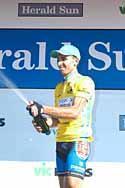 Fanelli started the day 4 seconds behind Drew and wearing the King of the Mountain's Championship jersey. He now has a little bit more colourful attire to wear. His lead is minimal - 10 seconds - but his team is strong and looking forward to the challenge that remains for the next 10 stages as the Herald Sun Tour heads further into Victoria's Western Region.
Tomorrow (Sunday, October 19), the tour includes a 110 km "sprint" from Lorne to Torquay where the General Classification positions are expected to take a much more positive shape.
The following day the tour heads further west with a 151 km stage from Camperdown to Warrnambool. This year's tour will finish in Ballarat on the tough Mt Buninyong Australian Open circuit on October 26.
Photography
Images by Shane Goss/Cyclingnews.com/www.licoricegallery.com
Results

1 David McKenzie (Aus) Jayco                       1.51.08
2 Matthew Goold (Aus) Malaysia Airlines               0.01
3 Tony Mann (Aus) Caravello                           0.04
4 Ivan Fanelli (Ita) Pelaco                           0.16
5 Marek Wesoly (Pol) Pelaco                               
6 Brett Aitken (Aus) Rio Coffee                           
7 Hilton Clarke (Aus) Barloworld                          
8 Jonas Ljungblad (Swe) City Of Melbourne                 
9 Michal Precechtel (Cze) Team Warrnambool                
10 Matt Wilson (Aus) Malaysia Airlines                    
11 Jamie Drew (Aus) Jayco                                 
12 Chris Newton (GBr) Bendigo Building Industry           
13 Milton Wynants (Uru) Echuca-Moama                      
14 Michael Sayers (USA) Ballarat*Eureka!                  
15 Mateusz Mroz (Pol) Pelaco                              
16 Kristian House (GBr) Emu Spirit-Apsco                  
17 Luke Roberts (Aus) Emu Spirit-Apsco                    
18 Kieran Page (GBr) Bendigo Building Industry            
19 Allan Iacuone (Aus) Jayco                              
20 Simon Gerrans (Aus) Malaysia Airlines                  
21 Jonathan Cantwell (Aus) Vicroads                       
22 Cameron Jennings (Aus) Caravello                       
23 Stephen Cummings (GBr) Bendigo Building Industry       
24 Tim Johnson (USA) Active For Life                      
25 Scott Moninger (USA) Ballarat*Eureka!                  
26 Phillip Thuaux (Aus) Ballarat*Eureka!                  
27 Andrew Graham (Aus) FRF Couriers                       
28 Gerado Castro (Uru) Echuca-Moama                       
29 Steve Cunningham (Aus) Rio Coffee                      
30 Jamie Burrow (GBr) Pelaco                              
31 Bart Heirewegh (Bel) Carlton Midstrength               
32 Eric Wohlberg (Can) Active For Life                    
33 David Kupka (Cze) Team Warrnambool                     
34 Joel Pearson (Aus) Subaru                              
35 Alvaro Tardaguila (Uru) Echuca-Moama                   
36 Kjell Carlstrom (Fin) Pelaco                           
37 Greg Henderson (NZl) Carlton Midstrength               
38 Robert McLachlan (Aus) Caravello                       
39 Jindrich Vana (Cze) Team Warrnambool                   
40 Dominique Perras (Can) Active For Life                 
41 Sean Sullivan (Aus) Barloworld                         
42 Hector Morales (Uru) Active For Life                   
43 Scott Guyton (NZl) Jayco                               
44 Tiaan Kannemeyer (RSA) Barloworld                      
45 Jaco de Witt (RSA) Barloworld                          
46 Jeremy Hunt (GBr) Malaysia Airlines                    
47 Russell Van Hout (Aus) Emu Spirit-Apsco                
48 Alex Candelario (USA) Ballarat*Eureka!                 
49 Domenic Gatto (Aus) Subaru                             
50 Danny In't Ven (Bel) Carlton Midstrength               
51 Anthony Challinor (Aus) FRF Couriers                   
52 Tim Decker (Aus) Subaru                                
53 Brian Steel (GBr) Bendigo Building Industry            
54 Rhys Pollock (Aus) Vicroads                            
55 Chris Wherry (USA) Ballarat*Eureka!                    
56 Garry Parsons (Aus) Malaysia Airlines                  
57 Adrian Laidler (Aus) Rio Coffee                        
58 Ashley Hutchinson (Aus) Carlton Midstrength            
59 Lubor Tesar (Cze) Team Warrnambool                     
60 Paul Manning (GBr) Bendigo Building Industry           
61 Chris Bradford (Aus) Subaru                            
62 Colin Thornton (Aus) Emu Spirit-Apsco                  
63 Tomas Buchacek (Cze) Emu Spirit-Apsco                  
64 Glen Stojanow (Aus) Caravello                          
65 Jose Medina (Chi) City Of Melbourne                    
66 Paul Redenbach (Aus) City Of Melbourne                 
67 Stephen Wooldridge (Aus) Carlton Midstrength           
68 Shaun Higgerson (Aus) FRF Couriers                     
69 Troy Glennan (Aus) FRF Couriers                        
70 Kane Oakley (Aus) Vicroads                             
71 Peter Milostic (Aus) FRF Couriers                      
72 James Perry (RSA) Barloworld                           
73 James Hannam (Aus) Rio Coffee                      0.51
74 Trent Stevenson (Aus) Vicroads                     1.01
75 Pavel Zerzan (Cze) Team Warrnambool                1.31
76 Nigel Dunstone (Aus) Caravello                     2.03
77 George Vallins (Aus) Vicroads                          
78 Ashley Baines (Aus) Subaru                             
79 Jorge Libonatti (Uru) Active For Life              2.25
80 Graham Rootes (Aus) Rio Coffee                     2.28
81 Trent Wilson (Aus) Jayco                               
82 Luke Weir (Aus) City Of Melbourne                  3.50
83 Luis Fernando Sepulveda (Chi) City Of Melbourne        
84 Alejandro Acton (Arg) Echuca-Moama                 7.00
DNF Joseph Papp (USA) Echuca-Moama                        
 
Sprints
 
End of Lap 2
 
1 Robert McLachlan (Aus) Caravello                       3 pts
2 Jonas Ljungblad (Swe) City Of Melbourne                2
3 Troy Glennan (Aus) FRF Couriers                        1
 
End of Lap 4
 
1 Robert McLachlan (Aus) Caravello                       3 pts
2 Jonas Ljungblad (Swe) City Of Melbourne                2
3 Alejandro Acton (Arg) Echuca-Moama                     1
 
End of Lap 6
 
1 Jonas Ljungblad (Swe) City Of Melbourne                3 pts
2 Robert McLachlan (Aus) Caravello                       2
3 Alejandro Acton (Arg) Echuca-Moama                     1
 
End of Lap 8
 
1 Kjell Carlstrom (Fin) Pelaco                           3 pts
2 David McKenzie (Aus) Jayco                             2
3 Alex Candelario (USA) Ballarat*Eureka!                 1
 
End of Lap 10
 
1 Kjell Carlstrom (Fin) Pelaco                           3 pts
2 Russell Van Hout (Aus) Emu Spirit-Apsco                2
3 Jeremy Hunt (GBr) Malaysia Airlines                    1
 
End of Lap 12
 
1 Kjell Carlstrom (Fin) Pelaco                           3 pts
2 Luis Fernando Sepulveda (Chi) City Of Melbourne        2
3 David McKenzie (Aus) Jayco                             1
 
End of Lap 14
 
1 David McKenzie (Aus) Jayco                             3 pts
2 Jeremy Hunt (GBr) Malaysia Airlines                    2
3 Luis Fernando Sepulveda (Chi) City Of Melbourne        1
 
End of Lap 16
 
1 Kjell Carlstrom (Fin) Pelaco                           3 pts
2 Jeremy Hunt (GBr) Malaysia Airlines                    2
3 Luis Fernando Sepulveda (Chi) City Of Melbourne        1
 
End of Lap 18
 
1 Matthew Goold (Aus) Malaysia Airlines                  3 pts
2 Jeremy Hunt (GBr) Malaysia Airlines                    2
3 David McKenzie (Aus) Jayco                             1
 
End of Lap 20
 
1 Luis Fernando Sepulveda (Chi) City Of Melbourne        3 pts
2 Kjell Carlstrom (Fin) Pelaco                           2
3 Jeremy Hunt (GBr) Malaysia Airlines                    1
 
End of Lap 22
 
1 David McKenzie (Aus) Jayco                             3 pts
2 Russell Van Hout (Aus) Emu Spirit-Apsco                2
3 Eric Wohlberg (Can) Active For Life                    1
 
End of Lap 24
 
1 Kjell Carlstrom (Fin) Pelaco                           3 pts
2 Russell Van Hout (Aus) Emu Spirit-Apsco                2
3 Jeremy Hunt (GBr) Malaysia Airlines                    1
 
End of Lap 26
 
1 Kjell Carlstrom (Fin) Pelaco                           3 pts
2 Eric Wohlberg (Can) Active For Life                    2
3 Jeremy Hunt (GBr) Malaysia Airlines                    1
 
End of Lap 28
 
1 Matthew Goold (Aus) Malaysia Airlines                  3 pts
2 Kjell Carlstrom (Fin) Pelaco                           2
3 David McKenzie (Aus) Jayco                             1
 
End of Lap 30
 
1 Kjell Carlstrom (Fin) Pelaco                           3 pts
2 David McKenzie (Aus) Jayco                             2
3 Matthew Goold (Aus) Malaysia Airlines                  1
 
End of Lap 32
 
1 Kjell Carlstrom (Fin) Pelaco                           3 pts
2 Matthew Goold (Aus) Malaysia Airlines                  2
3 David McKenzie (Aus) Jayco                             1
 
General classification after stage 3
 
1 Ivan Fanelli (Ita) Pelaco                        5.15.35
2 Jamie Drew (Aus) Jayco                              0.10
3 Hilton Clarke (Aus) Barloworld                      0.17
4 David McKenzie (Aus) Jayco                          0.21
5 Matthew Goold (Aus) Malaysia Airlines               0.30
6 Kjell Carlstrom (Fin) Pelaco                        0.35
7 Hector Morales (Uru) Active For Life                0.37
8 Eric Wohlberg (Can) Active For Life                     
9 Bart Heirewegh (Bel) Carlton Midstrength                
10 Michael Sayers (USA) Ballarat*Eureka!                  
11 Simon Gerrans (Aus) Malaysia Airlines                  
12 Sean Sullivan (Aus) Barloworld                     0.42
13 Tony Mann (Aus) Caravello                          0.44
14 Steve Cunningham (Aus) Rio Coffee                  0.46
15 Lubor Tesar (Cze) Team Warrnambool                 0.47
16 Jonas Ljungblad (Swe) City Of Melbourne            0.49
17 Brett Aitken (Aus) Rio Coffee                      0.54
18 Robert McLachlan (Aus) Caravello                   0.56
19 Marek Wesoly (Pol) Pelaco                          0.57
20 Jeremy Hunt (GBr) Malaysia Airlines                0.59
21 David Kupka (Cze) Team Warrnambool                 1.02
22 Matt Wilson (Aus) Malaysia Airlines                    
23 Scott Moninger (USA) Ballarat*Eureka!              1.04
24 Chris Bradford (Aus) Subaru                        1.06
25 Greg Henderson (NZl) Carlton Midstrength               
26 Michal Precechtel (Cze) Team Warrnambool           1.07
27 Chris Newton (GBr) Bendigo Building Industry       1.09
28 Mateusz Mroz (Pol) Pelaco                              
29 Troy Glennan (Aus) FRF Couriers                    1.10
30 Kristian House (GBr) Emu Spirit-Apsco                  
31 Andrew Graham (Aus) FRF Couriers                       
32 Cameron Jennings (Aus) Caravello                       
33 Scott Guyton (NZl) Jayco                               
34 Allan Iacuone (Aus) Jayco                              
35 Kieran Page (GBr) Bendigo Building Industry        1.11
36 Phillip Thuaux (Aus) Ballarat*Eureka!                  
37 Alex Candelario (USA) Ballarat*Eureka!                 
38 Tomas Buchacek (Cze) Emu Spirit-Apsco              1.12
39 Luke Roberts (Aus) Emu Spirit-Apsco                    
40 Tim Decker (Aus) Subaru                                
41 Joel Pearson (Aus) Subaru                              
42 Domenic Gatto (Aus) Subaru                             
43 Anthony Challinor (Aus) FRF Couriers                   
44 Shaun Higgerson (Aus) FRF Couriers                     
45 Rhys Pollock (Aus) Vicroads                            
46 Jonathan Cantwell (Aus) Vicroads                       
47 Glen Stojanow (Aus) Caravello                          
48 Paul Redenbach (Aus) City Of Melbourne                 
49 Jose Medina (Chi) City Of Melbourne                    
50 Jaco de Witt (RSA) Barloworld                          
51 Tiaan Kannemeyer (RSA) Barloworld                      
52 Tim Johnson (USA) Active For Life                      
53 Dominique Perras (Can) Active For Life                 
54 Stephen Wooldridge (Aus) Carlton Midstrength           
55 Ashley Hutchinson (Aus) Carlton Midstrength            
56 Danny In't Ven (Bel) Carlton Midstrength               
57 Milton Wynants (Uru) Echuca-Moama                      
58 Jindrich Vana (Cze) Team Warrnambool                   
59 Stephen Cummings (GBr) Bendigo Building Industry       
60 Brian Steel (GBr) Bendigo Building Industry            
61 Paul Manning (GBr) Bendigo Building Industry           
62 Jamie Burrow (GBr) Pelaco                              
63 Adrian Laidler (Aus) Rio Coffee                        
64 Chris Wherry (USA) Ballarat*Eureka!                    
65 Garry Parsons (Aus) Malaysia Airlines                  
66 Russell Van Hout (Aus) Emu Spirit-Apsco            1.36
67 James Hannam (Aus) Rio Coffee                      1.47
68 Nigel Dunstone (Aus) Caravello                     2.58
69 George Vallins (Aus) Vicroads                      2.59
70 Peter Milostic (Aus) FRF Couriers                  3.02
71 Jorge Libonatti (Uru) Active For Life              3.16
72 Trent Wilson (Aus) Jayco                           3.24
73 Trent Stevenson (Aus) Vicroads                     3.47
74 Gerado Castro (Uru) Echuca-Moama                   4.02
75 Luis Fernando Sepulveda (Chi) City Of Melbourne    4.37
76 Luke Weir (Aus) City Of Melbourne                  4.46
77 Ashley Baines (Aus) Subaru                         4.49
78 Kane Oakley (Aus) Vicroads                         5.02
79 Pavel Zerzan (Cze) Team Warrnambool                8.20
80 Colin Thornton (Aus) Emu Spirit-Apsco             18.31
81 James Perry (RSA) Barloworld                           
82 Graham Rootes (Aus) Rio Coffee                    18.43
83 Alvaro Tardaguila (Uru) Echuca-Moama              22.46
84 Alejandro Acton (Arg) Echuca-Moama                29.28
 
Aggressive Rider Awards
 
Steve Cunningham (Aus) Rio Coffee                    $200 
Kjell Carlstrom (Fin) Pelaco                         $200
Hilton Clarke (Aus) Barloworld                       $200
                                                          
Team classification                                       
 
1 JAYCO                                           15.48.28
2 EUROPCAR / PELACO                                   0.17
3 MALAYSIA AIRLINES                                   0.23
4 BARLOWORLD                                          0.28
5 ACTIVE FOR LIFE                                     0.46
6 CARAVELLO                                           1.07
7 RIO COFFEE                                          1.09
8 CARLTON MIDSTRENGTH                                 1.12
9 BALLARAT EUREKA                                     1.17
10 CITY OF MELBOURNE                                  1.30
11 TEAM WARRNAMBOOL                                       
12 EMU SPIRIT / APSCO                                 1.45
13 FRF COURIERS                                       1.50
14 BENDIGO BUILDING INDUSTRY                          1.52
15 VIC ROADS                                          1.53
16 SUBARU                                                 
17 ECHUCA - MOAMA                                    22.02
 
Sprint Classification
 
1 Kjell Carlstrom (Fin) Pelaco                          37 pts
2 Jonas Ljungblad (Swe) City Of Melbourne               15
3 David McKenzie (Aus) Jayco                            15
4 Robert McLachlan (Aus) Caravello                      14
5 Jeremy Hunt (GBr) Malaysia Airlines                   13
6 Simon Gerrans (Aus) Malaysia Airlines                 11
7 Lubor Tesar (Cze) Team Warrnambool                    10
8 Matthew Goold (Aus) Malaysia Airlines                  9
9 Luis Fernando Sepulveda (Chi) City Of Melbourne        9
10 Scott Moninger (USA) Ballarat*Eureka!                 8
11 Hector Morales (Uru) Active For Life                  7
12 Sean Sullivan (Aus) Barloworld                        7
13 Jamie Drew (Aus) Jayco                                7
14 Eric Wohlberg (Can) Active For Life                   6
15 Russell Van Hout (Aus) Emu Spirit-Apsco               6
16 Hilton Clarke (Aus) Barloworld                        5
17 Ivan Fanelli (Ita) Pelaco                             4
18 Bart Heirewegh (Bel) Carlton Midstrength              4
19 Matt Wilson (Aus) Malaysia Airlines                   4
20 Michael Sayers (USA) Ballarat*Eureka!                 4
21 Mateusz Mroz (Pol) Pelaco                             3
22 Chris Newton (GBr) Bendigo Building Industry          3
23 Allan Iacuone (Aus) Jayco                             2
24 Troy Glennan (Aus) FRF Couriers                       2
25 Andrew Graham (Aus) FRF Couriers                      2
26 Chris Bradford (Aus) Subaru                           2
27 Alejandro Acton (Arg) Echuca-Moama                    2
28 Alex Candelario (USA) Ballarat*Eureka!                1
29 Marek Wesoly (Pol) Pelaco                             1
30 Michal Precechtel (Cze) Team Warrnambool              1
31 Nigel Dunstone (Aus) Caravello                        1
32 Kieran Page (GBr) Bendigo Building Industry           1
 
Mountains classification
 
1 Ivan Fanelli (Ita) Pelaco                             23 pts
2 Lubor Tesar (Cze) Team Warrnambool                     7
3 Jamie Drew (Aus) Jayco                                 6
4 Jorge Libonatti (Uru) Active For Life                  5
5 Chris Bradford (Aus) Subaru                            4
6 Hilton Clarke (Aus) Barloworld                         3
7 Kristian House (GBr) Emu Spirit-Apsco                  2
8 Cameron Jennings (Aus) Caravello                       2
9 Jonas Ljungblad (Swe) City Of Melbourne                2
10 Scott Guyton (NZl) Jayco                              2
11 Sean Sullivan (Aus) Barloworld                        1
12 Steve Cunningham (Aus) Rio Coffee                     1
13 Phillip Thuaux (Aus) Ballarat*Eureka!                 1
14 Michael Sayers (USA) Ballarat*Eureka!                 1
 
Criterium Championship
 
1 David McKenzie (Aus) Jayco                            10 pts
2 Michael Sayers (USA) Ballarat*Eureka!                 10
3 Ivan Fanelli (Ita) Pelaco                              9
4 Matthew Goold (Aus) Malaysia Airlines                  9
5 Hector Morales (Uru) Active For Life                   9
6 Jamie Drew (Aus) Jayco                                 8
7 Tony Mann (Aus) Caravello                              8
8 Simon Gerrans (Aus) Malaysia Airlines                  7
9 Hilton Clarke (Aus) Barloworld                         7
10 Marek Wesoly (Pol) Pelaco                             6
11 Sean Sullivan (Aus) Barloworld                        6
12 Brett Aitken (Aus) Rio Coffee                         5
13 David Kupka (Cze) Team Warrnambool                    5
14 Lubor Tesar (Cze) Team Warrnambool                    4
15 Jonas Ljungblad (Swe) City Of Melbourne               3
16 Michal Precechtel (Cze) Team Warrnambool              2
17 Matt Wilson (Aus) Malaysia Airlines                   1
18 Robert McLachlan (Aus) Caravello                      1