Tour of Southland - 2.5
New Zealand, November 3-8, 2003
Main Page Results Previous Stage Next Stage
Stage 7 - November 6: Gore - Invercargill, 104.5 km
Henderson takes afternoon stage
By Alan Messenger
Greg Henderson (Wintons Middle Pub)
Photo ©: Barry Harcourt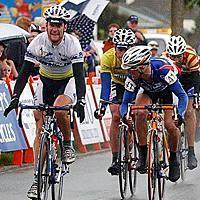 If his morning's victory wasn't enough to embarrass the "guns", 48 year old John Alabaster rode away soon after the start of the afternoon stage with Danny Hillary, with the intention of picking up a few sprint prizes but the pair were only swallowed up by the peloton five kilometres from the stage finish at Invercargill.
In a massive bunch sprint, World Madison Silver Medalist Greg Henderson went clear 400 metres out and held off Peter Latham and Tour leader Jeremy Yates. "A lot of people were fighting for my wheel," Henderson said. "Scotty (Guyton) took off with about five hundred to go. That's when it slowed down. I went a bit early but nobody could move off my wheel."
The Yates brothers,
Photo ©: Barry Harcourt

The two stages made no differences to the GC and Yates' big lead. He still holds a buffer of more than fifty seconds.
Tomorrow the riders face what is regarded as the toughest day, a 180 km ride from Winton to the scenic lakes resort at Te Anau. Guyton's Southland Times Team will see the stage as the only real opportunity left to take the Yellow Jersey from Yates, and the stage should live up to the expectations.
Photography
Images by Barry Harcourt
Results
1 Greg Henderson (NZl) Winton's Middle Pub        2.58.24
2 Peter Latham (NZl) Wensleys Avanti                     
3 Jeremy Yates (NZl) Zookeepers Café                     
4 Scott Guyton (NZl) The Southland Times                 
5 Troy Klink (NZl) Wensleys Avanti                       
6 Josh Horowitz (USA) Hilo Decorating                    
7 Stephen Elden (NZl) Hot Cycles Auckland                
8 Aaron Rushden (NZl) Calder Stewart                     
9 Jeremy Vennell (NZl) Calder Stewart                    
10 Joel Pearson (Aus) Team MGZT                          
11 Fraser McMaster (NZl) Meadow Fresh                    
11 Marc MacKay (NZl) The Southland Times                 
11 Tim Gudsell (NZl) The Southland Times                 
11 Phillip Schneider (Swi) Meadow Fresh                  
11 Matthew Randall (NZl) Ascot Park Hotel                
11 Robin Reid (NZl) Meadow Fresh                         
11 Glen Mitchell (NZl) The Southland Times               
11 Kirk Obee (USA) The Southland Times                   
11 Heath Blackgrove (NZl) Zookeepers Café                
11 Matt Gilbert (NZl) Calder Stewart                     
11 Aaron Strong (NZl) Hot Cycles Auckland                
11 Stephen Collins (NZl) Rabobank                        
11 Brian Fowler (NZl) Winton's Middle Pub                
11 Cameron Hughes (Aus) Winton's Middle Pub              
11 Lee Chapman (NZl) Share The Road                      
11 Ross Machejefski (NZl) Rabobank                       
11 Scott Lyttle (NZl) Cycle Surgery                      
11 Justin Kerr (NZl) Share The Road                      
11 Matt King (NZl) Wensleys Avanti                       
11 Craig Thomson (NZl) Cycle Surgery                     
11 Michael Tolhurst (Aus) Sycamore Print                 
11 Paul Whitley (NZl) Allied SouthRoads                  
11 Adam Curry (NZl) Wensleys Avanti                      
11 Simon Morcom (Aus) Team MGZT                          
11 Ryan Yee (USA) Hilo Decorating                        
11 Andrew Small (NZl) Calder Stewart                     
11 Ryan Hoogenberg (NZl) Sycamore Print                  
11 Ben Robson (NZl) Creation Signs                       
11 Adam Tully (Aus) Sycamore Print                       
11 Jamie Thynne (NZl) Team Embassy PNP                   
11 Graham Stone (NZl) Southland Television               
11 Mikkeli Godfree (Aus) Team MGZT                       
11 Nicholas Atkinson (NZl) Ascot Park Hotel              
11 Scott Allen (NZl) Wensleys Avanti                     
11 Corey Winder (NZl) Share The Road                     
11 Jack Swart (NZl) Share The Road                       
11 Michael Crowther (NZl) Southland Television           
11 Travis Kane (NZl) Ascot Park Hotel                    
49 Karl Murray (NZl) Calder Stewart                  0.13
50 Joseph Chapman (NZl) Creation Signs               0.14
51 Matthew Yates (NZl) Zookeepers Café               0.15
52 John Alabaster (NZl) Share The Road               0.50
53 Danny Hillary (NZl) Cycle Surgery                 0.53
54 Dave Beadle (NZl) Allied SouthRoads               2.23
55 Jonny Rondash (USA) Hilo Decorating               2.26
56 Nicholas Kiralay (Aus) Rabobank                   3.32
56 Gordon McCauley (NZl) Zookeepers Café                 
56 Craig Pitt (NZl) Hot Cycles Auckland                  
56 Logan Hutchings (NZl) Cycle Surgery                   
56 Kris Gemmell (NZl) Meadow Fresh                       
56 Hayden Godfrey (NZl) Winton's Middle Pub              
56 Julian Dean (NZl) Zookeepers Café                     
56 Ben Brears (NZl) Allied SouthRoads                    
56 Brendan Higgins (Aus) Rabobank                        
56 Robert Young (Aus) Team MGZT                          
56 Paul Davies (NZl) Team Embassy PNP                    
56 Steven Hands (NZl) Southland Television               
56 Stephen Wallis (NZl) Ascot Park Hotel                 
56 Paul Gough (NZl) Cycle Surgery                        
56 Daniel Blain (NZl) Creation Signs                     
56 Robert Coble (USA) Hilo Decorating                    
56 Gerard O 'Flynn (NZl) Team Embassy PNP                
73 Garth Gregory (NZl) Team Embassy PNP              8.00
74 Jordan Wood (NZl) Allied SouthRoads              13.03
74 Daryl Cleghorn (NZl) Southland Television             
76 Hayden Lawrence (NZl) Southland Television       15.08
77 Eddie Monnier (USA) Hilo Decorating              16.20
 
General classification after stage 7
 
1 Jeremy Yates (NZl) Zookeepers Café             14.02.12
2 Scott Guyton (NZl) The Southland Times             0.54
3 Fraser McMaster (NZl) Meadow Fresh                 3.02
4 Marc MacKay (NZl) The Southland Times              3.26
5 Greg Henderson (NZl) Winton's Middle Pub           4.31
6 Tim Gudsell (NZl) The Southland Times              6.37
7 Phillip Schneider (Swi) Meadow Fresh               6.47
8 Matthew Randall (NZl) Ascot Park Hotel             7.23
9 Robin Reid (NZl) Meadow Fresh                      9.15
10 Glen Mitchell (NZl) The Southland Times           9.16
11 Kirk Obee (USA) The Southland Times               9.41
12 Heath Blackgrove (NZl) Zookeepers Café           11.06
13 Peter Latham (NZl) Wensleys Avanti               12.06
14 Karl Murray (NZl) Calder Stewart                 13.35
15 Matt Gilbert (NZl) Calder Stewart                14.43
16 Aaron Strong (NZl) Hot Cycles Auckland           15.36
17 Troy Klink (NZl) Wensleys Avanti                 15.49
18 Nicholas Kiralay (Aus) Rabobank                  16.39
19 Stephen Collins (NZl) Rabobank                   19.10
20 Brian Fowler (NZl) Winton's Middle Pub           20.21
21 Gordon McCauley (NZl) Zookeepers Café            21.07
22 Cameron Hughes (Aus) Winton's Middle Pub         22.25
23 Lee Chapman (NZl) Share The Road                 22.53
24 Jeremy Vennell (NZl) Calder Stewart              24.02
25 Ross Machejefski (NZl) Rabobank                  24.08
26 Scott Lyttle (NZl) Cycle Surgery                 24.09
27 Craig Pitt (NZl) Hot Cycles Auckland             24.28
28 Justin Kerr (NZl) Share The Road                 25.43
29 Matt King (NZl) Wensleys Avanti                  27.15
30 Logan Hutchings (NZl) Cycle Surgery              28.29
31 Danny Hillary (NZl) Cycle Surgery                30.43
32 Joel Pearson (Aus) Team MGZT                     33.17
33 Craig Thomson (NZl) Cycle Surgery                33.24
34 Kris Gemmell (NZl) Meadow Fresh                  35.19
35 Stephen Elden (NZl) Hot Cycles Auckland          36.18
36 Michael Tolhurst (Aus) Sycamore Print            36.30
37 Paul Whitley (NZl) Allied SouthRoads             37.20
38 Hayden Godfrey (NZl) Winton's Middle Pub         38.05
39 Josh Horowitz (USA) Hilo Decorating              40.10
40 John Alabaster (NZl) Share The Road              40.39
41 Adam Curry (NZl) Wensleys Avanti                 43.06
42 Julian Dean (NZl) Zookeepers Café                43.23
43 Simon Morcom (Aus) Team MGZT                     43.34
44 Ryan Yee (USA) Hilo Decorating                   44.12
45 Ben Brears (NZl) Allied SouthRoads               44.41
46 Andrew Small (NZl) Calder Stewart                46.47
47 Ryan Hoogenberg (NZl) Sycamore Print             52.19
48 Ben Robson (NZl) Creation Signs                  52.22
49 Brendan Higgins (Aus) Rabobank                   52.49
50 Adam Tully (Aus) Sycamore Print                  54.02
51 Dave Beadle (NZl) Allied SouthRoads              54.23
52 Jamie Thynne (NZl) Team Embassy PNP              55.00
53 Graham Stone (NZl) Southland Television          55.42
54 Mikkeli Godfree (Aus) Team MGZT                  56.14
55 Nicholas Atkinson (NZl) Ascot Park Hotel         58.28
56 Robert Young (Aus) Team MGZT                     59.05
57 Aaron Rushden (NZl) Calder Stewart             1.04.04
58 Scott Allen (NZl) Wensleys Avanti              1.04.44
59 Corey Winder (NZl) Share The Road              1.04.45
60 Jack Swart (NZl) Share The Road                1.05.38
61 Michael Crowther (NZl) Southland Television    1.06.35
62 Travis Kane (NZl) Ascot Park Hotel             1.07.51
63 Paul Davies (NZl) Team Embassy PNP             1.08.02
64 Steven Hands (NZl) Southland Television        1.10.18
65 Jonny Rondash (USA) Hilo Decorating            1.12.42
66 Stephen Wallis (NZl) Ascot Park Hotel          1.15.42
67 Paul Gough (NZl) Cycle Surgery                 1.17.07
68 Daniel Blain (NZl) Creation Signs              1.23.40
69 Matthew Yates (NZl) Zookeepers Café            1.24.09
70 Joseph Chapman (NZl) Creation Signs            1.24.23
71 Robert Coble (USA) Hilo Decorating             1.27.14
72 Hayden Lawrence (NZl) Southland Television     1.33.33
73 Garth Gregory (NZl) Team Embassy PNP           1.39.11
74 Jordan Wood (NZl) Allied SouthRoads            1.45.53
75 Gerard O 'Flynn (NZl) Team Embassy PNP         1.47.18
76 Eddie Monnier (USA) Hilo Decorating            1.54.15
77 Daryl Cleghorn (NZl) Southland Television      2.05.12
 
Sprints classification
 
1 Joel Pearson (Aus) Team MGZT                         60 pts
2 Karl Murray (NZl) Calder Stewart                     44
3 John Alabaster (NZl) Share The Road                  42
4 Danny Hillary (NZl) Cycle Surgery                    34
5 Hayden Godfrey (NZl) Winton's Middle Pub             22
6 Aaron Rushden (NZl) Calder Stewart                   22
7 Gordon McCauley (NZl) Zookeepers Café                19
8 Greg Henderson (NZl) Winton's Middle Pub             15
9 Matthew Randall (NZl) Ascot Park Hotel               13
10 Marc MacKay (NZl) The Southland Times               11
11 Robin Reid (NZl) Meadow Fresh                       10
12 Scott Guyton (NZl) The Southland Times              10
13 Jeremy Vennell (NZl) Calder Stewart                  9
14 Glen Mitchell (NZl) The Southland Times              8
15 Tim Gudsell (NZl) The Southland Times                7
16 Robert Young (Aus) Team MGZT                         6
17 Matthew Yates (NZl) Zookeepers Café                  6
18 Ross Machejefski (NZl) Rabobank                      6
19 Hayden Roulston (NZl) Winton's Middle Pub            6
20 Adam Curry (NZl) Wensleys Avanti                     6
21 Fraser McMaster (NZl) Meadow Fresh                   5
22 Joseph Chapman (NZl) Creation Signs                  4
23 Jeremy Yates (NZl) Zookeepers Café                   4
24 Kirk Obee (USA) The Southland Times                  3
25 Mikkeli Godfree (Aus) Team MGZT                      3
26 Geoff Burndred (NZl) Rabobank                        3
27 Matt Gilbert (NZl) Calder Stewart                    3
28 Anthony Chapman (NZl) Creation Signs                 3
29 Jamie Thynne (NZl) Team Embassy PNP                  3
30 Lee Chapman (NZl) Share The Road                     2
31 Stephen Elden (NZl) Hot Cycles Auckland              2
32 Jack Swart (NZl) Share The Road                      1
33 Andrew Graham (Aus) Team MGZT                        1
34 Aaron Strong (NZl) Hot Cycles Auckland               1
35 Heath Blackgrove (NZl) Zookeepers Café               1
36 Paul Bishop (NZl) Hot Cycles Auckland                1
 
KOM classification
 
1 Gordon McCauley (NZl) Zookeepers Café                48 pts
2 Matthew Randall (NZl) Ascot Park Hotel               18
3 Jeremy Yates (NZl) Zookeepers Café                   18
4 Glen Mitchell (NZl) The Southland Times              16
5 Scott Guyton (NZl) The Southland Times               16
6 Robin Reid (NZl) Meadow Fresh                        12
7 Danny Hillary (NZl) Cycle Surgery                    10
8 John Alabaster (NZl) Share The Road                  10
9 Karl Murray (NZl) Calder Stewart                     10
10 Marc MacKay (NZl) The Southland Times                6
11 Hayden Roulston (NZl) Winton's Middle Pub            6
12 Heath Blackgrove (NZl) Zookeepers Café               4
13 Kris Gemmell (NZl) Meadow Fresh                      4
14 Joel Pearson (Aus) Team MGZT                         4
15 Matt King (NZl) Wensleys Avanti                      2
16 Aaron Strong (NZl) Hot Cycles Auckland               2
17 Tim Gudsell (NZl) The Southland Times                2
18 Phillip Schneider (Swi) Meadow Fresh                 2
19 Fraser McMaster (NZl) Meadow Fresh                   2
 
Team classification
 
1 The Southland Times                            42.15.49
2 Meadow Fresh                                       9.57
3 Zookeepers Cafe                                   20.09
4 Winton's Middle Pub                               31.39
5 Calder Stewart                                    42.25
6 Wensleys Avanti                                   43.58
7 Hot Cycles                                        46.13
8 Rabobank                                          47.57
9 Cycle Surgery                                   1.03.55
10 Share The Road                                 1.17.03
11 Ascot Park Hotel                               1.43.26
12 Team MGZT                                      1.57.09
13 Allied SouthRoads                              2.05.44
14 Sycamore Print                                 2.13.38
15 Hilo Decorating                                2.25.02
16 Creation Signs                                 2.34.13
17 Southland Television                           2.53.09
18 Team Embassy - PNP                             3.03.36