Jayco Tour of Queensland - 2.5
Australia, November 3-8, 2003
Main Page Results Previous Stage
Stage 8 - November 8: Bundaberg, 36 km
Macca breaks 10 year drought
By Rod Morris in Bundaberg
David McKenzie breaks his drought
Photo ©: Shane Goss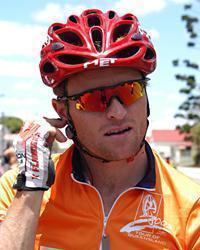 A 10 year drought for Jayco rider David McKenzie officially ended today when he was declared the inaugural Jayco Tour of Queensland champion. McKenzie (29) had to defend his 16-second lead on a dual stage day, which included a 97 km road race in Bargara and a lightning fast 35 km criterium in Bundaberg. Whilst not placing in either stage, McKenzie rode a tactically superb race to thwart any serious challengers. McKenzie eventually won the $60,000 UCI sanctioned race by 15 seconds from Canadian Eric Wohlberg (Maryborough City - Isis Shire) and a further 31 seconds to American Michael Sayers (Bundaberg City - Burnett Shire).
McKenzie, who was riding for Jayco - appropriately enough - in the Tour of Queensland, suffered a serious leg injury two years ago which compromised his career at the time. To come back and win a multi-stage race is testimony as much to his courage as it is to his talent.
"There were times I thought I would never step on a bike again," he explained. "It just feels so good to be a winner, particularly in Australia."
McKenzie and his Jayco team did everything right in the afternoon criterium in Bundaberg which signaled the end of the inaugural Jayco Tour of Queensland. Wohlberg was in the eyes of every Jayco rider and soon realised any chance he had of reducing the deficit to McKenzie was forlorn.
The stage went to talented young Queenslander Miles Olman, riding for the all Queensland team, CABE. At just 17 years of age, Olman was the youngest rider in the tour, but stunned his more experienced opponents with a tremendous burst of speed in the final lap.
Olman, along with Czechoslovakian Pavel Zerzan (Mirvac) and Tasmanian Sean Sullivan (Barloworld) kicked away from the main group with 6 laps remaining and were never headed. They entered the final lap, 14 seconds ahead of the chasing peloton and were looking every inch like the winning trifecta. Heading into the home straight for the final time, Olman found some extra speed to zoom away from Zerzan and Sullivan.
"I'm stoked, I certainly didn't expect to win a stage of this tour," Olman said.
Hailing from Rockhampton, Olman is the reigning Junior World Points Score champion and has an enormous future in cycling. "The crowd at Bundaberg was awesome and it seemed to really spur me on over the last few laps," he added.
The inaugural winner of the Tour of Queensland - David McKenzie - crossed the finish line in the main bunch to end a long drought of home-soil victories. His last Australian multi-stage win was the 1994 Golden West Tour in Brisbane.
"It certainly is a great feeling to win, its been a long time between drinks that's for sure," McKenzie said. "Its also an emotional win, because this could be the last time our guys will ride as a team. Iteam Nova finishes at the end of the year and I really can't thank them enough, they have worked so hard, not just this week, but all year."
McKenzie admitted he felt extremely nervous before the race as he was unsure as to what may unfold. "Although we had a good lead, you never really know what's going to happen," he said. "Obviously Eric (Wohlberg) was the main one to watch, but we didn't want too much damage being done out the front either. Luckily all of my teammates were able to watch every move and my win is as much theirs as it is mine."
McKenzie is currently negotiating a new contract with a European based team and hopes to make a firm announcement shortly. "I think I have a few years racing left in me, so I'd like to stitch the new contract up pretty soon."
South Australian Russell Van Hout won both the King of the Mountain and Most Aggressive Rider championships, while his Miriam Vale - Kolan - Perry Shires teammate, Brett Aitken won the Criterium Championship. The sprinters title went to Sweden's Jonas Ljungblad, riding for the Bundaberg Sugar team and Caravello's Tony Mann collected the Leading Queensland Rider award. The winning team was the Maryborough City - Isis Shire unit of Eric Wohlberg, Tim Johnson, Peter Milostic, Chris Bradford and Bart Duraj, managed by Carl Wilson.
Photography
Images by Shane Goss/licoricegallery.com
Results
1 Miles Olman (Aus) Cabe                                    47.32
2 Pavel Zerzan (Cze) Mirvac                                      
3 Sean Sullivan (Aus) Barloworld                                 
4 Alex Candelario (USA) Bundaberg City/Burnett Shire         0.02
5 Ashley Hutchinson (Aus) Cabe                                   
6 Brett Aitken (Aus) Miriam Vale/Kolan/Perry Shires              
7 Bart Heirewegh (Bel) Bundaberg Sugar                           
8 Kristian House (GBr) Miriam Vale/Kolan/Perry Shires            
9 Jonathan Cantwell (Aus) Bundaberg Sugar                        
10 Hector Morales (Uru) Caravello                                
11 Jonas Ljungblad (Swe) Bundaberg Sugar                         
12 Karl Menzies (Aus) Emu Spirit/Tis                             
13 David McKenzie (Aus) Jayco                                    
14 Russell Van Hout (Aus) Miriam Vale/Kolan/Perry Shires         
15 Eric Wohlberg (Can) Maryborough City/Isis Shire               
16 Marek Wesoly (Pol) Europcar                                   
17 Michael Sayers (USA) Bundaberg City/Burnett Shire             
18 Jamie Drew (Aus) Jayco                                        
19 Jorge Libonatti (Uru) Caravello                               
20 Bernard Sulzberger (Aus) Emu Spirit/Tis                       
21 Scott Moninger (USA) Bundaberg City/Burnett Shire             
22 Kjell Carlstrom (Fin) Europcar                                
23 Scott Davis (Aus) Cabe                                        
24 Mateo Sasso (Uru) Sea Fm                                      
25 Jindrich Vana (Cze) Mirvac                                    
26 Tony Mann (Aus) Caravello                                     
27 Tim Johnson (USA) Maryborough City/Isis Shire                 
28 Danny In't Ven (Bel) Bundaberg Sugar                          
29 Jeremy Hunt (GBr) Miriam Vale/Kolan/Perry Shires              
30 Chris Bradford (Aus) Maryborough City/Isis Shire              
31 Matthew Goold (Aus) Miriam Vale/Kolan/Perry Shires            
32 Ashley Humbert (Aus) Caravello                                
33 Tiaan Kannemeyer (RSA) Barloworld                             
34 Stephen Pearce (Aus) Mirvac                                   
35 Troy Glennan (Aus) Caravello                                  
36 Mark Jamieson (Aus) Emu Spirit/Tis                            
37 Luke Bettany (Aus) Mirvac                                     
38 Peter Milostic (Aus) Maryborough City/Isis Shire              
39 James Perry (RSA) Barloworld                              0.13
40 Jacobus de Witt (RSA) Barloworld                              
41 Jarron Poad (NZl) Bundaberg Sugar                             
42 Jamie Burrow (GBr) Europcar                               0.16
43 David Betts (Aus) Cabe                                    0.33
44 Dominique Perras (Can) Jayco                              1.18
45 Trent Wilson (Aus) Jayco                                  3.48
46 Chris Wherry (USA) Bundaberg City/Burnett Shire               
47 Bart Duraj (Aus) Maryborough City/Isis Shire                  
DNF Ivan Fanelli (Ita) Europcar                                  
 
Sprints
 
End of Lap 6                                                     
1 Hector Morales (Uru) Caravello                                3 pts
2 Jonas Ljungblad (Swe) Bundaberg Sugar                         2
3 Karl Menzies (Aus) Emu Spirit/Tis                             1
 
End of Lap 8                                                     
1 Karl Menzies (Aus) Emu Spirit/Tis                             3 pts
2 Jonas Ljungblad (Swe) Bundaberg Sugar                         2
3 Hector Morales (Uru) Caravello                                1
 
End of Lap 10                                                    
1 David Betts (Aus) Cabe                                        3 pts
2 Mark Jamieson (Aus) Emu Spirit/Tis                            2
3 Kristian House (GBr) Miriam Vale/Kolan/Perry Shires           1
 
End of Lap 12                                                    
1 Mark Jamieson (Aus) Emu Spirit/Tis                            3 pts
2 Ashley Humbert (Aus) Caravello                                2
3 Jarron Poad (NZl) Bundaberg Sugar                             1
 
End of Lap 14                                                    
1 Ashley Humbert (Aus) Caravello                                3 pts
2 Mark Jamieson (Aus) Emu Spirit/Tis                            2
3 Jonathan Cantwell (Aus) Bundaberg Sugar                       1
 
End of Lap 16                                                    
1 Jonathan Cantwell (Aus) Bundaberg Sugar                       3 pts
2 Kristian House (GBr) Miriam Vale/Kolan/Perry Shires           2
3 Ashley Humbert (Aus) Caravello                                1
 
End of Lap 18                                                    
1 Jonas Ljungblad (Swe) Bundaberg Sugar                         3 pts
2 Kristian House (GBr) Miriam Vale/Kolan/Perry Shires           2
3 Miles Olman (Aus) Cabe                                        1
 
End of Lap 20                                                    
1 Miles Olman (Aus) Cabe                                        3 pts
2 Pavel Zerzan (Cze) Mirvac                                     2
3 Sean Sullivan (Aus) Barloworld                                1
 
End of Lap 22                                                    
1 Miles Olman (Aus) Cabe                                        3 pts
2 Pavel Zerzan (Cze) Mirvac                                     2
3 Sean Sullivan (Aus) Barloworld                                1
 
Final general classification
 
1 David McKenzie (Aus) Jayco                             13.10.28
2 Eric Wohlberg (Can) Maryborough City/Isis Shire            0.15
3 Michael Sayers (USA) Bundaberg City/Burnett Shire          0.46
4 Kristian House (GBr) Miriam Vale/Kolan/Perry Shires        1.37
5 Bart Heirewegh (Bel) Bundaberg Sugar                       1.41
6 Jonas Ljungblad (Swe) Bundaberg Sugar                      2.10
7 Kjell Carlstrom (Fin) Europcar                             2.18
8 Brett Aitken (Aus) Miriam Vale/Kolan/Perry Shires          3.00
9 Jamie Drew (Aus) Jayco                                     3.01
10 Jorge Libonatti (Uru) Caravello                           3.10
11 Tim Johnson (USA) Maryborough City/Isis Shire             3.15
12 Tony Mann (Aus) Caravello                                 4.14
13 Alex Candelario (USA) Bundaberg City/Burnett Shire        4.29
14 Chris Bradford (Aus) Maryborough City/Isis Shire          5.01
15 Matthew Goold (Aus) Miriam Vale/Kolan/Perry Shires        5.35
16 Scott Davis (Aus) Cabe                                   21.48
17 Tiaan Kannemeyer (RSA) Barloworld                        27.04
18 Jindrich Vana (Cze) Mirvac                               28.56
19 Scott Moninger (USA) Bundaberg City/Burnett Shire        29.18
20 Hector Morales (Uru) Caravello                           29.38
21 Danny In't Ven (Bel) Bundaberg Sugar                     29.45
22 Karl Menzies (Aus) Emu Spirit/Tis                        30.27
23 Stephen Pearce (Aus) Mirvac                              30.29
24 Jonathan Cantwell (Aus) Bundaberg Sugar                  30.47
25 Dominique Perras (Can) Jayco                             31.26
26 Pavel Zerzan (Cze) Mirvac                                31.40
27 Jamie Burrow (GBr) Europcar                              32.06
28 Bernard Sulzberger (Aus) Emu Spirit/Tis                  34.35
29 Russell Van Hout (Aus) Miriam Vale/Kolan/Perry Shires    36.26
30 Mark Jamieson (Aus) Emu Spirit/Tis                       38.17
31 Ashley Hutchinson (Aus) Cabe                             38.29
32 Troy Glennan (Aus) Caravello                             38.35
33 Ashley Humbert (Aus) Caravello                           39.29
34 James Perry (RSA) Barloworld                             39.39
35 Sean Sullivan (Aus) Barloworld                           40.02
36 Peter Milostic (Aus) Maryborough City/Isis Shire         42.29
37 Mateo Sasso (Uru) Sea Fm                                 42.56
38 Jacobus de Witt (RSA) Barloworld                         45.47
39 Marek Wesoly (Pol) Europcar                              46.28
40 Chris Wherry (USA) Bundaberg City/Burnett Shire          46.31
41 Jarron Poad (NZl) Bundaberg Sugar                        48.07
42 Miles Olman (Aus) Cabe                                   51.38
43 Trent Wilson (Aus) Jayco                                 53.29
44 Luke Bettany (Aus) Mirvac                                56.46
45 David Betts (Aus) Cabe                                   57.22
46 Jeremy Hunt (GBr) Miriam Vale/Kolan/Perry Shires       1.03.52
47 Bart Duraj (Aus) Maryborough City/Isis Shire           1.23.33
 
Hestbarb Pty Ltd Aggressive Rider Awards
 
1 Russell Van Hout (Aus) Miriam Vale/Kolan/Perry Shires         6 pts
2 Eric Wohlberg (Can) Maryborough City/Isis Shire               4
3 Tony Mann (Aus) Caravello                                     3
4 Brett Aitken (Aus) Miriam Vale/Kolan/Perry Shires             2
5 Hector Morales (Uru) Caravello                                2
6 Mark Jamieson (Aus) Emu Spirit/Tis                            2
7 Karl Menzies (Aus) Emu Spirit/Tis                             2
 
Yamaha Sprint Championship
 
1 Jonas Ljungblad (Swe) Bundaberg Sugar                        44 pts
2 Mark Jamieson (Aus) Emu Spirit/Tis                           31
3 Hector Morales (Uru) Caravello                               28
4 Michael Sayers (USA) Bundaberg City/Burnett Shire            21
5 Kristian House (GBr) Miriam Vale/Kolan/Perry Shires          20
6 Brett Aitken (Aus) Miriam Vale/Kolan/Perry Shires            17
7 Sean Sullivan (Aus) Barloworld                               17
8 Eric Wohlberg (Can) Maryborough City/Isis Shire              16
9 Karl Menzies (Aus) Emu Spirit/Tis                            16
10 David McKenzie (Aus) Jayco                                  15
11 Tony Mann (Aus) Caravello                                   13
12 Matthew Goold (Aus) Miriam Vale/Kolan/Perry Shires          11
13 Kjell Carlstrom (Fin) Europcar                              10
14 Bart Heirewegh (Bel) Bundaberg Sugar                         8
15 Jorge Libonatti (Uru) Caravello                              8
16 Miles Olman (Aus) Cabe                                       7
17 Tim Johnson (USA) Maryborough City/Isis Shire                7
18 Jamie Drew (Aus) Jayco                                       7
19 David Betts (Aus) Cabe                                       6
20 Stephen Pearce (Aus) Mirvac                                  6
21 Tiaan Kannemeyer (RSA) Barloworld                            6
22 Scott Davis (Aus) Cabe                                       6
23 Ashley Humbert (Aus) Caravello                               6
24 Russell Van Hout (Aus) Miriam Vale/Kolan/Perry Shires        6
25 Pavel Zerzan (Cze) Mirvac                                    5
26 Jonathan Cantwell (Aus) Bundaberg Sugar                      4
27 Marek Wesoly (Pol) Europcar                                  4
28 Alex Candelario (USA) Bundaberg City/Burnett Shire           3
29 Peter Milostic (Aus) Maryborough City/Isis Shire             2
30 Jeremy Hunt (GBr) Miriam Vale/Kolan/Perry Shires             2
31 Jarron Poad (NZl) Bundaberg Sugar                            1
32 Chris Bradford (Aus) Maryborough City/Isis Shire             1
 
King Of The Mountain Championship
 
1 Russell Van Hout (Aus) Miriam Vale/Kolan/Perry Shires        33 pts
2 Sean Sullivan (Aus) Barloworld                               23
3 Jacobus de Witt (RSA) Barloworld                             16
4 Jonas Ljungblad (Swe) Bundaberg Sugar                         7
5 David McKenzie (Aus) Jayco                                    7
6 Eric Wohlberg (Can) Maryborough City/Isis Shire               6
7 Michael Sayers (USA) Bundaberg City/Burnett Shire             5
8 Brett Aitken (Aus) Miriam Vale/Kolan/Perry Shires             5
9 Bart Heirewegh (Bel) Bundaberg Sugar                          5
10 Tiaan Kannemeyer (RSA) Barloworld                            5
11 Scott Moninger (USA) Bundaberg City/Burnett Shire            4
12 Tony Mann (Aus) Caravello                                    3
13 Scott Davis (Aus) Cabe                                       3
14 Jindrich Vana (Cze) Mirvac                                   3
15 Pavel Zerzan (Cze) Mirvac                                    2
16 Stephen Pearce (Aus) Mirvac                                  2
17 Miles Olman (Aus) Cabe                                       2
18 Jorge Libonatti (Uru) Caravello                              1
19 Mark Jamieson (Aus) Emu Spirit/Tis                           1
20 Jeremy Hunt (GBr) Miriam Vale/Kolan/Perry Shires             1
21 Dominique Perras (Can) Jayco                                 1
22 Jamie Drew (Aus) Jayco                                       1
23 Tim Johnson (USA) Maryborough City/Isis Shire                1
24 Hector Morales (Uru) Caravello                               1
 
Polar Heart Rate Monitors - Criterium 
 
1 Brett Aitken (Aus) Miriam Vale/Kolan/Perry Shires            23 pts
2 Hector Morales (Uru) Caravello                               16
3 David McKenzie (Aus) Jayco                                   15
4 Bart Heirewegh (Bel) Bundaberg Sugar                         10
5 Miles Olman (Aus) Cabe                                       10
6 Eric Wohlberg (Can) Maryborough City/Isis Shire              10
7 Ashley Hutchinson (Aus) Cabe                                 10
8 Pavel Zerzan (Cze) Mirvac                                     9
9 Sean Sullivan (Aus) Barloworld                                8
10 Alex Candelario (USA) Bundaberg City/Burnett Shire           7
11 Jonathan Cantwell (Aus) Bundaberg Sugar                      5
12 Mateo Sasso (Uru) Sea Fm                                     5
13 Kristian House (GBr) Miriam Vale/Kolan/Perry Shires          5
14 Kjell Carlstrom (Fin) Europcar                               4
15 Karl Menzies (Aus) Emu Spirit/Tis                            3
16 Michael Sayers (USA) Bundaberg City/Burnett Shire            1
17 Stephen Pearce (Aus) Mirvac                                  1
 
Team Classification
 
1 Maryborough City / Isis Shire                          39.39.55
2 Miriam Vale / Kolan / Perry Shires                         1.39
3 Bundaberg Sugar                                           24.20
4 Jayco                                                     25.56
5 Bundaberg City / Burnett Shire                            26.02
6 Caravello                                                 27.52
7 Europcar                                                1.04.47
8 Cabe                                                    1.08.22
9 Mirvac                                                  1.20.58
10 Barloworld                                             1.27.41
11 Emu Spirit / Tis                                       1.30.33