5th Jacob's Creek Tour Down Under - 2.3
Australia, January 21-26, 2003
News for January 26, 2003
Boomin' Boonen comes to Adelaide
Tom Boonen
Photo: © Tom Balks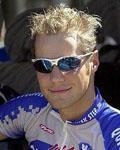 22 year old Belgian Tom Boonen has just began his second year as a pro, causing quite a stir last year when he broke his two year contract - and his relations with with USPS team manager Johan Bruyneel - to ride for Quick Step-Davitamon. Cyclingnews' Chief Editor, Jeff Jones, caught up with Boonen while racing in Australia to talk about his transition from the amateur ranks, his split with US Postal and what the future holds for the great white hope of Belgian cycling.
Measuring 192 cm (6'3) and weighing 80 kg, Tom Boonen is a very recognisable figure on and off the bike.
He is built like a typical sprinter, already having made good use of his physical characteristics both in junior and amateur ranks. In 2002, he made it to the big time when he took up a two year pro contract with the US Postal Service team at the tender age of 21.
Seamless transition
The transition from amateur to the pro ranks appeared effortless, quickly taking several top placings in the major classics early in the season, including an incredible ride in his first elite Paris-Roubaix, where he finished third behind Johan Museeuw and Steffen Wesemann.
Epic Roubaix
Photo: © Sirotti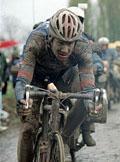 Boonen had in fact ridden all day in support of his team leader George Hincapie. After being part of the early break and staying in front when the big guns motored through from behind. He held onto to Museeuw's wheel almost until the finish, and when Hincapie punctured, Boonen kept going, eventually finding himself on the podium.
His results later on weren't bad either, taking second overall and best young rider in the Circuit Franco-Belge and third in a stage of the Ronde van Nederland. He finished the season by riding the World Championships in Zolder, finishing in 38th position, 44 seconds behind Mario Cipollini.
All in all, it was a very solid performance for a neo-pro, with plenty of promise for a future with America's top trade team.
Why the change?
But towards the end of the season, it became apparent that Boonen did not want to ride another season with US Postal. He hinted at it in interviews, however, USPS manager Johan Bruyneel maintained that Boonen had a two year contract with them, and that he would ride out the rest of his contract period with Postal.
His desire to change teams was too strong though, and just before Christmas, Boonen firmed up a deal to ride with Quick-Step Davitamon, and in doing so, accompanied his friend and idol, Johan Museeuw.
As well as Museeuw, this Belgian superteam contains Classics legend Paolo Bettini, and is managed by Patrick Lefevere, responsible for directing his teams to 1-2-3 finishes in Paris-Roubaix on three occasions.
Paris-Roubaix also happens to be Boonen's favourite race and one that he is certainly capable of winning. So from Boonen's point of view, it's the perfect team for him.
Heading south
Boonen Down Under
Photo: © Tom Balks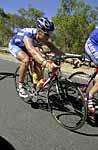 His transfer happened within a flash, and less than one month later, Boonen found himself riding for Quick Step-Davitamon in the Jacob's Creek Tour Down Under. It's Boonen's first time Down Under, having flown in a week before the race started. "We've already been here eight days now, and it only took me two or three days to get acclimatised," he said at the Tour Down Under team presentation.
Typically, European riders that come out to Australia struggle with the massive temperature difference at this time of year. Temperatures in Europe are often below zero, but in Adelaide, South Australia, temperatures of 40 degrees plus are not uncommon.
"The day we came in was one of the hottest days," recalls Boonen. "We came into the hotel at 8:00, we were riding at 9:30. It was the baddest day in my life! When we left Europe it was minus eight, almost 50 degrees difference!
"That was a little bit too much," remarks the dry-humoured Belgian.
Boonen said that he hadn't left Europe during the past winter. "I stayed in France for two weeks with some guys, but we could have trained in Belgium the whole time. I had a little bit less training when I got here but this week I did 1000 kilometres."
When questioned about his first impression of the Tour Down Under, Boonen is clearly a fan: "It's organised perfectly. I haven't done this race before, but I look at all this and it only promises the best. By the looks of things, I'm coming back next year with the opportunity to train and to race. I love it here."
New team, new start
Star-studded cast
Photo: © Tom Balks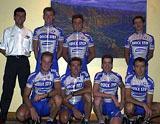 The talk turns to Boonen's contentious team change from US Postal to Quick Step in the off-season. Boonen says that he is comfortable there now. "When everything was finished, I started immediately with the team it their training camp and it was perfect. I was immediately adapted, and felt at home straight away."
But why the change? US Postal had offered him an environment to develop in without any pressure; two years with Postal and he could have learned a lot.
"The main reason was the package," says Boonen. "US Postal is the best team in the world, with a few other teams next to it. But its main goal is the Tour - everybody knows that, it's no secret."
"This team [Quick Step-Davitamon] focuses on the Classics and I get the opportunity to race more races in Belgium. I can do all the races in preparation for the main classics, get to race with a lot of good guys for the Classics, and if Johan or Bettini or anybody else has a bad day, I'll be able to watch from the second row and maybe try and win one on my own."
No pressure... yet
Boonen doesn't have to have the pressure of being a team leader just yet. At this stage, he's more than willing to watch and learn from Johan Museeuw, who at 37 can still win major races. "I've got all the time in the world," he says with confidence.
"Often people forget that I'm still only 22 and they want to push me. I had a really good year last year and if I have the same this year, then I'm going to be really happy."
"I think it's better for me to race in a team like this where I can learn a lot from great riders, learn from the second row and then after four, five or six years we'll see. I'll try to win my own races then."
After his somewhat controversial departure from USPS, many people are afraid that Tom Boonen is heading down the same path as Frank Vandenbroucke - that other prodigious Belgian talent.
Frank is Frank
Boonen is Boonen
Photo: © Tom Balks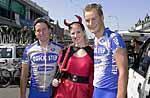 Vandenbroucke's potentially stellar career hit the rocks three years ago after a series of personal, team and drug problems. However, as is the case with Marco Pantani, VDB is still one of the most watched cyclists in his country, a product of incessant media pressure and scrutiny. So does Boonen feel the pressure of the Belgian media also?
"Of course," he says. "It's always like that. But it's not only in cycling - when you have somebody who is good in something and you get someone who might be following in his footsteps, they always want to push him in the same direction and compare him with everyone."
"How many times did they compare Frank Vandenbroucke with Museeuw in the beginning?" asks Boonen.
"Now they're doing the same with me. But it means a little more because I have the same body structure of Museeuw; Frank is a really good rider but I am suited races similar to the ones Johan competes in. The third place in Roubaix shows this."
Boonen doesn't want to be compared with Vandenbroucke though. "Frank is Frank, eh," he says, smiling. "He had a lot of back luck too, but he kind of draws it to himself. I think he's going to be back this year.
"I did a week training with him in France and he looked really good. Everybody would like to see him back. If he gets better from bad luck, he'll be there. Maybe not for the whole year, but he'll be there for a few races."
As Boonen says, talent doesn't go away.