5th Jacob's Creek Tour Down Under - 2.3
Australia, January 21-26, 2003
News for January 22, 2003
Cooke takes aim for the European spring
FDjeux.com's sprinter reveals future plans and what really went on in the mad dash for stage 1 of the Jacob's Creek Tour Down Under
By Gerard Knapp in Adelaide
Baden Cooke
Photo: © Tom Balks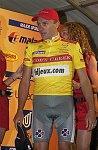 "I've been given strict instructions not to go for the overall (win)," said a very relaxed Baden Cooke after his surprise win on the first stage of the Jacob's Creek Tour Down Under. The Australian sprinter with French team FDjeux.com, who was the revelation of the pro peloton in 2002, was in the leader's jersey due to the relegation of fellow Australian sprinter Graeme Brown (Panaria), who was actually first across the line in the 50km criterium on Tuesday evening, January 22, which kicked off the 2003 season for most of the riders present.
While Cooke is certainly fast at this time of year, he is not expected to be at his peak in January. "(Team director) Marc Madiot wouldn't be happy if I was in top form right now."
Madiot and Cooke have their eyes not only on the Tour de France in July, but of equal (if not greater) importance this year are the Spring Classics, with Cooke revealing a desire to aim for Milan-San Remo in March, as well as Gent-Wevelgem in April. In fact, Cooke is seriously going after any of the World Cup races in the European spring. Based on the way he attacked the bunch kicks in his first-ever Tour de France in 2002, if Cooke finds himself in a final selection of a World Cup race, he would certainly rank as a favourite given his finishing speed and skill in bunch sprints.
He was certainly in the fray of the mad dash for the line in stage 1 of the Jacob's Creek, which featured a trio of sprinters who will wreak havoc this year in Europe. Less than a bike length separated Robbie McEwen, Brown and Cooke as they hit the line, but 'Brownie' was deemed by the chief commissaire to have deviated off his line in the final 200 metres and ended up in 94th place, as well as scoring a 200 euro fine and 30 second time penalty.
In the five stage Jacob's Creek Tour Down Under, 30 seconds is a huge deficit and essentially cost Brownie any chance of the overall. But as Cooke was on his right shoulder, the Fdjeux.com rider was in no doubt what happened.
Brown had been given a beautiful lead-out by fellow Australian and Panaria rider Brett Lancaster, one of the members of the 2002 world championship winning team pursuit squad ("he's an animal, just amazing the way he can pick it up at 60kmh", Cooke said of Lancaster).
Cooke recalled that he was fighting with Quick Step-Davitamon's Tom Boonen for a wheel as the peloton rounded the final corner into the main straight. As they straightened for final kick, Cooke went to go past Brown's right as Lancaster had peeled off. McEwen was also in there and as he kicked left, into what was a "two to three metre gap" between Brown and the barricades, the Panaria rider swung left to close it. But it was too late for that kind of move as the riders must hold their line in the final 200 metres. The gap was shut down to a metre and McEwen could either take it and risk disaster, or back off.
Being the seasoned professional, he took the latter option, but it seems that the Lotto-Domo rider also let Brown know he was next to him, as after the race Brown complained that McEwen had grabbed hold of his left hip and "tried to pull me back". The trio hit the line with Brown in front of Cooke then McEwen in third, but in Cooke's opinion, "I think McEwen would have got him" had he not been impeded.
McEwen braked hard after the sprint, did a U-turn and went immediately back to the judges, but was apparently told any complaint was not necessary as the commissaire was going to review the finish on tape. Ten minutes later, the result was reversed and a previously triumphant Brown informed of his relegation.
The first big sprint of the year had ended in controversy, but also pointed to the level of competition which is producing riders that have overhauled the sprinting hierarchy at the most senior level in Europe. Only Mario Cipollini could really lay claim to being superior to that trio, but with Brown having a lead-out man of Lancaster's quality at his side this year, the Italian legend can certainly look forward to some extreme competition in the Giro d'Italia this year.
However, Brown's tactics were frowned on by his fellow Australian speedsters. "Someone like Brownie needs to go straight (in the final kick)," Cooke said afterwards. The Fdjeux.com rider believed Brown really didn't need to "throw a hook" in the final kick, as he possesses the pure speed to win it cleanly.
More than anything, Brown's tactics reveal the intense competition he has with McEwen, in that he may not have tried a similar move against Cooke or O'Grady. As Cooke said, "I'm not innocent of throwing a hook, but I've been rubbed out before. I've learnt my lesson."
Pushing to the limits
Photo: © Tom Balks

Showing his capacity to learn quickly, Cooke said "it's more than just racing" at stake when winding it up to 70kmh only centimetres from your competitors, with steel barricades and hard pavement ready to greet the unfortunate.
"Brownie, every time he gets on a bike he's throwing hooks everywhere, left and right. Maybe in the big races (like the Giro) he's a bit more mellow - maybe he has to be.
"I've come from the same school and it doesn't win you any friends," said Cooke of his new approach to the final kick. "I try to keep it straight. The thing with Brownie is that he's got the speed - he doesn't need to do it."
Brown's indiscretion gave Cooke his first leader's jersey of the year, which is how he ended 2002 - in a leader's jersey. The Victorian became the first Australian in 16 years to win the long-standing Herald-Sun Tour, a 12-stage, 10-day race in Victoria which features city criteriums through to genuinely tough mountain stages in the Victorian Alps.
It was October 26, on stage 11 of the Sun Tour last year, that observers saw an expansion of Cooke's potential, one which should be noted in Belgium. The sprinter had pushed himself into hyperventilation to scale Mt Baw Baw, which he described at the time as "the toughest hill climb stage I have ever had to do", to retain the tour leader's jersey.
Sun Tour champ
Photo: © Tom Balks
After the stage Cooke sat on the ground with a coat over his shoulders, in four degree temperatures and snow on the ground. He'd suffered like only a sprinter can on tough, steep climbs, but retained his lead. Cooke had started the Sun Tour as a wind-down race for the year in his home state, with his FDjeux.com team-mate Bradley McGee driving the car as DS for the tour. After a couple of days, all bets and beers were off and it was early to bed as they decided he was going to keep the jersey until the end.
This determination and ability to push himself revealed a potential to get his large frame up and over the size of climbs which populate the Spring Classics - and given his director's palmares (Marc Madiot won Paris - Roubaix, twice) - he will also have a wise voice in his ear when approaching a fierce stretch of cobbles.
It didn't take long for this period to gain special significance for Cooke after one full year in Europe. He admitted that most Australians "probably don't give two hoots about" about the Classics, while they all know about the Tour de France, but he realises "they are very special races which are not out of my reach".
He said it is a 150km-round trip to The Poggio, the final climb of Milan - San Remo, which he plans to do several times when he gets back to Europe.
"I really want to be in good form in April," he admitted. "The big one-day races are on the top of my list."