Recently on Cyclingnews.com
5th Jacob's Creek Tour Down Under - 2.3
Australia, January 21-26, 2003
News for January 21, 2003
"I want to win": Andrea Tafi talks to Cyclingnews
By Khairunnisa Schebella in Adelaide
Andrea Tafi
Photo: © Tom Balks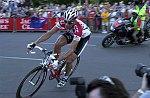 Andrea Tafi is in Adelaide in 2003 for his second time, with a new team (CSC) and a new lease of life. Here early to take advantage of the optimum training conditions of the Australian summer, Tafi is tanned, lean and at 37 years old still capable of ripping the legs off many of the younger riders.
I first ran into Tafi almost literally this year in Rundle Mall as I scooted in a mad hurry to pay some overdue bills, nearly colliding with the lanky Italian in front of hundreds of shoppers. Molto embarrassing. Then, to add further red to my already flushed face, as I took a spin up Norton Summit the next day, Tafi flew down past me as I started the 7 km climb. The customary nod of the head and I continued up the hill in my bottom gear. About 5 minutes later as I climbed, he passed me like a bullet pushing the big chain ring. 100 metres in front of me he turned around and went down again, with another nod. Was he being cheeky?
On I went, huffing and puffing, and within another 5 minutes there he was again, this time all the way to the top in the big gear and then down again while I was still climbing, this time with a big wave and a smile. He is a very likeable guy.
In his first year with the crack Danish outfit CSC after nine years with Mapei Quick Step, Tafi is looking forward to a year or two with Team Manager Bjarne Riis' happy family. In Australia with Directeur Sportif Sean Yates, also in his first year with CSC, Tafi has a season of Classics, Grand Tours and the World's in Hamilton on his agenda. Lacking motivation last year as well as crashing in Prato in September, Tafi has only been back on the bike since December. Completing more than 1200km in one week here in Adelaide, Tafi is determined to make his first race with CSC a winner. After a stage win or two at the Tour Down Under, Tafi wants to make his possible last year of racing one that counts.
"My manager and I spoke about this year and I want to go very, very fast in the Classics," Tafi explained. "With my new team more compact, of course, this makes me go faster. Because it is smaller it is stronger for me, we are closer and more together. For me this is very important. We decided to have the team working for me in the Classics, which will be the first time I have had such good riders working for me. I want to win."
After winning the Tour of Flanders in 2002, Paris-Tours in 2000 and Paris-Roubaix in 1999, Tafi is looking hungrily for a repeat of any of these this year. With 29 victories under his belt over a pro career of 14 years, Tafi says that he will hang up his cleats either at the end of this year. But if he feels good at the end of 2003, he'll pick up his option for another year with Riis.
Crowd favourite
Photo: © Tom Balks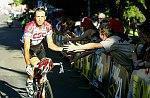 "I still feel young in my mind and body, with Mapei I did not want to go training but now I am very motivated to go. I was with them for nine years and I was very happy. Bjarne is very good for me, when I saw the difference of his team I was very happy What is important for me is the team around me, the motivation, the ambience, the togetherness".
From Adelaide, Tafi heads to Malaysia by invitation to watch the Tour de Langkawi and train. He will join his team in Qatar, then head to Europe for the Tour de Mediterranean, Kuurne-Brussels-Kuurne, Paris-Nice, Milan San Remo, Setmana Catalana and then on to the Classics and the Paris Roubaix. Sean Yates is not sure if they will do the Giro this year, despite being invited, but both the Tour de France and the Vuelta are a definite.
Talking about retirement doesn't phase Tafi, although he can see it down the road. Any plans what he'll do? "I don't know," he says laughing and throwing his hands in the air, "I have to think now only to keep racing."
It will be a shame to lose him from the peloton but his friendly nature, love of riding and wealth of experience should ensure he's not lost from the sport. That would be cycling's great loss.