5th Jacob's Creek Tour Down Under - 2.3
Australia, January 21-26, 2003
News for January 20, 2003
Team presentation: It's showtime
By Jeff Jones in Adelaide
The 12 teams taking part in the 2003 Jacob's Creek Tour Down Under were presented in the Hilton Hotel's meeting room this afternoon to a host of sponsors, staff and media. A total of 107 riders accompanied by their team managers were introduced on stage and given a brief grilling by TV commentator Phil Liggett. The JCTDU will be the first professional race of the season for many of the teams, so it was also an opportunity to take a look at their new team kit for 2003.
Quick Step-Davitamon
Quick Step-Davitamon
Photo: © Tom Balks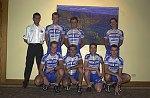 One of two teams to start with seven riders due to the unfortunate injury to Kevin Hulsmans, Quick Step-Davitamon will have the added pressure of working for defending 2002 JCTDU champion Michael Rogers. In addition to Rogers, the team will be counting on Luca Paolini, David Caña, Tom Boonen, Davide Bramati, Bram Tankink and Kurt Van De Wouwer.
Rogers was asked the inevitable question about Adam Pyke, the spectator who saved the tour last year for Mick by giving him his bike to ride after Rogers' was destroyed in a crash. "I've brought him for every stage on most of the climbs," said Rogers wryly. "He had to buy a new bike this year because I changed mine."
"I'm feeling a bit of pressure," he admitted. "I had a good ride yesterday down at the National's. I'm full of confidence, my legs are a lot better than I thought they were and I can't wait to start racing. I've had a good record here. I've had a few stage wins so hopefully I'll make another one this year."
Rogers will be counting on the tall Belgian prodigy Tom Boonen, who is in Australia for his first visit. "My condition is good this year," commented Boonen. "I've been training as I'm supposed to. It's still early in the season for me as I've still got a few months to go to the classics. But I've got a bit of ambition for this race. If there's a field sprint I'll be there, if there's a break I'll be there. We'll see."
Credit Agricole
Credit Agricole
Photo: © Tom Balks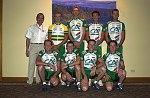 One rider who is a perennial favourite for this race is hometown hero Stuart O'Grady, who is mobbed wherever he goes. He had a great ride to win the national title yesterday and said that he'd like to win this race too.
O'Grady will be helped by Chris Jenner, who said that "We'll try as much as we can to support Stuart. Hopefully he'll be there. He's obviously got the form."
Standing next to O'Grady was the big German powerhouse Jens Voigt, who has ridden in Australia before but has never done the Tour Down Under. Voigt is still getting used to the temperature difference.
"When we left Germany it was down to minus 10 and here it is plus 40. A difference of 50 degrees so yep, it's easy, it'll be just cruisy," said Voigt.
"It's my first race. I'm still struggling a bit with the heat," he admitted. "Obviously Stuey has the form. It's my first TDU so I'm here to see and learn how it works and hopefully we'll get the big man to do it."
The team also boasts Christophe Moreau, Corey Sweet, Pierrick Fedrigo, Lilian Jegou, and Cedric Herve.
Saeco-Longoni Sport
Saeco-Longoni Sport
Photo: © Tom Balks
The Saeco team has been coming out to the Jacob's Creek Tour Down Under ever year, and will be led this year once again by the flamboyant sprinter Fabio Sacchi. "I've come to the tour determined to win but I'm also conscious that there a many riders who can win the tour. I'll try my very best," said the interestingly coiffured Italian.
Sacchi's hairstyle is a work of art, but he said that "I'm lucky because they do it for free. I'm always trying to keep a good image."
Spaniards Igor Astarloa and Juan Fuentes, Italians Stefano Zanini, Cristian Pepoli, Nicola Gavazzi and Dario Pieri, and German Jörg Ludewig, show that Saeco-Longoni Sport means business here.
Lotto-Domo
Lotto-Domo
Photo: © Tom Balks
Last year, Lotto won four stages of the Jacob's Creek Tour Down Under. If Lotto-Domo can get close to that this year, the riders will be more than happy. They are relying once again on top sprinter Robbie McEwen, who is on paper the fastest man in the race. McEwen wants to start the season with a win if he can, and he's not prepared to rest on his success last year.
"I'll try not to focus on last year, just try to focus on what's happening this year," said McEwen. "We've got a fantastic team, a really good bunch of guys. We're motivated to go out and have another good season. Last season was really good but it's going to be gone and forgotten, and we've got to get on with this year."
"It's not exactly a leadout team but our team's pretty gutsy and we'll be there," he added.
Lotto-Domo consists of McEwen, Wim Vansevenant, Hans De Clercq, Kevin Van Impe, Thierry Marichal, Glenn d'Hollander, Gert Steegmans, and Nick Gates.
Deutsche Telekom
Deutsche Telekom
Photo: © Tom Balks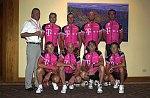 One of the world's top teams is team Deutsche Telekom, always very recognisable in the peloton in their magenta and black jerseys. Led by the brilliant Cadel Evans, Telekom is a real chance to take out at least a stage this year. Cadel was signed by Telekom to ride, and hopefully win, the Tour de France.
"I hope they're right," he said. "This will be my first Tour de France this year, we'll see how it goes. One step at a time."
Evans also commented on taking the Maglia Rosa (Pink leader's jersey) in the Giro d'Italia in 2002. "Last year a lot of things happened very quickly, especially at the Giro. As far as my sporting career goes that was one of the highlights."
The youth of Evans will be balanced by the experience of Kai Hundertmarck, who said that "I have some good memories of this tour. Two years ago I was second, just beaten by three seconds, so we'll see how it goes this year."
The rest of Telekom includes Steffen Wesemann, Daniele Nardello, Dirk Reichl, Stefan Schumacher, Bobby Julich and Christian Werner.
AG2r-Prevoyance
AG2r-Prevoyance
Photo: © Tom Balks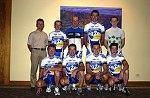 This French team boasts two national road champions in Jaan Kirsipuu (Estonia) and new signing Mark Scanlon (Ireland). Kirsipuu is a formidable sprinter, having won nearly 100 races in his career. He's out to try and get an early season win on the board, but admits it will be hard despite his good condition at the moment.
"I think my condition is better than all the previous years, but the Australians are always very strong here," said Kirsipuu. "Especially sprinters like Robbie McEwen and Stuart O'Grady. They will be very hard to beat but I'll still try."
Mark Scanlon is looking forward to beginning his professional career on a strong note. "I rode very well at the end of the season last year so obviously the team was impressed. That's why I got the contract. It's nice to start off the season here in Australia."
Scanlon hopes to "get through the year without being injured and hopefully win one or two smaller races."
The remainder of the team is Alexandre Botcharov, Mikel Astarloza, Erki Putsep, Iñigo Chaurreau, Nicolas Inaudi, and Nicolas Portal.
FDJeux.com
FDJeux.com
Photo: © Tom Balks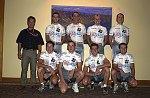 Besides boasting Tour de France stage winner, World and Commonwealth Games pursuit champion Bradley McGee, FDJeux.com has also brought along fellow Aussies Baden Cooke and Matt Wilson, as well as Jacky Durand, Regis Lhullier, Benoît Vaugrenard, Bernhard Eisel, and Mickael Pichon.
When asked the question, Baden Cooke said that "I expect to win but whether I actually do that or not is another thing. I'll be trying. Certainly at the moment I've got a lot better form than this time last year, and hopefully that'll carry on until July."
Cooke is recovering from a nasty crash sustained in the Geelong Bay Classic a week and a half ago at Rye. "I went over the bars at about 50 km/h and hit my head pretty hard on the gutter and had concussion," he recounted. "But I only missed about three days training so I still think I'm in fairly good condition."
CSC
CSC
Photo: © Tom Balks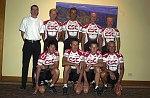 Danish squad CSC has a few new names in its lineup this year, but all are familiar faces. Italian legend Andrea Tafi signed up for this season and we'll certainly see a fair bit of his attacking style during the race, as he prepares for the early season classics. Another man to watch is Jakob Piil, winner of the Paris-Tours World Cup race last year.
When asked about his chances, the blond Dane replied "You never know what can happen in the race. Of course it's possible [to win]. But I don't think I'm the top rider from the team for this race."
The team will be directed by Brit Sean Yates, in his third role as a team director. "Obviously I'm very excited to be with the CSC team this year and to be out here in Australia," said Yates. "I've had a few ups and downs over the last few years but this is a solid team and I'm looking forward to doing great things with them."
The rest of the team is Geert Van Bondt, Arvis Piziks, Julian Dean, Tristan Hoffman, Thomas Bruun Eriksen and Lennie Kristensen.
ONCE-Eroski
ONCE-Eroski
Photo: © Tom Balks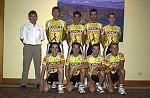 A big team to have Down Under this year is the Spanish ONCE-Eroski outfit, one of the top teams for tour racing in the world. Boasting riders such as Igor Gonzalez de Galdeano, ONCE will be an interesting team to watch in this race. The team's sole Australian is Allan Davis, who will ride with them for the first time in 2003.
"It's going to be a big year I hope," said Davis, who took silver in yesterday's national titles. "This is my first year with ONCE and hopefully it's going to be very prosperous and I'll take a lot of experience out of the year."
"It was pretty enjoyable with Mapei last year but unfortunately it all folded together. I'm lucky enough to come back and I've fallen on my feet with ONCE," said Davis.
ONCE's lineup also includes Gianpaolo Caruso, Alvaro Gonzalez de Galdeano, Xavier Florencio, Joaquin Rodriguez, and Angel Vicioso. David Arroyo unfortunately crashed while training and broke his collarbone.
Ceramiche Panaria-Fiordo
Ceramiche Panaria-Fiordo
Photo: © Tom Balks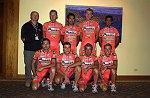 Sprinter Graeme Brown will head up the orange clad Ceramiche Panaria-Fiordo team this year, hoping to steal a few stages from under Robbie McEwen's nose. Brown finished the Australian titles yesterday (an impressive feat in itself) and said that he hopes his form will carry on into the TDU.
He will be supported by Australians Brett Lancaster and Scott Davis, as well as brilliant Mexican climber Julio Alberto Perez Cuapio, Italians Ruben Bongiorno, Filippo Perfetto and Paolo Lanfranchi, and Ukrainian Sergey Matveyev.
United Water
United Water
Photo: © Tom Balks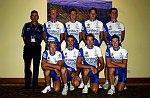 The Australian young guns team this year is sponsored by United Water, and features Australia's best up and coming riders. The multi-talented Mark Renshaw will be one to watch if he gets in a breakaway, as he possesses a fearsome sprint.
"I'd love to win a stage, that's for sure," said Renshaw. "There are certainly a couple of stages where I'll try and get my team to help me out to try and win stages. We'll go out there and give it all we've got."
"We've had a good training camp here in Adelaide the last couple of weeks so hopefully we're going to make that count," he added.
Renshaw will be joined by Peter Dawson, Brendan Cato, Aaron Kemps, David Betts, Bernard Sulzberger, Lee Godfrey and Ashley Hutchinson.
UniSA
Quick Step-Davitamon
Photo: © Tom Balks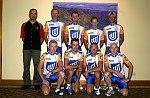 The final team on the start list is another local one, UniSA. Sponsored by the University of South Australia, the team is entirely made up of South Australian riders. Led by Patrick Jonker, who showed that he's in good form by taking third in the Australian titles, the team also includes Luke Roberts, Brett Aitken, Australian U23 road champion Gene Bates, Australian U23 time trial champion Adrian Laidler, sprinter Jay Sweet, Steven Cunningham, and Russell Van Hout.
The crowds will be cheering very loudly for these boys, that is assured.