Grande Boucle Féminine Internationale - 2.9.1
France, August 3-17, 2003
Main Page Results Previous Stage
Stage 14 - August 17: Versailles - Paris, 58.2 km
Five for Nurnberger, Somarriba Arrola wins tour
By Kristy Scrymgeour
Joane Somarriba Arrola takes the race win
Photo: © AFP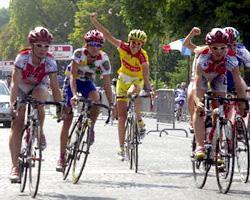 On the last day of the Grande Boucle Feminin, Nurnberger took their fifth stage of the tour. It was Petra Rossner's second win of the tour, however this time she did not win in a bunch sprint but out of a breakaway of eight riders.
Riders decided to take the first 20km of the 57km race fairly easy until they reached Paris with four laps of 7.5km remaining. With two laps to go a break of six riders got away including Rossner, Zoulfia Zabirova (Road Runner - Guerciotti Cycling Team),Luisa Tamanini (Team 2002 Aurora RSM), Anita Valen (Bik-Powerplate), Katrina Grove (Team S.A.T.S), Sylvie Riedle (Les Pruneaux d'Agen), Sabrina Emmasi (Prato Marathon Bike).
Katrina Grove (Team S.A.T.S) attacked out of the peloton with 12 km to go to bridge to the break and was covered by Margaret Hemsley (Nurnberger). The pair reached the break making it a group of eight which stayed away till the finish. A few attacks went out of the group as riders jostled to go for a stage win but nothing eventuated. With 5km to go Hemsley started the long lead out for her teammate Rossner, pulling off with 700m to go. Rossner pulled of yet another fast sprint winning the stage over.
With stage 14 wrapping up the 2003 Grande Boucle Feminin, Joane Somarriba Arrola (Bizkaia Panda Spiuk Sabeco) successfully held onto her lead to win the overall in front of Nicole Brändli (Prato Marathon Bike) and Judith Arndt (Nurnberger Versicherung).
Photos
Images by AFP/Jean-Luc Lamaere
Results
1 Petra Rossner (Ger) Equipe Nürnberger Versicherung                1.20.22
2 Luisa Tamanini (Ita) Team 2002 Aurora RSM                                
3 Anita Valen (Nor) Bik-Powerplate                                         
4 Katrina Grove (USA) Team S.A.T.S                                         
5 Zoulfia Zabirova (Rus) Road Runner - Guerciotti Cycling Team             
6 Sylvie Riedle (Fra) Les Pruneaux d'Agen                                  
7 Sabrina Emmasi (Ita) Prato Marathon Bike                             0.04
8 Margaret Hemsley (Aus) Equipe Nürnberger Versicherung                0.22
9 Mette Andreasen Fischer (Den) Team S.A.T.S                           0.46
10 Alison Wright (Aus) Road Runner - Guerciotti Cycling Team               
11 Nadia Triquet (Fra) French National Team                                
12 Francesca Castrucci (Ita) Prato Marathon Bike                           
13 Erika Vilunaite (Ltu) Prato Marathon Bike                               
14 Lisbeth Simper (Den) S.C. Michela Fanini Record Rox                     
15 Nataliya Kachalka (Ukr) Team 2002 Aurora RSM                            
16 Azucena Sanchez (Spa) Team Catalunya-Aliverti-Kookai                    
17 Francis Linthorst (Ned) Bik-Powerplate                                  
18 Corinne Sempe (Fra) French National Team                                
19 Karine Dalmais (Fra) French National Team                               
20 Ioulia Martissova (Rus) Bizkaia Panda Spiuk Sabeco                      
21 Helen Kelly (Aus) Team S.A.T.S                                          
22 Olga Zabelinskaia (Rus) Velodames-Colnago                               
23 Giovanna Troldi (Ita) Les Pruneaux d'Agen                               
24 Elisabeth Chevanne Brunel (Fra) Les Pruneaux d'Agen                     
25 Edita Pucinskaite (Ltu) S.C. Michela Fanini Record Rox                  
26 Meredith Miller (USA) Team S.A.T.S                                      
27 Tatiana Stiajkina (Ukr) Velodames-Colnago                               
28 Birgit Söllner (Ger) Equipe Nürnberger Versicherung                     
29 Emma James (Aus) Les Pruneaux d'Agen                                    
30 Ghita Beltman (Ned) Bizkaia Panda Spiuk Sabeco                          
31 Montserrat Alonso Bernal (Spa) Team Catalunya-Aliverti-Kookai           
32 Judith Arndt (Ger) Equipe Nürnberger Versicherung                       
33 Eneritz Iturriaga (Spa) Team 2002 Aurora RSM                            
34 Sigrid Corneo (Ita) Road Runner - Guerciotti Cycling Team               
35 Irene Puccioni (Ita) Prato Marathon Bike                                
36 Letizia Giardinelli (Ita) S.C. Michela Fanini Record Rox                
37 Trine Hansen (Den) Team S.A.T.S                                         
38 Madeleine Lindberg (Swe) Equipe Nürnberger Versicherung                 
39 Christina Peick Andersen (Den) Team S.A.T.S                         0.26
40 Susanne Ljungskog (Swe) Bik-Powerplate                              0.46
41 Fabiana Luperini (Ita) Team 2002 Aurora RSM                             
42 Marianna Lorenzoni (Ita) Team Catalunya-Aliverti-Kookai                 
43 Kirsty Robb (NZl) Bik-Powerplate                                        
44 Rasa Polikeviciute (Ltu) Team 2002 Aurora RSM                           
45 Jolanta Polikeviciute (Ltu) Team 2002 Aurora RSM                        
46 Magalie Finot Laivier (Fra) French National Team                        
47 Nicole Brändli (Swi) Prato Marathon Bike                                
48 Cristina Alcalde Huertanos (Spa) Bizkaia Panda Spiuk Sabeco             
49 Joane Somarriba Arrola (Spa) Bizkaia Panda Spiuk Sabeco                 
50 Iosune Murillo Elkano (Spa) Bizkaia Panda Spiuk Sabeco                  
 
Final general classification
 
1 Joane Somarriba Arrola (Spa) Bizkaia Panda Spiuk Sabeco          35.39.56
2 Nicole Brändli (Swi) Prato Marathon Bike                             2.29
3 Judith Arndt (Ger) Equipe Nürnberger Versicherung                    5.05
4 Fabiana Luperini (Ita) Team 2002 Aurora RSM                          5.44
5 Edita Pucinskaite (Ltu) S.C. Michela Fanini Record Rox               6.25
6 Olga Zabelinskaia (Rus) Velodames-Colnago                            8.31
7 Susanne Ljungskog (Swe) Bik-Powerplate                              10.51
8 Jolanta Polikeviciute (Ltu) Team 2002 Aurora RSM                    12.23
9 Eneritz Iturriaga (Spa) Team 2002 Aurora RSM                        23.37
10 Rasa Polikeviciute (Ltu) Team 2002 Aurora RSM                      24.38
11 Luisa Tamanini (Ita) Team 2002 Aurora RSM                          28.57
12 Katrina Grove (USA) Team S.A.T.S                                   31.20
13 Marianna Lorenzoni (Ita) Team Catalunya-Aliverti-Kookai            32.49
14 Nataliya Kachalka (Ukr) Team 2002 Aurora RSM                       40.27
15 Tatiana Stiajkina (Ukr) Velodames-Colnago                          43.47
16 Anita Valen (Nor) Bik-Powerplate                                   46.23
17 Elisabeth Chevanne Brunel (Fra) Les Pruneaux d'Agen                49.07
18 Emma James (Aus) Les Pruneaux d'Agen                               53.47
19 Zoulfia Zabirova (Rus) Road Runner - Guerciotti Cycling Team     1.00.13
20 Ioulia Martissova (Rus) Bizkaia Panda Spiuk Sabeco               1.02.18
21 Sigrid Corneo (Ita) Road Runner - Guerciotti Cycling Team        1.03.01
22 Lisbeth Simper (Den) S.C. Michela Fanini Record Rox              1.06.06
23 Nadia Triquet (Fra) French National Team                         1.13.47
24 Karine Dalmais (Fra) French National Team                        1.18.23
25 Margaret Hemsley (Aus) Equipe Nürnberger Versicherung            1.25.32
26 Mette Andreasen Fischer (Den) Team S.A.T.S                       1.56.20
27 Giovanna Troldi (Ita) Les Pruneaux d'Agen                        1.56.22
28 Birgit Söllner (Ger) Equipe Nürnberger Versicherung              2.05.12
29 Ghita Beltman (Ned) Bizkaia Panda Spiuk Sabeco                   2.13.16
30 Corinne Sempe (Fra) French National Team                         2.14.51
31 Erika Vilunaite (Ltu) Prato Marathon Bike                        2.18.15
32 Trine Hansen (Den) Team S.A.T.S                                  2.21.30
33 Magalie Finot Laivier (Fra) French National Team                 2.26.40
34 Francis Linthorst (Ned) Bik-Powerplate                           2.27.04
35 Alison Wright (Aus) Road Runner - Guerciotti Cycling Team        2.28.57
36 Meredith Miller (USA) Team S.A.T.S                               2.29.40
37 Christina Peick Andersen (Den) Team S.A.T.S                      2.32.43
38 Francesca Castrucci (Ita) Prato Marathon Bike                    2.35.42
39 Sabrina Emmasi (Ita) Prato Marathon Bike                         2.35.56
40 Irene Puccioni (Ita) Prato Marathon Bike                         2.36.01
41 Sylvie Riedle (Fra) Les Pruneaux d'Agen                          2.39.30
42 Helen Kelly (Aus) Team S.A.T.S                                   2.41.30
43 Kirsty Robb (NZl) Bik-Powerplate                                 2.50.42
44 Montserrat Alonso Bernal (Spa) Team Catalunya-Aliverti-Kookai    2.51.35
45 Letizia Giardinelli (Ita) S.C. Michela Fanini Record Rox         2.52.49
46 Azucena Sanchez (Spa) Team Catalunya-Aliverti-Kookai             3.00.50
47 Madeleine Lindberg (Swe) Equipe Nürnberger Versicherung          3.18.56
48 Cristina Alcalde Huertanos (Spa) Bizkaia Panda Spiuk Sabeco      3.22.51
49 Petra Rossner (Ger) Equipe Nürnberger Versicherung               3.36.43
50 Iosune Murillo Elkano (Spa) Bizkaia Panda Spiuk Sabeco           3.41.52
 
Mountains classification
 
1 Fabiana Luperini (Ita) Team 2002 Aurora RSM                            61 pts
2 Joane Somarriba Arrola (Spa) Bizkaia Panda Spiuk Sabeco                50
3 Nicole Brändli (Swi) Prato Marathon Bike                               47
4 Jolanta Polikeviciute (Ltu) Team 2002 Aurora RSM                       25
5 Rasa Polikeviciute (Ltu) Team 2002 Aurora RSM                          25
6 Tatiana Stiajkina (Ukr) Velodames-Colnago                              23
7 Olga Zabelinskaia (Rus) Velodames-Colnago                              20
8 Edita Pucinskaite (Ltu) S.C. Michela Fanini Record Rox                 19
9 Susanne Ljungskog (Swe) Bik-Powerplate                                 16
10 Judith Arndt (Ger) Equipe Nürnberger Versicherung                     13
11 Luisa Tamanini (Ita) Team 2002 Aurora RSM                              6
12 Sigrid Corneo (Ita) Road Runner - Guerciotti Cycling Team              6
13 Margaret Hemsley (Aus) Equipe Nürnberger Versicherung                  5
14 Erika Vilunaite (Ltu) Prato Marathon Bike                              4
15 Petra Rossner (Ger) Equipe Nürnberger Versicherung                     4
16 Eneritz Iturriaga (Spa) Team 2002 Aurora RSM                           2
17 Anita Valen (Nor) Bik-Powerplate                                       2
18 Zoulfia Zabirova (Rus) Road Runner - Guerciotti Cycling Team           2
19 Karine Dalmais (Fra) French National Team                              2
20 Marianna Lorenzoni (Ita) Team Catalunya-Aliverti-Kookai                1
21 Ioulia Martissova (Rus) Bizkaia Panda Spiuk Sabeco                     1
22 Mette Andreasen Fischer (Den) Team S.A.T.S                             1
23 Magalie Finot Laivier (Fra) French National Team                       1
 
U23 classification
 
1 Nicole Brändli (Swi) Prato Marathon Bike                         35.42.25
2 Olga Zabelinskaia (Rus) Velodames-Colnago                            6.02
3 Eneritz Iturriaga (Spa) Team 2002 Aurora RSM                        21.08
4 Luisa Tamanini (Ita) Team 2002 Aurora RSM                           26.28
5 Mette Andreasen Fischer (Den) Team S.A.T.S                        1.53.51
6 Erika Vilunaite (Ltu) Prato Marathon Bike                         2.15.46
7 Alison Wright (Aus) Road Runner - Guerciotti Cycling Team         2.26.28
8 Irene Puccioni (Ita) Prato Marathon Bike                          2.33.32
9 Kirsty Robb (NZl) Bik-Powerplate                                  2.48.13
10 Cristina Alcalde Huertanos (Spa) Bizkaia Panda Spiuk Sabeco      3.20.22
11 Iosune Murillo Elkano (Spa) Bizkaia Panda Spiuk Sabeco           3.39.23