La Vuelta de Bisbee
Bisbee, Arizona, USA, April 25-27, 2003
Main Page Results Previous stage Next stage
Stage 2 - April 26: Warren time trial, 10.6 miles
by Stephen W. Medcroft
One Rapid Rapinski
Photo: © Stephen W. Medcroft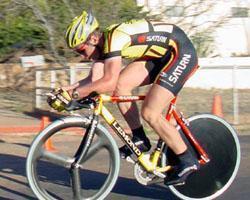 With little wind and temperatures behaving themselves and staying below 80 degrees, racers donned their tightest and most aerodynamic clothing and brought out the time trial bikes for this afternoon's race.
Drew Miller knew his job was to preserve his lead over Mike Sayers. Sayers approach was to try and gain time on Victor Rapinski, the strong Saturn Cycling racer.
"I kept Victor in sight most of the time but couldn't gain any time on him," Sayer said while cooling down at the finish line. Rapinkski came through the finish area strong and posted a 19:39 time, the fastest time thus far today. Sayer came up the final straight, pressing to earn a respectable finish. But Miller was right on his heels, neutralizing any gain Sayer could have possibly made.
"I did my best to settle into a rhythm," Miller said. "I felt like I did okay but I don't see myself as a great time-trialist." Rapinski was the rider Miller seemed most cautious of. "Victor's huge. He's a horse. And he can climb really well." Sayers agreed. "Victor's one to watch for. It's going to be a battle tomorrow. I'm really looking forward to the last ten to fifteen miles of this race."
Back from Iraq already?
Photo: © Stephen W. Medcroft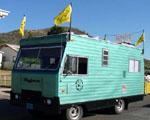 They were right to worry. After the results were calculated, Rapinski's time was good enough to leapfrog him to the top of the GC. Gord Fraser's blistering time pulled him into second place overall demoting Miller to 35 seconds back and third place going into tomorrows tough, 65 mile Tombstone stage race.
The women's race overall positions was preserved when Jutras finished with a strong, winning time of 22:28, 33 seconds faster than second place Katrina Grove.
Team tactics should play a large role in the development of tomorrow's final stage. Positioning for a favorable running order to the bottom of the blistering climb up Tombstone Canyon Road (the site of the prologue) will be key to a chance for some riders to win. Should past Bisbee races be any example, that final climb should sort the entire race out and make for an exciting finale to the weekend.
Photos
Images by Stephen W. Medcroft
Results

Men Pro/1/2/3/4/5/juniors
 
1 Viktor Rapinski (Blr) Saturn Cycling Team                    19.39
2 Gord Fraser (Can) Team HealthNet                              0.05
3 Sandy Perrins (USA) Healthy Choice-Guru's                     0.25
4 Todd Wells (USA) Hyundai Mongoose                             0.33
5 Gardie Jackson (USA) Healthy Choice-Guru's                    0.36
6 Andrew Miller (USA) Landis/Trek/VW                            0.40
7 Ivan Dominguez (Cub) Saturn Cycling Team
8 Chris McGovern (USA) Team HealthNet                           0.47
9 Justin Peschka (USA) Landis/Trek/VW                           0.50
10 Mike Sayers (USA) Team HealthNet                             1.00
11 Andy Jacques-Maynes (USA) Sierra Nevada/Clif Bar             1.01
12 Scott Zwizanski (USA) Team Snow Valley                       1.03
13 Scott Price (USA) Landis/Trek/VW
14 Nic Brown (USA) Lemond Fitness/Captain Cra-Z Soap            1.15
15 George Ganoung (USA) NCVC/Edge Technologies                  1.18
16 Rusty Beall (USA) Team HealthNet                             1.23
17 Patrick Sullivan (USA) GS Ciao/Al's Barber Shop              1.30
18 Russ Langley (USA) Team Snow Valley                          1.34
19 Tim Carolan (USA) Landis/Trek/VW                             1.35
20 Jason Lockesmoe (USA) Team HealthNet                         1.37
21 Scott Blanchard (USA) Eclipse Racing                         1.38
22 Jason Tullous (USA) Grand Canyon Racing
23 Keith Miller (USA) Kissena Cycling Team
24 Timmy Duggan (USA) Duane Duggan ReMax/Paketa Bikes           1.39
25 Jonathan Heidemann (USA) RMCEF                               1.41
26 Ian Stuart (USA) Saturn Cycling Team
27 Daniel Ramsey (USA) Sierra Nevada/Clif Bar
28 Nathan Mitchell (USA) Giant USA                              1.43
29 Eric Ransom (USA) Team Iomega-Orbea                          1.44
30 Calvin Allan (USA) Broadmark Capital Cycling Team            1.46
31 Michael Moore (Can) GearsRacing.com                          1.47
32 Bronson Criddle (USA) Unattached                             1.50
33 Brad Scott (USA) Team Revolution Racing
34 Bryson Perry (USA) Healthy Choice-Guru's                     1.51
35 Eric Brownell (USA) Honeywell Cycling Team                   1.57
36 Jeff Hoppert (USA) Eclipse Racing                            2.00
37 Ron Hudson (USA) SportsBuuk.Com
38 Eric Abrams (USA) Grand Canyon Racing                        2.02
39 Adrian Laidler (USA) LeMond Fitness/Captain Cra-Z Soap       2.03
40 Craig Wilcox (USA) Broadmark Capital Cycling Team
41 Danny Kaukola (USA) Los Malos Racing Club                    2.07
42 Sheldon Deeny (USA) RMCEF                                    2.08
43 Jeffrey Austin (USA) Arizona State Cycling                   2.09
44 Peter Sanowar (Can) GearsRacing.com
45 Jason Karew (USA) Eclipse Racing                             2.10
46 Alex Kozlov (Blr) Team HealthNet                             2.13
47 Bartek Fidelus (USA) Celo Pacific
48 Doug Ollerenshaw (USA) Broadmark Capital Cycling Team        2.14
49 Brian Lemke (USA) Landis/Trek/VW                             2.19
50 Chris Isaac (Can) GearsRacing.com                            2.20
51 Walker Ferguson (USA) Subaru/Gary Fisher                     2.31
52 Eneas Freyre (USA) Lemond Fitness/Captain Cra-Z Soap         2.36
53 Scott Keller (USA) Speed Bikes
54 Matt Bromen (USA) Minute Maid/Dasani-LaGrange                2.39
55 Evan Elken (USA) Broadmark Capital Cycling Team              2.44
56 Brian Chimileski (USA) Duane Duggan ReMax/Paketa Bikes
57 John Osguthorpe (USA) Heathly Choice Guru's                  2.47
58 Jonathan Parrish (USA) Landis/Trek/VW
59 Kale Keltz (USA) CZ Racing                                   2.49
60 Todd Harriott (USA) Team HealthNet                           2.50
61 Jeffrey Wardell (USA) Xybix Systems Inc.                     2.52
62 Abraham Taylor (USA) Sierra Nevada/Clif Bar
63 Leigh Palmer (USA) LeMond Fitness/Captain Cra-Z Soap         2.53
64 Ian Dille (USA) Team Snow Valley                             2.56
65 Ian Prichard (USA) Schwab Cycles/Torelli                     3.00
66 Barkley Robinson (USA) Schwab Cycles/Torelli                 3.01
67 Jason Klikna (USA) Sierra Nevada/Clif Bar                    3.02
68 Chad Beyer (USA) Giant/Domenic                               3.05
69 Ian MacGregor (USA) Duane Duggan ReMax/Paketa Bikes          3.07
70 Brian Hawley (USA) Sierra Nevada/Clif Bar                    3.09
71 Evan Hepner (USA) University of Arizona                      3.16
72 Daren Schmidt (USA) Landis/Trek/VW                           3.17
73 Dan Maggiacomo (Can) GearsRacing.com                         3.21
74 Hayes McNeil (USA) CZ Racing                                 3.31
75 Andy Crater (USA) LeMond Fitness/Captain Cra-Z Soap          3.47
76 Chris Abbruzzese (USA) Team Iomega-Orbea                     3.55
77 Tyler Thompson (USA) Broadmark Capital Cycling Team
78 Andrew Olson (USA) Evo                                       4.02
79 John Rogers (USA) ProCon Cycling                             4.03
80 Matt Unger (USA) No Hair.com                                 4.11
81 Isaiah Adams (USA) Westwood Velo                             4.16
82 Tad Hamilton (USA) Team Iomega-Orbea                         4.19
83 Colin Rooney (USA) E-Caps/Hammer Gel                         4.27
84 Dave Reid (USA) Landis/Trek/VW                               4.28
85 Josh Klikna (USA) Sierra Nevada/Clif Bar                     4.32
86 Bill Innes (USA) LeMond Fitness/Captain Cra-Z Soap           4.37
87 Jacob Hunter (USA) Team Revolution Racing                    4.39
88 Dan Distefano (USA) Eclipse Racing                           4.49
89 Roy Pickavance (USA) No Team
90 Justin Mayfield (USA) Team Iomega-Orbea                      4.58
91 Joe Sternberg (USA) Moots Bicycles                           4.59
92 Joshua Powers (USA) Bicycle Ranch                            5.19
93 Adam Hoppe (USA) Ochsner                                     5.50
94 Gary Casella (USA) Team Iomega-Orbea                         6.03
95 Jacob Rubelt (USA) Landis/Trek/VW                            6.28
 
Women
 
1 Manon Jutras (Can) Saturn Cycling Team                       19.39
2 Katrina Grove (USA) T-Mobile                                  0.33
3 Dotsie Cowden (USA) T-Mobile                                  0.59
4 Lynn Gaggiolli (USA) VeloBella                                1.08
5 Amy Moore (USA) Saturn Cycling Team                           1.17
6 Jennifer Wilson (USA) Mt Velo/Supergo                         1.59
7 Amy Vinik (USA) Mt Velo/Supergo                               2.02
8 Rebecca Cooke (USA) Landis/Trek/VW                            2.27
9 Deneen Brown (USA) Landis/Trek/VW                             2.34
10 Sarah Hammer (USA) T-Mobile                                  2.35
11 Cynthia Mommsen (USA) The Olympic Club                       2.37
12 Kristy Scheffenacker (USA) Team Snow Valley                  2.42
13 Elizabeth Begosh (USA) Team Snow Valley                      2.44
14 Maria Molina (Gua) Guatemala                                 2.47
15 Johanna Buick (NZl) New Zealand                              2.52
16 Megan Elliott (USA) Saturn Cycling Team                      3.20
17 Maggie Luciano-Williams (USA) Team One Racing
18 Laura Stahl-Schmidt (USA) Terry Precision                    3.23
19 Maureen Brooks (USA) Landis/Trek/VW                          3.24
20 Lara Kroepsut (USA) T-Mobile                                 3.36
21 Kristin Johnson (USA) T-Mobile
22 Beth Leasure (USA) Team VeloClips                            3.40
23 Juliane Mortello (USA) Landis/Trek/VW                        3.42
24 Wendy Kuhn (USA) Team One Racing                             3.46
25 Maria Castaneda (Gua) Guatemala                              3.48
26 Mary Kneeland (USA) ICO                                      3.51
27 Joan Wilson (USA) TDS                                        3.51
28 Rebecca Stengel (USA) Mt Velo/Supergo                        3.53
29 Chole Black (USA) Terry Precision                            3.56
30 Rook Campbell (USA) Hi Tech Bikes/Harbour Lites              4.00
31 Sheba Farrin (USA) LSV/Trek/VW                               4.24
32 Nicole Habay (USA) Speed Bikes                               4.35
33 Liza Rachetto (USA) ICO                                      4.55
34 Michelle Bote (USA) LSV/Trek/VW                              5.13
35 Amy Zirneklis (USA) Unattached                               5.16
36 Nicole Bossie (USA) Fuji                                     5.42
37 Diana Hunt (USA) Unattached                                  6.30
 
Masters Men
 
1 Doug Loveday (USA) Grand Canyon Racing                       21.12
2 Christian Reidys (USA) Ochsner                                0.07
3 Eric Sternlicht (USA) Simply Fit/Action Sports                0.19
4 Paul Wolfe (USA) Grand Canyon Racing                          0.23
5 Brian McGuire (USA) The Olympic Club                          0.50
6 Doug Powell (USA) AZphalt Cycling                             0.55
7 Mark Schaefer (USA) Ogden One                                 0.56
8 Scott Biaggi (USA) GS Tucson Racing                           1.01
9 Rick Cimaglia (USA) Grand Canyon Racing                       1.04
10 Paul Carter (USA) Sharp's Bicycle Racing Team                1.08
11 Byron Mulligan (USA) NCCC                                    1.18
12 DJ Fernandez (USA) CZ Racing                                 1.37
13 Craig Long (USA) ProCon Cycling                              1.42
14 Ken Jones (USA) CZ Racing                                    1.47
15 Don Williams (USA) CZ Racing                                 1.51
16 John Dehnnert (USA) Team Revolution Racing                   1.51
17 Troy Love (USA) CZ Racing                                    1.52
18 Richard Allen (USA) Team RPM
19 Mark Fosenburg (USA) Honeywell Cycling Team                  1.53
20 Denny Vaughan (USA) Team Revolution Racing                   2.07
21 Vaughn Van Note (USA) Sharp's Bicycle Racing Team            2.22
22 Peter Erdoes (USA) Los Malos Racing Club                     2.24
23 Steve Stuart (USA) CZ Racing
24 Donald Lewis (USA) Team Rhino                                2.26
25 Gavin Kennard (USA) Honeywell Cycling Team                   2.29
26 Paul Cooke (USA) Landis/Trek/VW                              2.30
27 Joel Cleare (USA) Giant/Domenic                              2.30
28 Christopher Rutz (USA) Bicycle Ranch                         2.31
29 Steve Morton (USA) Hillenbrand Racing                        2.33
30 David Anderson (USA) Team RPM                                2.38
31 Lindsay Crawford (USA) GS Strada
32 Daniel Whitehill (USA) Honeywell Cycling Team                2.39
33 Corky Kurtz (USA) Unattached
34 Chris Thompson (USA) GS Tucson Racing                        2.44
35 Rene Lucas (USA) ProCon Cycling                              2.45
36 Tom Reid (USA) Everest Challenge/Eastside Velo               2.49
37 Raymond Dunn (USA) GS Tucson Racing
38 Darik Russell (USA) ProCon Cycling                           2.56
39 Duane Mulvaney (USA) Landis/Trek/VW                          2.59
40 Jeff Traynor (USA) Pinnacle Peak/Mitchum Racing              3.01
41 Erick Flores (USA) Team VeloSport
42 Michael Middleton (USA) Team Rhino                           3.03
43 Craig Liming (USA) M&M Road Club                             3.08
44 Link King (USA) Team RPM
45 Scott Bartel (USA) Unattached                                3.13
46 Phillip Austin (USA) Pinnacle Peak/Mitchum Racing            3.14
47 Kevin Riseborough (USA) Honeywell Cycling Team               3.27
48 Troy Heineman (USA) Cochise County Cyclists                  3.33
49 Efraim Rojas (USA) Honeywell Cycling Team                    3.35
50 Mike Pierce (USA) Honeywell Cycling Team
51 John LaSorsa (USA) Los Malos Racing Club                     3.38
52 Thomas Johnson                                               3.40
53 Brian Smith (USA) Pinnacle Peak/Mitchum Racing               4.05
54 Jeff Katz (USA) Landis/Trek/VW                               4.09
55 Steve Diamond (USA) EddieB.Cycling.com                       4.15
56 Mike Wracher (USA) Simply Fit/Action Sports                  4.29
57 Rick Watson (USA) North Chattanooga Cycle Club               4.32
58 Brock Boring (USA) CZ Racing                                 4.38
59 Glenn Harris (USA) Cochise County Cyclists                   4.56
60 Bzur Haun (USA) Unattached                                   5.01
61 Jason Suarez (USA) Pinnacle Peak/Mitchum Racing              5.13
62 Al Caccavale (USA) Landis/Trek/VW                            5.21
63 Mike Parrish (USA) Landis/Trek/VW                            5.30
64 Edward Sullvian (USA) Unattached                             5.39
65 Leroy Bloom (USA) Cochise County Cyclists                    5.52
66 Juan Quintero (USA) Landis/Trek/VW                           5.56
67 James Buttke (USA) Cochise County Cyclists                   5.58
68 Joel Austin (USA) Simply Fit/Action Sports                   6.01
69 William Decker (USA) Landis/Trek/VW                          6.46
 
General classification after stage 2
 
Men Pro/1/2/3/4/5/juniors
 
1 Viktor Rapinski (Blr) Saturn Cycling Team                  3.30.16
2 Gord Fraser (Can) Team HealthNet                              0.21
3 Andrew Miller (USA) Landis/Trek/VW                            0.35
4 Todd Wells (USA) Hyundai Mongoose                             0.46
5 Mike Sayers (USA) Team HealthNet                              1.05
6 Scott Price (USA) Landis/Trek/VW                              1.13
7 Gardie Jackson (USA) Healthy Choice-Guru's                    1.15
8 Ivan Dominguez (Cub) Saturn Cycling Team                      1.17
9 Sandy Perrins (USA) Healthy Choice-Guru's                     1.34
10 Andy Jacques-Maynes (USA) Sierra Nevada/Clif Bar             1.42
11 Tim Carolan (USA) Landis/Trek/VW                             2.01
12 Patrick Sullivan (USA) GS Ciao/Al's Barber Shop              2.14
13 Scott Blanchard (USA) Eclipse Racing                         2.16
14 Rusty Beall (USA) Team HealthNet                             2.19
15 Scott Zwizanski (USA) Team Snow Valley                       2.21
16 Russ Langley (USA) Team Snow Valley                          2.30
17 Nic Brown (USA) Lemond Fitness/Captain Cra-Z Soap            2.37
18 Jason Tullous (USA) Grand Canyon Racing
19 Calvin Allan (USA) Broadmark Capital Cycling Team            2.38
20 George Ganoung (USA) NCVC/Edge Technologies                  2.40
21 Ron Hudson (USA) SportsBuuk.Com                              2.42
22 Ian Stuart (USA) Saturn Cycling Team                         2.47
23 Timmy Duggan (USA) Duane Duggan ReMax/Paketa Bikes           2.48
24 Eric Ransom (USA) Team Iomega-Orbea                          2.49
25 Walker Ferguson (USA) Subaru/Gary Fisher                     2.51
26 Adrian Laidler (USA) LeMond Fitness/Captain Cra-Z Soap       2.53
27 Daniel Ramsey (USA) Sierra Nevada/Clif Bar                   2.54
28 Bryson Perry (USA) Healthy Choice-Guru's                     3.07
29 Craig Wilcox (USA) Broadmark Capital Cycling Team            3.08
30 Jeffrey Austin (USA) Arizona State Cycling                   3.09
31 Alex Kozlov (Blr) Team HealthNet
32 Jason Lockesmoe (USA) Team HealthNet
33 Jonathan Heidemann (USA) RMCEF                               3.10
34 Bartek Fidelus (USA) Celo Pacific                            3.16
35 Doug Ollerenshaw (USA) Broadmark Capital Cycling Team        3.17
36 Peter Sanowar (Can) GearsRacing.com                          3.19
37 Sheldon Deeny (USA) RMCEF                                    3.22
38 Eric Abrams (USA) Grand Canyon Racing                        3.24
39 Chris Isaac (Can) GearsRacing.com
40 Michael Moore (Can) GearsRacing.com                          3.27
41 Chris McGovern (USA) Team HealthNet                          3.28
42 Scott Keller (USA) Speed Bikes                               3.29
43 Matt Bromen (USA) Minute Maid/Dasani-LaGrange                3.32
44 Nathan Mitchell (USA) Giant USA                              3.33
45 Justin Peschka (USA) Landis/Trek/VW                          3.34
46 Brad Scott (USA) Team Revolution Racing                      3.36
47 Eric Brownell (USA) Honeywell Cycling Team                   3.43
48 Jeff Hoppert (USA) Eclipse Racing                            3.48
49 John Osguthorpe (USA) Heathly Choice Guru's                  3.50
50 Todd Harriott (USA) Team HealthNet                           3.51
51 Eneas Freyre (USA) Lemond Fitness/Captain Cra-Z Soap         3.59
52 Evan Elken (USA) Broadmark Capital Cycling Team              4.05
53 Leigh Palmer (USA) LeMond Fitness/Captain Cra-Z Soap         4.07
54 Ian Prichard (USA) Schwab Cycles/Torelli                     4.12
55 Ian MacGregor (USA) Duane Duggan ReMax/Paketa Bikes          4.20
56 Ian Dille (USA) Team Snow Valley                             4.21
57 Brian Chimileski (USA) Duane Duggan ReMax/Paketa Bikes       4.25
58 Jason Karew (USA) Eclipse Racing
59 Bronson Criddle (USA) Unattached
60 Barkley Robinson (USA) Schwab Cycles/Torelli                 4.28
61 Danny Kaukola (USA) Los Malos Racing Club                    4.28
62 Jeffrey Wardell (USA) Xybix Systems Inc.                     4.32
63 Jason Klikna (USA) Sierra Nevada/Clif Bar                    4.34
64 Kale Keltz (USA) CZ Racing
65 Chad Beyer (USA) Giant/Domenic                               4.39
66 Jonathan Parrish (USA) Landis/Trek/VW                        4.56
67 Andy Crater (USA) LeMond Fitness/Captain Cra-Z Soap          5.04
68 Abraham Taylor (USA) Sierra Nevada/Clif Bar
69 Hayes McNeil (USA) CZ Racing                                 5.16
70 Dan Maggiacomo (Can) GearsRacing.com                         5.18
71 Evan Hepner (USA) University of Arizona                      5.42
72 Colin Rooney (USA) E-Caps/Hammer Gel                         5.50
73 John Rogers (USA) ProCon Cycling                             5.52
74 Matt Unger (USA) No Hair.com                                 6.06
75 Brian Lemke (USA) Landis/Trek/VW                             6.21
76 Brian Hawley (USA) Sierra Nevada/Clif Bar                    6.25
77 Justin Mayfield (USA) Team Iomega-Orbea                      6.29
78 Tyler Thompson (USA) Broadmark Capital Cycling Team          6.44
79 Tad Hamilton (USA) Team Iomega-Orbea                         6.48
80 Keith Miller (USA) Kissena Cycling Team                      6.50
81 Josh Klikna (USA) Sierra Nevada/Clif Bar                     6.57
82 Andrew Olson (USA) Evo                                       7.01
83 Joe Sternberg (USA) Moots Bicycles                           7.07
84 Isaiah Adams (USA) Westwood Velo                             7.30
85 Daren Schmidt (USA) Landis/Trek/VW                           7.44
86 Joshua Powers (USA) Bicycle Ranch                            7.57
87 Bill Innes (USA) LeMond Fitness/Captain Cra-Z Soap           8.15
88 Chris Abbruzzese (USA) Team Iomega-Orbea                     8.34
89 Dave Reid (USA) Landis/Trek/VW                               8.52
90 Dan Distefano (USA) Eclipse Racing                           9.00
91 Jacob Rubelt (USA) Landis/Trek/VW                            9.21
92 Roy Pickavance (USA) No Team                                10.34
93 Adam Hoppe (USA) Ochsner                                    10.44
94 Gary Casella (USA) Team Iomega-Orbea                        13.05
95 Jacob Hunter (USA) Team Revolution Racing                 1.07.15
 
Women
 
1 Manon Jutras (Can) Saturn Cycling Team                     2.32.40
2 Katrina Grove (USA) T-Mobile                                  0.51
3 Dotise Cowden (USA) T-Mobile                                  1.12
4 Lynn Gaggiolli (USA) VeloBella                                1.18
5 Amy Moore (USA) Saturn Cycling Team                           2.44
6 Jennifer Wilson (USA) Mt Velo/Supergo                         3.09
7 Elizabeth Begosh (USA) Team Snow Valley                       3.50
8 Cynthia Mommsen (USA) The Olympic Club                        4.06
9 Kristin Johnson (USA) T-Mobile                                4.29
10 Rebecca Cooke (USA) Landis/Trek/VW                           4.32
11 Deneen Brown (USA) Landis/Trek/VW                            4.33
12 Johanna Buick (NZl) New Zealand                              4.42
13 Kristy Scheffenacker (USA) Team Snow Valley                  4.49
14 Maria Molina (Gua) Guatemala                                 5.00
15 Beth Leasure (USA) Team VeloClips                            5.30
16 Joan Wilson (USA) TDS                                        5.34
17 Laura Stahl-Schmidt (USA) Terry Precision                    6.25
18 Maureen Brooks (USA) Landis/Trek/VW                          6.47
19 Rook Campbell (USA) Hi Tech Bikes/Harbour Lites              7.16
20 Lara Kroepsut (USA) T-Mobile                                 7.18
21 Chole Black (USA) Terry Precision                            7.27
22 Maria Castaneda (Gua) Guatemala                              7.31
23 Mary Kneeland (USA) ICO                                      7.38
24 Amy Vinik (USA) Mt Velo/Supergo                              7.39
25 Juliane Mortello (USA) Landis/Trek/VW                        8.02
26 Rebecca Stengel (USA) Mt Velo/Supergo                        9.10
27 Nicole Habay (USA) Speed Bikes                               9.51
28 Maggie Luciano-Williams (USA) Team One Racing                9.52
29 Sheba Farrin (USA) LSV/Trek/VW                              10.02
30 Liza Rachetto (USA) ICO                                     10.19
31 Sarah Hammer (USA) T-Mobile                                 12.09
32 Michelle Bote (USA) LSV/Trek/VW                             12.20
33 Diana Hunt (USA) Unattached                                 12.31
34 Megan Elliott (USA) Saturn Cycling Team                     12.40
35 Wendy Kuhn (USA) Team One Racing                            12.46
36 Nicole Bossie (USA) Fuji                                    15.34
37 Amy Zirneklis (USA) Unattached                              26.15
 
Masters Men
 
1 Eric Sternlicht (USA) Simply Fit/Action Sports             2.20.48
2 Doug Loveday (USA) Grand Canyon Racing                        1.11
3 Brian McGuire (USA) The Olympic Club                          1.53
4 Christian Reidys (USA) Ochsner                                2.10
5 Paul Wolfe (USA) Grand Canyon Racing                          2.28
6 Doug Powell (USA) AZphalt Cycling                             3.05
7 Scott Biaggi (USA) GS Tucson Racing
8 Paul Carter (USA) Sharp's Bicycle Racing Team                 3.17
9 DJ Fernandez (USA) CZ Racing                                  3.31
10 Byron Mulligan (USA) NCCC                                    3.34
11 Mark Schaefer (USA) Ogden One                                3.35
12 Rick Cimaglia (USA) Grand Canyon Racing                      3.37
13 Troy Love (USA) CZ Racing                                    3.37
14 Craig Long (USA) ProCon Cycling                              4.00
15 Denny Vaughan (USA) Team Revolution Racing                   4.13
16 John Dehnnert (USA) Team Revolution Racing                   4.22
17 Don Williams (USA) CZ Racing                                 4.32
18 Donald Lewis (USA) Team Rhino                                4.42
19 Joel Cleare (USA) Giant/Domenic                              4.51
20 Richard Allen (USA) Team RPM                                 4.58
21 Raymond Dunn (USA) GS Tucson Racing                          5.08
22 Michael Middleton (USA) Team Rhino                           5.09
23 Corky Kurtz (USA) Unattached                                 5.14
24 Lindsay Crawford (USA) GS Strada                             5.28
25 Kevin Riseborough (USA) Honeywell Cycling Team               5.30
26 Mark Fosenburg (USA) Honeywell Cycling Team                  5.31
27 Tom Reid (USA) Everest Challenge/Eastside Velo               5.32
28 Ken Jones (USA) CZ Racing
29 Gavin Kennard (USA) Honeywell Cycling Team                   5.33
30 Paul Cooke (USA) Landis/Trek/VW                              5.38
31 Steve Stuart (USA) CZ Racing                                 5.47
32 Link King (USA) Team RPM                                     5.50
33 Scott Bartel (USA) Unattached                                5.50
34 Peter Erdoes (USA) Los Malos Racing Club                     6.03
35 Jeff Traynor (USA) Pinnacle Peak/Mitchum Racing              6.04
36 Rene Lucas (USA) ProCon Cycling                              6.10
37 Daniel Whitehill (USA) Honeywell Cycling Team                6.16
38 Steve Morton (USA) Hillenbrand Racing                        6.17
39 Duane Mulvaney (USA) Landis/Trek/VW                          6.20
40 Vaughn Van Note (USA) Sharp's Bicycle Racing Team            6.28
41 Darik Russell (USA) ProCon Cycling                           6.41
42 Phillip Austin (USA) Pinnacle Peak/Mitchum Racing            6.43
43 Mike Wracher (USA) Simply Fit/Action Sports                  6.48
44 Chris Thompson (USA) GS Tucson Racing                        6.50
45 Erick Flores (USA) Team VeloSport                            7.06
46 Mike Pierce (USA) Honeywell Cycling Team                     7.10
47 John LaSorsa (USA) Los Malos Racing Club                     8.17
48 Brian Smith (USA) Pinnacle Peak/Mitchum Racing               8.28
49 Troy Heineman (USA) Cochise County Cyclists                  8.39
50 Craig Liming (USA) M&M Road Club                             8.45
51 David Anderson (USA) Team RPM                                9.15
52 Jason Suarez (USA) Pinnacle Peak/Mitchum Racing              9.34
53 Jeff Katz (USA) Landis/Trek/VW                              10.14
54 Steve Diamond (USA) EddieB.Cycling.com                      10.28
55 Edward Sullvian (USA) Unattached                            10.38
56 Bzur Haun (USA) Unattached                                  10.52
57 Rick Watson (USA) North Chattanooga Cycle Club              11.09
58 Juan Quintero (USA) Landis/Trek/VW                          11.34
59 William Decker (USA) Landis/Trek/VW
60 Efraim Rojas (USA) Honeywell Cycling Team                   11.35
61 Brock Boring (USA) CZ Racing                                12.25
62 Joel Austin (USA) Simply Fit/Action Sports                  12.36
63 Christopher Rutz (USA) Bicycle Ranch                        13.20
64 Thomas Johnson                                              13.48
65 Al Caccavale (USA) Landis/Trek/VW                           15.05
66 James Buttke (USA) Cochise County Cyclists                  16.12
67 Mike Parrish (USA) Landis/Trek/VW                           16.46
68 Leroy Bloom (USA) Cochise County Cyclists                   29.42
69 Glenn Harris (USA) Cochise County Cyclists                  33.01