Confessions of a (busted!) spectator
Every race has its stories, some from the front of the pack, some from the back and some from Planet Misunderstanding. Zachary Walker's tale of the SF GP is one of the latter...
From Cyclingnews' live commentary notes on the SF GP:
"Jackson Stewart (Ofoto-Lombardi) was off the back last time up Taylor St, when a guy came running out on the road. Stewart told him to get away, and the cops came and jumped the guy, handcuffed him, and hauled him off, much to the disappointment of the crowd."
Zachary lends a hand...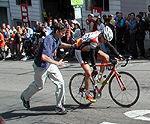 Well, I'm that guy and Jackson Stewart is my best friend. Jackson was laughing and putting his arm around me and playfully squirting me with his bottle. He never told me to get away.
I would also mention that I did wait until Jackson was off the back to cheer him on like that. I didn't want to interfere with the race. There was no one else around so I was in no one's way.
I race and live in the San Francisco area, as does Jackson, and consequently several people on the hill knew both of us and knew we are good friends including his girlfriend who I was hanging out with at the time. Even though as many as 20 people told the police that Jackson and I are best friends and running alongside your favorite riders is common in bike racing they proceeded to be jerks. Everyone in the crowd understood what had happened except the police. That is why the crowd was so pissed off.
... and gets busted!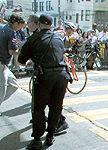 Once I was taken to the police station the police officers there accused me of throwing rocks and bottles at police cars which obviously wasn't possible while I was in handcuffs. After about 15 minutes they realized they made a mistake and released me.
Those police were complete jackasses and I hope they learned a thing or two about cycling fans yesterday. One of the officers said he had never been booed by so many people in his life!