Recently on Cyclingnews.com
Results and Reports from New Zealand
Promoters wishing to submit results should send them to cyclingnews
Oceania Development Camp
Morrinsville, October 3-5 , 2003
Reporting by Mark Windsor
Camp Victory with mentor and cricket legend Sir Richard Hadley
Photo: © Mark Windsor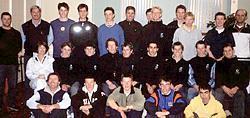 Day 1 - October 3: Team Time Trial
The first day of competition of the 2003 Oceania development camp seen the Under 17's boy contest a team time trial series. The teams raced 3 separate rounds in tough conditions, with Australia winning the final and the series in a great battle with rivals New Zealand, with only five seconds separating the two teams in the 10-man, 10km event.
Day 2 - October 4: Summer Memoral U17 Handicap
Racing today at the 2003 u17's Oceania Development Camp seen the teams square off in the Morrinsville junior handicap, with all camp member starting off scratch.
Although not winning the event, which was taken out by 6 minute riders Jesse Sargent and Shem Rogers who put in strong performances to defeat 16min rider Rushlee Buchanan, the New Zealand team took the honours today with Sam Bewley leading the backmarkers home for fourth overall and fastest time. Aussie champion Todd Dawson was 5th overall, in front of a bunch of New Zealanders who took the remaining places in the top 10.
Day 2 - October 5: Morrinsville U17 Open, 65 km mass start
New Zealand have taken the honours in the final event of the 2003 Oceania U17 Men's Development Camp, clean-sweeping the major placings in the Morrinsville U17 Open.
A big fall in the first 5km of the 65km event put more than half the Australian team out of contention, however, no-one was hurt in the accident, with Dempster, O'Brien, Gundry, McLachan, Cridland all falling.
After an attack by Scott Sunderland (West Aus), New Zealand send Andrew Thompson and Westley Gough off the front to cover the young Aussie 500m Champ, these three joining up the quickly build a big lead on the rest of the field.
On the hill Sunderland was in trouble, and when dropped, the NZ pair had the race between them. Thompson taking the win from Gough in an impressive display of team riding, classy NZ rider Sam Bewley attacked the bunch to break clear for 3rd.
Then the locals rubbed more salt into the Aussies' wounds when Andrew Robertson came over the Australian leadout when "pea" Scott Sunderland cramped in the gallop, with Mitch Pearson finishing fifth in front of Queensland's Todd Dawson.
Results
Day 1 - October 3: Team Time Trial

Qualifying, 5 km
1 Australia 1            6:33.10, 6:41.29
2 New Zealand 1          6:39.50, 6:43.53
3 Australia 2            6:58.74, 6:53.52
4 New Zealand 2          7:03.28, 6:59.58
 
Final, 10 km
 
1 Australia             12:43.84
 
(Dempster, OBrien, Dawson, earson,Stephens, Giramondo, Gundry, Sunderland, Cridland, McLachlan)
 
2 New Zealand           12:48.20
 
(Bewley, Thompson, Rodertson, Langlands, Gough, Hunn, Brown, Rowney, Warren) 

Day 2 - October 4: Summer Memoral U17 Handicap

1 Jesse Sargent
2 Shem Rogers
3 Rushlee Buchanan
4 Sam Bewley
5 Todd Dawson

Day 3 - October 5: Morrinsville U17 Open, 65 km mass start

1 Andrew Thompson (NZl)
2 Westley Gough (NZl)
3 Sam Bewley (NZl)
4 Andrew Robertson (NZl)
5 Mitch Pearson (Aus)