Results and Reports from Australia
Promoters wishing to submit results should send them to Cyclingnews
Eastern Suburbs Cycling Club
Heffron Park, Sydney, November 23, 2004
Spurge back on top at Heffron
By John Sunde
Anthony Spurgeon
Photo ©: Joanne Palezzetti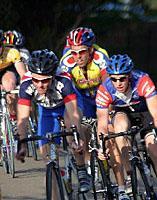 Anthony Spurgeon (Caravello) reclaimed his 'King of Heffron' crown when he unleashed his trademark kick to outsprint the contenders and the pretenders in Tuesday night's weekly group handicap event at Heffron Park. The 2km circuit lived up to its title as Sydney's windiest cycling venue as a gusty and cool southerly had everyone grovelling down the home straight and strung out in the eleven around the back straight.
Once again, B and C grade numbered over 30 riders in each grade, with only 16 riders on the back mark in A grade, however in difficult racing conditions smaller is always better and smoother, especially on a tight circuit like Heffron. Driven at over 44 km/h by Big Troy Glennan and 2004 Grafton winner Peter McDonald, the A grade bunch had B grade lined up in their sights after only seven laps. Maybe it was the encouragement the FRF team received from their FRF Couriers sponsors, the brothers Fortuna, Frank and Rocky who where watching from the sidelines.
Although the pace intensified during the last five laps it was still a relatively intact field when C grade was rounded up with three laps to go. Liam Kelly (Randwick Botany) seemed determined to split the field in the closing laps, but there where just too many strong legs in the shape of English Olympian Stuart Dangerfield, Big Troy, Mr McDonald and Lidcombe big hitters Ben Isaksen and Dave Whyman - who looked extremely comfortable back in the A grade ranks where he clearly belongs.
There was no shortage of B graders prepared to put in either with John Kenny, Scott Callum, Nick Rathbone (Easts) and old hands Tony Iannacito (Caravello) and John Sunde (St George) never far from the front. In fact it was all B grade when John Kenny lead the sprint out from the final corner. Off his wheel came Charlie Topfer (Lidcombe), who despite managing an impressive third in Sunday's Anthony Rappo A grade feature race, still prefers B grade on Tuesday night.
In the end, it was the true master of the Heffron Park gallop, King Spurge who took the spoils from the Lidcombe boys Charlie and Ben. Stuart Dangerfield finished strongly in fourth to indicate his form is coming back post-Olympics and wily Randwick masters champ, Pat Naughton rounded out the top five.
Patrick Naughton
Photo ©: Joanne Palezzetti
In the battle for B grade, under 19 Southern Cross rider Keegan Aitchison took the honours with a well ridden race. Sydney rider David McHugh continued his good form by winning C grade.
Big time track racing returns to Sydney this weekend with the running of the Annual Clarence St Cyclery Cup at the Dunc Gray Velodrome on Saturday night. Australia's Olympic Gold medal hero's Ryan Bayley, Graeme Brown, Steve Wooldridge and Anna Meares will all be there in an action packed night of superb track racing. Tickets available at the door, so get out there and relive the Athens Dream.
Photography
Images by Joanne Palezzetti
Results
Overall

1 Anthony Spurgeon (Caravello)
2 Charles Topfer (Lidcome Auburn)
3 Ben Isaksen (Lidcome Auburn)
4 Stuart Dangerfield (SIS, England)
5 Patrick Naughton (Randwick Botany)
 
1st B Grade: Keegan Aitchison (Southern Cross)
 
1st C Grade: David McHugh (Sydney)
 
Local results 2004