US Air Force Cycling Classic - 1.2/NE
Virginia, USA, May 30-31, 2009
Main Page Results Overall standings Next Stage
Stage 1 - May 30: Clarendon Cup
Colavita-Sutter Home does it again!
Gerlach wins the hearts of the Clarendon Cup crowds
By Kirsten Robbins
Alejandro Borrajo (Colavita-Sutter Home)
Photo ©: Jon Devich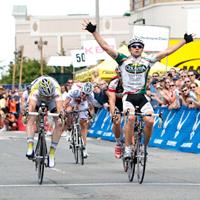 Colavita-Sutter Home captured its second consecutive title at the US Air Force Cycling Classic's famed Clarendon Cup criterium held on Saturday in Arlington, Virginia. The squad's Argentinean sprinter Alejandro Borrajo outpaced Ken Hanson (Team Type 1) and Karl Menzies (OUCH-Maxxis) to claim victory.
"I was not nervous because I felt good and I also knew we had our other sprinter Sebastian Haedo behind in the field," said Borrajo. "I came out of the last corner in second place and that's when I knew I had the win. I checked under both arm pits with 10-metres to go and I was fine. But, it was an added suspense moment for the people watching."
Six riders bridged across to the day's solo extraordinaire - Chad Gerlach (Amore & Vita) - with 30-laps to the end of the professional men's 100-lap criterium. Gerlach maintained a 40-second lead over the frantic peloton for more than 70-laps of the professional men's 100-lap criterium. The riders who successfully bridged across included Borrajo, Hanson, Menzies and Luis Amaran (Colavita-Sutter Home), Scott Zwizanski and Zach Bell (Kelly Benefit Strategies) and David Tanner (Rock Racing).
"It was a pretty good break and no one missed taking a turn," said Menzies. "It was all together to the last corner and it was pretty much just the fastest guy to the line. Hanson came up really fast from behind and I just didn't have enough speed at the finish. Long breaks and lapping the field have happened here before. I think if your are alone or in a small group you can go pretty quick on a course like this."
Colavita-Sutter Home and Kelly Benefit Strategies team represented two riders a piece in the eight rider front group, however tactics did not come into play during the final laps due to their quickly declining time gap to the peloton.
"My team-mate Sean Milne tried to bridge across to Chad and that is what lead to the group of eight at the end," said Hanson. "I'm glad we were able to hold off the pack for the sprint. For the most part, we didn't have time to not co-operate and then it was a dog fight to the last corner. I got stuck in the wrong position and had to make up a lot of ground at the end. Kudos to Borrajo - he pulled off a great race."
Chad is back!
Chad Gerlach (Amore & Vita) never made things
Photo ©: Jon Devich

Gerlach, a former member of the famed US Postal Service squad, stole the show with a more than 70-lap solo performance before he was joined by the seven other breakaway companions that succeeded to the finish line. He made one of the most profound comebacks in the history of American bike racing when he recently returned to the professional peloton after more than five years of crack addiction while living on the streets of Sacramento, California. A now sober Gerlach, 36, joined the Amore & Vita team for the 2009 season.
He patiently waited for an opportunity to escape 10-laps into the race when a lull caused the field to fan wide across the road. There was no instant reaction, a pause that the peloton would later regret. He muscled his way toward adding valuable seconds to his time margin on the field. Instead of forming an organised chase, teams sent one rider after another in a flurry of attacks to try to bridge across to the soloist.
"It was really slow at the start and I just wanted to get the race going," Gerlach said. "I've been feeling good so I just went for it."
Gerlach found himself staring at the tail end of the peloton by a mere 15 seconds some 20-laps into the race. He weaved through the fluff dropped early on from his own attack but he was unable to reattach himself to the back of the peloton. The grimacing look on his face meant he may have popped a cylinder and his time margin fluctuated between 30 and 40-seconds for the following 50-laps.
"I just put my head down and remember that I train hard," said Gerlach, regarding the enormous number on the lap counter early into his solo move. "I just had to keep thinking that it [the pain] was only going to last for a couple of hours and all the people cheering made it really fun."
It seemed like an eternity to the finish line but Gerlach continued to plug away at a hopeful victory. The peloton did not give up either. Riders from Medscheme, Mountain Khakis, Kelly Benefit Strategy, Team Type 1, Colavita-Sutter Home, OUCH-Maxxis, Bissell, Rock Racing and Fly V Australia continued to attacked but did not put a dent into the leader's time advantage.
Kelly Benefit Strategies organised two separate chase attempts to prevent Gerlach from lapping the field. However it seemed easier for one rider to fly through the tight corners than a group. He could also pick his own clear lines on the rough pavement allowing him faster lap times than the field.
"I know Kelly Benefits did a team chase twice and if they hadn't done that I probably would have lapped the field," he said. "I got really close a couple of times. But that's how tactics work."
With 32-laps to go, a chase group of four riders formed to include Zwizanski, Amaran and Menzies. The trio was quickly joined by four more in Borrajo, Hanson and Tanner. Gerlach finally faded like the Astana jerseys at the Giro d' Italia this year and the chasers caught him with 30-laps to go.
"I didn't have it in the end to sprint against those sprinters," said Gerlach. "I was going to try to make one more attack but I'm happy with sixth place."
The front group fought hard to hold off the field but the field picked up speed. Teams Planet Energy, Bissell, Fly V Australia, Mountain Khakis sent several riders to help in the chase while team with strong sprinters Colavita-Sutter Home, Kelly Benefit Strategies patiently waited in uniform just incase the break was reabsorbed.
Alessandro Bazzana (Fly V Australia) and Martin Gilbert (Planet Energy) took one last flyer to try to bridge to the break away with two laps to go. The pair was swallowed up by the bunch sprint for ninth place.
Allar captures Clarendon Cup victory
Erica Allar (BMW-Bianchi)
Photo ©: Jon Devich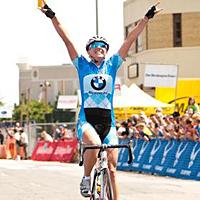 The newest addition to the BMW-Bianchi squad, Erica Allar, went unnoticed for almost the entire criterium until she flew out of the last corner with a substantial lead. Allar maintained that lead to the finish line, winning the bunch sprint ahead of Theresa Cliff-Ryan (Verducci-Breakaway) and Nikki Wangsgard (Colavita-Sutter Home).
"I tried to be patient and I saw that we were coming on to a lapped group," said Allar. "I jumped, got to the last corner first. It is a really technical course and one where you need to be in good position through the last two corners. I put my head down and hoped to not get caught."
Allar joined BMW-Bianchi mid-season with hopes of bringing ample success to the fast-growing team. "I'm really lucky that they were willing to take me on part way through the season," she said. "They've been really supportive and happy. It's really good to do well in a bike race but it's also about having fun.
"This team gets a lot of support from BMW and Bianchi and all their other sponsors so it's a great program," she added. "I'm really happy to be able to give back to this group."
The Clarendon Cup, formerly CSC Invitational, women's field was significantly reduced to 49 riders as compared to previous years because of conflicting events Montreal World Cup and the Tulsa Tough. Domestic teams were forced to divide and conquer around North America. The Clarendon Cup retained its quality attracting riders like Allar, Cliff-Ryan, a former United States of America Criterium Champion, Sara Caravalla (Alan North America) and Kelly Benjamin (Colavita-Sutter Home).
The sprinters sat quietly in the field. Without having the backup of a full team, they banked on a bunch sprint. Altarum Women's Cycling team was arguably the most aggressive during the 50-lap race. Kristy Scheffenacker kicked off the race with a three-lap solo move. When she returned her teammate Dale Tye eagerly took her place off the front. Tye's effort proved fruitful and she gained a sizable lead for the next seven laps.
She was eventually reabsorbed into the field but the attacking continued and caused the core group of women to split into smaller groups. Without the strength of full six-rider squads, the legs of individual riders grew tired and the majority of the field came back together.
On the last lap Jessie Maclean (Verducci-Breakaway) took a solo flyer and rounded the first two corners with a several second lead. Allar counter attacked as the chasing peloton came with in reach of Maclean, weaving her way through a lapped group and headed to the last corner. Her move was timed perfectly to catch the remaining sprinters off-guard. Allar rounded the last corner with enough of an advantage to hold off the charging field.
"Jessie kind of got caught up with the lapped riders," said Cliff-Ryan. "Erica jumped when we caught the lapped riders and squeezed through. She got a bit of a gap with Jessie. I saw it go but I couldn't react. My tires were picking up rocks and I started to notice that with about 25-laps to go. It was making my front wheel stop and it was hard to go. But, Erica had an awesome crit and she timed her move perfectly."
Photography
For a thumbnail gallery of these images, click here
Images by Jonathan Devich/

Results
Elite men (100km, NRC)
 
1 Alejando Borrajo (Colavita Olive Oil/Sutter Home)    2.18.39  (43.27 km/h)
2 Kenneth Hanson (Team Type 1)                                
3 Karl Menzies (OUCH/Maxxis)                                  
4 David Tanner (Rock Racing)                                  
5 Zach Bell (Kelly Benefit Strategies)                    0.02
6 Chad Gerlach (Amore&Vita/Lifetime/Velo Vie)                 
7 Scott Zwizanski (Kelly Benefit Strategies)                  
8 Luis Romero Amaran (Colavita Olive Oil/Sutter Home)     0.09
9 Kyle Wamsley (Colavita Olive Oil/Sutter Home)           0.17
10 Lucas Sebastian Haedo (Colavita Olive Oil/Sutter Home)       
11 Charles Dionne (Fly V Australia)                           
12 Anibal Borrajo (Colavita Olive Oil/Sutter Home)            
13 Keven Lacombe (Planet Energy)                              
14 Alex Candelario (Kelly Benefit Strategies)                 
15 Richard England (Amore&Vita/Lifetime/Velo Vie)             
16 Shawn Milne (Team Type 1)                                  
17 Davide Frattini (Colavita Olive Oil/Sutter Home)           
18 Philipp Mamos (Amore&Vita/Lifetime/Velo Vie)               
19 Tom Soladay (Team Mountain Khakis)                         
20 Volodymyr Starchyk (Amore&Vita/Lifetime/Velo Vie)          
21 Peter Latham (Bissell Pro Cycling)                         
22 Hanco Kachelhoffer (Team Medscheme)                        
23 Jonathan Page (Battley Harley Davidson)                    
24 Fabio Calbria (Team Type 1)                                
25 Ian Holt (DC Velo)                                         
26 Keck Baker (Battley Harley Davidson)                       
27 Scottie Weiss (Kenda Pro Cycling/Spinergy)                 
28 Brian Butts (Battley Harley Davidson)                      
29 Chuck Hutcheson (Battley Harley Davidson)                  
30 Kirk O'Bee (Bissell Pro Cycling)                           
31 Valery Kobzarenko (Team Type 1)                            
32 Evan Fader (DC Velo)                                       
33 Timothy Henry (DLP Racing)                             0.26
34 Sean Barrie (Battley Harley Davidson)                  0.28
35 Neil Shirley (Kelly Benefit Strategies)                    
36 David Veilleux (Kelly Benefit Strategies)              0.33
37 Ryan Anderson (Kelly Benefit Strategies)                   
38 Jacob Erker (Kelly Benefit Strategies)                     
39 Soren Petersen (Danish National)                           
40 Luca Damiani (Colavita Olive Oil/Sutter Home)              
41 Guido Palma (Colavita Olive Oil/Sutter Home)               
42 Andy Jaques-Maynes (Bissell Pro Cycling)                   
43 Reid Mumford (Kelly Benefit Strategies)                    
44 Allesandro Bazzana (Fly V Australia)                   0.49
45 Nicholas Sanderson (Rock Racing)                       0.54
46 Hayden Brooks (Fly V Australia)                        1.54
47 Martin Gilbert (Planet Energy)                         2.16
48 Bruno Langlois (Planet Energy)                         2.24
DNF Rory Sutherland (OUCH/Maxxis)                             
DNF Andrew Pinfold (OUCH/Maxxis)                              
DNF Tim Johnson (OUCH/Maxxis)                                 
DNF John Chodroff (OUCH/Maxxis)                               
DNF Bradley White (OUCH/Maxxis)                               
DNF Francois Parisine (Planet Energy)                         
DNF Eric Boily (Planet Energy)                                
DNF Mike Creed (Team Type 1)                                  
DNF Aldo Ino Ilesic (Team Type 1)                             
DNF Matt Wilson (Team Type 1)                                 
DNF Charles Jo Eldridge (Team Type 1)                         
DNF James Driscoll (Rock Racing)                              
DNF David Vitoria (Rock Racing)                               
DNF Freddie Rodriquez (Rock Racing)                           
DNF Ben Jaques-Maynes (Bissell Pro Cycling)                   
DNF Jeremy Vennell (Bissell Pro Cycling)                      
DNF Cody O'Reilly (Bissell Pro Cycling)                       
DNF Morgan Schmitt (Bissell Pro Cycling)                      
DNF Ben King (Fly V Australia)                                
DNF Michael Grabinger (Fly V Australia)                       
DNF Danie Defrancheschi (Jet Fuel)                            
DNF Peter Morse (Jet Fuel)                                    
DNF Kevin Hazzard (Jet Fuel)                                  
DNF Bryson Bowers (Jet Fuel)                                  
DNF David Byer (Jet Fuel)                                     
DNF Jamie Riggs (Jet Fuel)                                    
DNF Craig Dodson (Richmond Pro Cycling)                       
DNF Jeff Buckles (Richmond Pro Cycling)                       
DNF Ryan Meie (Richmond Pro Cycling)                          
DNF Matt Seagrave (Richmond Pro Cycling)                      
DNF Evan Fader (Richmond Pro Cycling)                         
DNF Brendan Cornett (Richmond Pro Cycling)                    
DNF Scott Jackson (Richmond Pro Cycling)                      
DNF Benjamin Zawacki (Richmond Pro Cycling)                   
DNF Malcolm Lange (Team Medscheme)                            
DNF Nic White (Team Medscheme)                                
DNF Neil McDonald (Team Medscheme)                            
DNF Arran Brown (Team Medscheme)                              
DNF Waylon Woolcock (Team Medscheme)                          
DNF Yuriy Metlushenko (Amore&Vita/Lifetime/Velo Vie)          
DNF Andrew Talanski (Amore&Vita/Lifetime/Velo Vie)            
DNF Chad Burdzilauskus (Kenda Pro Cycling/Spinergy)           
DNF Jaime Gandara (Kenda Pro Cycling/Spinergy)                
DNF Remi McManus (Kenda Pro Cycling/Spinergy)                 
DNF Jonathan Parrish (Kenda Pro Cycling/Spinergy)             
DNF Tyler Stanfield (Kenda Pro Cycling/Spinergy)              
DNF Be van der Genugten (Kenda Pro Cycling/Spinergy)          
DNF Matt Winstead (Kenda Pro Cycling/Spinergy)                
DNF Victor Ulzen (Nordland Hamberg)                           
DNF Philip Kaczmarowski (Nordland Hamberg)                    
DNF Torsten Wambold (Nordland Hamberg)                        
DNF Allan Lundhus (Nordland Hamberg)                          
DNF Unknown rider                                             
DNF Ryan DeWald (Battley Harley Davidson)                     
DNF Dave Fuentes (Battley Harley Davidson)                    
DNF Russ Langley (Battley Harley Davidson)                    
DNF Isaac Howe (Team Mountain Khakis)                         
DNF Toby Marzot (Team Mountain Khakis)                        
DNF Will Hoffarth (Team Mountain Khakis)                      
DNF Jackie Simes (Team Mountain Khakis)                       
DNF Eric Barlevav (Team Mountain Khakis)                      
DNF Andy Baker (Team Mountain Khakis)                         
DNF Spencer Beamer (Team Mountain Khakis)                     
DNF John Ebsen (Danish National)                              
DNF Ramsas Dam (Danish National)                              
DNF Anders Sibast (Danish National)                           
DNF Kasper Malmkjaer (Danish National)                        
DNF Phillip (Alde Martz (DLP Racing)                          
DNF Tiaga DePaulo Souza (DLP Racing)                          
DNF Andrew Olson (DLP Racing)                                 
DNF Steven Gordon (DLP Racing)                                
DNF Jon Hamblen (DLP Racing)                                  
DNF Boyd Johnson (DLP Racing)                                 
DNF Scott Tietzel (DLP Racing)                                
DNF Jason Meidof (DC Velo)                                    
DNF Ryan McKinney (DC Velo)                                   
DNF Josh Frick (DC Velo)                                      
DNF Ken Young (DC Velo)                                       
DNF David Bozak (DC Velo)                                     
DNF Jared Nieters (DC Velo)                                   
DNF David Bozak (DC Velo)                                     
 
Elite women (50km, NRC)
 
1 Erica Allar (BMW-Bianchi)                            1.13.34  (40.78 km/h)
2 Theresa Cliff-Ryan (Team Verducci Breakaway)                
3 Nicky Wangsgard (Colavita)                                  
4 Laura McCaughey (Salamander)                                
5 Robin Farina (ValueAct Capital Cycling team)                
6 Kelly Benjamin (Colavita)                                   
7 Leslie Jennings (CycleLife Powered By Specializ)            
8 Anna McLoon (Altarum Women's Cycling Team)                  
9 Sonja Evers (CycleLife Powered By Specializ)                
10 Jessie Maclean (Team Verducci Breakaway)                   
11 Kate Veronneau (Altarum Women's Cycling Team)              
12 Julie Kuliecza (River City Women's)                        
13 Krist Scheffenacker (Altarum Women's Cycling Team)         
14 Dale Tye (Altarum Women's Cycling Team)                    
15 Erin Silliman (Artemis)                                0.48
16 Jennifer Maxwell (Team Kenda)                              
17 Amy McGuire (Hub Racing)                                   
 
One lap behind
18 Sheba Farrin (Hub Racing)                                  
19 Staci Joy (Altarum Women's Cycling Team)                   
20 Christine Kelley (Kenja)                                   
21 Rachel Warner (Salamander)                                 
22 Sara Caravella (Alan North America)                        
23 Michelle Hart (CycleLife Powered By Specializ)             
24 Marni Harker (Team Kenda)                                  
25 Flavia Lepone (Charlotte Sports)                           
 
Two laps behind
26 Liz Leyden (Hub Racing)                                    
27 Veronica Martinez (Hub Racing)                             
28 Colleen Gilick (Team Kendra)                               
29 Melanie Swartz (CycleLife Powered By Specializ)            
30 Janet Olney (Annapolis Bicycle)                            
31 Unknown rider