Sunny King Criterium - NE
USA, May 2, 2009
2008 Results Results Past winners
Menzies goes one better in Alabama
Men's podium (L-R): John Murphy, Karl Menzies,
Photo ©: Trish Albert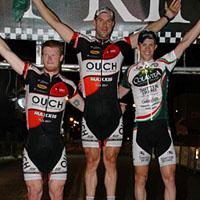 Moving one step up on the winner's podium from his place last year, Karl Menzies (OUCH-Maxxis) beat Colavita-Sutter Home speedster Kyle Wamsley to win the 2009 installment of the Sunny King Criterium in Anniston, Alabama today.
"This is a great town (to race in)." Menzies said after his win. "I finished second here last year to Hilton Clarke, and I didn't want to finish second here again."
Despite early bouts of heavy showers, the weather was once again ideal for racing by the time the pro squads took to the 1.1 km course. Menzies was a member of a four-man breakaway that left the main field with approximately 30 laps remaining, after an earlier group of escapees was caught. Along with Menzies was Wamsley, Kirk O'Bee (Bissell) and O'Bee's team-mate Andy Jacques-Maynes. That foursome was able to maintain a gap that hovered near the 18-second mark for much of the remainder of the event.
With five laps to go O'Bee made an attempt to leave his companions behind, but a lap later he found he had no gas left in the tank and was caught and disposed of by the remaining trio. The intense pace soon also got the better of Jacques-Maynes, which left Menzies and Wamsley to duke it out for the finish.
Menzies very judiciously sat on Wamsley's wheel throughout the last lap, and waited for the appropriate moment to strike and ensure his victory.
"Kyle led into the home straight, and I just hit him from behind and just held on comfortably for the win," he said.
Miller picks off Pic
Brooke Miller (Tibco) pips Tina Pic (Colavita-Sutter Home)
Photo ©: Trish Albert

Brooke Miller (TIBCO) once again got the drop on her biggest rival of the season, veteran crit specialist Tina Pic (Colavita-Sutter Home), in the women's race. The current United States Criterium Champion was able to get half a wheel advantage over the former champion in a drag race to the finish.
The two came to the line after a race that saw two separate breaks emerge throughout the event. Unrepresented on either occasion, Colavita worked extremely hard to reel each getaway attempt in.
"It was a pretty rough race for us," Pic said. "We were a little low on numbers, but the team was incredible."
The TIBCO squad played their hand to perfection, however, ensuring that Miller had a strong lead-out in order to contest what was shaping up to be another sprint challenge from Pic.
As Pic and Miller approached the line, the TIBCO rider hit a small bump in the road that jostled her bike and forced the two heavy hitters to re-start their sprint. It was virtually impossible to determine the winner at the line, but a photo finish revealed that Miller had thrown her bike in time to grab yet another win from Pic.
"I wasn't feeling that great today, and it wasn't my best sprint, but the team was awesome again," Miller said.
Laura Van Gilder (Mellow Mushroom), who was riding without any teammates, also put in an incredibly strong performance throughout the day and got third place for her efforts.
Photography
For a thumbnail gallery of these images, click here
Images by Trish Albert/www.southeasterncycling.com
Results
Pro men
 
1 Karl Menzies (Ouch Presented by Maxxis)                      
2 Kyle Wamsley (Colavita Sutter Home p/b Cooki)                
3 John Murphy (Ouch Presented by Maxxis)                       
4 Andrew Pinfold (Ouch Presented by Maxxis)                    
5 Rahsaan Bahati (ROCK RACING)                                 
6 Jake Keough (Kelly Benefit Strategies)                       
7 Alejandro Borrajo (Colavita Sutter Home p/b Cooki)           
8 Luca Damiani (Colavita Sutter Home p/b Cooki)                
9 Peter Latham (Bissell Pro Cycling)                           
10 Cody Oreilly (Bissell Pro Cycling)                          
11 Isaac Howe (Team Mountain Khakis)                           
12 MARCO Aledic (KENDA PRO CYCLING)                            
13 Bennet Van Der Genugten (Kenda Pro Cycling p/b Spinergy)    
14 Rich Harper (KENDA PRO)                                     
15 Morgan Schmitt (Bissell Pro Cycling)                        
16 Jonny Clark (Jelly Belly)                                   
17 Brian Toone (Triamarket / Ivan Leonard Chev)                
18 John Delong (HINCAPIE/GARY FISHER)                          
19 Tyler Stanfield (Kenda Pro Cycling p/b Spinergy)            
20 Joshua Carter (ABD)                                         
21 Charles Marzot (Team Mountain Khakis)                       
22 Jacob Rytlewski (Kenda Pro Cycling pres)                    
23 Justin Beard (HINCAPIE/ GARY FISHER P/B BARK)               
24 Jonathan Card (Saturn of Toledo)                            
25 Zach Bell (Kelly Benefit Strategies)                        
26 Guido Palma (Colavita Sutter Home p/b cooki)                
27 Matthew Crane (Jelly Belly Cycling Te)                      
28 Andy Jacques-Maynes (Bissell Pro Cycling)                   
29 Ryan Anderson (Kelly Benefit Strategies)                    
30 Bobby Lea (Ouch Presented by Maxxis)                        
31 Bryce Mead (Jelly Belly)                                    
 
Pro women
 
1 Brooke Miller (Team TIBCO)                                   
2 Tina Pic (Colavita Sutter Home p/b Cooki)                    
3 Laura Vangilder (Mellow Mushroom Racing)                     
4 Jennifer Mcrae (Team Type 1)                                 
5 Jo Kiesanowski (Team TIBCO)                                  
6 Melissa Sanborn (Vanderkitten Racing)                        
7 Anna Mcloon (Altarum Women's Cycling Team)                   
8 Kristen Lasasso (MELLOW MUSHROOM)                            
9 Samantha Schneider (Team Type 1)                             
10 Martina Patella (ValueAct Capital Cycling Team)             
11 Sally Annis (Hub Racing)                                    
12 Kori Seehafer (Team Type 1)                                 
13 Veronica Leal (Team Type 1)                                 
14 Kate Veronneau (Altarum Women's Cycling Team)               
15 Lauren Tamayo (Team TIBCO)                                  
16 Tiffany Pezzulo (DFT p/b TREADS)                            
17 Kirsten Davis (BMW-BIANCHI)                                 
18 Jennifer Rasmusson (HPC)                                    
19 Carrie Cash Wootten (Team Revolution)                       
20 Elizabeth Morse Hill (Hub Racing)                           
21 Kathryn Clark (Team Kenda)                                  
22 Leslie Jennings (CycleLife Powered By Specialize)           
23 Nicole Johnson (Team Kenda)                                 
24 Leigh Hopkins (VANDERKITTEN RACING)                         
25 Meredith Miller (Team TIBCO)                                
26 Carmen Mcnellis (Colavita Sutter Home p/b Cooki)            
27 Emma Rickards (Team TIBCO)                                  
28 Christy Blakely (BMW-Bianchi)                               
29 Linsey Bradshaw-Sandoval (DFT p/b TREADS)                   
30 Jaquelyn Crowell (Team Type 1)                              
31 Ali Rosenthal (Team TIBCO)                                  
32 Kelly Benjamin (Colavita Sutter Home p/b Cooki)             
33 Laura Bowles (VANDERKITTEN RACING)                          
34 Erica Allar (Colavita Sutter Home p/b Cooki)                
35 Veronica Martinez (Hub Racing)                              
36 Christy Keely (Team Kenda)                                  
37 Tamyra Barnard (Team Kenda)                                 

Past Winners
2008 Hilton Clarke (Toyota-United)                 Tina Pic (Colavita/Sutter Home p/b Cookin)

2007 Frank Travieso (AEG-TOSHIBA-JetNetwork)       Laura Van Gilder (Cheerwine