32nd Joe Martin Stage Race - NE
Fayetteville, Arkansas, USA, May 7-10, 2009
Main Page Results Overall standings Next Stage
Stage 1 - May 7: Individual Time Trial, 2.5 miles
Bissell dominates Joe Martin time trial
By Kirsten Robbins in Fayetteville, Arkansas
Rory Sutherland (OUCH pb Maxxis)
Photo ©: Tom Ewart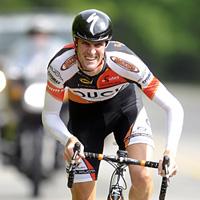 Delighted to have found his time trial form, Ben Jacques-Maynes (Bissell) broke the four-kilometre course record en route to winning the Joe Martin Stage Race opening stage. Jacques-Maynes' record time of 8:04 bettered the defending champion Rory Sutherland (OUCH p/b Maxxis) by one-second. His teammate Jeremy Vennell , New Zealand national time trial champion rounded out the podium in third.
"I felt good coming down from altitude at the Tour of the Gila last week and put together a good race today," Said Jacques-Maynes who chose to ride a non conventional time trial bike for the up hill time trial. "I took a gamble doing that because there were only about four other guys I saw using their time trial bikes too. I think it helped on the initial flat section, I had the advantage there. Sometimes it just works out."
The uphill individual time trial was held in the notorious Devil's Den State Park, on a climb that averaged out at 6.8%. Bissell once again brought their best game to the time trial placing four riders inside the top ten. Jacques-Maynes took the early lead in the overall classification ahead of Sutherland and Vennell.
According to the race leader having a time trial focussed team gives them a strong platform to play off. "We have options and different cards to play," he said. "It is what we are known for and we did not disappoint today."
The eve of the time trial, Sutherland commented on his goals for the overall classification. "I think it's always difficult, said Sutherland, a two-time overall winner of the Joe Martin Stage race. "I've won the overall and the time trial in the last two years. Every year you keep doing that, it makes it more stressful and difficult and a lot of pressure."
US Champ Powers to opening victory
Alison Powers (Team Type 1) showed why she is the US national time trial champion by winning the opening four-kilometre stage in a time of 9:37. She narrowly beat Webcor-Builder duo, runner up Katheryn Mattis and third placed Erinne Willock.
"I didn't know what to expect," said Powers, who last competed in the event three years ago. "I didn't look at the time when I was on course and I just rode as fast as I could."
Powers currently leads the overall ahead of Mattis and Willock. She arrived to the Joe Martin Stage Race fresh off a second place at the Tour of the Gila, despite not having teammates. She is looking forward to having the strength of her seven-women team to back up her goal of attaining the overall title.
"My team is amazing we have lot of different strengths, talents and knowledge," she said. "They all want to be here to race hard and defend a jersey.
The Joe Martin Stage Race marks the round two of the Women's Prestige Cycling Series. Powers is currently leading the series ahead of Mattis. Team TIBCO leads the way in the team competition along with the series' most talented young rider, Julie Beveridge. Powers' teammate Kori Seehafer holds the top spot in the best sprinter category.
"I think it's neat they put on a series special just for the women," she said. "I think it's very important to win that title and I would love to do that. I want to show our sport and our sponsors that this is an important series."
Photography
For a thumbnail gallery of these images, click here
Images by Tom Ewart/www.nwaphoto.com
Results

Men Pro 1/2
 

1 Ben Jacques-Maynes (USA) Bissell Pro Cycling                  8.03
2 Rory Sutherland (Aus) Ouch Presented By Maxxis                0.01
3 Jeremy Vennell (NZl) Bissell Pro Cycling                      0.13
4 Phil Zajicek (USA) Fly V Australia                            0.14
5 Corey Collier (USA) Team Rio Grande                           0.17
6 Neil Shirley (USA) Kelly Benefit Strategies                       
7 Tom Zirbel (USA) Bissell Pro Cycling                          0.18
8 Darren Lill (USA) Team Type 1                                 0.19
9 Chris Baldwin (USA) Rock Racing                               0.20
10 Morgan Schmitt (USA) Bissell Pro Cycling                     0.22
11 Anthony Colby (USA) Colavita Sutter Hm/Cooking Lt                
12 Patrick Mccarty (USA) Ouch Presented By Maxxis               0.25
13 Tyler Wren (USA) Colavita Sutter Hm/Cooking Lt               0.26
14 Shawn Milne (USA) Team Type 1                                    
15 John Murphy (USA) Ouch Presented By Maxxis                   0.27
16 Karl Menzies (Aus) Ouch Presented By Maxxis                  0.28
17 Jacob Erker (Can) Kelly Benefit Strategies                       
18 Tim Johnson (USA) Ouch Presented By Maxxis                   0.29
19 Jeremy Powers (USA) Jelly Belly                                  
20 Jonny Clark (Aus) Jelly Belly                                0.30
21 Daniel Campbell (USA) Panther/RGF pb Felt Bicycles               
22 Ryan Roth (Can) Planet Energy                                    
23 Cesar Grajales (USA) Rock Racing                                 
24 Andy Jacques-Maynes (USA) Bissell Pro Cycling                0.31
25 Will Hoffarth (USA) Mountain Khakis                          0.33
26 Jim Camut (USA) Land Rover-Orbea                                 
27 Andrew Randell (Can) Planet Energy                           0.34
28 Phil Gaimon (USA) Jelly Belly                                    
29 Nick Reistad (USA) Jelly Belly                                   
30 Aaron Tuckerman (USA) Land Rover-Orbea                       0.35
31 Ian Macgregor (USA) Team Type 1                              0.36
32 Luis Amaran (Arg) Colavita Sutter Hm/Cooking Lt                  
33 Francois Parisien (Can) Planet Energy                            
34 Mike Creed (USA) Rock Racing                                 0.38
35 Andrew Talansky (USA) Amore & Vita-Mcdonald'S                    
36 Sergio Hernandez (USA) Rock Racing                           0.39
37 Jake Rytlewski (USA) Kenda Pro Cycling P/B Spinergy              
38 Peter Latham (USA) Bissell Pro Cycling                       0.40
39 Floyd Landis (USA) Ouch Presented By Maxxis                  0.41
40 Gregory Christian (USA) Panther/RGF pb Felt Bicycles         0.42
41 Frank Pipp (USA) Bissell Pro Cycling                             
42 Andrew Pinfold (Can) Ouch Presented By Maxxis                    
43 Kyle Wamsley (USA) Colavita Sutter Hm/Cooking Lt             0.45
44 Evan Elken (USA) Land Rover-Orbea                                
45 Daniel Ramsey (USA) Mountain Khakis                          0.46
46 Scott Stewart (USA) Team Waste Management                        
47 Daniel Bowman (USA) Kelly Benefit Strategies                 0.48
48 Davide Frattini (Ita) Colavita Sutter Hm/Cooking Lt              
49 Matt Crane (USA) Jelly Belly                                     
50 Matthew Busche (USA) Kelly Benefit Strategies                    
51 Moises Aldape (USA) Team Type 1                                  
52 Chris Jones (USA) Team Type 1                                0.49
53 John Minutrn (USA) CRCA/Empire Cycling Northwave                 
54 Hayden Brooks (USA) Fly V Australia                          0.51
55 Valery Kobzarenko (USA) Team Type 1                          0.52
56 Matt Winstead (USA) Team Inferno Pro Cycling                     
57 Josh Dillon (USA) Bikereg.Com/Cannondale                     0.53
58 Matty Rice (Aus) Jelly Belly                                     
59 Roman Van Uden (USA) Land Rover-Orbea                        0.54
60 Alex Hagman (USA) Ciclismo Racing                                
61 Ty Stanfield (USA) Kenda Pro Cycling P/B Spinergy            0.55
62 Carson Miller (USA) Land Rover-Orbea                             
63 Jonathan Mumford (USA) Kelly Benefit Strategies                  
64 Russell Stevenson (USA) Kenda Pro Cycling P/B Spinergy       0.56
65 Heath Blackgrove (USA) Team Hotel San Jose                       
66 Michael Mathis (USA) CRCA/Empire Cycling Northwave               
67 Brian Jensen (USA) Tradewind Energy/Trek Stores              0.57
68 Troy Wells (USA) Team Clif Bar                                   
69 Alejandro Borrajo (Arg) Colavita Sutter Hm/Cooking Lt        0.59
70 Ben Kneller (USA) Ciclismo Racing                                
71 Anibal Borrajo (Arg) Colavita Sutter Hm/Cooking Lt           1.00
72 Curtis Gunn (USA) Fly V Australia                            1.01
73 Fabio Calabria (USA) Team Type 1                             1.02
74 Matt Wilson (USA) Team Type 1                                    
75 Scott Davis (USA) Fly V Australia                                
76 David Kemp (USA) Fly V Australia                             1.03
77 Cheyne Hoag (USA) Kelly Benefit Strategies                       
78 Dan Timmerman (USA) Bikereg.Com/Cannondale                   1.04
79 Jonathan Cantwell (USA) Fly V Australia                          
80 Bruno Langlois (Can) Planet Energy                           1.05
81 Justin Lindine (USA) Bikereg.Com/Cannondale                      
82 Kirk Obee (USA) Bissell Pro Cycling                              
83 Nic Sanderson (USA) Rock Racing                                  
84 Michael Margarite (USA) CRCA/Empire Cycling Northwave        1.07
85 Martin Gilbert (Can) Planet Energy                           1.08
86 Kevin Hazzard (Can) Jet Fuel Coffee                              
87 Joshua Bartlett (USA) Land Rover-Orbea                       1.09
88 Stefan Rothe (USA) Texas Tough                                   
89 Yosvany Falcon (Cub) Champion Porsche P/B Race Edge          1.10
90 Chris Wherry (USA) Team Hotel San Jose                       1.11
91 Lucas Sebastian Haedo (Arg) Colavita Sutter Hm/Cooking Lt    1.13
92 Isaac Neff (USA) Alderfer Bergen Cycling                     1.14
93 Mat Ankney (USA) Texas Tough                                     
94 Charles Marzot (USA) Mountain Khakis                         1.16
95 Daniel Zmolik (USA) CRCA/Empire Cycling Northwave                
96 Steve Tilford (USA) Tradewind Energy/Trek Stores                 
97 Benne Van Der Genugten (USA) Kenda Pro Cycling P/B Spinergy      
98 Nicholas Coil (USA) Tradewind Energy/Trek Stores             1.17
99 Clay Mufret (Aus) Kelly Benefit Strategies                   1.18
100 Bernard Sulzberger (USA) Fly V Australia                        
101 Eric Boily (Can) Planet Energy                                  
102 Noah Singer (USA) Competitive Cyclist                       1.19
103 James Stemper (USA) Team Geargrinder                        1.21
104 Matt White (USA) Bikereg.Com/Cannondale                     1.22
105 Frank Travieso (USA) Champion Porsche P/B Race Edge         1.24
106 Thomas Soladay (USA) Mountain Khakis                            
107 Bryan Mcvey (USA) Vision Quest                                  
108 David Veilleux (Can) Kelly Benefit Strategies               1.25
109 Mike Northey (USA) Land Rover-Orbea                         1.26
110 Brad Huff (USA) Jelly Belly                                 1.28
111 Nick Keough (USA) Bikereg.Com/Cannondale                        
112 Steve Weller (USA) Bikereg.Com/Cannondale                   1.29
113 Danny Finneran (USA) Rock Racing                                
114 Tomas Roba (USA) Rocky Mountain Bicycles Elite              1.30
115 Mike Sherer (USA) Alderfer Bergen Cycling                       
116 William Nowak (USA) Alderfer Bergen Cycling                     
117 Jake Hollenbach (USA) CRCA/Empire Cycling Northwave         1.31
118 David Henderson (USA) CBC                                       
119 Bryson Bowers (Can) Jet Fuel Coffee                             
120 Bryce Mead (USA) Jelly Belly                                1.33
121 Sean Mazich (USA) Team Waste Management                     1.34
122 Jonathan Parrish (USA) Kenda Pro Cycling P/B Spinergy       1.35
123 Jarred Berger (USA) Ciclismo Racing                             
124 Eric Schildge (USA) Bikereg.Com/Cannondale                  1.38
125 Ryan Sullivan (USA) Myogenesis.Com/United Healthcr          1.39
126 Bobby Lea (USA) Ouch Presented By Maxxis                    1.42
127 Alex Welch (USA) Texas Tough                                1.44
128 Logan Garey (USA) Team Rio Grande                               
129 Randy Reichardt (USA) Vitamin Cottage P/B Xp Compani        1.47
130 Jeff Winkler (USA) St. John'S Powerful Medicine             1.48
131 Travis Hagner (USA) Warp9Bikes.Com/Tristar                      
132 Vince Roberge (USA) Panther/RGF pb Felt Bicycles            1.49
133 Steve George (USA) Fly V Australia                          1.52
134 Keven Lacombe (Can) Planet Energy                           1.55
135 Chad Cagle (USA) Texas Tough                                1.58
136 Seth Hansley (USA) Champion Porsche P/B Race Edge               
137 Scott Wenzel (USA) Team Rio Grande                              
138 Bill Stolte (USA) HRRC/Trek/Shimano                         1.59
139 Logan Hunn (USA) Land Rover-Orbea                           2.00
140 Ben Renkema (USA) Kenda Pro Cycling P/B Spinergy                

General classification after stage 1

1 Ben Jacques-Maynes (USA) Bissell Pro Cycling                  8.03
2 Rory Sutherland (Aus) Ouch Presented By Maxxis                0.01
3 Jeremy Vennell (NZl) Bissell Pro Cycling                      0.13
4 Phil Zajicek (USA) Fly V Australia                            0.14
5 Corey Collier (USA) Team Rio Grande                           0.17
6 Neil Shirley (USA) Kelly Benefit Strategies                       
7 Tom Zirbel (USA) Bissell Pro Cycling                          0.18
8 Darren Lill (USA) Team Type 1                                 0.19
9 Chris Baldwin (USA) Rock Racing                               0.20
10 Morgan Schmitt (USA) Bissell Pro Cycling                     0.22
11 Anthony Colby (USA) Colavita Sutter Hm/Cooking Lt                
12 Patrick Mccarty (USA) Ouch Presented By Maxxis               0.25
13 Tyler Wren (USA) Colavita Sutter Hm/Cooking Lt               0.26
14 Shawn Milne (USA) Team Type 1                                    
15 John Murphy (USA) Ouch Presented By Maxxis                   0.27
16 Karl Menzies (Aus) Ouch Presented By Maxxis                  0.28
17 Jacob Erker (Can) Kelly Benefit Strategies                       
18 Tim Johnson (USA) Ouch Presented By Maxxis                   0.29
19 Jeremy Powers (USA) Jelly Belly                                  
20 Jonny Clark (Aus) Jelly Belly                                0.30
21 Daniel Campbell (USA) Panther/RGF pb Felt Bicycles               
22 Ryan Roth (Can) Planet Energy                                    
23 Cesar Grajales (USA) Rock Racing                                 
24 Andy Jacques-Maynes (USA) Bissell Pro Cycling                0.31
25 Will Hoffarth (USA) Mountain Khakis                          0.33
26 Jim Camut (USA) Land Rover-Orbea                                 
27 Andrew Randell (Can) Planet Energy                           0.34
28 Phil Gaimon (USA) Jelly Belly                                    
29 Nick Reistad (USA) Jelly Belly                                   
30 Aaron Tuckerman (USA) Land Rover-Orbea                       0.35
31 Ian Macgregor (USA) Team Type 1                              0.36
32 Luis Amaran (Arg) Colavita Sutter Hm/Cooking Lt                  
33 Francois Parisien (Can) Planet Energy                            
34 Mike Creed (USA) Rock Racing                                 0.38
35 Andrew Talansky (USA) Amore & Vita-Mcdonald'S                    
36 Sergio Hernandez (USA) Rock Racing                           0.39
37 Jake Rytlewski (USA) Kenda Pro Cycling P/B Spinergy              
38 Peter Latham (USA) Bissell Pro Cycling                       0.40
39 Floyd Landis (USA) Ouch Presented By Maxxis                  0.41
40 Gregory Christian (USA) Panther/RGF pb Felt Bicycles         0.42
41 Frank Pipp (USA) Bissell Pro Cycling                             
42 Andrew Pinfold (Can) Ouch Presented By Maxxis                    
43 Kyle Wamsley (USA) Colavita Sutter Hm/Cooking Lt             0.45
44 Evan Elken (USA) Land Rover-Orbea                                
45 Daniel Ramsey (USA) Mountain Khakis                          0.46
46 Scott Stewart (USA) Team Waste Management                        
47 Daniel Bowman (USA) Kelly Benefit Strategies                 0.48
48 Davide Frattini (Ita) Colavita Sutter Hm/Cooking Lt              
49 Matt Crane (USA) Jelly Belly                                     
50 Matthew Busche (USA) Kelly Benefit Strategies                    
51 Moises Aldape (USA) Team Type 1                                  
52 Chris Jones (USA) Team Type 1                                0.49
53 John Minutrn (USA) CRCA/Empire Cycling Northwave                 
54 Hayden Brooks (USA) Fly V Australia                          0.51
55 Valery Kobzarenko (USA) Team Type 1                          0.52
56 Matt Winstead (USA) Team Inferno Pro Cycling                     
57 Josh Dillon (USA) Bikereg.Com/Cannondale                     0.53
58 Matty Rice (Aus) Jelly Belly                                     
59 Roman Van Uden (USA) Land Rover-Orbea                        0.54
60 Alex Hagman (USA) Ciclismo Racing                                
61 Ty Stanfield (USA) Kenda Pro Cycling P/B Spinergy            0.55
62 Carson Miller (USA) Land Rover-Orbea                             
63 Jonathan Mumford (USA) Kelly Benefit Strategies                  
64 Russell Stevenson (USA) Kenda Pro Cycling P/B Spinergy       0.56
65 Heath Blackgrove (USA) Team Hotel San Jose                       
66 Michael Mathis (USA) CRCA/Empire Cycling Northwave               
67 Brian Jensen (USA) Tradewind Energy/Trek Stores              0.57
68 Troy Wells (USA) Team Clif Bar                                   
69 Alejandro Borrajo (Arg) Colavita Sutter Hm/Cooking Lt        0.59
70 Ben Kneller (USA) Ciclismo Racing                                
71 Anibal Borrajo (Arg) Colavita Sutter Hm/Cooking Lt           1.00
72 Curtis Gunn (USA) Fly V Australia                            1.01
73 Fabio Calabria (USA) Team Type 1                             1.02
74 Matt Wilson (USA) Team Type 1                                    
75 Scott Davis (USA) Fly V Australia                                
76 David Kemp (USA) Fly V Australia                             1.03
77 Cheyne Hoag (USA) Kelly Benefit Strategies                       
78 Dan Timmerman (USA) Bikereg.Com/Cannondale                   1.04
79 Jonathan Cantwell (USA) Fly V Australia                          
80 Bruno Langlois (Can) Planet Energy                           1.05
81 Justin Lindine (USA) Bikereg.Com/Cannondale                      
82 Kirk Obee (USA) Bissell Pro Cycling                              
83 Nic Sanderson (USA) Rock Racing                                  
84 Michael Margarite (USA) CRCA/Empire Cycling Northwave        1.07
85 Martin Gilbert (Can) Planet Energy                           1.08
86 Kevin Hazzard (Can) Jet Fuel Coffee                              
87 Joshua Bartlett (USA) Land Rover-Orbea                       1.09
88 Stefan Rothe (USA) Texas Tough                                   
89 Yosvany Falcon (Cub) Champion Porsche P/B Race Edge          1.10
90 Chris Wherry (USA) Team Hotel San Jose                       1.11
91 Lucas Sebastian Haedo (Arg) Colavita Sutter Hm/Cooking Lt    1.13
92 Isaac Neff (USA) Alderfer Bergen Cycling                     1.14
93 Mat Ankney (USA) Texas Tough                                     
94 Charles Marzot (USA) Mountain Khakis                         1.16
95 Daniel Zmolik (USA) CRCA/Empire Cycling Northwave                
96 Steve Tilford (USA) Tradewind Energy/Trek Stores                 
97 Benne Van Der Genugten (USA) Kenda Pro Cycling P/B Spinergy      
98 Nicholas Coil (USA) Tradewind Energy/Trek Stores             1.17
99 Clay Mufret (Aus) Kelly Benefit Strategies                   1.18
100 Bernard Sulzberger (USA) Fly V Australia                        
101 Eric Boily (Can) Planet Energy                                  
102 Noah Singer (USA) Competitive Cyclist                       1.19
103 James Stemper (USA) Team Geargrinder                        1.21
104 Matt White (USA) Bikereg.Com/Cannondale                     1.22
105 Frank Travieso (USA) Champion Porsche P/B Race Edge         1.24
106 Thomas Soladay (USA) Mountain Khakis                            
107 Bryan Mcvey (USA) Vision Quest                                  
108 David Veilleux (Can) Kelly Benefit Strategies               1.25
109 Mike Northey (USA) Land Rover-Orbea                         1.26
110 Brad Huff (USA) Jelly Belly                                 1.28
111 Nick Keough (USA) Bikereg.Com/Cannondale                        
112 Steve Weller (USA) Bikereg.Com/Cannondale                   1.29
113 Danny Finneran (USA) Rock Racing                                
114 Tomas Roba (USA) Rocky Mountain Bicycles Elite              1.30
115 Mike Sherer (USA) Alderfer Bergen Cycling                       
116 William Nowak (USA) Alderfer Bergen Cycling                     
117 Jake Hollenbach (USA) CRCA/Empire Cycling Northwave         1.31
118 David Henderson (USA) CBC                                       
119 Bryson Bowers (Can) Jet Fuel Coffee                             
120 Bryce Mead (USA) Jelly Belly                                1.33
121 Sean Mazich (USA) Team Waste Management                     1.34
122 Jonathan Parrish (USA) Kenda Pro Cycling P/B Spinergy       1.35
123 Jarred Berger (USA) Ciclismo Racing                             
124 Eric Schildge (USA) Bikereg.Com/Cannondale                  1.38
125 Ryan Sullivan (USA) Myogenesis.Com/United Healthcr          1.39
126 Bobby Lea (USA) Ouch Presented By Maxxis                    1.42
127 Alex Welch (USA) Texas Tough                                1.44
128 Logan Garey (USA) Team Rio Grande                               
129 Randy Reichardt (USA) Vitamin Cottage P/B Xp Compani        1.47
130 Jeff Winkler (USA) St. John'S Powerful Medicine             1.48
131 Travis Hagner (USA) Warp9Bikes.Com/Tristar                      
132 Vince Roberge (USA) Panther/RGF pb Felt Bicycles            1.49
133 Steve George (USA) Fly V Australia                          1.52
134 Keven Lacombe (Can) Planet Energy                           1.55
135 Chad Cagle (USA) Texas Tough                                1.58
136 Seth Hansley (USA) Champion Porsche P/B Race Edge               
137 Scott Wenzel (USA) Team Rio Grande                              
138 Bill Stolte (USA) HRRC/Trek/Shimano                         1.59
139 Logan Hunn (USA) Land Rover-Orbea                           2.00
140 Ben Renkema (USA) Kenda Pro Cycling P/B Spinergy                


Women 1/2
 
1 Alison Powers (USA) Team Type 1                                      9.37
2 Katheryn Curi Mattis (USA) Webcor Builders                           0.04
3 Erinne Willock (USA) Webcor Builders                                 0.18
4 Kristen Lasasso (USA) Mellow Mushroom                                0.19
5 Robin Farina (USA) Valueact Capital Cycling Team                     0.22
6 Katharine Carroll (USA) Team Tibco                                   0.24
7 Dotsie Bausch (USA) Jazz Apple Cycling Team                          0.25
8 Ruth Corset (USA) Jazz Apple Cycling Team                                
9 Christina Ruiter (USA) Valueact Capital Cycling Team                 0.33
10 Alexis Rhodes (Aus) Webcor Builders                                 0.39
11 Amy Dombroski (USA) Webcor Builders                                 0.40
12 Kristin Sanders (USA) Valueact Capital Cycling Team                 0.42
13 Rebecca Much (USA) Webcor Builders                                  0.44
14 Kori Seehafer (USA) Team Type 1                                     0.46
15 Lauren Tamayo (USA) Team Tibco                                      0.47
16 Jo Kiesanowski (NZl) Team Tibco                                     0.50
17 Emily Zell (USA) Valueact Capital Cycling Team                      0.53
18 Veronica Leal (USA) Team Type 1                                     0.54
19 Nicole Evans (USA) Valueact Capital Cycling Team                        
20 Annajean Dallaire (USA) Cannondale/Barbasol/Rapid Tran              1.04
21 Sydney Brown (USA) Mercy Cycling Team                               1.06
22 Nikki Butterfield (Aus) Webcor Builders                             1.07
23 Laura Van Gilder (USA) Mellow Mushroom                              1.09
24 Sabrina Savage (USA) Veloforma                                      1.10
25 Lise Olivier (USA) Tulsa Tough Racing                                   
26 Rachel Warner (USA) Juice Plus Club Team                                
27 Lauren Ellis (NZl) Jazz Apple Cycling Team                              
28 Denise Ramsden (Can) Team Kenda                                     1.11
29 Meredith Miller (USA) Team Tibco                                    1.14
30 Brooke Miller (USA) Team Tibco                                          
31 Alice Pennington (USA) Veloforma                                    1.16
32 Sharon Allpress (USA) Valueact Capital Cycling Team                     
33 Kathleen Billington (USA) Mellow Mushroom                           1.23
34 Whitney Schultz (USA) Metro Volkswagen Cycling Team                 1.26
35 Anna Sanders (USA) Veloforma                                        1.27
36 Elena Dale (USA) Mellow Mushroom                                        
37 Robin Secrist (USA) Veloforma                                           
38 Vronique Labont (Can) AQuipe Cascades-ABC Cycles                    1.28
39 Shannon Koch (USA) Metro Volkswagen Cycling Team                    1.29
40 Susy Pryde (USA) Jazz Apple Cycling Team                            1.35
41 Kristin Wentworth (USA) Team Kenda                                  1.39
42 Jennifer Mcrae (USA) Team Type 1                                        
43 Amity Elliot (USA) Juice Plus Club Team                             1.41
44 Christina Smith (USA) Veloforma                                         
45 Erica Allar (USA) Unattached                                        1.43
46 Gina Grain (Can) Webcor Builders                                    1.56
47 Laura Mccaughey (USA) Salmander                                         
48 Silke Wunderwald (USA) Team Kenda                                       
49 Krystal Mcnutt (USA) Team Kenda                                     2.00
50 Joanie Caron (Can) AQuipe Cascades-ABC Cycles                       2.03
51 Steph Roorda (USA) Jazz Apple Cycling Team                          2.04
52 Martina Patella (USA) Valueact Capital Cycling Team                 2.05
53 Samantha Schneider (USA) Team Type 1                                2.07
54 Emma Rickards (USA) Team Tibco                                      2.08
55 Heather Kay (Can) Unattached                                        2.09
56 Monique Hanley (USA) Team Type 1                                    2.17
57 Kathryn Clark (USA) Team Kenda                                          
HD Kristen Meshberg (USA) BH USA                                       2.26
HD Catherine Walberg (USA) Team Kenda                                  2.29
HD Michelle Jensen (USA) Mercy Cycling Team                            2.34
HD Amy Mcguire (USA) Hub Racing                                        2.37
HD Christy Keely (USA) Team Kenda                                      2.38
HD Jessica Cole (USA) Team Kenda                                       2.40
HD Tammy Wallace (USA) Moritz Chevrolet Cycling                        2.43
HD Priscilla Cazer (USA) Carve                                         2.51
HD Madeleine Puissant (USA) Nova-Iscorp                                3.08
HD Jen Herrell-Rhoades (USA) Mercy Cycling Team                        3.11
HD Malindills Maclean (USA) Jazz Apple Cycling Team                    3.39
HD Morgan Patton (USA) Team Type 1                                     4.16
 
General classification after stage 1
 
1 Alison Powers (USA) Team Type 1                                      9.37
2 Katheryn Curi Mattis (USA) Webcor Builders                           0.04
3 Erinne Willock (USA) Webcor Builders                                 0.18
4 Kristen Lasasso (USA) Mellow Mushroom                                0.19
5 Robin Farina (USA) Valueact Capital Cycling Team                     0.22
6 Katharine Carroll (USA) Team Tibco                                   0.24
7 Dotsie Bausch (USA) Jazz Apple Cycling Team                          0.25
8 Ruth Corset (USA) Jazz Apple Cycling Team                                
9 Christina Ruiter (USA) Valueact Capital Cycling Team                 0.33
10 Alexis Rhodes (Aus) Webcor Builders                                 0.39
11 Amy Dombroski (USA) Webcor Builders                                 0.40
12 Kristin Sanders (USA) Valueact Capital Cycling Team                 0.42
13 Rebecca Much (USA) Webcor Builders                                  0.44
14 Kori Seehafer (USA) Team Type 1                                     0.46
15 Lauren Tamayo (USA) Team Tibco                                      0.47
16 Jo Kiesanowski (NZl) Team Tibco                                     0.50
17 Emily Zell (USA) Valueact Capital Cycling Team                      0.53
18 Veronica Leal (USA) Team Type 1                                     0.54
19 Nicole Evans (USA) Valueact Capital Cycling Team                        
20 Annajean Dallaire (USA) Cannondale/Barbasol/Rapid Tran              1.04
21 Sydney Brown (USA) Mercy Cycling Team                               1.06
22 Nikki Butterfield (Aus) Webcor Builders                             1.07
23 Laura Van Gilder (USA) Mellow Mushroom                              1.09
24 Sabrina Savage (USA) Veloforma                                      1.10
25 Lise Olivier (USA) Tulsa Tough Racing                                   
26 Rachel Warner (USA) Juice Plus Club Team                                
27 Lauren Ellis (NZl) Jazz Apple Cycling Team                              
28 Denise Ramsden (Can) Team Kenda                                     1.11
29 Meredith Miller (USA) Team Tibco                                    1.14
30 Brooke Miller (USA) Team Tibco                                          
31 Alice Pennington (USA) Veloforma                                    1.16
32 Sharon Allpress (USA) Valueact Capital Cycling Team                     
33 Kathleen Billington (USA) Mellow Mushroom                           1.23
34 Whitney Schultz (USA) Metro Volkswagen Cycling Team                 1.26
35 Anna Sanders (USA) Veloforma                                        1.27
36 Elena Dale (USA) Mellow Mushroom                                        
37 Robin Secrist (USA) Veloforma                                           
38 Vronique Labont (Can) AQuipe Cascades-ABC Cycles                    1.28
39 Shannon Koch (USA) Metro Volkswagen Cycling Team                    1.29
40 Susy Pryde (USA) Jazz Apple Cycling Team                            1.35
41 Kristin Wentworth (USA) Team Kenda                                  1.39
42 Jennifer Mcrae (USA) Team Type 1                                        
43 Amity Elliot (USA) Juice Plus Club Team                             1.41
44 Christina Smith (USA) Veloforma                                         
45 Erica Allar (USA) Unattached                                        1.43
46 Gina Grain (Can) Webcor Builders                                    1.56
47 Laura Mccaughey (USA) Salmander                                         
48 Silke Wunderwald (USA) Team Kenda                                       
49 Krystal Mcnutt (USA) Team Kenda                                     2.00
50 Joanie Caron (Can) AQuipe Cascades-ABC Cycles                       2.03
51 Steph Roorda (USA) Jazz Apple Cycling Team                          2.04
52 Martina Patella (USA) Valueact Capital Cycling Team                 2.05
53 Samantha Schneider (USA) Team Type 1                                2.07
54 Emma Rickards (USA) Team Tibco                                      2.08
55 Heather Kay (Can) Unattached                                        2.09
56 Monique Hanley (USA) Team Type 1                                    2.17
57 Kathryn Clark (USA) Team Kenda