Eschborn-Frankfurt City Loop - 1.HC
Frankfurt, Germany, May 1, 2009
2008 Results Results Past winners
Wegmann wins Eschborn-Frankfurt
German Champion Fabian Wegmann (Milram) wins on home soil at the Eschborn-Frankfurt City Loop
Photo ©: AFP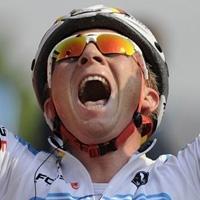 German Champion Fabian Wegmann took his first race win of the season in a tight two-man sprint Friday on home soil at the Eschborn-Frankfurt City Loop, formerly the Rund um den Henninger Turm. The Milram rider escaped with last year's winner, Dutchman Karsten Kroon (Saxo Bank), in the final moments of the race.
The duo escaped with a larger group of seven earlier in the race. With Wegmann and Kroon were Christian Knees (Milram), Paul Martens (Rabobank), Jelle Vanendert (Silence-Lotto), Bert De Waele (Landbouwkrediet-Colnago) and Matteo Carrara (Vacansoleil). Wegmann's teammate Knees controlled the others after the two went clear before the final 4.4-kilometre finishing circuit.
Wegmann and Kroon had a secure advantage in the final kilometre. Wegmann attacked went early and Kroon, second in Amstel Gold, quickly countered the move. Wegmann was able to hold Kroon and come around for a close win.
"It was extremely difficult today, because everyone was watching us," said Wegmann. "In the final circuit I went for it, attacked, and got away from the group. I knew that I could only beat Karsten Kroon if I led going into the finale. I am overjoyed that my plan worked."
Milram also controlled the first moments of the race. The German team had two men in an early move of six: Milram's Matthias Russ and Linus Gerdemann with Harald Totschnig (Elk Haus), Patrik Sinkewitz (PSK Whirlpool-Author), Ben Hermans (Topsport Vlaanderen-Mercator) and Sergey Lagutin (Vacansoleil).
"We controlled the race all day, and even dominated it," said Christian Henn, Team Milram directeur sportif. "In the finale, we finally had that last little bit of luck, which we have so often looked for in vain the last weeks. I have to pay the whole team a big compliment - it couldn't have gone better today."
While Karsten Kroon was unable to defend his title, Team Saxo Bank Directeur Sportif Torsten Schmidt was pleased with his effort. "It's a good result in a tough race and Karsten deserves a huge honour for his will to keep fighting. He just ended a hard Classics season but he came to this race motivated to defend his victory. However, Fabian Wegman was just a little faster in the sprint and that's just the way cycling can be. Karsten should be happy about this result." (GB)
Photography
For a thumbnail gallery of these images, click here
Images by AFP Photo
Images by Florian & Susanne Schaaf/www.cyclingpictures.de
Results - 190.8km
1 Fabian Wegmann (Ger) Team Milram                     4.35.40  (41.52 km/h)
2 Karsten Kroon (Ned) Team Saxo Bank                          
3 Christian Knees (Ger) Team Milram                       0.19
4 Bert De Waele (Bel) Landbouwkrediet - Colnago               
5 Paul Martens (Ger) Rabobank                                 
6 Jelle Vanendert (Bel) Silence-Lotto                     0.24
7 Matteo Carrara (Ita) Vacansoleil Pro Cycling Team       0.33
8 Johnny Hoogerland (Ned) Vacansoleil Pro Cycling Team    0.53
9 Gerben Löwik (Ned) Vacansoleil Pro Cycling Team             
10 Simon Geschke (Ger) Skil-Shimano                           
11 Xavier Florencio (Spa) Cervelo Test Team                   
12 Preben Van Hecke (Bel) Topsport Vlaanderen - Mercator      
13 Sergey Lagutin (Uzb) Vacansoleil Pro Cycling Team          
14 Mathias Belka (Ger) LKT Team Brandenburg                   
15 Stefan Rucker (Aut) ELK Haus                               
16 Bert Scheirlinckx (Bel) Landbouwkrediet - Colnago          
17 Christophe Brandt (Bel) Silence-Lotto                      
18 Danilo Hondo (Ger) PSK Whirlpool - Author                  
19 Andreas Dietziker (Swi) Vorarlberg - Corratec              
20 Gerald Ciolek (Ger) Team Milram                            
21 Ben Hermans (Bel) Topsport Vlaanderen - Mercator           
22 Francis De Greef (Bel) Silence-Lotto                       
23 Jakob Fuglsang (Den) Team Saxo Bank                        
24 Patrik Sinkewitz (Ger) PSK Whirlpool - Author              
25 Tom Criel (Bel) Topsport Vlaanderen - Mercator             
26 Geert Verheyen (Bel) Landbouwkrediet - Colnago             
27 Serge Pauwels (Bel) Cervelo Test Team                      
28 Martin Mortensen (Den) Vacansoleil Pro Cycling Team        
29 Jan Bakelandts (Bel) Topsport Vlaanderen - Mercator        
30 Simon Gerrans (Aus) Cervelo Test Team                      
31 Jan Valach (Svk) ELK Haus                              1.03
32 Pieter Weening (Ned) Rabobank                              
33 Reto Hollenstein (Swi) Vorarlberg - Corratec           1.05
34 Alexander Gottfried (Ger) Team Kuota - Indeland            
35 Matthias Russ (Ger) Team Milram                        1.12
36 Thierry Hupond (Fra) Skil-Shimano                          
37 Alan Marangoni (Ita) CSF Group - Navigare                  
38 Albert Timmer (Ned) Skil-Shimano                       1.19
39 Pascal Hungerbühler (Swi) Vorarlberg - Corratec        1.04
40 Martin Mares (Cze) PSK Whirlpool - Author              1.45
41 Marco Marcato (Ita) Vacansoleil Pro Cycling Team       1.48
42 Markus Eibegger (Aut) ELK Haus                         2.14
43 Dirk Müller (Ger) Team Nutrixxion Sparkasse            3.55
44 Piet Rooijakkers (Ned) Skil-Shimano                    5.15

Past winners
Rund um den Henninger Turm

2008
1 Karsten Kroon (Ned) Team CSC                179km in 4.25.36 (40.437 km/h)
2 Davide Rebellin (Ita) Gerolsteiner                           
3 Mauricio Alberto Ardila Cano (Col) Rabobank                  

2007
1 Patrik Sinkewitz (Ger) T-Mobile Team        192.7 km in 4.46.54 (40.30km/h)
2 Kurt-Asle Arvesen (Nor) Team CSC                          
3 Dario Cataldo (Ita) Liquigas                             

2006
1 Stefano Garzelli (Ita) Liquigas             190 km in 4.34.20
2 Gerald Ciolek (Ger) Team Wiesenhof Akud                            
3 Danilo Hondo (Ger) Team Lamonta                                    

2005 
1 Erik Zabel (Ger) T-Mobile                   211 km in 5.10.34
2 Alejandro Alberto Borrajo (Arg) Ceramica Panaria          
3 Markus Zberg (Swi) Gerolsteiner                           

2004 

1 Karsten Kroon (Ned) Rabobank                205 km in 5.21.10
2 Danilo Hondo (Ger) Gerolsteiner                                    
3 Johan Coenen (Bel) MrBookmaker.com-Palmans                         

2003 

1 Davide Rebellin (Ita) Gerolsteiner          206 km in 5.09.17 (40.41 km/h)
2 Erik Zabel (Ger) Team Telekom                        
3 Igor Astarloa (Spa) Team Saeco

2002
 
1 Erik Zabel (Ger) Team Telekom               206km in 5.00.17 (41.26 km/h)
2 Jo Planckaert (Bel) Cofidis
3 Serguei Ivanov (Rus) Fassa Bortolo
 
2001
 
1 Marcus Zberg (Swi) Rabobank                 206 kms in 5.05.35
2 Rebellin (Ita) Liquigas-Pata
3 Kurt Van De Wouwer (Bel) Lotto-Adecco
 
2000
 
1 Kai Hundertmark (Ger) Deutsche Telekom-ARD  206 kms in 5.01.08
2 Matteo Tosatto (Ita) Fassa Bortolo
3 Jens Heppner (Ger) Deutsche Telekom-ARD
 
1999
 
1 Erik Zabel (Ger) Team Telekom 206 kms in 5.03.40
2 Leon Van Bon (Ned) Rabobank
3 Alberto Ongarato (Ita) Ballan-Alessio
 
1998
 
1 Fabio Baldato (Ita) Riso Scotti 206 kms in 5.00.14
2 Nicolaij Bo Larsen (Den) TVM-Farm Frites
3 Stefano Garzelli (Ita) Mercatone Uno
 
1997
 
1 Michele Bartoli (Italy)
2 Bjarne Riis (Denmark)
3 Mauro Gianetti (Swi)
 
1996
 
1 Beat Zberg (Switzerland)
2 Jens Heppner (Germany)
3 Rolf Sörensen (Denmark)
 
1995
 
1 Francesco Frattini (Italy)
2 Jens Heppner (Germany)
3 Massimo Podenzana (Italy)
 
1994
 
1 Olaf Ludwig (Germany)
2 Andreas Kappes (Germany)
3 Emmanuele Magnien (France)
 
1993
 
1 Rolf Sörensen (Denmark)
2 Max Sciandri (Italy)
3 Eddy Bouwmans (Belgium)
 
1992
 
1 Frank Van den Abbeele (Belgium)
2 Claudio Chiappucci (Italy)
3 Frans Maassen (Netherlands)
 
1991
 
1 Johan Bruyneel (Belgium)
2 Johan Musseuw (Belgium)
3 Martin Earley (Ireland)
 
1990
 
1 Thomas Wegmüller (Switzerland)
2 Jan Wijnants (Belgium)
3 Peter Winnen (Netherlands)
 
1989
 
1 Jean-Marie Wampers (Belgium)
2 Martial Gayant (France)
3 Claudio Chiappucci (Italy)
 
1988
 
1 Michel Dernies (Belgium)
2 Rolf Sörensen (Denmark)
3 G Montovani (Italy)
 
1987
 
1 Dag-Otto Lauritzen (Norway)
2 Peter Stevenhaagen (Netherlands)
3 Henk Lubberding (Netherlands)
 
1986
 
1 Jean-Marie Wampers (Belgium)
2 Steve Bauer (Canada)
3 Micheal Wilson (Australia)
 
1985
 
1 Phil Anderson (Australia)
2 Johan Lammerts (Netherlands)
3 Rolf Gölz (Germany)
 
1984
 
1 Phil Anderson (Australia)
2 Erik Vanderaerden (Belgium)
3 Sean Kelly (Ireland)
 
1983
 
1 Ludo Peters (Belgium)
2 Leo van Vliet (Netherlands)
3 Luc Colijn (Belgium)
 
1982
 
1 Ludo Peters (Belgium)
2 Jostien Wilmann (Norway)
3 Sean Kelly (Ireland)
 
1981
 
1 Jos Jakobs (Belgium)
2 Didi Thurau (Germany)
3 Daniel Willems (Belgium)
 
1980
 
1 Giabattista Baronchelli (Italy)
2 Francesco Moser (Italy)
3 Alfons de Wolf (Belgium)
 
1979
 
1 Daniel Willems (Belgium)
2 Henk Lubberding (Netherlands)
3 Gregor Braun (Germany)
 
1978
 
1 Gregor Braun (Germany)
2 Rudy Pevenage (Belgium)
3 Hennie Kuiper (Netherlands)
 
1977
 
1 Gerrei Knetemann (Netherlands)
2 Didi Thurau (Germany)
3 Frans Veerbeck (Belgium)
 
1976
 
1 Freddy Maertens (Belgium)
2 Frans Verbeek (Belgium)
3 Roger De Vlaeminick (Belgium)
 
1975
 
1 Roi Schuiten (Netherlands)
2 Frans Verbeeck (Belgium)
3 Walter Godefroot (Belgium)
 
1974
 
1 Walter Godefrood (Belgium)
2 Eddy Merckx (Belgium)
3 Frans Verbeeck (Belgium)
 

1973
 
1 Georges Pintens (Belgium)
2 Jürgen Tschan (Germany)
3 Freddy Maertens (Belgium)
 
1972
 
1 Gilbert Bellone (France)
2 Eddy Merckx (Belgium)
3 Noël Vantygmen (Belgium)
 
1971
 
1 Eddy Merckx (Belgium)
2 Jos Deschoenmaker (Belgium)
3 Lucien Aimar (France)
 
1970
 
1 Rudi Altig (Germany)
2 Joop Zopetemelk (Netherlands)
3 Ottavio Crepaldi (Italy)
 
1969
 
1 Georges Pintens (Belgium)
2 Michele Dancelli (Italy)
3 Herman van Springel (Belgium)
 
1968
 
1 Eddy Beugels (Netherlands)
2 V van Sweevelt (Belgium)
3 Herman van Springel (Belgium)
 
1967
 
1 Daniël von Rijckeghem (Belgium)
2 Willy Planckaert (Belgium)
3 Georges van Coningsloo (Belgium)
 
1966
 
1 Barry Hoban (England)
2 Walter Godefroot (Belgium)
3 Willy Planckaert (Belgium)
 
1965
 
1 Jean Stablinski (France)
2 Frans Verbeeck (Belgium)
3 Georges van Coningsloo (Belgium)
 
1964
 
1 Clement Roman (Belgium)
2 François Mahé (France)
3 Yvo Molengers (Belgium)
 
1963
 
1 Hans Junkermann (Germany)
2 Willi Altig (Germany)
3 Jean Stablinski (France)
 
1962
 
1 Armand Desmet (Belgium)
2 Huub Zilverberg (Netherlands)
3 Rik van Looy (Belgium)