35th Trophée des Grimpeurs - 1.1
France, May 3, 2009
2008 Results Results Past winners Trophée des grimpeurs
Voeckler is back on form for the Giro
By Jean-François Quénet in Argenteuil, France
Thomas Voeckler (Bbox Bouygues Telecom)
Photo ©: Fabrice Lambert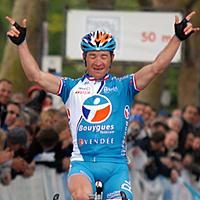 Thomas Voeckler has restarted his winning campaign by claiming the Trophée des Grimpeurs (the climbers' trophy) in Argenteuil in the outskirts of Paris. After his sensational beginning of the 2009 season that saw him winning the Etoile de Bessèges and the Tour of Haut-Var consecutively, he broke his collarbone in three pieces the day after coming second to Jérémy Roy in Vallon-Pont d'Arc during Paris-Nice.
"When I started racing again, I came last almost every day at the Circuit de la Sarthe, a race I won last year," he laughed, adding that he wouldn't like to finish dead last of the Trophée des Grimpeurs next year.
He has used this event as a final preparation for the Giro d'Italia starting from Venice on Saturday. "I'm very motivated for the Tour of Italy but I'm also very motivated for the Tour de France," he warned. "Therefore I won't go to Italy with ambitions on GC because realistically, I don't have the level for a top 15 overall.
"Although I will not go to Italy as a tourist, I'll look carefully at the profiles of the stages and I'll play for the stage wins adapted to my characteristics," said the French rider who amazed everyone when he wore the yellow jersey for ten days during the 2004 Tour de France.
In Argenteuil he demonstrated that he's still a master in reading the race. "As a team we were trapped once and we were forced to chase," he remembered. "I made sure that we wouldn't be trapped twice. The Trophée des Grimpeurs has the intensity of a post-Tour de France criterium. Fortunately, we had a few riders with a good experience in the team. The course was suitable for a man alone. I dared to attack because I felt I had good legs and I knew I had good team-mates to protect me."
This is Voeckler's 19th win as a professional and Bbox Bouygues Telecom's tenth win for 2009.
How it unfolded
The men's podium:
Photo ©: Fabrice Lambert

The first of the seventeen laps was the fastest of the first half of the race. During the second lap, defending champion David Le Lay (Agritubel) attacked together with his fellow Breton compatriot Cyril Gautier (Bbox Bouygues Telecom). But the regrouping occurred in the fifth lap.
During the 7th one, Morgan Chedhomme (Auber 93) and Julien El Farès (Cofidis) broke clear. They stayed away for a while with less than 40 seconds advantage until they were rejoined by Daniele Colli (Carmoioro), Samuel Dumoulin and Sébastien Minard (Cofidis), Nicolas Jalabert (Agritubel), Yann Pivois and Dimitri Champion (Bretagne-Schuller). Bbox Bouygues Telecom took care of the chase and the peloton split up in pieces after they came back together in the 12th lap.
24 riders accelerated in the 13th lap. Whoever had missed that move was out of contention for the win. Cofidis looked well represented in the front with five men, but towards the end of that lap, it was Gautier again and Blel Kadri (AG2R) who went away. As soon as they were rejoined, Thomas Voeckler (Bbox Bouygues Telecom) relayed his team-mate in the front.
It was a very nice solo effort with 28 kilometres to go. He quickly got 38 seconds lead for himself and maintained it till the end despite a counter attack launched by Anthony Geslin (Française des Jeux), Jalabert, Champion and Luis Felipe Laverde (Café de Colombia) who crossed the line in that order while Wesley Sulzberger (Française des Jeux) easily won the sprint for 6th place.
Photography
For a thumbnail gallery of these images, click here
Images by Fabrice Lambert/www.sportbreizh.com
Results, 127.5km
Men

1 Thomas Voeckler (Fra) BBox Bouygues Telecom                         3.03.41 (41.648 km/h)
2 Anthony Geslin (Fra) Française Des Jeux                                0.20
3 Nicolas Jalabert (Fra) Agritubel                                           
4 Dimitri Champion (Fra) Bretagne - Schuller                                 
5 Luis Felipe Laverde (Col) Colombia Es Pasion Coldeportes                   
6 Wesley Sulzberger (Aus) Française Des Jeux                             0.52
7 Biel Kadri (Fra) AG2R La Mondiale                                          
8 Daniele Colli (Ita) Carmiooro - A-Style                                    
9 Pierre Cazaux (Fra) Roubaix Lille Metropole                                
10 Yukiya Arashiro (Jpn) BBox Bouygues Telecom                               
11 Samuel Dumoulin (Fra) Cofidis, Le Credit En Ligne                         
12 Nicolas Hartmann (Fra) Bretagne - Schuller                                
13 Maxime Mederel (Fra) Auber 93                                             
14 Cyril Bessy (Fra) Besson Chaussures - Sojasun                             
15 Yann Pivois (Fra) Bretagne - Schuller                                     
16 Diego Alejandro Tamayo Martinez (Col) Carmiooro - A-Style             1.03
17 Julien El Fares (Fra) Cofidis, Le Credit En Ligne                     2.16
18 Romain Feillu (Fra) Agritubel                                         3.07
19 Jean-Eudes Demaret (Fra) Cofidis, Le Credit En Ligne                      
20 Anthony Roux (Fra) Française Des Jeux                                     
21 Jérémie Galland (Fra) Besson Chaussures - Sojasun                         
22 Niels Brouzes (Fra) Auber 93                                              
23 Stéphane Bonsergent (Fra) Bretagne - Schuller                             
24 Mikael Cherel (Fra) Française Des Jeux                                    
25 Stéphane Poulhies (Fra) AG2R La Mondiale                                  
26 Alexandre Aulas (Fra) Carmiooro - A-Style                                 
27 Guillaume Levarlet (Fra) Française Des Jeux                               
28 Nicolas Bazin (Fra) Continental Team Differdange                          
29 Fabio Duarte (Col) Colombia Es Pasion Coldeportes                         
30 Julien Mazet (Fra) Auber 93                                               
31 Alexandre Pichot (Fra) BBox Bouygues Telecom                              
32 Mickael Larpe (Fra) Roubaix Lille Metropole                               
33 Robert Retschke (Ger) Continental Team Differdange                        
34 Renaud Dion (Fra) AG2R La Mondiale                                        
35 Johan Mombaerts (Fra) Auber 93                                            
36 Nicolas Vogondy (Fra) Agritubel                                           
37 Pierre Rolland (Fra) BBox Bouygues Telecom                                
38 Jean Marc Marino (Fra) Besson Chaussures - Sojasun                        
39 Aurelien Duval (Fra) Francaise des Jeux                                   
40 Sébastien Minard (Fra) Cofidis, Le Credit En Ligne                        
41 Sébastien Duret (Fra) Bretagne - Schuller                                 
42 David Lelay (Fra) Agritubel                                               
43 Yann Rault (Fra) Bretagne - Schuller                                      
44 Blaise Sonnery (Fra) AG2R La Mondiale                                     
45 Ludovic Turpin (Fra) AG2R La Mondiale                                     
46 Paul Brousse (Fra) Carmiooro - A-Style                                    
47 Fabrice Jeandesboz (Fra) Besson Chaussures - Sojasun                      
48 Robinson Chalapud (Col) Colombia Es Pasion Coldeportes                    
49 Sergio Henao Montoya (Col) Colombia Es Pasion Coldeportes                 
50 Tony Gallopin (Fra) Auber 93                                              
51 Cyril Gautier (Fra) BBox Bouygues Telecom                                 
52 Yann Huguet (Fra) Agritubel                                           3.19
53 Stéphane Auge (Fra) Cofidis, Le Credit En Ligne                           
54 Olivier Bonnaire (Fra) BBox Bouygues Telecom                              
55 Nicolas Rousseau (Fra) AG2R La Mondiale                               3.25
56 Morgan Chedhomme (Fra) Auber 93                                       3.33
57 Cedric Coutouly (Fra) Besson Chaussures - Sojasun                     3.38
58 Gregor Gazvoda (Slo) EQA - Meitan Hompo - Graphite Design             6.53
59 Damien Monier (Fra) Cofidis, Le Credit En Ligne                           
60 Steve Chainel (Fra) BBox Bouygues Telecom                             9.48
61 Anthony Ravard (Fra) Agritubel                                            
DNF Christophe Moreau (Fra) Agritubel                                        
DNF Nadir Haddou (Fra) Auber 93                                              
DNF Dimitri Le Boulch (Fra) Auber 93                                         
DNF Benoît Vaugrenard (Fra) Française Des Jeux                               
DNF Laurent Lefevre (Fra) BBox Bouygues Telecom                              
DNF Romain Lebreton (Fra) Bretagne - Schuller                                
DNF Nicolas Jouanno (Fra) Bretagne - Schuller                                
DNF John Gadret (Fra) AG2R La Mondiale                                       
DNF Cédric Pineau (Fra) AG2R La Mondiale                                     
DNF Hervé Duclos-Lassalle (Fra) Cofidis, Le Credit En Ligne                  
DNF Romain Villa (Fra) Cofidis, Le Credit En Ligne                           
DNF Shinichi Fukushima (Jpn) EQA - Meitan Hompo - Graphite Design            
DNF Nariyuki Masuda (Jpn) EQA - Meitan Hompo - Graphite Design               
DNF Mickael Damien (Fra) EQA - Meitan Hompo - Graphite Design                
DNF Park Sung Baek (Kor) EQA - Meitan Hompo - Graphite Design                
DNF Seo Joon Yong (Kor) EQA - Meitan Hompo - Graphite Design                 
DNF Masaaki Kikuchi (Jpn) EQA - Meitan Hompo - Graphite Design               
DNF Guillaume Pont (Fra) EQA - Meitan Hompo - Graphite Design                
DNF Bastien Delrot (Fra) Roubaix Lille Metropole                             
DNF Florian Guillou (Fra) Roubaix Lille Metropole                            
DNF Gil Suray (Bel) Roubaix Lille Metropole                                  
DNF Steven Tronet (Fra) Roubaix Lille Metropole                              
DNF Florian Vachon (Fra) Roubaix Lille Metropole                             
DNF Zakkari Dempster (Aus) Cycling Club Bourgas                              
DNF Erki Pütsep (Est) Cycling Club Bourgas                                   
DNF Martin Prazdnovsky (Svk) Cycling Club Bourgas                            
DNF Pieter Ghyllebert (Bel) Cycling Club Bourgas                             
DNF Yohan Cauquil (Fra) Cycling Club Bourgas                                 
DNF Rob Woestenborghs (Bel) Cycling Club Bourgas                             
DNF Florian Morizot (Fra) Besson Chaussures - Sojasun                        
DNF Benoît Sinner (Fra) Besson Chaussures - Sojasun                          
DNF Yannick Talabardon (Fra) Besson Chaussures - Sojasun                     
DNF Alex Cano Ardila (Col) Colombia Es Pasion Coldeportes                    
DNF William Hernan Munoz Perez (Col) Colombia Es Pasion Coldeportes          
DNF Fabio Heriberto Gordillo Mahecha (Col) Colombia Es Pasion Coldeportes    
DNF Alejandro Ramirez Calderon (Col) Colombia Es Pasion Coldeportes          
DNF Eric Berthou (Fra) Carmiooro - A-Style                                   
DNF Maxim Gourov (Kaz) Carmiooro - A-Style                                   
DNF Laurent Beuret (Swi) Carmiooro - A-Style                                 
DNF Nicolas Baldo (Fra) Continental Team Differdange                         
DNF Frank Dressler (Ger) Continental Team Differdange                        
DNF Dominik Eberle (Ger) Continental Team Differdange                        
DNF Sebastien Harbonnier (Fra) Continental Team Differdange                  
DNF Fredrik Johansson (Swe) Continental Team Differdange                     

Women, 60km

1 Jeannie Longo Ciprelli (Fra) AS Palais Sports Alpexpo    1.37.42 (36.847 km/h)
2 Edwige Pitel (Fra) AS Palais Sports Alpexpo                 0.53
3 Karine Gautard Roussel (Fra) Vienne Futuroscope                 
4 Aude Biannic (Fra) CR Bretagne                              2.08
5 Pascale Jeuland (Spa) Vienne Futuroscope                        
6 Marina Jaunatre (Fra) Vienne Futuroscope                        
7 Alexia Muffat (Fra) Chambery C. Competition                     
8 Eugénie Mermillod (Fra) Chambery C. Competition                 
9 Christel Ferrier Bruneau (Fra) Beziers-Mediterranee Cycl        
10 Mélanie Bravard (Fra) CR Poitou Charentes                      
11 Roxane Fournier (Fra) Es Gervais LilAS                         
12 Christine Majerus (Lux) ESGL 93 - GSD Gestion                  
13 Emilie Blanquefort (Fra) CR Aquitaine                          
14 Megan Guarnier (Fra) ASPTT Dijon                               
15 Alexandra Rannou (Fra) Vs Quimperois                           
16 Sophie Creux (Fra) ESGL 93 - GSD Gestion                       
17 Béatrice Thomas (Fra) ESGL 93 - GSD Gestion                    
18 Emmanuelle Merlot (Fra) Vienne Futuroscope                     
19 Pauline Godey (Fra) CR Lorraine                                
20 Amélie Rivat (Spa) C.C. St Martinois                           
21 Cécile Quillacq (Fra) CSM Villeneuve Garenne                   
22 Aurélie Bramante (Fra) A.C. Lyon Vaise                         
23 Mélodie Lesueur (Fra) ESGL 93 - GSD Gestion                    
24 Jennifer Fischer (Fra) Vienne Futuroscope                  2.12
25 Nathalie Jeuland (Fra) Vienne Futuroscope                      
26 Marion Azam (Fra) CR Midi Pyrenees                             
27 Leda Cox (GBr) ESGL 93 - GSD Gestion                       2.24
28 Caroline Besseyrias (Fra) Vs Nivernais Morvan              2.37
29 Magalie Finot Laivier (Fra) CR Bourgogne                   2.43
30 Marion Rousse (Fra) Es Gervais LilAS                       5.01
31 Fanny Riberot (Fra) V.C. St Julien En Genevois             5.26
32 Florence Girardet (Fra) Vienne Futuroscope                 7.56
33 Alison Starnes (USA) US Development Team                   9.14
34 Laurena Cussy (Fra) ESGL 93 - GSD Gestion                  9.16
35 Justine Delannoy (Fra) CSM Villeneuve Garenne                  
36 Nathalie Cadol (Fra) ESGL 93 - GSD Gestion                     
37 Karine Le Bec (Fra) CD Cotes D`Armor                           
38 Annick Le Helley (Fra) CSM Villeneuve Garenne                  
39 Marion Sicot (Fra) CR Orleanais                                
40 Blandine Stapf (Fra) France Police Feminine                    
41 Elodie Le Bail (Fra) CR Bretagne                               
42 Sinead Miller (USA) US Development Team                        
43 Marlène Morel Petitgirard (Fra) Velo Club Ornans               
44 Sandra Dos Santos (Fra) CD Moselle                             
45 Angélique Goron (Fra) CR Normandie                             
46 Camille Darcel (Fra) CD Cotes D`Armor                          
47 Sylvie Gaillon (Fra) ASPTT Dijon                               
48 Johanna Defranoux (Fra) Velo Club Ornans                       
49 Audrey Richard (Fra) Brest Iroise Cycl.2000                    
50 Marie Laure Cloarec (Fra) France Police Feminine               
51 Justine Macret (Fra) CR Normandie                              
52 Marion Royer (Fra) CD Moselle                                  
53 Lucie Pader (Fra) CR Auvergne                                  
54 Laura Lepasalu (Fra) Chambery C. Competition                   
55 Aodez Le Fourn (Fra) CR Bretagne                               
56 Claire Maugras (Fra) ASPTT Dijon                               
57 Kelly Gambier (Fra) CSM Villeneuve Garenne                     
58 Stéphanie Vaxillaire (Fra) CR Bourgogne                        
59 Lindsay Myers (USA) US Development Team                        
60 Ludivine Loze (Fra) CR Midi Pyrenees                           
61 Alessia Bugeia (Fra) CSM Epinay Sur Seine                      
62 Flavie Montusclat (Fra) Chambery C. Competition                
63 Honorine Martin (Fra) CR Auvergne                              
64 Margot Ortega (Fra) CR Auvergne                                
65 Jerika Hutchinson (USA) US Development Team                    
66 Juliane Wibert (Fra) CD Moselle                                
67 Jennifer Dehaas Boissiere (Fra) CR Midi Pyrenees           9.25
68 Estelle Patou (Fra) ESGL 93 - GSD Gestion                      
69 Julie Augizeau (Fra) Vienne Futuroscope                    9.27
70 Jénifer Letue (Fra) ESGL 93 - GSD Gestion                  9.29
71 Sandrine Bideau (Fra) ESGL 93 - GSD Gestion               11.54
72 Susan Charleux Smith (Fra) CR Auvergne                    12.58
73 Marlène Vidal (Fra) CR Midi Pyrenees                      13.17
74 Pauline Penagos (Fra) CR Bourgogne                        13.20
75 Claudia Opsomer (Fra) ASPTT Dijon                         13.23
76 Cynthia Huygens (Fra) UV Fourmisienne                          
77 Elise Bazourdy (Fra) ASPTT Dijon                               
78 Laura Ledoux (Fra) CR Lorraine                                 
79 Charlène Mathieu (Fra) CR Lorraine                             
80 Leslie Pepin (Fra) CC Cauchois                                 
81 Madeleine Dibandi (Fra) France Police Feminine                 
82 Steffi Jamoneau (Fra) CR Orleanais                             
83 Laure Thomasset (Fra) Chambery C. Competition                  
84 Corinne Sempe (Fra) France Police Feminine                     
85 Laura Pompanon (Fra) CR Bourgogne                              
86 Jo Kristin Markham (USA) US Development Team                   
87 Charlotte Bravard (Fra) CR Poitou Charentes               13.27

Past winners
Men

2008 David Lelay (Fra) Bretagne - Armor Lux     137.3 kms in 3.11.03 
2007 Anthony Geslin (Fra) Bouygues Telecom      137.3 kms in 3.17.40 (41.58 km/h)
2006 Didier Rous (Fra) Bouygues
2005 Philippe Gilbert (Bel) Française des Jeux  133.9 kms in 3.17.07
2004 Christophe Moreau (Fra) Crédit Agricole    133.9 kms in 3.09.57
2003 Didier Rous (Fra) La Boulangere            133.9 kms in 3.08.53 (42.761 km/h)
2002 Sylvain Chavanel (Fra) Bonjour
2001 Didier Rous (Fra) Bonjour                  132.8 kms in 3.08.57
2000 Patrice Halgand (Fra) Jean Delatour        133.3 kms in 3.08.32
1999 Laurent Roux (Fra) Casino                  133.3 kms in 3.09.47
1998 Pascal Hervé (Fra)                         133.3 kms in 3.14.03
1997 Davide Rebellin (Ita)
1996 Stéphane Heulot
1995 Armand de las Cuevas (Fra)
1994 Richard Virenque (Fra)

Women

2008 Jeannie Longo Ciprelli (Fra) Team Pro Féminin Les Carroz 
2007 Jeannie Longo Ciprelli (Fra) Team Uniqa
2006 Maryline Salvetat (Fra)
2004 Jeannie Longo (Fra)
2003 Magali Le Floch (Fra) Equipe Cycliste Rona - Esker
2002 Miho Oki (Jap) CA Mantes-la-Ville
2001 Jeannie Longo-Ciprelli (Fra) Ile de France
2000 Edita Pucinskaite (Lit) Alfa Lum