Recently on Cyclingnews.com
25th Redlands Bicycle Classic - NE
USA, March 26-29, 2009
2008 results Stage List Preview Start List Past winners
The Stages
Redlands Bicycle Classic is ready to go
By Kirsten Robbins
Rory Sutherland will want to win this year
Photo ©: Mitch Clinton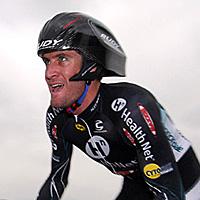 The Redlands Bicycle Classic four-day stage race is set to kick off on Thursday, March 26, in California. The event sets the stage as the first North American Racing Calendar (NRC) for the men. It marks the second nationally ranked event on the women's calendar but will also serve as the first event on the Women's Prestige Series.
More than 200 men are battling for the yellow jersey. The defending champion, Santiago Botero will not be returning to claim a second consecutive victory. The Colombian rider retired from cycling at the end of the 2008 season. There is a high caliber of competition ready to take his place.
Floyd Landis is one stand-out rider making a long awaited debut onto the NRC scene since returning to the sport following a two-year suspension. Landis led his California-based team OUCH p/b Maxxis at the Tour of California and will continue his leading role at the Redlands Bicycle Classic.
His teammate Rory Sutherland placed second last year and will be looking to improve to the top spot on the podium this time around. Other riders capable of taking the overall victory include Pat McCarty (OUCH p/b Maxxis), Ben Day (Fly V Australia p/b Successful Living), Jeff Louder (BMC), Darren Lill (Team Type 1), Luis Amaran (Colavita-Sutter Home), Ben Jacques-Maynes (Bissell), Calob Manion (Rock Racing), Andrew Bajadali (Kelly Benefits Strategies), Peter Stetina (Garmin-Holoweko Partners-Felt) and Jonny Clarke (Jelly Belly).
Riders vying for one day victories from a field sprint include US National Criterium Champion Rhassan Bahati (Rock Racing) and his teammate (Justin Williams), Alex Candelario (Kelly Benefit Strategies), Sebastian Haedo (Colavita-Sutter Home), Alessandro Bazzana (Fly V Australia p/b Successful Living), Andrew Pinfold (OUCH p/b Maxxis), Brad Huff (Jelly Belly), Frank Pipp and Kirk O'Bee (Bissell).
The attending men's squads include Bissell Pro Cycling, BMC Racing Team, Bobs Bicycles.com, California Giant-Specialized, Champion Systems Racing, Colavita Sutter Home, DLP Racing, Empire Cycling Team p/b Northwave, Fly V Australia p/b Successful Living Foundation, Garmin- Holoweko Partners- Felt, Jelly Belly, Kahala La-Grange, Kelly Benefit Strategies, Land Rover-Orbea, Metro Volkswagen Cycling Team, Mt. Khakis, OUCH p/b Maxxis, Ride Clean Team, Rock Racing, Team Hotel San Jose, Team Type 1, Team VRC NOW-MS Society, Team Waste Management, Ten Speed Drive/BH Bicycles, Trek-Livestrong, Webcor/ Alto Velo.
Big women's field
Alex Wrubleski defends her title
Photo ©: Mitch Clinton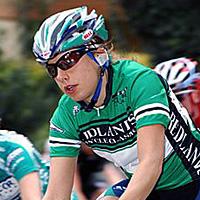 More than 150 women line up with their A-squads. No less than five current national champions, one current world champion, the current NRC champion and over 20 race wins between them in 2008 alone sets the stage for an exciting weekend of racing. The defending champion Alex Wrubleski (Columbia-HighRoad) has returned and will no doubt want to capture a second consecutive title.
Allrounders include former winner Amber Neben (Equipe Nürnberger Versicherung), Julie Beveridge and Joanne Kiesanowski (TIBCO), Mara Abbot and Kim Anderson (Columbia-HighRoad), Katheryn Mattis and Alexis Rhodes (Webcor Builders), Sarah Bamberger (Touchstone Climbing), Marisa Asplund (DFT p/b Treads), Kristin LaSasso (Kahala La Grange), Tiffany Cromwell (Colavita-Sutter Home), Leah Goldstein and Kristin Sanders (Value Act Capital), Alison Powers and Kori Seehafer (Team Type 1) and Moriah McGregor (Team BC).
Speedsters looking for stage victories and point sprints will include US National Road and Criterium Champion Brooke Miller (TIBCO), Ina Yoko-Teutenberg and Emilia Fahlin (Columbia-HighRoad), Kelly Benjamin and Tina Pic (Colavita-Sutter Home), Gina Grain (Webcor Builders), Laura Van Gilder (Velo Classic Tours), Morgan Patton (Team Type 1), Laura Bowles (Vanderkitten) and Jenny Trew (Canadian National Team).
The attending women's squads include Canadian National Cycling Team, Colavita Cutter Home p/b Cooking Light, DFT p/b Treads, Kahala La-Grange, Metro Volkswagen Cycling, Metromint Cycling, Nurnberger Sho-Air, Specialized D4W/Bicycle Haus, Team BC, Team Columbia Highroad, Team Lip Smackers, Team Squadra Swami's, Team TIBCO, Team Type 1, Touchstone Climbing, Value Act Capital Cycling Team, Vanderkitten Racing, Velo Classic Tours p/b Incycle.com, Veloforma/Zym, Webcor Builders Cycling Team, Wines of Washington
Let the racing begin...
The Sunset loop will be tough once again
Photo ©: Jon Devich

The four days of racing will kick off with the Sun Prologue, a five kilometre time trial to the top of Panorama Point. The up hill battle is enough to shake up the initial GC by seconds heading into stage 1.
March 27, stage one: The Beaumont Circuit Race will present the two competing fields with a lengthy road stage, the men 156 kilometres and the women 116 kilometres. The nearly 40 kilometre circuit include two steep climbs that weigh heavy on the peloton toward the final laps.
March 28, stage two: The City of Redlands Criterium is a held on a 1.6 kilometre loop. The men will race for the duration of 90 minutes and the women 60 minutes. Time bonus sprints offered on various laps will make the criterium important for the overall contenders as well as the sprinters looking for a stage win. There are nine corners to contend each lap making for an exciting, spectator friendly event.
March 29, stage three: It is known as the "Queen" stage for a grueling climb up to Sunset rd. There are no flat sections on the 12 kilometre circuit and this severely undulating terrain has met the demise of many riders through out the history of the Redlands Bicycle Classic. The men will complete 12 laps and the women will compete nine laps. One thing is for certain, the winner who emerges from this race will be crowned as one of the strongest cyclists in the country.
Start list
Women

Team Columbia Highroad            Nurnberger Shoair
 
291 Kimberely Anderson (USA)      301 Amber Neben (USA)
292 Ina Yoko Teutenberg (Ger)     302 Madeleine Sandig (Ger)
293 Emilia Fahlin (Swe)           303 Marie Lindberg (Swe)
294 Mara Abbott (USA)             304 Romy Kasper (Ger)
295 Alex Wrubleski (Can)          305 Lana Atchley (USA)
                                  306 Anne Guzman (Can)
                                  307 Lauren Hall (USA)
 
Team Type 1                       Team TIBCO
 
311 Alison Powers (USA)           321 Rushlee Buchanan (NZl)
312 Veronica Leal (Mex)           322 Julie Beveridge (Can)
313 Jacquelyn Crowell (USA)       323 Katharine Carroll (USA)
314 Morgan Patton (USA)           324 Amber Rais (USA)
315 Samantha Schneider (USA)      325 Emma Rickards (Aus)
316 Kori Seehafer (USA)           326 Joanne Kiesanowski (NZl)
                                  327 Lauren Tamayo (USA)
                                  328 Meredith Miller (USA)
 
Team BC                           Value Act Capital
 
331 Leslie Vice (Can)             341 Leah Goldstein (Isr)
332 Heather Kay (Can)             342 Kristin Sanders (USA)
333 Andrea Bunnin (Can)           343 Christina Ruiter (USA)
334 Marie-Claude Gagnon (Can)     344 Martina Patella (USA)
335 Gillian Moody (Can)           345 Nicole Evans (USA)
336 Leah Guloien (Can)            346 Robin Farina (USA)
337 Moriah MacGregor (Can)        347 Emily Zell (USA)
338 Annie Malouin (Can)           
 
Colavita Sutter Home              Wines of Washington
 
351 Heather Logan (Can)           361 Tracie Akerhielm (USA)
352 Kelly Benjamin (USA)          362 Lori Barrett (USA)
353 Tina Pic (USA)                363 Jadine Riley (USA)
354 Stacy Marple (USA)            364 Rachel Byus (USA)
355 Rachel Heal (GBr)             365 Kimberly Fong (USA)
356 Andrea Dvorak (USA)           366 Gina Kavesh (USA)
357 Nicky Wangsgard (USA)         367 Lindsey Myers (USA)
358 Tiffany Cromwell (Aus)        368 Jen Purcell (USA)
 
Kahala LaGrange                   Team Squadra Swami's
 
371 Kristen LaSasso (USA)         381 Nicole Brandt (USA)
372 Beatriz Rodriguez (USA)       382 Jennifer Weinbrecht (USA)
373 Morgan Kapp (USA)             383 Cath Robertson-Goodkin (USA)
374 Kathryn Donovan (USA)         384 Anna Gerber (USA)
375 Melinda Weiner (USA)          385 Tamara Wildgoose (USA)
376 Anna Drakulich (USA)          386 Shoshauna Laxson (USA)
                                  387 Kelli Jones (USA)
                                  388 Lauren Liscinski (USA)
 
Canadian National Team            Specialized D4W/Bicycle Haus
 
391 Carolyn Cartmill (Can)        401 Heather Sborz (USA)
392 Sarah Stewart (Can)           402 Melanie Meyers (USA)
393 Alyssa Weninger (Can)         403 Kathryn Bertine SKN
394 Joanie Caron (Can)            404 Marilyn McDonald (Can)
395 Karol-Ann Canuel (Can)        405 Maggie Williams (USA)
396 Jenny Trew (Can)              
397 Veronique Labonte (Can)       
398 Joelle Numainville (Can)      
 
Metro VW                          Velo Classic Tours / Incycle
 
411 Kendal Ryan (USA)             421 Jacqueline Cohen (USA)
412 Whitney Schultz (USA)         422 Lisa Turnbull (USA)
413 Coryn Rivera (USA)            423 Kathleen Billington (USA)
414 Shannon Koch (USA)            424 Laura Hines (USA)
415 Casey Gale (USA)              425 Evelyn Stevens (USA)
416 Ashley Anderson (USA)         426 Margaret Shirley (USA)
 
Team Lip Smackers                 DFT p/b Treads
 
431 Anna Young (USA)              441 Marisa Asplund-Owens (USA)
432 Kacey Manderfield (USA)       442 Megan Hottman (USA)
433 Kate Ross (USA)               443 Liza Rachetto (USA)
434 Carla Swart (USA)             444 Karla Kingsley (USA)
435 Hilary Billington (USA)       445 Tiffany Pezzulo (USA)
                                  446 Lins Bradshaw-Sandoval (USA)
                                  447 Monique Hein (USA)
 
Veloforma / Zym                   Touchstone Climbing
 
451 Melisa McWhirther (USA)       461 Olivia Dillon (USA)
452 Robin Secrist (USA)           462 Ruth Clemence (USA)
453 Sabrina Savage (USA)          463 Kristina Seley (USA)
454 Christina Smith (USA)         464 Cara Gillis (Can)
455 Alice Pennington (USA)        465 Sarah Bamberger (USA)
 
Webcor Builders Cycling Team      Metromint Cycling
 
471 Katheryn Mattis (USA)         481 Jane Robertson (USA)
472 Nikki Butterfield (Aus)       482 Gabriela Ferrat (USA)
473 Erinne Willock (Can)          483 Stacy Sims (USA)
474 Janel Holcomb (USA)           484 Amanda Seigle (USA)
475 Alexis Rhodes (Aus)           485 Yuki Nakamura (USA)
476 Rebecca Much (USA)            486 Anny Henry (USA)
477 Amy Dombroski (USA)           487 Amy McGuire (USA)
478 Gina Grain (Can)              
 
Vanderkitten Racing               
 
491 Jennifer Wilson (USA)         
492 Melodie Metzger (USA)         
493 Jennifer Reither (USA)        
494 Melissa Sanborn (USA)         
495 Mary Maroon (USA)             

Men

Rock Racing                        Ouch p/b Maxxis
 
1 Rahsaan Bahati (USA)             11 Bradley White (USA)
2 Caleb Manion (Aus)               12 Cameron Evans (Can)
3 Sergio Hernandez (USA)           13 Roman Kilun (USA)
4 Chris Baldwin (USA)              14 Andrew Pinfold (Can)
5 Cesar Grajales (USA)             15 Karl Menzies (USA)
6 Mike Creed (USA)                 16 Tim Johnson (USA)
7 Justin Williams (USA)            17 Floyd Landis (USA)
8 Ignacio (Iggy) Silva (USA)       18 Rory Sutherland (Aus)
 
Bissell Pro Cycling                Team Type 1
 
21 Tom Zirbel (USA)                31 Aldo Ino Ilesic (Slo)
22 Frank Pipp (USA)                32 Fabio Calabria (Aus)
23 Graham Howard (USA)             33 Ken Hanson (USA)
24 Jeremy Vennell (NZl)            34 Shawn Milne (USA)
25 Burke Swindlehurst (USA)        35 Moises Aldape (Mex)
26 Andy Jacques-Maynes (USA)       36 Christopher Jones (USA)
27 Kirk Obee (USA)                 37 Jesse Anthony (USA)
28 Ben Jacques-Maynes (USA)        38 Darren Lill (RSA)
 
Jelly Belly                        Colavita Sutter Home
 
41 Will Routley (Can)              51 Andy Guptill (USA)
42 Matthew Crane (USA)             52 Kyle Wamsley (USA)
43 Jonathan Clarke (USA)           53 Alejandro Borrajo (Arg)
44 Brad Huff (USA)                 54 Luis Romero Amaran SPN
45 Nick Reistad (USA)              55 David Frattini (Ita)
46 Bernard Van Ulden (USA)         56 Tyler Wren (USA)
47 Kiel Reijnen (USA)              57 Lucas Sebastian Haedo (Arg)
48 Matthew Rice (Aus)              58 Dan Vaillancourt (USA)
 
Trek-Livestrong                    Kelly Benefits Strategies
 
61 Benjamin King (USA)             71 Neil Shirley (USA)
62 Bjorn Selander (USA)            72 Reid Mumford (USA)
63 Ryohei Komori JAP               73 Andrew Bajadali (USA)
64 Guy East (USA)                  74 Jacob Erker (USA)
65 Cody Campbell (Can)             75 Daniel Bowman (USA)
66 Ryan Bauman (USA)               76 Ryan Anderson (Can)
67 Julian Kyer (USA)               77 Alex Candelario (USA)
68 Taylor Kuphaldt (USA)           78 Jacob Keough (USA)
 
Land Rover-ORBEA                   Team Mountain Khakis
 
81 Bobby Sweeting (USA)            91 Mark Hekman (USA)
82 Aaron Barry Tuckerman (NZl)     92 Charles Marzot (USA)
83 Evan Elken (USA)                93 Daniel Ramsey (USA)
84 Ryan Taylor (Can)               94 Tom Soladay (USA)
85 Logan Hunn (NZl)                95 Michael Stoop (USA)
86 Roman Van Uden (NZl)            96 David Guttenplan (USA)
87 Jim Camut (USA)                 97 Eric Barlevar (USA)
88 Josh Bartlett (USA)             98 Will Hoffarth (USA)
 
DLP Racing                         Team Hotel San Jose
 
101 Tiago Depaula (USA)            111 Allen Krugoff (USA)
102 Boyd Johnson (USA)             112 Heath Blackgrov (NZl)
103 Tim Henry (USA)                113 Sean Sullivan TAS
104 Steven Gordon (USA)            114 Corey Collier (USA)
105 Alder Martz (USA)              115 Barry Lee (USA)
106 Scott Tietzel (USA)            116 Chris Wherry (USA)
 
BMC Racing Team                    Webcor / Alto Velo
 
121 Jeff Louder (USA)              131 Ryan Parnes (USA)
122 Florian Stalder (Swi)          132 Robert MacNeill (USA)
123 Chad Beyer (USA)               133 Rand Miller (USA)
124 Chris Barton (USA)             134 Frederick Stamm (USA)
125 Steve Bovay (Swi)              135 Brian Buchholz (USA)
126 Scott Nydam (USA)              136 Ted Huang (USA)
127 Jackson Stewart (USA)          137 Fabrice Dubost (USA)
128 Brent Bookwalter (USA)         138 James Badia (USA)
 
California Giant-Specialized       Metro Volkswagen Cycling  Team
 
141 Justin England (USA)           151 Benjamin Baungarter (Swi)
142 James Mattis (USA)             152 Andrew Dahlheim (USA)
143 Mike Telega (USA)              153 Peter Carey (USA)
144 John Hunt (USA)                154 Christian Helmig (USA)
145 Adam Switters (USA)            155 Cory Ray (USA)
146 Dirk Copeland (USA)            156 Chris Butler (USA)
147 Osvaldo Olmos (USA)            157 Chris Parrett (USA)
148 Jesse Moore (USA)              
 
Garmin-Holoweko Partners-Felt      Team Waste Management
 
161 Peter Salon (USA)              171 Scott Srewart (USA)
162 Raymond Kreder (Ned)           172 Carter Jones (USA)
163 Caleb Fairly (USA)             173 Kevin Soller (USA)
164 Alex Howes (USA)               174 Larry Warbasse (USA)
165 Walker Savidge (USA)           175 Sean Mazich (USA)
166 Kirk Carlsen (USA)             176 Stevie Cullinan (USA)
167 Daniel Summerhill (USA)        
168 Peter Stetina (USA)            
 
Now-MS Society                     Kahala-LaGrange
 
181 Eric Bennett (USA)             191 Victor Ayala (Mex)
182 Brock Curry (USA)              192 Gustavo Mendez (USA)
183 Jeremiah Wiscovitch (USA)      193 Raul Frias (USA)
184 Spencer Smitheman (Can)        194 Brandon Gritters (USA)
185 Michael Van Eerd (Ned)         195 Anthony Aker (USA)
186 Alex Welch (USA)               196 Luis Zamudio (USA)
187 Eric Losak (USA)               197 Jorge Alvarado (USA)
188 Stefan Rothe (USA)             
 
Champion Systems Racing            Ride Clean Team
 
201 Raj Seepersaud (USA)           211 Jared Gilyard (USA)
202 Gavriel Epstein (USA)          212 Ron Jensen (USA)
203 Rodney Santiago (USA)          213 Brian Forbes (USA)
204 Franklin Burgos (USA)          214 Kyle Colavito (USA)
205 Lisban Quintero (USA)          215 Paul Thomas (USA)
                                   216 Matthew Cooke (USA)
                                   217 David Glick (USA)
                                   218 Norm Carter (USA)
 
Empire Cycling / Northwave         Ten Speed Drive / BH Bicycles
 
221 John Loehner (USA)             231 Josh Liberles (USA)
222 Daniel Zmolik (USA)            232 Cristian Velasquez (Hon)
223 Michael Margarite (USA)        233 Chris Keane (USA)
224 Michael Mathis (USA)           234 Ronnie Strange (USA)
225 Alexander Bremer (USA)         235 Garrett White (USA)
226 Matthew Johnson (USA)          236 Emiliano Jordan (USA)
227 James Gunn-Wilkinson (USA)     237 Adam Carr (USA)
                                   238 Brian Husen (USA)
 
Bobs-Bicycles.com                  Fly V Australia/Successful Living
 
241 Ben Kneller (USA)              251 Ben King (Aus)
242 Chris Stuart (USA)             252 Johnathan Cantwell (Aus)
243 Erik Slack (USA)               253 Alessandro Bazzana (Ita)
244 Chris Hong (USA)               254 Charles Dionne (Can)
245 Brandon Lynch (USA)            255 Bernard Sulzberger (Aus)
246 Tad Hamilton (USA)             256 Ben Day (USA)
                                   257 Phillip Zajicek (USA)
                                   258 Michael Grabinger (USA)

Past winners
Men                                 Women

2008 Santiago Botero                Alex Wrubleski
2007 Andrew Bajadali                Amber Neben
2006 Nathan O'Neill                 Amber Neben 
2005 Chris Wherry                   Christine Thorburn 
2004 Chris Horner                   Lyne Bessette 
2003 Chris Horner                   Genevieve Jeanson
2002 Chris Horner                   Judith Arndt
2001 Trent Klasna                   Genevieve Jeanson
2000 Chris Horner                   Alison Dunlap
1999 Christian Vandevelde           Lyne Bessette
1998 Jonathan Vaughters             Mari Holden
1997 Dariuz Baranowski              Susy Pryde
1996 Tomasz Brozyna                 Alison Dunlap
1995 Scott Moninger                 Linda Brenneman
1994 Malcolm Elliott                Jeanne Golay
1993 Malcolm Elliott                Linda Brenneman
1992 Scott Fortner                  Linda Brenneman
1991 Randy Whicker
1990 Dmitri Zhadanov                Suzanne Ferguson
1989 Scott Moninger                 Suzanne Sonye
1988 Alexi Grewal
1987 Dag-Otto Lauritzen
1986 Davis Phinney
1985 Thurlow Rogers

 
Past winners by Mario Stiehl, www.world-of-cycling.com