Vuelta Mexico Telmex - 2.2
Mexico, March 1-8, 2009
Main Page Results Overall standings Next Stage
Stage 1 - March 1: Circuito Lunes del Cerro, Oaxaca , 94km
Magallanes makes it in Mexico
Juan Pablo Magallanes (Mexican National Team) claims the two-up
Photo ©: Wenceslao Rodriguez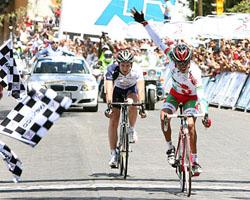 Juan Pablo Magallanes (Mexican National Team) claimed victory on the opening stage of his home tour, after winning a two-up sprint from Italian Francesco Rivera (Amica Chips Knauf). The duo almost took a commanding lead in the race, with their time gap being incorrectly reported by officials.
Once the timing situation was sorted out, OUCH-Maxxis and Rock Racing joined forces to bring the four minute gap back to 58 seconds by race-end. The squads brought the margin down to a more manageable figure as the race approach its nine kilometre closing circuit, which featured a one kilometre stretch of cobbles coming through the start/finish area, and a two kilometre climb on the backside.
OUCH - Maxxis team director Mike Tamayo described the day as: "typical Latin American racing fashion: lots of crashes, plenty of mechanicals and a bunch of attacks."
Italian Denis Bertolini (Serramenti PVC Diquigiovanni-Androni Giocattoli) won the bunch sprint for second over Karl Menzies (OUCH - Maxxis). South American rider Jackson Rodriguez (Serramenti PVC Diquigiovanni-Androni Giocattoli) took fourth place.
The race's opening stage enjoyed large crowd numbers, with seven time Tour de France winner Lance Armstrong around to watch the racing. While Armstrong has returned to racing this year, he is in Mexico in a different capacity - overseeing his Livestrong-Trek development squad.
Photography
For a thumbnail gallery of these images, click here
Images by Wenceslao Rodriguez/WWW.WRSIMAGENES.COM.MX
Results

1 Juan Pablo Magallanes (Mex) Mexican National Team                        2.23.35     (39.11km/h)
2 Francesco Rivera (Ita) Amica Chips - Knauf                                     
3 Denis Bertolini (Ita) Serramenti Pvc Diquigiovanni - Androni Giocattoli    0.58
4 Karl Menzies (Aus) Ouch Presented By Maxxis                                    
5 Jackson Rodriguez (Ven) Serramenti Pvc Diquigiovanni - Androni Giocattoli      
6 Edgardo Lugo (Mex) Region 3 Estado                                             
7 Joaquin Sobrino (Spa) Burgos Monumental                                        
8 Cesar Vaquera (Mex) Orven                                                      
9 Daniel Holloway (USA) US National Team                                         
10 David Vitoria (Swi) Rock Racing                                               
11 Enrique Gutierrez (Spa) Rock Racing                                           
12 Thomas Bertolini (Ita) Serramenti Pvc Diquigiovanni - Androni Giocattoli      
13 Luis Fernando Macias (Mex) Mexican National Team                              
14 Shawn Milne (USA) Team Type 1                                                 
15 Rodolfo Fernandez (Mex) Orven                                                 
16 Fausto Fognini (Ita) Amica Chips - Knauf                                      
17 Fabio Calabria (Aus) Team Type 1                                              
18 Jose Carlos Valdez (Mex) Burgos Monumental                                    
19 Carlos José Ochoa (Ven) Serramenti Pvc Diquigiovanni - Androni Giocattoli     
20 Rafael Valls (Spa) Burgos Monumental                                          
21 Domingo Gonzalez (Mex) Orven                                                  
22 Kirk Carlsen (USA) US National Team                                           
23 Hector Hugo Rangel (Mex) Canel'S Turbo                                        
24 Ignacio Sarabia (Mex) Mexican National Team                                   
25 Andrew Randell (Can) Planet Energy                                            
26 Epifanio Cortes (Mex) Arenas Tlaxcala                                         
27 Andrew Pinfold (Can) Ouch Presented By Maxxis                                 
28 Taylor Shelden (USA) US National Team                                         
29 John Fredy Parra (Col) Tecos De La Uga                                        
30 Christopher Baldwin (USA) Rock Racing                                         
31 Yasmani Martinez (Cub) Cuban National Team                                    
32 Arnold Alcolea (Cub) Cuban National Team                                      
33 Bernardo Colex (Mex) Mexican National Team                                    
34 Valery Kobzarenko (Ukr) Team Type 1                                           
35 Lizardo Benitez (Cub) Cuban National Team                                     
36 Rafael Escarcega (Mex) Region 3 Estado                                        
37 Jonathan Pat Mccarty (USA) Ouch Presented By Maxxis                           
38 Jesus Zarate (Mex) Tecos De La Uga                                            
39 Marco Anto Escarcega (Mex) Arenas Tlaxcala                                    
40 Darren Lill (RSA) Team Type 1                                                 
41 Francisco Matamoros (Mex) Tecos De La Uga                                     
42 Peter Stetina (USA) US National Team                                          
43 Francois Parisien (Can) Planet Energy                                         
44 Gregorio Ladino (Col) Tecos De La Uga                                         
45 Gilberto Simoni (Ita) Serramenti Pvc Diquigiovanni - Androni Giocattoli       
46 Florencio Ramos (Mex) Tecos De La Uga                                         
47 Glen Alan Chadwick (NZl) Rock Racing                                          
48 Marco Antonio Rios (Mex) Orven                                                
49 Eder Arenas (Mex) Mexican National Team                                       
50 Leonardo Moser (Ita) Serramenti Pvc Diquigiovanni - Androni Giocattoli        
51 Alvaro Antoni Argiro (Arg) Arenas Tlaxcala                                    
52 Jorge Pancoatl (Mex) Region 1 Puebla                                          
53 Luis Alejand Zamudio (Mex) Tequila Afamado                                    
54 Luis Pulido (Mex) Mexican National Team                                       
55 Adonis Cardoso (Cub) Cuban National Team                                      
56 Paolo Tomaselli (Ita) Amica Chips - Knauf                                     
57 Eddy Ratti (Ita) Amica Chips - Knauf                                          
58 Ian Macgregor (USA) Team Type 1                                               
59 Vicenzo Garofolo (Ita) Amica Chips - Knauf                                    
60 Cameron Evans (Can) Ouch Presented By Maxxis                                  
61 Matthew Wilson (Aus) Team Type 1                                              
62 Arturo Peña (Mex) Region 2 Occident                                           
63 Gerardo Soto (Mex) Region 1 Puebla                                            
64 Christopher Jones (USA) Team Type 1                                           
65 Jorge Lopez (Mex) Region 4 Oaxaca                                             
66 Floyd Landis (USA) Ouch Presented By Maxxis                                   
67 Carlos Lopez (Mex) Canel'S Turbo                                              
68 David Martin (Spa) Rock Racing                                                
69 Manuel Hernandez (Mex) Orven                                                  
70 Alien Garcia (Cub) Cuban National Team                                        
71 Byron Guama (Ecu) Burgos Monumental                                           
72 Omar Cervantes (Mex) Tecos De La Uga                                          
73 Yeinier Lopez (Cub) Cuban National Team                                       
74 Juan Carlo Hernandez (Mex) Tequila Afamado                                    
75 Arquimedes Lam (Mex) Tecos De La Uga                                          
76 Carlos Cruz (Mex) Region 4 Oaxaca                                             
77 Rodolfo Avila (Mex) Region 3 Estado                                           
78 Christopher Barton (USA) US National Team                                     
79 John A Murphy (USA) Ouch Presented By Maxxis                                  
80 Bjorn Selander (USA) Trek Livestrong                                          
81 Ryan Roth (Can) Planet Energy                                                 
82 Ismael Ponce (Mex) Region 2 Occident                                          
83 Simon Ortega (Mex) Arenas Tlaxcala                                            
84 Alfredo Cruz (Mex) Region 2 Occident                                          
85 Alfredo Gabino (Mex) Region 3 Estado                                          
86 Antonio Aldape (Mex) Mexican National Team                                    
87 Bruno Langlois (Can) Planet Energy                                            
88 Tyler Hamilton (USA) Rock Racing                                              
89 Avelino Antuña (Spa) Burgos Monumental                                        
90 Julio Alberto Perez (Mex) Canel'S Turbo                                       
91 Armando Aguilar (Mex) Orven                                                   
92 Taylor Phinney (USA) Trek Livestrong                                          
93 Jose De Jesus Gomez (Mex) Canel'S Turbo                                       
94 Fredy Buergos (Cub) Cuban National Team                                       
95 Yordeng Crespo (Cub) Cuban National Team                                      
96 Oscar Barron (Mex) Orven                                                  1.13
97 Ivan Romero (Mex) Region 4 Oaxaca                                         1.25
98 Juan Enrique Diaz (Mex) Tequila Afamado                                   1.28
99 Colby Pearce (USA) US National Team                                           
100 Jose De Jesus Bravo (Mex) Region 3 Estado                                    
101 Sergio Hernandez (USA) Rock Racing                                           
102 Felipe Montiel (Mex) Region 2 Occident                                       
103 Bradley White (USA) Ouch Presented By Maxxis                                 
104 Flavio De Luna (Mex) Region 2 Occident                                       
105 Benjamin King (USA) Trek Livestrong                                          
106 Ricardo Tapia (Mex) Region 4 Oaxaca                                          
107 Ryan Bauman (USA) Trek Livestrong                                            
108 Gavriel Epstein (Can) Tequila Afamado                                    1.33
109 Joel Alamillo (Mex) Arenas Tlaxcala                                      1.36
110 Elio Frausto (Mex) Region 4 Oaxaca                                           
111 Guy East (USA) Trek Livestrong                                           1.39
112 Miguel Martinez (Mex) Arenas Tlaxcala                                        
113 Jose Ramon Aguirre (Mex) Canel'S Turbo                                       
114 Jose Abraham Centeno (Mex) Tequila Afamado                               1.45
115 Enrique Mata (Spa) Burgos Monumental                                     1.54
116 Alberto Huitzil (Mex) Region 1 Puebla                                        
117 David Zamudio (Mex) Tequila Afamado                                      2.11
118 Guadalupe Almonte (Mex) Region 1 Puebla                                      
119 Roman Kilun (USA) Ouch Presented By Maxxis                                   
120 Luis Alberto Muñoz (Mex) Region 1 Puebla                                     
121 Jose De Gonzalez (Mex) Region 3 Estado                                       
122 Ivan Melero (Spa) Burgos Monumental                                          
123 David Salomon (Mex) Mexican National Team                                    
124 Uri Martins (Mex) Region 4 Oaxaca                                        2.16
125 Cody Campbell (Can) Trek Livestrong                                      2.18
126 Radames Treviño (Mex) Orven                                                  
127 Luis Alfre Gutierrez (Mex) Tecos De La Uga                               2.32
128 Kevin Lacombe (Can) Planet Energy                                            
129 Uriel Clara (Mex) Canel'S Turbo                                          3.26
130 Alejandro Morales (Mex) Region 3 Estado                                  3.44
131 David Tanner (Aus) Rock Racing                                           4.00
132 Jose Isabel Garcia (Mex) Tequila Afamado                                     
133 Juan Ramon Juarez (Mex) Tequila Afamado                                  5.25
134 Abundio Guerrero (Mex) Canel'S Turbo                                         
135 Victor Martinez (Mex) Arenas Tlaxcala                                   13.25
136 Mauricio Frazer (Arg) Arenas Tlaxcala                                        
137 Jose Andres Sanchez (Mex) Canel'S Turbo                                      
138 Cole House (USA) US National Team                                            
139 Ivan Carbajal (Mex) Region 4 Oaxaca                                          
140 Noemely Roldan (Mex) Region 1 Puebla                                         
141 Eric Boily (Can) Planet Energy                                               
142 Keir Plaice (Can) Planet Energy                                              
143 Austin Carroll (USA) US National Team                                        
144 Urbano Lopez (Mex) Region 2 Occident                                         
145 Maxime Vives (Can) Planet Energy                                             
146 Mario Chapul (Mex) Region 1 Puebla                                           
147 Joaquin Mejia (Mex) Region 1 Puebla                                          
148 Victor Alfons Huerta (Mex) Region 3 Estado                                   
149 Uriel Rayo (Mex) Region 2 Occident                                           
150 Julian Kyer (USA) Trek Livestrong                                            
151 Eduardo Diaz (Mex) Region 4 Oaxaca                                           
152 Ryohei Komori (Jpn) Trek Livestrong                                     21.25
153 Jose De Je Ruvalcaba (Mex) Region 2 Occident                            28.42
DNF  Arenas Tlaxcala                                                             
 
Teams
 
1 Mexican National Team                                                   7.12.41
2 Amica Chips - Knauf                                                            
3 Serramenti Pvc Diquigiovanni                                               0.58
4 Orven                                                                          
5 Burgos Monumental                                                       7.13.39
6 Rock Racing                                                                    
7 USA National Team                                                              
8 Team Type 1                                                                    
9 OUCH Presented By Maxxis                                                       
10 Cuban National Team                                                           
11 Tecos De La Uga                                                               
12 Arenas Tlaxcala                                                               
13 Estado De Mexico Regional Team                                                
14 Planet Energy                                                                 
15 Canel´s Turbo                                                                 
16 Occidente Regional Team                                                       
17 Oaxaca Chocolate Regional Team                                         7.14.06
18 Tequila Afamado                                                        7.14.09
19 Trek Livestrong                                                               
20 Puebla Tlaxcala Regional Team                                          7.14.35
 
Mountains
 
Cerro Del Fortin
 
1 Juan Pabl Magallanes (Mex) Mexican National Team                              8 pts
2 Francesco Rivera (Ita) Amica Chips - Knauf                                    7
3 David Tanner (Aus) Rock Racing                                                6
4 Roman Kilun (USA) Ouch Presented By Maxxis                                    5
5 Sergio Hernandez (USA) Rock Racing                                            3
 
METAS VOLANTES
 
1 Francesco Rivera (Ita) Amica Chips - Knauf                                    5 pts
2 Juan Pabl Magallanes (Mex) Mexican National Team                              3
3 Luis Fernando Macias (Mex) Mexican National Team                              2
 
1 Francesco Rivera (Ita) Amica Chips - Knauf                                    5 pts
2 Juan Pabl Magallanes (Mex) Mexican National Team                              3
3 Epifanio Cortes (Mex) Arenas Tlaxcala                                         2
 
General classification after stage 1
 
1 Juan Pabl Magallanes (Mex) Mexican National Team                        2.23.35
2 Francesco Rivera (Ita) Amica Chips - Knauf                                     
3 Denis Bertolini (Ita) Serramenti Pvc Diquigiovanni - Androni Giocattoli    0.58
4 Karl Menzies (Aus) Ouch Presented By Maxxis                                    
5 Jackson Rodriguez (Ven) Serramenti Pvc Diquigiovanni - Androni Giocattoli      
6 Edgardo Lugo (Mex) Region 3 Estado                                             
7 Joaquin Sobrino (Spa) Burgos Monumental                                        
8 Cesar Vaquera (Mex) Orven                                                      
9 Daniel Holloway (USA) US National Team                                         
10 David Vitoria (Swi) Rock Racing                                               
11 Enrique Gutierrez (Spa) Rock Racing                                           
12 Thomas Bertolini (Ita) Serramenti Pvc Diquigiovanni - Androni Giocattoli      
13 Luis Fernando Macias (Mex) Mexican National Team                              
14 Shawn Milne (USA) Team Type 1                                                 
15 Rodolfo Fernandez (Mex) Orven                                                 
16 Fausto Fognini (Ita) Amica Chips - Knauf                                      
17 Fabio Calabria (Aus) Team Type 1                                              
18 Jose Carlos Valdez (Mex) Burgos Monumental                                    
19 Carlos José Ochoa (Ven) Serramenti Pvc Diquigiovanni - Androni Giocattoli     
20 Rafael Valls (Spa) Burgos Monumental                                          
21 Domingo Gonzalez (Mex) Orven                                                  
22 Kirk Carlsen (USA) US National Team                                           
23 Hector Hugo Rangel (Mex) Canel'S Turbo                                        
24 Ignacio Sarabia (Mex) Mexican National Team                                   
25 Andrew Randell (Can) Planet Energy                                            
26 Epifanio Cortes (Mex) Arenas Tlaxcala                                         
27 Andrew Pinfold (Can) Ouch Presented By Maxxis                                 
28 Taylor Shelden (USA) US National Team                                         
29 John Fredy Parra (Col) Tecos De La Uga                                        
30 Christopher Baldwin (USA) Rock Racing                                         
31 Yasmani Martinez (Cub) Cuban National Team                                    
32 Arnold Alcolea (Cub) Cuban National Team                                      
33 Bernardo Colex (Mex) Mexican National Team                                    
34 Valery Kobzarenko (Ukr) Team Type 1                                           
35 Lizardo Benitez (Cub) Cuban National Team                                     
36 Rafael Escarcega (Mex) Region 3 Estado                                        
37 Jonathan Pat Mccarty (USA) Ouch Presented By Maxxis                           
38 Jesus Zarate (Mex) Tecos De La Uga                                            
39 Marco Anto Escarcega (Mex) Arenas Tlaxcala                                    
40 Darren Lill (RSA) Team Type 1                                                 
41 Francisco Matamoros (Mex) Tecos De La Uga                                     
42 Peter Stetina (USA) US National Team                                          
43 Francois Parisien (Can) Planet Energy                                         
44 Gregorio Ladino (Col) Tecos De La Uga                                         
45 Gilberto Simoni (Ita) Serramenti Pvc Diquigiovanni - Androni Giocattoli       
46 Florencio Ramos (Mex) Tecos De La Uga                                         
47 Glen Alan Chadwick (NZl) Rock Racing                                          
48 Marco Antonio Rios (Mex) Orven                                                
49 Eder Arenas (Mex) Mexican National Team                                       
50 Leonardo Moser (Ita) Serramenti Pvc Diquigiovanni - Androni Giocattoli        
51 Alvaro Antoni Argiro (Arg) Arenas Tlaxcala                                    
52 Jorge Pancoatl (Mex) Region 1 Puebla                                          
53 Luis Alejand Zamudio (Mex) Tequila Afamado                                    
54 Luis Pulido (Mex) Mexican National Team                                       
55 Adonis Cardoso (Cub) Cuban National Team                                      
56 Paolo Tomaselli (Ita) Amica Chips - Knauf                                     
57 Eddy Ratti (Ita) Amica Chips - Knauf                                          
58 Ian Macgregor (USA) Team Type 1                                               
59 Vicenzo Garofolo (Ita) Amica Chips - Knauf                                    
60 Cameron Evans (Can) Ouch Presented By Maxxis                                  
61 Matthew Wilson (Aus) Team Type 1                                              
62 Arturo Peña (Mex) Region 2 Occident                                           
63 Gerardo Soto (Mex) Region 1 Puebla                                            
64 Christopher Jones (USA) Team Type 1                                           
65 Jorge Lopez (Mex) Region 4 Oaxaca                                             
66 Floyd Landis (USA) Ouch Presented By Maxxis                                   
67 Carlos Lopez (Mex) Canel'S Turbo                                              
68 David Martin (Spa) Rock Racing                                                
69 Manuel Hernandez (Mex) Orven                                                  
70 Alien Garcia (Cub) Cuban National Team                                        
71 Byron Guama (Ecu) Burgos Monumental                                           
72 Omar Cervantes (Mex) Tecos De La Uga                                          
73 Yeinier Lopez (Cub) Cuban National Team                                       
74 Juan Carlo Hernandez (Mex) Tequila Afamado                                    
75 Arquimedes Lam (Mex) Tecos De La Uga                                          
76 Carlos Cruz (Mex) Region 4 Oaxaca                                             
77 Rodolfo Avila (Mex) Region 3 Estado                                           
78 Christopher Barton (USA) US National Team                                     
79 John A Murphy (USA) Ouch Presented By Maxxis                                  
80 Bjorn Selander (USA) Trek Livestrong                                          
81 Ryan Roth (Can) Planet Energy                                                 
82 Ismael Ponce (Mex) Region 2 Occident                                          
83 Simon Ortega (Mex) Arenas Tlaxcala                                            
84 Alfredo Cruz (Mex) Region 2 Occident                                          
85 Alfredo Gabino (Mex) Region 3 Estado                                          
86 Antonio Aldape (Mex) Mexican National Team                                    
87 Bruno Langlois (Can) Planet Energy                                            
88 Tyler Hamilton (USA) Rock Racing                                              
89 Avelino Antuña (Spa) Burgos Monumental                                        
90 Julio Alberto Perez (Mex) Canel'S Turbo                                       
91 Armando Aguilar (Mex) Orven                                                   
92 Taylor Phinney (USA) Trek Livestrong                                          
93 Jose De Jesus Gomez (Mex) Canel'S Turbo                                       
94 Fredy Buergos (Cub) Cuban National Team                                       
95 Yordeng Crespo (Cub) Cuban National Team                                      
96 Oscar Barron (Mex) Orven                                                  1.13
97 Ivan Romero (Mex) Region 4 Oaxaca                                         1.25
98 Juan Enrique Diaz (Mex) Tequila Afamado                                   1.28
99 Colby Pearce (USA) US National Team                                           
100 Jose De Jesus Bravo (Mex) Region 3 Estado                                    
101 Sergio Hernandez (USA) Rock Racing                                           
102 Felipe Montiel (Mex) Region 2 Occident                                       
103 Bradley White (USA) Ouch Presented By Maxxis                                 
104 Flavio De Luna (Mex) Region 2 Occident                                       
105 Benjamin King (USA) Trek Livestrong                                          
106 Ricardo Tapia (Mex) Region 4 Oaxaca                                          
107 Ryan Bauman (USA) Trek Livestrong                                            
108 Gavriel Epstein (Can) Tequila Afamado                                    1.33
109 Joel Alamillo (Mex) Arenas Tlaxcala                                      1.36
110 Elio Frausto (Mex) Region 4 Oaxaca                                           
111 Guy East (USA) Trek Livestrong                                           1.39
112 Miguel Martinez (Mex) Arenas Tlaxcala                                        
113 Jose Ramon Aguirre (Mex) Canel'S Turbo                                       
114 Jose Abraham Centeno (Mex) Tequila Afamado                               1.45
115 Enrique Mata (Spa) Burgos Monumental                                     1.54
116 Alberto Huitzil (Mex) Region 1 Puebla                                        
117 David Zamudio (Mex) Tequila Afamado                                      2.11
118 Guadalupe Almonte (Mex) Region 1 Puebla                                      
119 Roman Kilun (USA) Ouch Presented By Maxxis                                   
120 Luis Alberto Muñoz (Mex) Region 1 Puebla                                     
121 Jose De Gonzalez (Mex) Region 3 Estado                                       
122 Ivan Melero (Spa) Burgos Monumental                                          
123 David Salomon (Mex) Mexican National Team                                    
124 Uri Martins (Mex) Region 4 Oaxaca                                        2.16
125 Cody Campbell (Can) Trek Livestrong                                      2.18
126 Radames Treviño (Mex) Orven                                                  
127 Luis Alfre Gutierrez (Mex) Tecos De La Uga                               2.32
128 Kevin Lacombe (Can) Planet Energy                                            
129 Uriel Clara (Mex) Canel'S Turbo                                          3.26
130 Alejandro Morales (Mex) Region 3 Estado                                  3.44
131 David Tanner (Aus) Rock Racing                                           4.00
132 Jose Isabel Garcia (Mex) Tequila Afamado                                     
133 Juan Ramon Juarez (Mex) Tequila Afamado                                  5.25
134 Abundio Guerrero (Mex) Canel'S Turbo                                         
135 Victor Martinez (Mex) Arenas Tlaxcala                                   13.25
136 Mauricio Frazer (Arg) Arenas Tlaxcala                                        
137 Jose Andres Sanchez (Mex) Canel'S Turbo                                      
138 Cole House (USA) US National Team                                            
139 Ivan Carbajal (Mex) Region 4 Oaxaca                                          
140 Noemely Roldan (Mex) Region 1 Puebla                                         
141 Eric Boily (Can) Planet Energy                                               
142 Keir Plaice (Can) Planet Energy                                              
143 Austin Carroll (USA) US National Team                                        
144 Urbano Lopez (Mex) Region 2 Occident                                         
145 Maxime Vives (Can) Planet Energy                                             
146 Mario Chapul (Mex) Region 1 Puebla                                           
147 Joaquin Mejia (Mex) Region 1 Puebla                                          
148 Victor Alfons Huerta (Mex) Region 3 Estado                                   
149 Uriel Rayo (Mex) Region 2 Occident                                           
150 Julian Kyer (USA) Trek Livestrong                                            
151 Eduardo Diaz (Mex) Region 4 Oaxaca                                           
152 Ryohei Komori (Jpn) Trek Livestrong                                     21.25
153 Jose De Je Ruvalcaba (Mex) Region 2 Occident                            28.42
 
Best young rider
 
1 Cesar Vaquera (Mex) Orven                                               2.24.33
2 Daniel Holloway (USA) US National Team                                         
3 Thomas Bertolini (Ita) Serramenti Pvc Diquigiovanni - Androni Giocattoli       
4 Fabio Calabria (Aus) Team Type 1                                               
5 Rafael Valls (Spa) Burgos Monumental                                           
6 Kirk Carlsen (USA) US National Team                                            
7 Taylor Shelden (USA) US National Team                                          
8 Yasmani Martinez (Cub) Cuban National Team                                     
9 Rafael Escarcega (Mex) Region 3 Estado                                         
10 Peter Stetina (USA) US National Team                                          
11 Arturo Peña (Mex) Region 2 Occident                                           
12 Jorge Lopez (Mex) Region 4 Oaxaca                                             
13 Christopher Barton (USA) US National Team                                     
14 Bjorn Selander (USA) Trek Livestrong                                          
15 Simon Ortega (Mex) Arenas Tlaxcala                                            
16 Alfredo Cruz (Mex) Region 2 Occident                                          
17 Armando Aguilar (Mex) Orven                                                   
18 Taylor Phinney (USA) Trek Livestrong                                          
19 Oscar Barron (Mex) Orven                                                  0.15
20 Jose De Jesus Bravo (Mex) Region 3 Estado                                 0.30
21 Flavio De Luna (Mex) Region 2 Occident                                        
22 Benjamin King (USA) Trek Livestrong                                           
23 Ryan Bauman (USA) Trek Livestrong                                             
24 Guy East (USA) Trek Livestrong                                            0.41
25 Jose Ramon Aguirre (Mex) Canel'S Turbo                                        
26 Alberto Huitzil (Mex) Region 1 Puebla                                     0.56
27 David Zamudio (Mex) Tequila Afamado                                       1.13
28 Luis Alberto Muñoz (Mex) Region 1 Puebla                                      
29 Uri Martins (Mex) Region 4 Oaxaca                                         1.18
30 Cody Campbell (Can) Trek Livestrong                                       1.20
31 Radames Treviño (Mex) Orven                                                   
32 Alejandro Morales (Mex) Region 3 Estado                                   2.46
33 Cole House (USA) US National Team                                        12.27
34 Ivan Carbajal (Mex) Region 4 Oaxaca                                           
35 Noemely Roldan (Mex) Region 1 Puebla                                          
36 Eric Boily (Can) Planet Energy                                                
37 Keir Plaice (Can) Planet Energy                                               
38 Austin Carroll (USA) US National Team                                         
39 Mario Chapul (Mex) Region 1 Puebla                                            
40 Joaquin Mejia (Mex) Region 1 Puebla                                           
41 Victor Alfons Huerta (Mex) Region 3 Estado                                    
42 Julian Kyer (USA) Trek Livestrong                                             
43 Ryohei Komori (Jpn) Trek Livestrong                                      20.27
 
Teams classification
 
1 Mexican National Team                                                   7.12.41
2 Amica Chips - Knauf                                                            
3 Serramenti PVC Diquigiovann                                                0.58
4 Orven                                                                          
5 Burgos Monumental                                                              
6 Rockracing                                                                     
7 USA National Team                                                              
8 Team Type 1                                                                    
9 OUCH Presented By Maxxis                                                       
10 Cuban National Team                                                           
11 Tecos De La UGA                                                               
12 Arenas Tlaxcala                                                               
13 Estado De Mexico Regional Team                                                
14 Planet Energy                                                                 
15 Canel´s Turbo                                                                 
16 Occidente Regional Team                                                       
17 Oaxaca Chocolate Regional Team                                            1.25
18 Tequila Afamado                                                           1.28
19 Trek Livestrong                                                               
20 Puebla Tlaxcala Regional Team                                             1.54
 
Mountains classification
 
1 Juan Pabl Magallanes (Mex) Mexican National Team                              8 pts
2 Francesco Rivera (Ita) Amica Chips - Knauf                                    7
3 David Tanner (Aus) Rock Racing                                                6
4 Roman Kilun (USA) Ouch Presented By Maxxis                                    5
5 Sergio Hernandez (USA) Rock Racing                                            3
 
Metas Volante classification
 
1 Francesco Rivera (Ita) Amica Chips - Knauf                                   10 pts
2 Juan Pabl Magallanes (Mex) Mexican National Team                              6
3 Luis Fernando Macias (Mex) Mexican National Team                              2
4 Epifanio Cortes (Mex) Arenas Tlaxcala                                         2