22nd Gran Premio Brissago Lago Maggiore - 1.2
Switzerland, March 7, 2009
2008 Results Results Past winners
Cantele gets Bigla well deserved win
Noemi Cantele (Bigla)
Photo ©: Davide Tricarico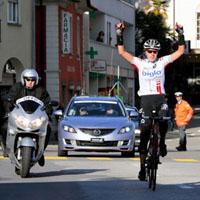 Italian Noemi Cantele ensured the Gran Premio Brissago Lago Maggiore title stayed with her Bigla squad by breaking away late in the event for a solo victory. The Bigla team has won the last two editions of the Swiss event, following Nicole Brändli's victory at last year.
The Bigla squad was forced to work all day to control the race, but was fortunate to receive some help from the Equipe Nürnberger squad. An early attack by Cervélo TestTeam duo Sarah Duster and Kirsten Wild came far too early and just as threatening, forcing the peloton to close down the gap.
Danish rider Trine Schmidt (Team Flexpoint) was the next to attack the peloton. Schmidt pulled out a comprehensive lead of two minutes, before the peloton started reeling back in the rider.
As Bigla pulled Schmidt back into the peloton Cantele made her solo move. She was followed by France's Jeannie Longo-Ciprelli (Squadra Mista), who finished in second place from German rider Eva Lutz (Equipe Nürnberger).
Photography
For a thumbnail gallery of these images, click here
Images by Davide Tricarico/ladiescycling.net
Results
1 Noemi Cantele (Ita) Bigla Cycling Team                     2.43.06 (37.045 km/h)
2 Jeannie Longo-Ciprelli (Fra) Team Squadra Mista 1             0.26
3 Eva Lutz (Ger) Equipe Nürnberger Versicherung                 1.00
4 Suzanne De Goede (Ned) Equipe Nürnberger Versicherung         1.50
5 Sarah Düster (Ger) Cervélo Test Team                              
6 Modesta Vzesniauskaite (Ltu) Bigla Cycling Team                   
7 Edwige Pitel (Fra) Team Squadra Mista 1                           
8 Charlotte Becker (Ger) Equipe Nürnberger Versicherung             
9 Christine Majerus (Lux) Team ESGL93 - GSD Gestion                 
10 Bianca Knöpfle (Ger) Equipe Nürnberger Versicherung              
11 Patricia Schwager (Swi) Cervélo Test Team                    1.58
12 Lieselot Decroix (Bel) Cervélo Test Team                     2.41
13 Kirsten Wild (Ned) Cervélo Test Team                             
14 Marta Vilajosana (Esp) Team Dila Kuota Mista                     
15 Sophie Creux (Fra) Team ESGL93 - GSD Gestion                     
16 Loes Gunnewijk (Ned) Team Flexpoint                              
17 Francesca Tognali (Ita) Top Girls Fassa Bortolo Raxy Line        
18 Claudia Hausler (Ger) Cervélo Test Team                          
19 Sigrid Corneo (Slo) Team Selle Italia Ghezzi                     
20 Regina Schleicher (Ger) Equipe Nürnberger Versicherung       2.49
21 Carmen McNellis (USA) Team Michela Fanini Record Rox         4.07
22 Edita Pucinskaite (Ltu) Team Dila Kuota Mista                    
23 Mélodie Lesueur (Fra) Team ESGL93 - GSD Gestion                  
24 Chiara Vanni (Ita) Team Squadra Mista 1                          
25 Alessandra D'Ettorre (Ita) Top Girls Fassa Bortolo Raxy Line     
26 Gloria Presti (Ita) Team Selle Italia Ghezzi                     
27 Flavia Oliveira (USA) Team Michela Fanini Record Rox             
28 Erica Vilunaite (Ltu) Team Michela Fanini Record Rox             
29 Clemilda Silva Fernandes (Bra) Team USC Chirio Forno D'Asolo     
30 Rosane Kirch (Bra) Team Michela Fanini Record Rox                
31 Marina Romoli (Ita) Team Selle Italia Ghezzi                     
32 Lorena Foresi (Ita) Team Selle Italia Ghezzi                     
33 Valentina Carretta (Ita) Top Girls Fassa Bortolo Raxy Line       
34 Karin Thürig (Swi) Bigla Cycling Team                            
35 Stephanie Döring (Ger) Team Bike Import                      5.18
36 Doris Schweizer (Swi) Bürgis Cycling Team                    5.28
37 Jacobien Kanis (Ned) Team Flexpoint                              
38 Egle Zablockyte (Ltu) Team USC Chirio Forno D'Asolo              
39 Edita Unguryte (Ltu) Team USC Chirio Forno D'Asolo           5.29
40 Monika Furrer (Swi) Team Bike Import                             
41 Christina Becker (Ger) Equipe Nürnberger Versicherung        5.28
42 Marlen Jöhrend (Ger) Equipe Nürnberger Versicherung              
43 Lisa Brennauer (Ger) Equipe Nürnberger Versicherung              
44 Pascale Schnider (Swi) Cervélo Test Team                         
45 Laura Bozzolo (Ita) Team Selle Italia Ghezzi                     
46 Trine Schmidt (Den) Team Flexpoint                               
47 Uenia Fernandes Souza (Bra) Team USC Chirio Forno D'Asolo        
48 Saskia Elemans (Ned) Team Flexpoint                              
49 Giada Borgato (Ita) Team Selle Italia Ghezzi                 7.39
50 Jennifer Fiori (Ita) Top Girls Fassa Bortolo Raxy Line           
51 Saneila Biagi (Ita) Team Dila Kuota Mista                    8.41
52 Polona Batagelj (Slo) Team Squadra Mista 1                  10.11
53 Fabienne Sommer (Swi) Team Bike Import                           
54 Francesca Faustini (Ita) Team Dila Kuota Mista                   
55 Mirjam Schwager (Swi) Team Bike Import                           
56 Silvia Marquez Tirado (Esp) Team Dila Kuota Mista                
57 Bettina Kuhn (Swi) Bigla Cycling Team                            
58 Barbara Guarischi (Ita) Team Dila Kuota Mista                    
59 Alessia Quarta (Ita) Team Michela Fanini Record Rox              
60 Giulia Lazzerini (Ita) Team Michela Fanini Record Rox            
61 Luisa Tamanini (Ita) Team Selle Italia Ghezzi                    
62 Edita Janeliunaite (Ltu) Team USC Chirio Forno D'Asolo           
63 Eleonora Spaliviero (Ita) Team USC Chirio Forno D'Asolo          

Past winners
2008 Nicole Brändli (Swi) Bigla Cycling Team
2007 Noemi Cantele
2006 Fabiana Luperini
2005 Giorgia Bronzini
2004 Vera Carrara
2003 Allison Wright
2002 Vera Carrara
2001 Marika Murer
2000 Greta Zocca
1999 Nataliya Yuhanuk
1998 Chantal Daucourt
1997 Andrea Hänny
1994 Luzia Zberg
1993 Yvonne Schnorf
1992 Hanny Weiss
1991 Luzia Zberg
1989 Barbara Ganz
1988 Eduth Schonenberger
1987 Imelda Chiappa
1986 Roberta Bonanomi
1985 Barbara Ganz