Giro di Sardegna - 2.1
Italy, February 24-28, 2009
1997 results Stage List Preview Start List Past winners Photos
The Stages
Sardegna's back
Presentation of the Giro di Sardegna
Photo ©: Roberto Bettini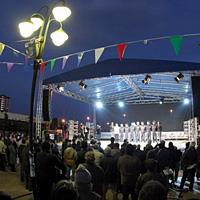 The Giro di Sardegna returns after an absence of 12 years. The stage race will take place on the Italian island of Sardinia from February 24 to 28.
The race organiser presented a route of five stages that run from Olbia in the north to Cagliari in the south. The stages are neither overly mountainous nor pancake flat.
The cancellation of the Vuelta a Valenciana helped fill out the start list with some big names. World Champion Alessandro Ballan (Lampre-NGC) joins with favourites Danilo Di Luca (LPR Brakes-Farnese Vini), Giovanni Visconti (ISD) and Italian Champion Filippo Simeoni (Ceramica Flaminia-Bossini Docce).
Fans will witness the first head-to-head sprint battles of Alessandro Petacchi (LPR Brakes-Farnese Vini) and Daniele Bennati (Liquigas). Mattia Gavazzi (Diquigiovanni-Androni), winner of four stages at the Tour de Langkawi, could possibly be the sprint wildcard.
The race used to occupy a key spot in the early season calendar from 1958 to 1983. Cycling legend Eddy Merckx won the race four times. It was re-introduced briefly, 1996 and 1997. The last winner was Roberto Petito.
Start list
Lampre - N.G.C.                                     Liquigas
 
1 Alessandro Ballan (Ita)                           11 Daniele Bennati (Ita)
2 Matteo Bono (Ita)                                 12 Valerio Agnoli (Ita)
3 Marco Bandiera (Ita)                              13 Roman Kreuziger (Cze)
4 Mauro Da Dalto (Ita)                              14 Claudio Corioni (Ita)
5 Mirco Lorenzetto (Ita)                            15 Fabio Sabatini (Ita)
6 Volodymyr Zagorodny (Ukr)                         16 Ivan Santaromita (Ita)
7 Enrico Gasparotto (Ita)                           17 Gianni Da Ros (Ita)
8 Paolo Tiralongo (Ita)                             18 Oliver Zaugg (Swi)
 
Fuji-Servetto                                       Acqua & Sapone - Caffe Mokambo
 
21 Jose Alberto Benitez (Spa)                       31 Francesco Di Paolo (Ita)
22 Iker Camano (Spa)                                32 Francesco Masciarelli (Ita)
23 Jesus Del Nero (Spa)                             33 Alessandro Fantini (Ita)
24 Josep Jufre (Spa)                                34 Francesco Failli (Ita)
25 Javier Megias (Spa)                              35 Ruggero Marzoli (Ita)
26 Ricardo Serrano (Spa)                            36 Andrea Masciarelli (Ita)
27 Boris Shpilevsky (Rus)                           37 Simone Masciarelli (Ita)
28 Davide Vigano (Ita)                              38 Luca Pierfelici (Ita)
 
Serramenti PVC Diquigiovanni-Androni Giocattoli     CSF Group - Navigare
 
41 Alessandro Bertolini (Ita)                       51 Alessandro Bisolti (Ita)
42 Manuel Belletti (Ita)                            52 Mauro Finetto (Ita)
43 Luca Solari (Ita)                                53 Tiziano Dall'antonia (Ita)
44 Alberto Loddo (Ita)                              54 Marco Frapporti (Ita)
45 Mattia Gavazzi (Ita)                             55 Marcello Pavarin (Ita)
46 Elia Rigotto (Ita)                               56 Mauro Abel Richeze (Arg)
47 Michele Scarponi (Ita)                           57 Guillermo Ruben Bongiorno (Arg)
48 Fabio Taborre (Ita)                              58 Enrico Zen (Ita)
 
LPR Brakes  - Farnese Vini                          Ceramica Flaminia - Bossini Docce
 
61 Danilo Di Luca (Ita)                             71 Filippo Simeoni (Ita)
62 Gabriele Bosisio (Ita)                           72 Adriano Angeloni (Ita)
63 Lorenzo Bernucci (Ita)                           73 Maurizio Biondo (Ita)
64 Matteo Montaguti (Ita)                           74 Giampaolo Caruso (Ita)
65 Alberto Ongarato (Ita)                           75 Leonardo Giordani (Ita)
66 Alessandro Petacchi (Ita)                        76 Mikhaylo Khalilov (Ukr)
67 Daniele Pietropolli (Ita)                        77 Alessandro Maserati (Ita)
68 Cristiano Salerno (Ita)                          78 Bernardo Riccio (Ita)
 
Amica Chips - Knauf                                 ISD
 
81 Santo Anza (Ita)                                 91 Giovanni Visconti (Ita)
82 Igor Astarloa (Spa)                              92 Dmytro Grabovskyy (Ukr)
83 Grega Bole (Slo)                                 93 Andriy Grivko (Ukr)
84 Branislau Samoilau (Blr)                         94 Alessandro Proni (Ita)
85                                                  95 Oscar Gatto (Ita)
86 Michal Golas (Pol)                               96 Leonardo Scarselli (Ita)
87 Andrei Kunitski (Blr)                            97 Maxim Belkov (Rus)
88 Simone Cadamuro (Ita)                            98 Dario David Cioni (Ita)
 
Vorarlberg - Corratec                               Miche - Silver Cross - Selle Italia
 
101 Silvère Ackermann (Swi)                         111 Massimo Giunti (Ita)
102 Alexander Egger (Aut)                           112 Andrea Moletta (Ita)
103 Reto Hollenstein (Swi)                          113 Pasquale Muto (Ita)
104 Daniel Musiol (Ger)                             114 Przemyslaw Niemiec (Pol)
105 Christoph Sokoll (Aut)                          115 Rodrigo Garcia Rena (Spa)
106 Matic Strgar (Slo)                              116 Edwin Carvajal Jaramillo (Col)
107 Alexander Gufler (Ita)                          117 Tomasz Marczynski (Pol)
108 Andrea Capelli (Ita)                            118 Krzysztof Szczawinski (Pol)
 
Amore & Vita - McDonald's                           Team Piemonte
 
121 Yury Metlushenko (Ukr)                          131 Simone Bruson (Ita)
122 Philipp Mamos (Ger)                             132 Piergiorgio Camussa (Ita)
123 Sergiy Grechyn (Ukr)                            133 Egidijus Juodvalkis (Ltu)
124 Richard England (Aus)                           134 Gediminas Kaupas (Ltu)
125 Jaroslaw Dabrowski (Pol)                        135 Marius Kukta (Ltu)
126 Sören Nissen (Den)                              136 Gediminas Bagdonas (Ltu)
127 Chad Gerlach (USA)                              137 Algirdas Mockus (Ltu)
128 Volodymyr Starchyk (Ukr)                        138 Ramunas Navardauskas (Ltu)

Past winners
1997 Roberto Petito (Ita)
1996 Gabriele Colombo (Ita)
1984-1995 not held
1983 Gregor Braun (Ger)
1982 Giuseppe Saronni (Ita)
1981 not held
1980 Gregor Braun (Ger)
1979 not held
1978 Knut Knudsen (Nor)
1977 Freddy Maertens (Bel)
1976 Roger De Vlaeminck (Bel)
1975 Eddy Merckx (Bel)
1974 Rik Van Linden (Bel)
1973 Eddy Merckx (Bel)
1972 Marino Basso (Ita)
1971 Eddy Merckx (Bel)
1970 Patrick Sercu (Bel)
1969 Claudio Michelotto (Ita)
1968 Eddy Merckx (Bel)
1967 Luciano Armani (Ita)
1966 Jacques Anquetil (Fra)
1965 Rik Van Looy (Bel)
1964 Vittorio Adorni (Ita)
1963 Arnaldo Pambianco (Ita)
1962 Rik Van Looy (Bel)
1961 Emile Daems (Bel)
1960 Jop De Roo (Bel)
1959 Rik Van Looy (Bel)
1958 Antonin Rolland (Fra)