1st Ladies' Tour of Qatar - WE 2.1
Qatar, February 8-10, 2009
Main Page Results Overall standings Next Stage
Stage 1 - February 8: Museum Of Islamic Art - Doha Shafallah, 94km
Bronzini takes first ever Qatar gold
By Gregor Brown in Doha, Qatar
Italy's Giorgia Bronzini received the first ever women's yellow jersey in a bike race in the Middle East
Photo ©: Gregor Brown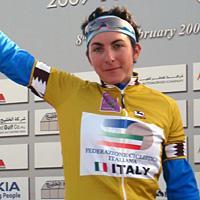 Giorgia Bronzini of Team Italy took the first golden leader's jersey in the inaugural Ladies' Tour of Qatar Sunday in Doha. The 25-year-old sprinted to the win from a key move of 21 riders that formed mid-race in the 94-kilometre stage one.
"Now, I will try to win another one tomorrow. The classification as well!" said Bronzini.
The race is the first professional women's race held in the Middle East.
Bronzini, winner of last year's Züri Metzgete, won ahead of Kirsten Wild of Team Cervélo and Ellen van Dijk of Team Columbia.
The stage stared at Doha's Museum of Islamic Art at noon. It travelled north to Al Khor and then looped back down the Gulf of Bahrain waterfront.
At 10 kilometres into the race a move of eight formed. A larger group also moved clear and joined with the leaders by kilometre 48.
Kirsten Wild of Team Cervélo finished second today
Photo ©: Gregor Brown

The riders were Columbia's Chantal Beltman and Ellen Van Dijk; Kirsten Wild, Regina Bruins and Sarah Düster (Cervélo TestTeam); Nürnberger Versicherung's Suzanne De Goede and Christina Becker; Monique Van De Ree and Suzanne Van Veen (Leontien.nl); Susanne Ljungskog, Loes Gunnewijk and Trine Schmidt (Flexpoint); Bigla's Noemi Cantele, Nicole Brändli; Martine Bras (Sella Italia); USA's Katharine Carroll and Brooke Miller; Kirsty Broun (Australia); Italy's Giorgia Bronzini, Alessandra Borchi; and France's Marina Jaunatre.
The 21 built up a maximum 2:10 advantage on a day marked by an easterly wind, but the peloton slowly ate into their lead near the end. Coming into the final kilometres, the group had 55 seconds.
"In the last kilometre I was in the first positions and taking advantage of the other teams' trains," Bronzini said. "In the last curve a rider jumped clear [van Dijk - ed.], we caught her and she was the launch pad for the sprint."
The escape that gained almost a quarter of an hour against the peloton
Photo ©: Gregor Brown

"Van Dijk attacked and I chased," said Wild. "Unfortunately, Bronzini followed me and I was the first lead-out for her."
Wild won both intermediate sprints during the day. With second on the stage, she claimed the silver point's jersey. "I was confident for the sprint, but they were too fast for me. There was a very hard win," van Dijk said.
Van Dijk donned the blue jersey of best young rider. She was the highest placed under-25 woman.
The three-stage race continues tomorrow from Doha. The riders will travel northwest to Al Shahaniyah, 110 kilometres.
Photography
For a thumbnail gallery of these images, click here
Images by AFP Photo
Images by Gregor Brown/Cyclingnews.com
Results
1 Giorgia Bronzini (Ita) Italy                      2.26.21 (38.45 km/h)
2 Kirsten Wild (Ned) Cervelo Test Team                     
3 Ellen Van Dijk (Ned) Team Columbia Women                 
4 Kirsty Broun (Aus) Australia                             
5 Martine Bras (Ned) Selle Italia-Ghezzi               0.06
6 Suzanne De Goede (Ned) Nürnberger Versicherung           
7 Nicole Brändli (Swi) Bigla Cycling Team                  
8 Marina Jaunatre (Fra) France                             
9 Loes Gunnewijk (Ned) Team Flexpoint                      
10 Mirjam Melchers-Van Poppel (Ned) Team Flexpoint         
11 Noemi Cantele (Ita) Bigla Cycling Team                  
12 Monique Van De Ree (Ned) Team Leontien.nl               
13 Susanne Ljungskog (Swe) Team Flexpoint                  
14 Brooke Miller (USA) US National Team                0.21
15 Alessandra Borchi (Ita) Italy                       0.26
16 Regina Bruins (Ned) Cervelo Test Team                   
17 Christina Becker (Ger) Nürnberger Versicherung          
18 Katharine Carroll (USA) US National Team            0.28
19 Sarah Düster (Ger) Cervelo Test Team                    
20 Chantal Beltman (Ned) Team Columbia Women           0.36
21 Trine Schmidt (Den) Team Flexpoint                  1.03
22 Katherine Bates (Aus) Team Columbia Women           1.25
23 Lieselot Decroix (Bel) Cervelo Test Team                
24 Agne Bagdonaviciute (Ltu) Selle Italia-Ghezzi           
25 Christelle Ferrier-Bruneau (Fra) France                 
26 Marit Huisman (Ned) Team Leontien.nl                    
27 Lauren Tamayo (USA) US National Team                    
28 Peta Mullens (Aus) Australia                            
29 Katheryn Mattis (USA) US National Team              1.28
30 Robyn De Groot (RSA) South Africa                   3.10
31 Rochelle Gilmore (Aus) Lotto-Belisol Ladiesteam    14.01
32 Lang Meng (Chn) Giant Pro Cycling                       
33 Lynette Burger (RSA) South Africa                       
34 Fanny Riberot (Fra) France                              
35 Xin Liu (Chn) Giant Pro Cycling                         
36 Ayako Toyooka (Jpn) Japan                               
37 Chisako Harigai (Jpn) Japan                             
38 Mayuko Hagiwara (Jpn) Japan                             
39 Nadia Triquet-Claude (Fra) France                       
40 Li Ping Zhang (Chn) Giant Pro Cycling                   
41 Eleonora Soldo (Ita) Italy                              
42 Pascale Schnider (Swi) Cervelo Test Team                
43 Lauren Kitchen (Aus) Australia                          
44 Catherine Delfosse (Bel) Lotto-Belisol Ladiesteam       
45 Anriette Schoeman (RSA) South Africa                    
46 Fei Wang (Chn) Giant Pro Cycling                        
47 Cherise Taylor (RSA) South Africa                       
48 Min Gao (Chn) Giant Pro Cycling                         
49 Kim Schoonbaert (Bel) Lotto-Belisol Ladiesteam          
50 Gloria Presti (Ita) Selle Italia-Ghezzi                 
51 Magali Mocquery (Fra) France                            
52 Janel Holcomb (USA) US National Team                    
53 Marta Tagliaferro (Ita) Italy                           
54 Bettina Kuhn (Swi) Bigla Cycling Team                   
55 Jennifer Hohl (Swi) Bigla Cycling Team                  
56 Emilia Fahlin (Swe) Team Columbia Women                 
57 Grace Verbeke (Bel) Lotto-Belisol Ladiesteam            
58 Mao Chino (Jpn) Japan                                   
59 Emma Rickards (Aus) Australia                           
60 Carlee Taylor (Aus) Australia                           
61 Véra Koedooder (Ned) Lotto-Belisol Ladiesteam           
62 Alessia Massaccesi (Ita) Italy                          
63 Marissa Van Der Merwe (RSA) South Africa                
64 Chantal Blaak (Ned) Team Leontien.nl                    
65 Eva Lutz (Ger) Nürnberger Versicherung                  
66 Lisa Brennauer (Ger) Nürnberger Versicherung            
67 Tiffany Cromwell (Aus) Australia                        
68 Linda Villumsen (Den) Team Columbia Women               
69 Tatiana Guderzo (Ita) Italy                             
70 Giada Borgato (Ita) Selle Italia-Ghezzi                 
71 Rebecca Much (USA) US National Team                     
72 Sigrid Corneo (Slo) Selle Italia-Ghezzi                 
73 Monica Holler (Swe) Bigla Cycling Team                  
74 Patricia Schwager (Swi) Cervelo Test Team               
75 Veronica Andreasson (Swe) Bigla Cycling Team            
76 Suzanne Van Veen (Ned) Team Leontien.nl                 
77 Silvia Valsecchi (Ita) Selle Italia-Ghezzi              
78 Mélanie Bravard (Fra) France                            
79 Regina Schleicher (Ger) Nürnberger Versicherung         
80 Loes Markerink (Ned) Team Flexpoint                     
81 Luise Keller (Ger) Team Columbia Women                  
82 Cashandra Slingerland (RSA) South Africa                
83 Iris Slappendel (Ned) Team Flexpoint                    
84 Marlijn Binnendijk (Ned) Team Leontien.nl               
85 Xiao Ling Luo (Chn) Giant Pro Cycling              14.59
 
Sprints
 
Umm Qarn - 36.0 Km
1 Kirsten Wild (Ned) Cervelo Test Team                    3 pts
2 Mirjam Melchers-Van Poppel (Ned) Team Flexpoint         2
3 Loes Gunnewijk (Ned) Team Flexpoint                     1
 
Al Khor - 54.0 Km
1 Kirsten Wild (Ned) Cervelo Test Team                    3 pts
2 Giorgia Bronzini (Ita) Italy                            2
3 Mirjam Melchers-Van Poppel (Ned) Team Flexpoint         1
 
Doha Shafallah - 94.0 Km
1 Giorgia Bronzini (Ita) Italy                           30 pts
2 Kirsten Wild (Ned) Cervelo Test Team                   27
3 Ellen Van Dijk (Ned) Team Columbia Women               25
4 Kirsty Broun (Aus) Australia                           23
5 Martine Bras (Ned) Selle Italia-Ghezzi                 21
6 Suzanne De Goede (Ned) Nürnberger Versicherung         19
7 Nicole Brändli (Swi) Bigla Cycling Team                17
8 Marina Jaunatre (Fra) France                           15
9 Loes Gunnewijk (Ned) Team Flexpoint                    13
10 Mirjam Melchers-Van Poppel (Ned) Team Flexpoint       11
11 Noemi Cantele (Ita) Bigla Cycling Team                10
12 Monique Van De Ree (Ned) Team Leontien.nl              9
13 Susanne Ljungskog (Swe) Team Flexpoint                 8
14 Brooke Miller (USA) US National Team                   7
15 Alessandra Borchi (Ita) Italy                          6
16 Regina Bruins (Ned) Cervelo Test Team                  5
17 Christina Becker (Ger) Nürnberger Versicherung         4
18 Katharine Carroll (USA) US National Team               3
19 Sarah Düster (Ger) Cervelo Test Team                   2
20 Chantal Beltman (Ned) Team Columbia Women              1
 
Young rider
 
1 Ellen Van Dijk (Ned) Team Columbia Women          2.26.21
2 Suzanne De Goede (Ned) Nürnberger Versicherung       0.06
3 Monique Van De Ree (Ned) Team Leontien.nl                
4 Regina Bruins (Ned) Cervelo Test Team                0.26
5 Trine Schmidt (Den) Team Flexpoint                   1.03
6 Lieselot Decroix (Bel) Cervelo Test Team             1.25
7 Agne Bagdonaviciute (Ltu) Selle Italia-Ghezzi            
8 Marit Huisman (Ned) Team Leontien.nl                     
9 Peta Mullens (Aus) Australia                             
10 Lang Meng (Chn) Giant Pro Cycling                  14.01
11 Xin Liu (Chn) Giant Pro Cycling                         
12 Chisako Harigai (Jpn) Japan                             
13 Mayuko Hagiwara (Jpn) Japan                             
14 Li Ping Zhang (Chn) Giant Pro Cycling                   
15 Eleonora Soldo (Ita) Italy                              
16 Pascale Schnider (Swi) Cervelo Test Team                
17 Lauren Kitchen (Aus) Australia                          
18 Fei Wang (Chn) Giant Pro Cycling                        
19 Cherise Taylor (RSA) South Africa                       
20 Kim Schoonbaert (Bel) Lotto-Belisol Ladiesteam          
21 Gloria Presti (Ita) Selle Italia-Ghezzi                 
22 Marta Tagliaferro (Ita) Italy                           
23 Jennifer Hohl (Swi) Bigla Cycling Team                  
24 Emilia Fahlin (Swe) Team Columbia Women                 
25 Grace Verbeke (Bel) Lotto-Belisol Ladiesteam            
26 Carlee Taylor (Aus) Australia                           
27 Alessia Massaccesi (Ita) Italy                          
28 Chantal Blaak (Ned) Team Leontien.nl                    
29 Lisa Brennauer (Ger) Nürnberger Versicherung            
30 Tiffany Cromwell (Aus) Australia                        
31 Linda Villumsen (Den) Team Columbia Women               
32 Tatiana Guderzo (Ita) Italy                             
33 Giada Borgato (Ita) Selle Italia-Ghezzi                 
34 Rebecca Much (USA) US National Team                     
35 Monica Holler (Swe) Bigla Cycling Team                  
36 Suzanne Van Veen (Ned) Team Leontien.nl                 
37 Mélanie Bravard (Fra) France                            
38 Loes Markerink (Ned) Team Flexpoint                     
39 Luise Keller (Ger) Team Columbia Women                  
40 Iris Slappendel (Ned) Team Flexpoint                    
41 Marlijn Binnendijk (Ned) Team Leontien.nl               
42 Xiao Ling Luo (Chn) Giant Pro Cycling              14.59
 
Teams
 
1 Team Flexpoint                                    7.19.21
2 Cervelo Test Team                                    0.36
3 Team Columbia Women                                  1.43
4 Usa                                                  1.56
5 Bigla Cycling Team                                  13.55
6 Italy                                               14.09
7 Nürnberger Versicherung                             14.15
8 Australia                                           15.08
9 France                                              15.14
10 Selle Italia-Ghezzi                                     
11 Team Leontien.Nl                                        
12 South Africa                                       30.54
13 Giant Pro Cycling                                  41.45
14 Japan                                                   
15 Lotto-Belisol Ladiesteam                                
 
General classification after stage 1
 
1 Giorgia Bronzini (Ita) Italy                      2.26.09
2 Kirsten Wild (Ned) Cervelo Test Team                     
3 Ellen Van Dijk (Ned) Team Columbia Women             0.08
4 Kirsty Broun (Aus) Australia                         0.12
5 Mirjam Melchers-Van Poppel (Ned) Team Flexpoint      0.15
6 Loes Gunnewijk (Ned) Team Flexpoint                  0.17
7 Martine Bras (Ned) Selle Italia-Ghezzi               0.18
8 Suzanne De Goede (Ned) Nürnberger Versicherung           
9 Nicole Brändli (Swi) Bigla Cycling Team                  
10 Marina Jaunatre (Fra) France                            
11 Noemi Cantele (Ita) Bigla Cycling Team                  
12 Monique Van De Ree (Ned) Team Leontien.nl               
13 Susanne Ljungskog (Swe) Team Flexpoint                  
14 Brooke Miller (USA) US National Team                0.33
15 Alessandra Borchi (Ita) Italy                       0.38
16 Regina Bruins (Ned) Cervelo Test Team                   
17 Christina Becker (Ger) Nürnberger Versicherung          
18 Katharine Carroll (USA) US National Team            0.40
19 Sarah Düster (Ger) Cervelo Test Team                    
20 Chantal Beltman (Ned) Team Columbia Women           0.48
21 Trine Schmidt (Den) Team Flexpoint                  1.15
22 Katherine Bates (Aus) Team Columbia Women           1.37
23 Lieselot Decroix (Bel) Cervelo Test Team                
24 Agne Bagdonaviciute (Ltu) Selle Italia-Ghezzi           
25 Christelle Ferrier-Bruneau (Fra) France                 
26 Marit Huisman (Ned) Team Leontien.nl                    
27 Lauren Tamayo (USA) US National Team                    
28 Peta Mullens (Aus) Australia                            
29 Katheryn Mattis (USA) US National Team              1.40
30 Robyn De Groot (RSA) South Africa                   3.22
31 Rochelle Gilmore (Aus) Lotto-Belisol Ladiesteam    14.13
32 Lang Meng (Chn) Giant Pro Cycling                       
33 Lynette Burger (RSA) South Africa                       
34 Fanny Riberot (Fra) France                              
35 Xin Liu (Chn) Giant Pro Cycling                         
36 Ayako Toyooka (Jpn) Japan                               
37 Chisako Harigai (Jpn) Japan                             
38 Mayuko Hagiwara (Jpn) Japan                             
39 Nadia Triquet-Claude (Fra) France                       
40 Li Ping Zhang (Chn) Giant Pro Cycling                   
41 Eleonora Soldo (Ita) Italy                              
42 Pascale Schnider (Swi) Cervelo Test Team                
43 Lauren Kitchen (Aus) Australia                          
44 Catherine Delfosse (Bel) Lotto-Belisol Ladiesteam       
45 Anriette Schoeman (RSA) South Africa                    
46 Fei Wang (Chn) Giant Pro Cycling                        
47 Cherise Taylor (RSA) South Africa                       
48 Min Gao (Chn) Giant Pro Cycling                         
49 Kim Schoonbaert (Bel) Lotto-Belisol Ladiesteam          
50 Gloria Presti (Ita) Selle Italia-Ghezzi                 
51 Magali Mocquery (Fra) France                            
52 Janel Holcomb (USA) US National Team                    
53 Marta Tagliaferro (Ita) Italy                           
54 Bettina Kuhn (Swi) Bigla Cycling Team                   
55 Jennifer Hohl (Swi) Bigla Cycling Team                  
56 Emilia Fahlin (Swe) Team Columbia Women                 
57 Grace Verbeke (Bel) Lotto-Belisol Ladiesteam            
58 Mao Chino (Jpn) Japan                                   
59 Emma Rickards (Aus) Australia                           
60 Carlee Taylor (Aus) Australia                           
61 Véra Koedooder (Ned) Lotto-Belisol Ladiesteam           
62 Alessia Massaccesi (Ita) Italy                          
63 Marissa Van Der Merwe (RSA) South Africa                
64 Chantal Blaak (Ned) Team Leontien.nl                    
65 Eva Lutz (Ger) Nürnberger Versicherung                  
66 Lisa Brennauer (Ger) Nürnberger Versicherung            
67 Tiffany Cromwell (Aus) Australia                        
68 Linda Villumsen (Den) Team Columbia Women               
69 Tatiana Guderzo (Ita) Italy                             
70 Giada Borgato (Ita) Selle Italia-Ghezzi                 
71 Rebecca Much (USA) US National Team                     
72 Sigrid Corneo (Slo) Selle Italia-Ghezzi                 
73 Monica Holler (Swe) Bigla Cycling Team                  
74 Patricia Schwager (Swi) Cervelo Test Team               
75 Veronica Andreasson (Swe) Bigla Cycling Team            
76 Suzanne Van Veen (Ned) Team Leontien.nl                 
77 Silvia Valsecchi (Ita) Selle Italia-Ghezzi              
78 Mélanie Bravard (Fra) France                            
79 Regina Schleicher (Ger) Nürnberger Versicherung         
80 Loes Markerink (Ned) Team Flexpoint                     
81 Luise Keller (Ger) Team Columbia Women                  
82 Cashandra Slingerland (RSA) South Africa                
83 Iris Slappendel (Ned) Team Flexpoint                    
84 Marlijn Binnendijk (Ned) Team Leontien.nl               
85 Xiao Ling Luo (Chn) Giant Pro Cycling              15.11
 
Points classification
 
1 Kirsten Wild (Ned) Cervelo Test Team                   33 pts
2 Giorgia Bronzini (Ita) Italy                           32
3 Ellen Van Dijk (Ned) Team Columbia Women               25
4 Kirsty Broun (Aus) Australia                           23
5 Martine Bras (Ned) Selle Italia-Ghezzi                 21
6 Suzanne De Goede (Ned) Nürnberger Versicherung         19
7 Nicole Brändli (Swi) Bigla Cycling Team                17
8 Marina Jaunatre (Fra) France                           15
9 Mirjam Melchers-Van Poppel (Ned) Team Flexpoint        14
10 Loes Gunnewijk (Ned) Team Flexpoint                   14
11 Noemi Cantele (Ita) Bigla Cycling Team                10
12 Monique Van De Ree (Ned) Team Leontien.nl              9
13 Susanne Ljungskog (Swe) Team Flexpoint                 8
14 Brooke Miller (USA) US National Team                   7
15 Alessandra Borchi (Ita) Italy                          6
16 Regina Bruins (Ned) Cervelo Test Team                  5
17 Christina Becker (Ger) Nürnberger Versicherung         4
18 Katharine Carroll (USA) US National Team               3
19 Sarah Düster (Ger) Cervelo Test Team                   2
20 Chantal Beltman (Ned) Team Columbia Women              1
 
Young rider classification
 
1 Ellen Van Dijk (Ned) Team Columbia Women          2.26.17
2 Suzanne De Goede (Ned) Nürnberger Versicherung       0.10
3 Monique Van De Ree (Ned) Team Leontien.nl                
4 Regina Bruins (Ned) Cervelo Test Team                0.30
5 Trine Schmidt (Den) Team Flexpoint                   1.07
6 Lieselot Decroix (Bel) Cervelo Test Team             1.29
7 Agne Bagdonaviciute (Ltu) Selle Italia-Ghezzi            
8 Marit Huisman (Ned) Team Leontien.nl                     
9 Peta Mullens (Aus) Australia                             
10 Lang Meng (Chn) Giant Pro Cycling                  14.05
11 Xin Liu (Chn) Giant Pro Cycling                         
12 Chisako Harigai (Jpn) Japan                             
13 Mayuko Hagiwara (Jpn) Japan                             
14 Li Ping Zhang (Chn) Giant Pro Cycling                   
15 Eleonora Soldo (Ita) Italy                              
16 Pascale Schnider (Swi) Cervelo Test Team                
17 Lauren Kitchen (Aus) Australia                          
18 Fei Wang (Chn) Giant Pro Cycling                        
19 Cherise Taylor (RSA) South Africa                       
20 Kim Schoonbaert (Bel) Lotto-Belisol Ladiesteam          
21 Gloria Presti (Ita) Selle Italia-Ghezzi                 
22 Marta Tagliaferro (Ita) Italy                           
23 Jennifer Hohl (Swi) Bigla Cycling Team                  
24 Emilia Fahlin (Swe) Team Columbia Women                 
25 Grace Verbeke (Bel) Lotto-Belisol Ladiesteam            
26 Carlee Taylor (Aus) Australia                           
27 Alessia Massaccesi (Ita) Italy                          
28 Chantal Blaak (Ned) Team Leontien.nl                    
29 Lisa Brennauer (Ger) Nürnberger Versicherung            
30 Tiffany Cromwell (Aus) Australia                        
31 Linda Villumsen (Den) Team Columbia Women               
32 Tatiana Guderzo (Ita) Italy                             
33 Giada Borgato (Ita) Selle Italia-Ghezzi                 
34 Rebecca Much (USA) US National Team                     
35 Monica Holler (Swe) Bigla Cycling Team                  
36 Suzanne Van Veen (Ned) Team Leontien.nl                 
37 Mélanie Bravard (Fra) France                            
38 Loes Markerink (Ned) Team Flexpoint                     
39 Luise Keller (Ger) Team Columbia Women                  
40 Iris Slappendel (Ned) Team Flexpoint                    
41 Marlijn Binnendijk (Ned) Team Leontien.nl               
42 Xiao Ling Luo (Chn) Giant Pro Cycling              15.03
 
Teams classification
 
1 Team Flexpoint                                    7.19.21
2 Cervelo Test Team                                    0.36
3 Team Columbia Women                                  1.43
4 US National Team                                     1.56
5 Bigla Cycling Team                                  13.55
6 Italy                                               14.09
7 Nürnberger Versicherung                             14.15
8 Australia                                           15.08
9 France                                              15.14
10 Selle Italia-Ghezzi                                     
11 Team Leontien.Nl                                        
12 South Africa                                       30.54
13 Giant Pro Cycling                                  41.45
14 Japan                                                   
15 Lotto-Belisol Ladiesteam