Giro del Trentino - 2.1
Italy, April 22-25, 2009
2008 results Stage List Preview Start List Past winners
The Stages
Giro d'Italia hopefuls face final test in Trentino
By Peter Hymas
Stefano Garzelli, 2nd overall in 2008, is again a contender in Trentino
Photo ©: Roberto Bettini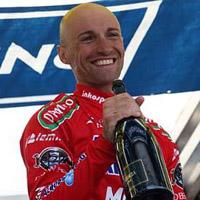 The 33rd edition of the Giro del Trentino, a race many Giro d'Italia contenders utilize as a final opportunity to fine-tune their fitness, begins on Wednesday in Torbole, Italy. Four former Giro d'Italia champions, Danilo Di Luca, Ivan Basso, Gilberto Simoni and Stefano Garzelli, will take part in the four-day event running from April 22 to April 25.
The 2008 Giro del Trentino champion, Vincenzo Nibali, will not be back to defend his title since he's currently competing in the Ardennes Classics for Liquigas. In fact, the race very likely will crown a new champion since only one rider on the start list, Gilberto Simoni, has a Giro del Trentino title in his palmarès.
While Nibali has not returned to northeast Italy to defend his title, the other two riders who finished on the 2008 podium, runner up Stefano Garzelli and third place finisher Domenico Pozzovivo, are back and eager to move up on the podium steps.
Garzelli won two stages in last year's race and missed overall victory by a slender 15 seconds. The Acqua & Sapone-Caffe Mokambo rider has shown good form earlier this season at Tirreno-Adriatico where he finished second overall.
Domenico Pozzovivo of the CSF Group - Navigare team has won only one race in his professional career, but it happened less than three weeks ago at the Settimana Ciclista Lombarda. He and his team of climbers will have to first limit their losses in the opening stage time trial, however, in order to potentially win overall.
"The main goal is trying to win one or more stages," said Giuseppe Lanzoni, CSF Group-Navigare manager. "The time trial will be quite a big obstacle to let us battle for the general classification, but there are a lot of climbs to regain the lost seconds. We're not giving up at all on going also for the overall win."
Danilo Di Luca would have preferred to prepare for the Giro d'Italia by racing the Ardennes Classics, but his LPR Brakes-Farnese Vini team was not granted invites to any of the three Dutch and Belgian events. Racing the Giro del Trentino, however, has proved fortuitous for previous Giro d'Italia winners. Gilberto Simoni and Damiano Cunego each won the Giro del Trentino before going on to win the Giro d'Italia in 2003 and 2004 respectively.
Di Luca's team recently dominated the Settimana Ciclista Lombarda and LPR Brakes-Farnese Vini will send a very similar lineup to the Giro del Trentino.
Ivan Basso arrives at the start line having just wrapped up a two week training camp on the Spanish island of Tenerife with his Liquigas teammates. Upon finishing the Giro del Trentino on Saturday he'll fly to Belgium to compete on Sunday's Liège-Bastogne-Liège. Basso is making a final push for his Giro d'Italia fitness and isn't sure how he'll fare.
"Trentino and Liège back-to-back will be a huge demand on my energy, but I look forward to it because it is a good physical test, to put my body under the stress of day-to-day racing," said Basso in his diary. "Will I win a stage in Trentino? It is hard to say if I will be one of the favourites, I have just come back down from altitude and so it is an unknown."
The evergreen Gilberto Simoni cannot be counted out to win a second Giro del Trentino while Lampre's Marzio Bruseghin, third place finisher in the 2008 Giro d'Italia, should prove to be a contender as well.
The Giro del Trentino has traditionally been dominated by Italians with only one foreigner, the Mexican Julio Alberto Perez Cuapio, winning in the past 11 years. There are several foreign riders, however, who could emerge victorious at the race's conclusion in Pejo Fonti on Saturday.
Astana brings Janez Brajkovic, Andreas Klöden and Yaroslav Popovych, each of whom could pull off a good performance in a race featuring a 16.3 kilometre time trial and three hilly stages.
Barloworld's Colombian climber Mauricio Soler could fair well on the numerous ascents in the road stages, each of which ends with an uphill finish.
The Spanish team Xacobeo Galicia, eager to show its wildcard invite to the Giro d'Italia was well-deserved, should also animate the race.
Start list
Liquigas                                            Astana
 
1 Ivan Basso (Ita)                                  11 Janez Brajkovic (Slo)
2 Franco Pellizotti (Ita)                           12 Valeriy Dmitriyev (Kaz)
3 Andrea Noe (Ita)                                  13 Roman Kireyev (Kaz)
4 Vladimir Miholjevic (Cro)                         14 Andreas Klöden (Ger)
5 Daniel Oss (Ita)                                  15 Yaroslav Popovych (Ukr)
6 Sylvester Szmyd (Pol)                             16 Bolat Raimbekov (Kaz)
7 Oliver Zaugg (Swi)                                17 Sergey Renev (Kaz)
8 Kjell Carlström (Fin)                             18 Andrey Zeits (Kaz)
 
Lampre - N.G.C.                                     AG2R La Mondiale
 
21 Marzio Bruseghin (Ita)                           31 Guillaume Bonnafond (Fra)
22 Pietro Caucchioli (Ita)                          32 Cyril Dessel (Fra)
23 Mauro Da Dalto (Ita)                             33 Biel Kadri (Fra)
24 Francesco Tomei (Ita)                            34 Yuriy Krivtsov (Ukr)
25 Massimiliano Mori (Ita)                          35 John Gadret (Fra)
26 Marco Marzano (Ita)                              36 Blaise Sonnery (Fra)
27 Volodymyr Zagorodny (Ukr)                        37 Ludovic Turpin (Fra)
28 Emanuele Bindi (Ita)                             38
 
LPR Brakes - Farnese Vini                           Acqua & Sapone - Caffe Mokambo
 
41 Marco Cattaneo (Ita)                             51 Ruggero Marzoli (Ita)
42 Gabriele Bosisio (Ita)                           52 Massimo Codol (Ita)
43 Danilo Di Luca (Ita)                             53 Francesco Failli (Ita)
44 Giairo Ermeti (Ita)                              54 Stefano Garzelli (Ita)
45 Riccardo Chiarini (Ita)                          55 Andrea Masciarelli (Ita)
46 Alessandro Spezialetti (Ita)                     56 Francesco Masciarelli (Ita)
47 Jure Golcer (Slo)                                57 Luca Pierfelici (Ita)
48 Matteo Montaguti (Ita)                           58 Didac Ortega (Spa)
 
Serramenti PVC Diquigiovanni-Androni Giocattoli     ISD
 
61 Gilberto Simoni (Ita)                            71 Giovanni Visconti (Ita)
62 Luca Celli (Ita)                                 72 Andriy Grivko (Ukr)
63 Thomas Bertolini (Ita)                           73 Dmytro Grabovskyy (Ukr)
64 Francesco De Bonis (Ita)                         74 Emanuele Vona (Ita)
65 Leonardo Moser (Ita)                             75 Dario David Cioni (Ita)
66 Carlos José Ochoa (Ven)                          76 Ruslan Pidgorny (Ukr)
67 Jackson Rodriguez (Ven)                          77 Leonardo Scarselli (Ita)
68 Fabio Taborre (Ita)                              78 Bartosz Huzarski (Pol)
 
Ceramica Flaminia - Bossini Docce                   Barloworld
 
81 Filippo Simeoni (Ita)                            91 Diego Caccia (Ita)
82 Giampaolo Caruso (Ita)                           92 Robert Hunter (RSA)
83 Massimiliano Gentili (Ita)                       93 Francesco Bellotti (Ita)
84 Adriano Angeloni (Ita)                           94 Michele Merlo (Ita)
85 Dainius Kairelis (Ltu)                           95
86 Cristiano Fumagalli (Ita)                        96 Thomas Geraint (GBr)
87 Vladimir Duma (Ukr)                              97
88 Luigi Sestili (Ita)                              98
 
Amica Chips - Knauf                                 CSF Group - Navigare
 
101 Leonardo Bertagnolli (Ita)                      111 Domenico Pozzovivo (Ita)
102 Santo Anza (Ita)                                112 Fortunato Baliani (Ita)
103 Rafael Infantino (Col)                          113 Alessandro Bisolti (Ita)
104 Matija Kvasina (Cro)                            114 Marco Frapporti (Ita)
105 Eddy Ratti (Ita)                                115 Simone Stortoni (Ita)
106 Branislau Samoilau (Blr)                        116 Enrico Zen (Ita)
107 Vincenzo Garofolo (Ita)                         117 Federico Canuti (Ita)
108 Robert Kiserlovski (Cro)                        118 NARDECCHIA Umberti 
 
Adria Mobil                                         PSK Whirlpool - Author
 
121 Tomaz Nose (Slo)                                131 Petr Bencik (Cze)
122 Kristjan Fajt (Slo)                             132 Martin Mares (Cze)
123 Miha Svab (Slo)                                 133 Tomas Buchacek (Cze)
124 Robert Vrecer (Slo)                             134 Patrik Sinkewitz (Ger)
125                                                 135 Leopold Konig (Cze)
126 Alessio Signego (Ita)                           136 Jakub Danacik (Cze)
127 Jure Zagar (Slo)                                137 Frantisek Kloucek (Cze)
128 Matej Gnezda (Slo)                              138 Martin Hebik (Cze)
 
ELK Haus                                            Vorarlberg - Corratec
 
141 Stefan Denifl (Aut)                             151 Alexander Gufler (Ita)
142 Martin Schöffmann (Aut)                         152 Silvère Ackermann (Swi)
143 Jochen Summer (Aut)                             153 Matic Strgar (Slo)
144 Harald Totschnig (Aut)                          154 Alexander Egger (Aut)
145 Matthias Brandle (Aut)                          155 Elias Schmaeh (Swi)
146 Bjorn Thurau (Ger)                              156 Reto Hollenstein (Swi)
147 Harald Starzengruber (Aut)                      157
148 Georg Lauscha (Aut)                             158 René Weissinger (Ger)
 
Miche - Silver Cross - Selle Italia                 Xacobeo Galicia
 
161 Massimo Giunti (Ita)                            171 Alberto Fernandez (Spa)
162 Andrea Moletta (Ita)                            172 Serafin Martinez (Spa)
163 Pasquale Muto (Ita)                             173 Juan Francisco Mouron (Spa)
164 Przemyslaw Niemiec (Pol)                        174 Alejandro Paleo (Spa)
165 Edwin Carvajal Jaramillo (Col)                  175 Marcos Garcia (Spa)
166 Pierpaolo Tondo (Ita)                           176 David Herrero (Spa)
167 Marino Palandri (Ita)                           177 Carlos Castano (Spa)
168 Krzysztof Szczawinski (Pol)                     178 Iban Mayoz  (Spa)
 
Carmiooro - A-Style                                 Centri della Calzatura
 
181 Aristide Ratti (Ita)                            191 Artur Krol (Pol)
182 Sergio Pardilla Bellon (Spa)                    192 Yauhen Sobal (Blr)
183 Eric Berthou (Fra)                              193 Daniele Callegarin (Ita)
184 Sebastien Fournet Fayard (Fra)                  194 Miguel Angel Rubiano Chavez (Col)
185 Francesco Tizza (Ita)                           195 Alain Van Der Velde (Ned)
186 Daniele Colli (Ita)                             196 Luca Fioretti (Ita)
187 Diego Alejandro Tamayo Martinez (Col)           197 Luca Zanasca (Ita)
188 Fabio Terrenzio (Ita)                           198 Dmitri Nikandrov (Rus)
 
Betonexpressz 2000 - Limonta                        
 
201 Donato Cannone (Ita)                            
202 Walter Proch (Ita)                              
203 Antonio Quadranti (Ita)                         
204 Istvan Cziraki (Hun)                            
205 Marco Carletti (Ita)                            
206 Raivis Belohvosciks (Lat)                       
207 Roberto Antonio Richeze (Arg)                   
208 Stefan Cohnen (Ned)                             
                        

Past winners
2008 Vincenzo Nibali          Stefano Garzelli          Domenico Pozzovivo
2007 Damiano Cunego (Ita)     Michele Scarponi (Ita)    Luca Mazzanti (Ita)
2006 Damiano Cunego           Luca Mazzanti             Eddy Ratti
2005 J. A. Perez Cuapio       Evgeni Petrov             Sergio Ghisalberti
2004 Damiano Cunego           Jure Golcer               Gilberto Simoni 
2003 Gilberto Simoni          Stefano Garzelli          Tadej Valjavec
2002 Francesco Casagrande     Julio A. P. Cuapio        Gilberto Simoni
2001 Francesco Casagrande     Leonardo Piepoli          Raimondas Rumsas
2000 Simone Borgheresi        Niklas Axelsson           Paolo Savoldelli
1999 Paolo Savoldelli         Gilberto Simoni           Marco Pantani
1998 Paolo Savoldelli         Dario Frigo               Francesco Casagrande
1997 Luc Leblanc              Pavel Tonkov              Leonardo Piepoli
1996 Wladimir Belli           Enrico Zaina              Nelson Rodriguez
1995 Heinz Imboden            Mariano Piccoli           Francesco Frattini
1994 Moreno Argentin          Evgeni Berzin             Francesco Casagrande
1993 Maurizio Fondriest       Claudio Chiappucci        Leonardo Sierra
1992 Claudio Chiappucci       Roberto Conti             Zenon Jaskula
1991 Leonardo Sierra          Massimiliano Lelli        Stephen Hodge
1990 Gianni Bugno             Piotr Ugrumov             Leonardo Sierra
1989 Mauro Santaromita        Claudio Chiappucci        Luca Gelfi
1988 Urs Zimmerman            Toni Rominger             Helmut Wechselberger
1987 Claudio Corti            G.B.Baronchell            Toni Rominger
1986 Carrera Jeans            Del Tongo                 Atala-Ofmega *
1985 Harald Maier             Silvano Contini
1984 Franco Chioccioli        Emanuele Bombini
1983 Francesco Moser          Bruno Leali
1982 Giuseppe Saronni
1981 Roberto Visentini
1980 Francesco Moser
1979 Knut Knudsen
1963 Guido De Rosso
1962 Enzo Moser
* In 1986 the event was a teams competition called the "Coppa Italia"
 
Past winners by Mario Stiehl, www.world-of-cycling.com