Mersey Valley Tour - NE
Tasmania, Australia, April 11-13, 2009
Main Page Results Overall standings Previous Stage
Stage 3 - April 13: Road race, 88.9 km/115.9 km
Praties pick-up a victory
By David Priestley
Dylan Newell, Nathan Earle and Tim Roe on their way
Photo ©: David Priestley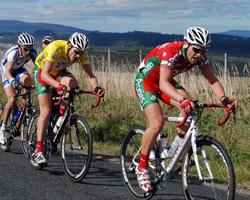 Praties has started the 2009 National Road Series the way it left off last year, by winning the opening race, the Mersey Valley Tour. The Tasmania-based team left no stone unturned on the final day's stage, sending the whole team to the front of the Elite Men's field to chase down any attempted breakaways.
Team Manager Steve Price paid tribute to his riders following Dylan Newell's overall win, which gave the team its third win in four years at the event.
"This tour is a great start to the NRS, it's a fantastic course, primarily a climber's course," he said. "It's a real rider's course, we're primarily a climbing team, so we do well here and we also like the Canberra Tour."
Newell had finished second last year and came back to this year's event determined to go one better, he paid tribute to his teammates and the volunteers and club officials. "The race is a great start to the NRS and I'm looking forward to the next race in the Series, the Canberra tour," he said.
In the U19 Men's race Western Australia's Luke Durbridge answered all attacks as he had done since donning the yellow jersey after the opening time trial. He didn't worry too much about a breakaway group that contained several riders, who were all well down on general classification, so it was Michael Hepburn soloing across the line for victory on the downhill run into Railton ahead of teammate Adam Blake.
The crash scene only four kilometres
Photo ©: David Priestley

Following her fall in the rain on the second stage, Kathy Watt didn't start the Elite women's race on stage three after reportedly receiving 11 stitches to her leg wounds. Bronwyn Ryan retained her overall lead in the women's category after the third stage.
The women's race was marred by a crash involving eight or so riders only a few kilometres from the start in Railton. The most seriously injured was Queensland's Nikolina Orlic, who was taken to hospital with a broken collarbone and fears of possible spinal injuries. Tasmanian Emma Smith was taken to hospital with facial cuts and concerns about a broken jaw, while other riders were treated for various cuts and abrasions.
Under 19 women's rider Amy Cure continued her blitz on debut at the event by winning her third stage and taking the overall prize, and Queen of the Mountains prize. Second place overall went to Victorian Kendelle Hodges with WA's Melissa Hoskins third.
Photography
For a thumbnail gallery of these images, click here
Images by David Priestley
Results
Elite/U23 men
 
1 Timothy Roe              2.53.54
3 Nathan Earle                    
5 Dylan Newell                    
2 John Anderson               0.20
4 Will Clarke                     
6 Alastair Loutit                 
7 Jai Crawford                    
8 Daniel Braunsteins              
10 Ben Grieve-Johnson             
9 Ben Dyball                  0.55
12 Michael England            1.34
13 Cameron Jennings               
11 Cameron Hughes             2.39
14 Steven Robb                    
16 Craig Mccartney                
15 Ben Grenda                 4.21
17 Tom Robinson                   
18 Peter Ladd                     
20 Joshua Chugg               9.09
19 Kane Walker                9.19
21 David Cripps              12.46
22 Kyle Marwood                   
23 Stuart Grimsey                 
24 Ben Mather                     
25 Benjamin Hill                  
26 Cody Stevenson                 
27 Brodie Talbot                  
28 James Ibrahim                  
29 Samuel Layzell                 
30 Peter Smith                    
31 Silas Fisher                   
32 Danny Pulbrook                 
33 Doug Hagger                    
34 Clay Murfet                    
35 Jeremy Hills                   
36 Jim Avens                      
37 Michael Smith                  
38 David Abraham                  
39 Matthew Mcdonagh               
40 Bradley Norton                 
41 Jonathon White                 
 
Under 19 men
 
1 Michael Hepburn          3.04.14
2 Thomas Richards             2.32
3 Jordan Kerby                3.24
4 Dale Parker                     
5 Jay Mccarthy                    
6 Stuart Smith                    
7 Luke Durbridge                  
8 Patrick Lane                    
9 Aaron Donnelly                  
10 Lachlan Morton                 
11 Matthew Benson                 
12 Michael Phelan                 
13 Sam Genge                      
14 Eric Sheppard                  
15 Joshua Prete                   
16 Andrew Smith                   
17 Mitchell Mulhern               
18 Adam Phelan                    
19 Ethan Kimmince                 
20 Jonathan Dunlop                
21 Sam Davis                  5.41
22 Bradley Robson             5.59
23 Luke Ockerby                   
24 Mitchell Lovelock-Fay      9.14
25 Damien Howson                  
26 Samuel Spokes                  
27 Joshua Taylor              9.20
28 Scott Mcphee              10.46
29 Thomas Pritchard               
30 Alex Carver                    
31 Matt Fortunato                 
32 Joel Stearnes                  
33 Edward Bissaker                
34 Oliver Kent-Spark              
35 Jordan Van Der Togt            
36 Kyle Hughes                    
37 Samuel Wood                    
38 Adam Blake                     
39 Jordan Sozzi                   
40 Sam Brett                      
41 Peter Loft                     
42 Patrick Drapac                 
43 Matt Connelly                  
44 Kevin Hawes                    
45 Brandon Stewart                
46 Trent Morey                    
47 Callan Walker                  
DNF Gerald Mcdonagh               
DNF Jackson Mccallum              
 
Elite women
 
1 Ginger Kidd              2.39.12
2 Bronwyn Ryan                    
3 Simone Grounds                  
4 Jenny Macpherson            2.14
5 Laura Luxford               2.42
6 Sarah-Jeanne Fraser         5.48
7 Chloe Mcconville                
8 Joanne Hogan                    
9 Susie Boer                      
10 Kate De Paeoli                 
11 Laura Meadley                  
12 Delphine Astier                
13 Felicity Wilson                
14 Susan Casey                    
15 Bethany Coleman            7.48
DNF Rebecca Domange               
DNF Nikolina Orlic                
DNS Kathryn Watt                  
DNS Tanya Saad                    
 
Under 19 women
 
1 Kendelle Hodges          2.41.26
2 Melissa Hoskins             0.28
3 Amy Cure                        
4 Alexandra Carle                 
5 Jasmin Hurikino             3.34
6 Jacqui Carle                    
7 Sarah Cure                      
8 Isabella King                   
9 Jessica Yeaton                  
10 Shanice Nitis                  
11 Harriett Kossman           5.34
DNF Kerianne Parfitt              
DNF Grace Meisel-Dennis           
DNF Emma Smith                    
DNF Elizabeth Nicholls            
 
Final classification
 
Elite/U23 men classification
 
1 Dylan Newell             6.20.58
2 John Anderson               0.22
3 Timothy Roe                 0.27
4 Will Clarke                 0.51
5 Nathan Earle                1.28
6 Alastair Loutit             1.30
7 Jai Crawford                1.39
8 Daniel Braunsteins          2.18
9 Ben Dyball                  3.33
10 Ben Grieve-Johnson             
11 Cameron Hughes             4.27
12 Michael England            4.30
13 Cameron Jennings           5.07
14 Steven Robb                6.09
15 Ben Grenda                 6.20
16 Craig Mccartney            6.37
17 Tom Robinson               8.30
18 Peter Ladd                 9.00
19 Kane Walker               13.01
20 Joshua Chugg              13.12
21 David Cripps              15.47
22 Kyle Marwood              16.05
23 Stuart Grimsey            16.19
24 Ben Mather                16.29
25 Benjamin Hill             16.42
26 Cody Stevenson            16.43
27 Brodie Talbot             17.01
28 James Ibrahim             17.08
29 Samuel Layzell            17.14
30 Peter Smith               17.24
31 Silas Fisher              17.44
32 Danny Pulbrook            18.18
33 Doug Hagger               19.27
34 Clay Murfet               20.01
35 Jeremy Hills              20.27
36 Jim Avens                 25.06
37 Michael Smith             27.24
38 David Abraham             27.29
39 Matthew Mcdonagh          27.53
40 Bradley Norton            28.06
41 Jonathon White            30.16
 
Under 19 men classification
 
1 Luke Durbridge           6.40.16
2 Dale Parker                 0.46
3 Aaron Donnelly              1.03
4 Jay Mccarthy                1.47
5 Lachlan Morton              2.56
6 Stuart Smith                3.21
7 Michael Phelan              5.27
8 Matthew Benson              5.36
9 Patrick Lane                6.42
10 Eric Sheppard              7.52
11 Edward Bissaker           15.16
12 Bradley Robson            10.41
13 Sam Genge                  8.26
14 Alex Carver               16.00
15 Luke Ockerby              11.17
16 Mitchell Lovelock-Fay     14.41
17 Scott Mcphee              16.16
18 Sam Davis                 11.20
19 Thomas Pritchard          16.27
20 Andrew Smith               9.28
21 Joshua Prete               9.49
22 Joel Stearnes             18.22
23 Joshua Taylor             17.04
24 Matt Fortunato            19.01
25 Jordan Van Der Togt       31.53
26 Thomas Richards           26.18
27 Michael Hepburn           24.30
28 Jordan Kerby              28.11
29 Adam Phelan               28.17
30 Mitchell Mulhern          28.52
31 Damien Howson             34.48
32 Oliver Kent-Spark         36.22
33 Kyle Hughes               38.59
34 Samuel Wood               39.18
35 Ethan Kimmince            32.28
36 Peter Loft                40.08
37 Matt Connelly             40.14
38 Jonathan Dunlop           32.57
39 Sam Brett                 40.32
40 Trent Morey               41.39
41 Kevin Hawes               42.15
42 Jordan Sozzi              42.16
43 Samuel Spokes             40.55
44 Brandon Stewart           42.47
45 Callan Walker             43.14
46 Adam Blake                43.24
47 Patrick Drapac            43.45
 
Elite women classification
 
1 Bronwyn Ryan             5.24.12
2 Ginger Kidd                 1.59
3 Jenny Macpherson            4.02
4 Laura Luxford               4.36
5 Simone Grounds              5.31
6 Sarah-Jeanne Fraser         7.46
7 Chloe Mcconville            8.22
8 Joanne Hogan                8.32
9 Susie Boer                  9.03
10 Kate De Paeoli            12.28
11 Laura Meadley             16.07
12 Delphine Astier           20.12
13 Felicity Wilson           25.19
14 Susan Casey               41.18
15 Bethany Coleman           44.59
 
Under 19 women classification
 
1 Amy Cure                 5.26.40
2 Kendelle Hodges             1.58
3 Melissa Hoskins             2.25
4 Jasmin Hurikino             5.26
5 Jacqui Carle                5.39
6 Alexandra Carle             8.07
7 Sarah Cure                  8.57
8 Isabella King              11.36
9 Jessica Yeaton             20.28
10 Shanice Nitis             26.14
11 Harriett Kossman          29.35