Jelajah Malaysia - 2.2
Malaysia, April 19-26, 2009
Main Page Results Overall standings Previous Stage Next Stage
Stage 2 - April 20: Ipoh - Sungai Petani, 192.7 km
Former champion Sohrabi fights back
Mehdi Sohrabi (Tabriz Petrochemical Team) leads
Photo ©: Jelajah Malaysia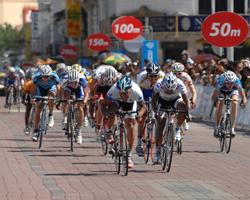 Mehdi Sohrabi (Tabriz Petrochemical), the 2007 Jelejah Malaysia champion, demonstrated his power as he claimed victory on today's 192.7km stage two. The 28-year-old Iranian retains the green sprinter's jersey having accumulated 15 points.
"The race today was hard as it was quite a distance," he said. "I kept the jersey today and tomorrow it is up to my team's climber to keep it."
Japan's Makoto Iijima (Bridgestone Anchor) managed to keep the yellow jersey as best overall rider, after finishing in the leading group.
The race leaders cross a railroad
Photo ©: Jelajah Malaysia

"The breakaway today helped me to finish in a comfortable position to keep the yellow jersey. I am really happy with today's race," he said.
Anuar Manan (Azad University) kept the white jersey as the best local rider after finishing in second place behind Mehdi.
"Today's race was quite difficult as I was left behind during the breakaway at kilometre 50," he said. "However I managed to catch up before the second sprint zone and gained points. Today's win of the white jersey is just a bonus for me as I expect it will change hands tomorrow to the climbers."
Anuar managed to accumulate 15 points in the sprint classification, to equal Mehdi, but missed the chance to claim the sprint jersey as Mehdi finished first.
Photography
For a thumbnail gallery of these images, click here
Images by Jelajah Malaysia
Results
1 Mehdi Sohrabi (IRI) Tabriz Petrochemical Team                4.36.09 (41.869 km/h)
2 Anuar Manan (Mas) Azad University Continental Team                  
3 Rafai Chtioui (Tun) Doha Team                                       
4 Matthew Rice (Aus) Jelly Belly Cycling Team                         
5 Jai Crawford (Aus) Savings & Loans Cycling Team                     
6 David Mccann (Irl) Ride Sport Racing                                
7 Will Routley (Can) Jelly Belly Cycling Team                         
8 James Spragg (GBr) Trek - Marco Polo Cycling Team                   
9 Brad Hall (Aus) Tinelli Colossi Cycling Team                        
10 Rastra Patria (Ina) Indonesia                                      
11 Suhardi Hassan (Mas) Malaysia                                      
12 Hari Fitrianto (Ina) Polygon Sweet Nice Team                       
13 Mohd Najmee Wan Mohd (Mas) Malaysia                                
14 Scott Lyttle (NZl) Ride Sport Racing                               
15 Makoto Iijima (Jpn) Team Bridgestone Anchor                        
16 Yuzuru Suzuki (Jpn) Shimano Racing Team                            
17 Taiji Nishitani (Jpn) Aisan Racing Team                            
18 Hossein Askari (IRI) Tabriz Petrochemical Team                     
19 Timothy Roe (Aus) Savings & Loans Cycling Team                     
20 Eugen Wacker (Kgz) Azad University Continental Team                
21 Tonton Susanto (Ina) Letua Cycling Team                            
22 Ghader Mizbani (IRI) Tabriz Petrochemical Team                     
23 Mohd. Shahrul Mat Amin (Mas) Terengganu Toshiba Bike Labz          
24 Abbas Saeiditanha (IRI) Azad University Continental Team           
25 Masamichi Yamamoto (Jpn) Team Bridgestone Anchor                   
26 Ryan Ariehan (Ina) Letua Cycling Team                          0.09
27 Okart Bualoi (Tha) Thailand                                    0.14
28 Masaru Fukuhara (Jpn) Team Bridgestone Anchor                  0.16
29 Mohd. Jasmin Roslan (Mas) Terengganu Toshiba Bike Labz        14.27
30 Iwan Setiawan (Ina) Indonesia                                 14.28
31 Reiner Clauna (Phi) Team Jazysports Beacon Philippines             
32 Prajak Mahawong (Tha) Thailand                                     
33 Ahmad Fallanie Ali (Mas) Malaysia                             14.30
34 Mohd. Saiful Anuar Aziz (Mas) Terengganu Toshiba Bike Labz         
35 Mohd. Zamri Salleh (Mas) Malaysian Armed Forces               16.27
36 Mohd. Harrif Salleh (Mas) Terengganu Toshiba Bike Labz             
37 Farid Belhani (Alg) Doha Team                                      
38 Muhammad Faris Abdul Razak (Mas) Malaysia                          
39 Deon Locke (Aus) Ride Sport Racing                                 
40 Parno (Ina) Indonesia                                              
41 Nattaphon Jeebtahwora (Tha) Thailand                               
42 Ezzedine Lagab (Alg) Doha Team                                     
43 Kris Koke (Aus) Ride Sport Racing                                  
44 Yen Lin Huang (Tpe) Giant Asia Racing Team                         
45 Hamid Shiriseysan (IRI) Azad University Continental Team           
46 Mohd. Nor Rizuan Zainal (Mas) Malaysian Armed Forces               
47 Genta Nakamura (Jpn) Trek - Marco Polo Cycling Team                
48 Wei Yi Chang (Tpe) Giant Asia Racing Team                          
49 Agung Ali Sahbana (Ina) Indonesia                                  
50 Mohd. Saufi Mat Senan (Mas) Terengganu Toshiba Bike Labz           
51 Abdelmalek Madani (Alg) Doha Team                                  
52 Heksa Priya Prasetya (Ina) Indonesia                               
53 Weng Kin Thum (Mas) Malaysia B                                     
54 Mohd. Fadhli Anwar Fauzi (Mas) Malaysian Armed Forces              
55 Muhamad Firdaus Daud (Mas) Malaysia B                              
56 Jimmy Pranata (Ina) Polygon Sweet Nice Team                        
57 Lars Pria (Rom) Tinelli Colossi Cycling Team                       
58 Herwin Jaya (Ina) Polygon Sweet Nice Team                          
59 Shaun Mccarthy (Aus) Ride Sport Racing                             
60 Muhamad Hazwan Azeman (Mas) Malaysian Armed Forces                 
61 Andrey Mizurov (Kaz) Tabriz Petrochemical Team                     
62 Aymen Ben Hassine (Tun) Doha Team                                  
63 Mohd. Shafrul Afiza Fauzian (Mas) Malaysian Armed Forces           
64 Samai (Ina) Letua Cycling Team                                     
65 Edi Purnomo (Ina) Indonesia                                        
66 Yusrizal Usoff (Mas) Malaysia B                                    
67 Mohd.Akmal Amrun (Mas) Malaysia B                                  
68 Sarham Miswan (Mas) Malaysia B                                     
69 Emelito Atilano (Phi) Team Jazysports Beacon Philippines           
70 Muhammad Rauf Misbah (Mas) Malaysia                                
71 Ji Wen Low (Sin) Letua Cycling Team                                
72 Sherwin Carrera (Phi) Team Jazysports Beacon Philippines           
73 Renato Sambrano (Phi) Team Jazysports Beacon Philippines           
74 Irish Valenzuela (Phi) Team Jazysports Beacon Philippines          
75 William Dickeson (Aus) Savings & Loans Cycling Team                
76 David Ayre (NZl) Tinelli Colossi Cycling Team                      
77 Chun Te Chiang (Tpe) Giant Asia Racing Team                        
78 Hidenori Nodera (Jpn) Shimano Racing Team                          
79 David Pell (Aus) Savings & Loans Cycling Team                      
80 Yoshinori Iino (Jpn) Shimano Racing Team                           
81 Joel Pearson (Aus) Savings & Loans Cycling Team                    
82 Shinpei Fukuda (Jpn) Team Bridgestone Anchor                       
83 Phanupan Koolrungrueangkit (Tha) Thailand                          
84 Masahiro Shinagawa (Jpn) Aisan Racing Team                         
85 Jatupoom Lekawat (Tha) Thailand                                    
86 Tomoya Kano (Jpn) Shimano Racing Team                              
87 Muhamad Zamani Mustarudin (Mas) Malaysia B                         
88 Hossein Jahanbanian (IRI) Tabriz Petrochemical Team                
89 Mohd. Razif Mohd. Salleh (Mas) Letua Cycling Team                  
90 Mirsamad Poorseiedi (IRI) Tabriz Petrochemical Team                
91 Takumi Beppu (Jpn) Aisan Racing Team                               
92 Yoshiaki Shimada (Jpn) Team Bridgestone Anchor                     
93 Kuei Hsiang Peng (Tpe) Giant Asia Racing Team                      
94 Yong Li Ng (Mas) Letua Cycling Team                                
95 Bernard Van Ulden (USA) Jelly Belly Cycling Team                   
96 Michael Naylor (NZl) Tinelli Colossi Cycling Team                  
97 Sho Aikawa (Jpn) Team Bridgestone Anchor                           
98 Takayuki Abe (Jpn) Shimano Racing Team                             
99 Nathan Dahlberg (NZl) Tinelli Colossi Cycling Team                 
100 Eric Van De Meent (Ned) Trek - Marco Polo Cycling Team            
101 Steven Robb (Aus) Savings & Loans Cycling Team                    
102 Kiel Reijnen (USA) Jelly Belly Cycling Team                       
103 Yandong Xing (Chn) Trek - Marco Polo Cycling Team                 
104 Brad Huff (USA) Jelly Belly Cycling Team                          
105 Muhammad Fauzan Ahmad Lutfi (Mas) Malaysia                        
106 Krasnikov Roman (Rus) Polygon Sweet Nice Team                     
107 Matthew Crane (USA) Jelly Belly Cycling Team                      
108 Mohd. Nur Umardi Rosli (Mas) Terengganu Toshiba Bike Labz         
109 Yusuke Hatanaka (Jpn) Shimano Racing Team                         
110 Amir Zargari (IRI) Azad University Continental Team               
111 Hossein Nateghi (IRI) Azad University Continental Team            
112 Ericson Obosa (Phi) Team Jazysports Beacon Philippines            
113 Takeaki Ayabe (Jpn) Aisan Racing Team                             
114 Kenichi Suzuki (Jpn) Aisan Racing Team                            
115 Sea Keong Loh (Mas) Trek - Marco Polo Cycling Team                
116 Ahmad Haidar Anuawar (Mas) Trek - Marco Polo Cycling Team         
117 Sergey Kudentsov (Rus) Polygon Sweet Nice Team                    
118 James Langedyk (Aus) Tinelli Colossi Cycling Team            22.35
HD Fadi Shekhoni (Syr) Doha Team                                 48.54
DNF Trent Stevenson (Aus) Ride Sport Racing                           
DNS Kazuhiro Mori (Jpn) Aisan Racing Team                             
 
Sprints
 
Kuala Kangsar, 46.6km
1 Mehdi Sohrabi (IRI) Tabriz Petrochemical Team                      5 pts
2 Suhardi Hassan (Mas) Malaysia                                      3
3 Masaru Fukuhara (Jpn) Team Bridgestone Anchor                      2
4 Mohd. Shafrul Afiza Fauzian (Mas) Malaysian Armed Forces           1
                                                                      
Bagan Serai, 103.7km
1 Anuar Manan (Mas) Azad University Continental Team                 5 pts
2 Suhardi Hassan (Mas) Malaysia                                      3
3 Mehdi Sohrabi (IRI) Tabriz Petrochemical Team                      2
4 Masamichi Yamamoto (Jpn) Team Bridgestone Anchor                   1
                                                                      
Lunas, 159.0km
1 Mehdi Sohrabi (IRI) Tabriz Petrochemical Team                      5 pts
2 Anuar Manan (Mas) Azad University Continental Team                 3
3 David Mccann (Irl) Ride Sport Racing                               2
4 Ghader Mizbani (IRI) Tabriz Petrochemical Team                     1
 
Mountains
 
Larut Matang (Cat. 4) 59.8km
1 Suhardi Hassan (Mas) Malaysia                                      3 pts
2 Mehdi Sohrabi (IRI) Tabriz Petrochemical Team                      2
3 Amir Zargari (IRI) Azad University Continental Team                1
 
Malaysian riders
 
1 Anuar Manan (Mas) Azad University Continental Team           4.36.09
2 Suhardi Hassan (Mas) Malaysia                                       
3 Mohd Najmee Wan Mohd (Mas) Malaysia                                 
4 Mohd. Shahrul Mat Amin (Mas) Terengganu Toshiba Bike Labz           
5 Mohd. Jasmin Roslan (Mas) Terengganu Toshiba Bike Labz         14.27
6 Ahmad Fallanie Ali (Mas) Malaysia                              14.30
7 Mohd. Saiful Anuar Aziz (Mas) Terengganu Toshiba Bike Labz          
8 Mohd. Zamri Salleh (Mas) Malaysian Armed Forces                16.27
9 Mohd. Harrif Salleh (Mas) Terengganu Toshiba Bike Labz              
10 Muhammad Faris Abdul Razak (Mas) Malaysia                          
11 Mohd. Nor Rizuan Zainal (Mas) Malaysian Armed Forces               
12 Mohd. Saufi Mat Senan (Mas) Terengganu Toshiba Bike Labz           
13 Weng Kin Thum (Mas) Malaysia B                                     
14 Mohd. Fadhli Anwar Fauzi (Mas) Malaysian Armed Forces              
15 Muhamad Firdaus Daud (Mas) Malaysia B                              
16 Muhamad Hazwan Azeman (Mas) Malaysian Armed Forces                 
17 Mohd. Shafrul Afiza Fauzian (Mas) Malaysian Armed Forces           
18 Yusrizal Usoff (Mas) Malaysia B                                    
19 Mohd.Akmal Amrun (Mas) Malaysia B                                  
20 Sarham Miswan (Mas) Malaysia B                                     
21 Muhammad Rauf Misbah (Mas) Malaysia                                
22 Muhamad Zamani Mustarudin (Mas) Malaysia B                         
23 Mohd. Razif Mohd. Salleh (Mas) Letua Cycling Team                  
24 Yong Li Ng (Mas) Letua Cycling Team                                
25 Muhammad Fauzan Ahmad Lutfi (Mas) Malaysia                         
26 Mohd. Nur Umardi Rosli (Mas) Terengganu Toshiba Bike Labz          
27 Sea Keong Loh (Mas) Trek - Marco Polo Cycling Team                 
28 Ahmad Haidar Anuawar (Mas) Trek - Marco Polo Cycling Team          
 
Teams 
 
1 Tabriz Petrochemical Team                                   13.48.27
2 Azad University Continental Team                                    
3 Bridgestone Anchor                                              0.16
4 Malaysia                                                       14.30
5 Ride Sport Racing                                              16.27
6 Savings & Loan Cycling Team                                         
7 Jelly Belly Cycling Team                                            
8 Letua Cycling Team                                             16.36
9 Terengganu Toshiba Bike Labz                                   28.57
10 Indonesia                                                     30.55
11 Thailand                                                      31.09
12 Doha Team                                                     32.54
13 Polygon Sweetnice Team                                             
14 Tinelli Colossi Cycling Team                                       
15 Trek Marco Polo Cycling Team                                       
16 Shimano Racing Team                                                
17 Aisan Racing Team                                                  
18 Team Jazysports Beacon Philippines                            47.22
19 Malaysian Armed Forces                                        49.21
20 Giant Asia Racing Team                                             
21 Malaysia B                                                         
                                                                      
Malaysian teams
 
1 Malaysia                                                    14.02.57
2 Letua Cycling Team                                              2.06
3 Terengganu Toshiba Bike Labz                                   14.27
4 Malaysian Armed Forces                                         34.51
5 Malaysia B                                                          
 
General classification after stage 2
 
1 Makoto Iijima (Jpn) Team Bridgestone Anchor                  8.35.52
2 Mehdi Sohrabi (IRI) Tabriz Petrochemical Team                   0.27
3 Anuar Manan (Mas) Azad University Continental Team              0.31
4 Suhardi Hassan (Mas) Malaysia                                   0.41
5 Rafai Chtioui (Tun) Doha Team                                   0.42
6 David Mccann (Irl) Ride Sport Racing                            0.45
7 Matthew Rice (Aus) Jelly Belly Cycling Team                     0.46
8 Masamichi Yamamoto (Jpn) Team Bridgestone Anchor                    
9 Rastra Patria (Ina) Indonesia                                       
10 Yuzuru Suzuki (Jpn) Shimano Racing Team                            
11 Mohd Najmee Wan Mohd (Mas) Malaysia                                
12 Jai Crawford (Aus) Savings & Loans Cycling Team                    
13 Scott Lyttle (NZl) Ride Sport Racing                               
14 James Spragg (GBr) Trek - Marco Polo Cycling Team                  
15 Brad Hall (Aus) Tinelli Colossi Cycling Team                       
16 Will Routley (Can) Jelly Belly Cycling Team                        
17 Hari Fitrianto (Ina) Polygon Sweet Nice Team                       
18 Hossein Askari (IRI) Tabriz Petrochemical Team                     
19 Mohd. Shahrul Mat Amin (Mas) Terengganu Toshiba Bike Labz          
20 Eugen Wacker (Kgz) Azad University Continental Team                
21 Timothy Roe (Aus) Savings & Loans Cycling Team                     
22 Abbas Saeiditanha (IRI) Azad University Continental Team           
23 Ghader Mizbani (IRI) Tabriz Petrochemical Team                     
24 Tonton Susanto (Ina) Letua Cycling Team                            
25 Taiji Nishitani (Jpn) Aisan Racing Team                            
26 Ryan Ariehan (Ina) Letua Cycling Team                          0.55
27 Okart Bualoi (Tha) Thailand                                    1.00
28 Masaru Fukuhara (Jpn) Team Bridgestone Anchor                  1.01
29 Mohd. Jasmin Roslan (Mas) Terengganu Toshiba Bike Labz        15.13
30 Iwan Setiawan (Ina) Indonesia                                 15.14
31 Prajak Mahawong (Tha) Thailand                                     
32 Reiner Clauna (Phi) Team Jazysports Beacon Philippines             
33 Mohd. Saiful Anuar Aziz (Mas) Terengganu Toshiba Bike Labz    15.16
34 Ahmad Fallanie Ali (Mas) Malaysia                                  
35 Amir Zargari (IRI) Azad University Continental Team           16.30
36 Ahmad Haidar Anuawar (Mas) Trek - Marco Polo Cycling Team     17.05
37 Hossein Nateghi (IRI) Azad University Continental Team        17.11
38 Mohd. Harrif Salleh (Mas) Terengganu Toshiba Bike Labz        17.13
39 Parno (Ina) Indonesia                                              
40 Mohd. Zamri Salleh (Mas) Malaysian Armed Forces                    
41 Farid Belhani (Alg) Doha Team                                      
42 Deon Locke (Aus) Ride Sport Racing                                 
43 Muhammad Faris Abdul Razak (Mas) Malaysia                          
44 Mohd.Akmal Amrun (Mas) Malaysia B                                  
45 Abdelmalek Madani (Alg) Doha Team                                  
46 Nattaphon Jeebtahwora (Tha) Thailand                               
47 Kris Koke (Aus) Ride Sport Racing                                  
48 Herwin Jaya (Ina) Polygon Sweet Nice Team                          
49 Wei Yi Chang (Tpe) Giant Asia Racing Team                          
50 Muhamad Firdaus Daud (Mas) Malaysia B                              
51 Aymen Ben Hassine (Tun) Doha Team                                  
52 Yen Lin Huang (Tpe) Giant Asia Racing Team                         
53 Hidenori Nodera (Jpn) Shimano Racing Team                          
54 Lars Pria (Rom) Tinelli Colossi Cycling Team                       
55 Mohd. Saufi Mat Senan (Mas) Terengganu Toshiba Bike Labz           
56 Agung Ali Sahbana (Ina) Indonesia                                  
57 Ezzedine Lagab (Alg) Doha Team                                     
58 Joel Pearson (Aus) Savings & Loans Cycling Team                    
59 Weng Kin Thum (Mas) Malaysia B                                     
60 Sarham Miswan (Mas) Malaysia B                                     
61 Kuei Hsiang Peng (Tpe) Giant Asia Racing Team                      
62 Hamid Shiriseysan (IRI) Azad University Continental Team           
63 Jimmy Pranata (Ina) Polygon Sweet Nice Team                        
64 Heksa Priya Prasetya (Ina) Indonesia                               
65 Muhamad Zamani Mustarudin (Mas) Malaysia B                         
66 Mohd. Shafrul Afiza Fauzian (Mas) Malaysian Armed Forces           
67 Andrey Mizurov (Kaz) Tabriz Petrochemical Team                     
68 Kiel Reijnen (USA) Jelly Belly Cycling Team                        
69 Yusuke Hatanaka (Jpn) Shimano Racing Team                          
70 Masahiro Shinagawa (Jpn) Aisan Racing Team                         
71 Chun Te Chiang (Tpe) Giant Asia Racing Team                        
72 Muhammad Rauf Misbah (Mas) Malaysia                                
73 Phanupan Koolrungrueangkit (Tha) Thailand                          
74 Edi Purnomo (Ina) Indonesia                                        
75 Mohd. Fadhli Anwar Fauzi (Mas) Malaysian Armed Forces              
76 Samai (Ina) Letua Cycling Team                                     
77 Mohd. Razif Mohd. Salleh (Mas) Letua Cycling Team                  
78 Mohd. Nor Rizuan Zainal (Mas) Malaysian Armed Forces               
79 Jatupoom Lekawat (Tha) Thailand                                    
80 Muhamad Hazwan Azeman (Mas) Malaysian Armed Forces                 
81 Sho Aikawa (Jpn) Team Bridgestone Anchor                           
82 Emelito Atilano (Phi) Team Jazysports Beacon Philippines           
83 Hossein Jahanbanian (IRI) Tabriz Petrochemical Team                
84 Genta Nakamura (Jpn) Trek - Marco Polo Cycling Team                
85 Krasnikov Roman (Rus) Polygon Sweet Nice Team                      
86 Ji Wen Low (Sin) Letua Cycling Team                                
87 William Dickeson (Aus) Savings & Loans Cycling Team                
88 Yoshinori Iino (Jpn) Shimano Racing Team                           
89 Yusrizal Usoff (Mas) Malaysia B                                    
90 Ericson Obosa (Phi) Team Jazysports Beacon Philippines             
91 Tomoya Kano (Jpn) Shimano Racing Team                              
92 David Pell (Aus) Savings & Loans Cycling Team                      
93 Steven Robb (Aus) Savings & Loans Cycling Team                     
94 Sherwin Carrera (Phi) Team Jazysports Beacon Philippines           
95 Yandong Xing (Chn) Trek - Marco Polo Cycling Team                  
96 Renato Sambrano (Phi) Team Jazysports Beacon Philippines           
97 David Ayre (NZl) Tinelli Colossi Cycling Team                      
98 Mohd. Nur Umardi Rosli (Mas) Terengganu Toshiba Bike Labz          
99 Mirsamad Poorseiedi (IRI) Tabriz Petrochemical Team                
100 Bernard Van Ulden (USA) Jelly Belly Cycling Team                  
101 Sergey Kudentsov (Rus) Polygon Sweet Nice Team                    
102 Yong Li Ng (Mas) Letua Cycling Team                               
103 Takeaki Ayabe (Jpn) Aisan Racing Team                             
104 Michael Naylor (NZl) Tinelli Colossi Cycling Team                 
105 Nathan Dahlberg (NZl) Tinelli Colossi Cycling Team                
106 Yoshiaki Shimada (Jpn) Team Bridgestone Anchor                    
107 Takumi Beppu (Jpn) Aisan Racing Team                              
108 Eric Van De Meent (Ned) Trek - Marco Polo Cycling Team            
109 Muhammad Fauzan Ahmad Lutfi (Mas) Malaysia                        
110 Sea Keong Loh (Mas) Trek - Marco Polo Cycling Team                
111 Kenichi Suzuki (Jpn) Aisan Racing Team                       17.32
112 Shinpei Fukuda (Jpn) Team Bridgestone Anchor                 17.36
113 James Langedyk (Aus) Tinelli Colossi Cycling Team            23.21
114 Shaun Mccarthy (Aus) Ride Sport Racing                       38.25
115 Irish Valenzuela (Phi) Team Jazysports Beacon Philippines         
116 Takayuki Abe (Jpn) Shimano Racing Team                            
117 Brad Huff (USA) Jelly Belly Cycling Team                          
118 Matthew Crane (USA) Jelly Belly Cycling Team                      
119 Shaun Mccarthy (Aus) Ride Sport Racing                            
120 Takayuki Abe (Jpn) Shimano Racing Team                            
121 Matthew Crane (USA) Jelly Belly Cycling Team                      
 
Sprint classification
 
1 Mehdi Sohrabi (IRI) Tabriz Petrochemical Team                     15 pts
2 Anuar Manan (Mas) Azad University Continental Team                15
3 Suhardi Hassan (Mas) Malaysia                                      8
4 Ahmad Haidar Anuawar (Mas) Trek - Marco Polo Cycling Team          7
5 Amir Zargari (IRI) Azad University Continental Team                5
6 Makoto Iijima (Jpn) Team Bridgestone Anchor                        3
7 Hossein Nateghi (IRI) Azad University Continental Team             3
8 David Mccann (Irl) Ride Sport Racing                               2
9 Masaru Fukuhara (Jpn) Team Bridgestone Anchor                      2
10 David Pell (Aus) Savings & Loans Cycling Team                     2
11 Masamichi Yamamoto (Jpn) Team Bridgestone Anchor                  1
12 Ghader Mizbani (IRI) Tabriz Petrochemical Team                    1
13 Herwin Jaya (Ina) Polygon Sweet Nice Team                         1
14 Mohd. Shafrul Afiza Fauzian (Mas) Malaysian Armed Forces          1
 
Mountains classification
 
1 Makoto Iijima (Jpn) Team Bridgestone Anchor                        3 pts
2 Suhardi Hassan (Mas) Malaysia                                      3
3 Amir Zargari (IRI) Azad University Continental Team                3
4 Mehdi Sohrabi (IRI) Tabriz Petrochemical Team                      2
5 Prajak Mahawong (Tha) Thailand                                     1
 
Malaysian rider classification
 
1 Ahmad Haidar Anuawar (Mas) Trek - Marco Polo Cycling Team    8.36.23
2 Anuar Manan (Mas) Azad University Continental Team              0.10
3 Suhardi Hassan (Mas) Malaysia                                   0.15
4 Mohd.Akmal Amrun (Mas) Malaysia B                                   
5 Mohd. Harrif Salleh (Mas) Terengganu Toshiba Bike Labz         14.42
6 Mohd. Zamri Salleh (Mas) Malaysian Armed Forces                14.45
7 Muhamad Zamani Mustarudin (Mas) Malaysia B                          
8 Muhammad Faris Abdul Razak (Mas) Malaysia                      16.34
9 Muhamad Firdaus Daud (Mas) Malaysia B                          16.42
10 Mohd Najmee Wan Mohd (Mas) Malaysia                                
11 Sarham Miswan (Mas) Malaysia B                                     
12 Mohd. Saiful Anuar Aziz (Mas) Terengganu Toshiba Bike Labz         
13 Mohd. Saufi Mat Senan (Mas) Terengganu Toshiba Bike Labz           
14 Mohd. Razif Mohd. Salleh (Mas) Letua Cycling Team                  
15 Weng Kin Thum (Mas) Malaysia B                                     
16 Mohd. Shafrul Afiza Fauzian (Mas) Malaysian Armed Forces           
17 Muhammad Rauf Misbah (Mas) Malaysia                                
18 Mohd. Shahrul Mat Amin (Mas) Terengganu Toshiba Bike Labz          
19 Mohd. Nur Umardi Rosli (Mas) Terengganu Toshiba Bike Labz          
20 Mohd. Fadhli Anwar Fauzi (Mas) Malaysian Armed Forces              
21 Mohd. Jasmin Roslan (Mas) Terengganu Toshiba Bike Labz             
22 Muhamad Hazwan Azeman (Mas) Malaysian Armed Forces                 
23 Ahmad Fallanie Ali (Mas) Malaysia                                  
24 Mohd. Nor Rizuan Zainal (Mas) Malaysian Armed Forces               
25 Yong Li Ng (Mas) Letua Cycling Team                                
26 Yusrizal Usoff (Mas) Malaysia B                                    
27 Muhammad Fauzan Ahmad Lutfi (Mas) Malaysia                         
28 Sea Keong Loh (Mas) Trek - Marco Polo Cycling Team                 
 
Teams classification
 
1 Azad University Continental Team                            25.49.20
2 Bridgestone Anchor                                              0.16
3 Tabriz Petrochemical Team                                       0.34
4 Malaysia                                                       15.04
5 Ride Sport Racing                                              17.01
6 Savings & Loan Cycling Team                                         
7 Jelly Belly Cycling Team                                            
8 Letua Cycling Team                                             17.10
9 Terengganu Toshiba Bike Labz                                   29.31
10 Indonesia                                                     31.29
11 Thailand                                                      31.43
12 Shimano Racing Team                                           33.28
13 Doha Team                                                          
14 Polygon Sweetnice Team                                             
15 Trek Marco Polo Cycling Team                                       
16 Tinelli Colossi Cycling Team                                       
17 Aisan Racing Team                                                  
18 Team Jazysports Beacon Philippines                            47.56
19 Malaysia B                                                    49.55
20 Giant Asia Racing Team                                             
21 Malaysian Armed Forces                                             
 
Malaysian team classification
 
1 Malaysia                                                    26.04.24
2 Letua Cycling Team                                              2.06
3 Terengganu Toshiba Bike Labz                                   14.27
4 Malaysia B                                                     34.51
5 Malaysian Armed Forces