Drentse 8 van Dwingeloo - 1.1W
Netherlands, April 10, 2009
2008 Results Results Past winners
Teutenberg wins her 10th race of the season
Ina-Yoko Teutenberg after her tenth win
Photo ©: Bert Geerts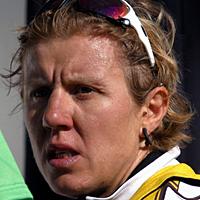 Ina-Yoko Teutenberg continued her recent run of success on Friday by winning the Drenthe 8 Van Dwindeloo.
Coming off wins at the Redlands Classic and and the Ronde Van Vlaanderen last Sunday, Teutenberg has had a successful begin to the 2009 season.
"If you told me a few weeks ago that I'd win 10 races by mid-April I would have laughed at you," Teutenberg joked. "But I had a really good off-season and it's nice to start the season like this."
Teutenberg also won Drenthe 8 Van Dwindeloo in 2008 but she said the course had changed.
"Today we had a cobbled section two km from the finish line, which made positioning at the end vital," she explained. "Normally the cobbles come with ten kilometres to go. The conditions were also very different in that it was hot for Holland and not windy enough to really split things up."
Attacks are flying
Photo ©: Bert Geerts

The 140km race saw a few breaks get away mid-race, but everything came back together for a bunch sprint at the end.
"When we hit the cobbles there was a good attack from Sarah Düster," said Teutenberg. "Nürnberger had to work pretty hard to close the gap and then they went on to do the lead-out for Regina [Schleicher]. She started to sprint at 200m to go and I squeezed through a gap to come around her with about 50 metres to go.
"I'm quite happy this race is over to be honest, said Teutenberg. "I was really tired today and the race was fast so I suffered a lot. But I'm happy with the result and now I will try to rest up for the World Cup on Monday."
Photography
For a thumbnail gallery of these images, click here
Images by DCP/Bert Geerts
Results - 137.7 km
1 Ina-Yoko Teutenberg (Ger) Team Columbia-Highroad          3.32.54 (38,806 km/h)
2 Regina Schleicher (Ger) Equipe Nürnberger Versicherung           
3 Kirsten Wild (Ned) Cervélo TestTeam                              
4 Rochelle Gilmore (Aus) Lotto-Belisol Ladiesteam                  
5 Monia Baccaille (Ita) Italian National Team
6 Tania Belvederesi (Ita) Gauss RDZ Ormu - Colnago                 
7 Julia Martisova (Rus) Gauss RDZ Ormu - Colnago                   
8 Martine Bras (Ned) Selle Italia Ghezzi                           
9 Loes Gunnewijk (Ned) Team Flexpoint                              
10 Trixi Worrack (Ger) Equipe Nürnberger Versicherung          0.04
11 Lieselot Decroix (Bel) Cervélo TestTeam                     0.06
12 Alessandra d'Ettorre (Ita) Top Girls Fassa Bortolo Raxy Line    
13 Tatiana Antoshina (Rus) Gauss RDZ Ormu - Colnago            0.07
14 Oxana Kozonchuk (Rus) Selle Italia Ghezzi                       
15 Sara Mustonen (Swe) Merida Ladies - WV Eemland                  
16 Sarah Düster (Ger) Cervélo TestTeam                             
17 Emma Johansson (Swe) Red Sun Cycling Team                   0.14
18 Monica Holler (Swe) Bigla Cycling Team                      0.19
19 Carmen McNellis (USA) S.C. Michela Fanini Record Rox            
20 Karin Aune (Swe) Fenixs                                         
21 Jacobien Kanis (Ned) Team Flexpoint                             
22 Catherine Hare Williamson (GBr) Fenixs                          
23 Alexandra Greenfield (GBr) Team Great Britain                   
24 Emanuela Azzini (Ita) Gauss RDZ Ormu - Colnago                  
25 Barbara Guarischi (Ita) Team Italy                              
26 Anne Arnouts (Bel) Red Sun Cycling Team                         
27 Veronica Andreasson (Swe) Bigla Cycling Team                    
28 Elke Gebhardt (Ger) DSB Bank - LTO                              
29 Elizabeth Armitstead (GBr) Lotto-Belisol Ladiesteam             
30 Annemiek Van Vleuten (Ned) DSB Bank - LTO                   0.24
31 Giada Borgato (Ita) Selle Italia Ghezzi                         
32 Janel Holcomb (USA) Team USA                                    
33 Kacey Manderfield (USA) Team USA                            0.26
34 Flavia M. Oliveira (USA) S.C. Michela Fanini Record Rox         
35 Inge Klep (Ned) Red Sun Cycling Team                            
36 Emilia Fahlin (Swe) Team Columbia-Highroad                         
37 Isabelle Söderberg (Swe) Team Hitec Products UCK                
38 Suzanne Kuiper (Ned) Restore Cycling Ladies                     
39 Kimberly Anderson (USA) Team Columbia-Highroad              0.29
40 Emma Mackie (Aus) Lotto-Belisol Ladiesteam                      
41 Katherine Bates (Aus) Team Columbia-Highroad                       
42 Chantal Blaak (Ned) Leontien.nl                                 
43 Josien Van Wingerden (Ned) Leontien.Nl                          
44 Janneke Kanis (Ned) DSB Bank - LTO                              
45 Linda Melanie Villumsen (Den) Team Columbia High Road Women     
46 Elisabeth Braam (Ned) Team Flexpoint                            
47 Alice Marmorini (Ita) Fenixs                                0.34
48 Denise Zuckermandel (Ger) Team Germany                      0.39
49 Bertine Spijkerman (Ned) DSB Bank - LTO                         
50 Marta Tagliaferro (Ita) Gauss RDZ Ormu - Colnago            0.40
51 Allessandra Borchi (Ita) Team Italy                             
52 Suzanne De Goede (Ned) Equipe Nürnberger Versicherung       0.43
53 Lucy Martin (GBr) Team Great Britain                            
54 Jennifer Fiori (Ita) Top Girls Fassa Bortolo Raxy Line      0.44
55 Jennifer Hohl (Swi) Bigla Cycling Team                          
56 Jessica Glasbergen (Ned) Merida Ladies - WV Eemland             
57 Dorleta Zorrilla Braceras (Spa) Bizkaia - Durango               
58 Eleonora Van Dijk (Ned) Team Columbia-Highroad                     
59 Kaytee Boyd (NZl) Selle Italia Ghezzi                       1.04
60 Eva Lutz (Ger) Equipe Nürnberger Versicherung               1.23
61 Valentina Scandolara (Ita) Team Italy                       1.26
62 Vera Koedooder (Ned) Lotto-Belisol Ladiesteam                   
63 Emma Silversides (GBr) Lotto-Belisol Ladiesteam                 
64 Anna Van Der Breggen (Ned) Team Flexpoint                       
65 Lea Davison (USA) Team USA                                      
66 Marissa Otten (Ned) Regio Zuid                              1.29
67 Catrine Josefsson (Swe) Bizkaia - Durango                       
68 Tina Liebig (Ger) DSB Bank - LTO                                
69 Andrea Bosman (Ned) Leontien.nl                                 
70 Lianne Wagtho (Ned) Leontien.nl                                 
71 Claudia Witteveen (Ned) Restore Cycling Ladies                  
72 Chiara Rozzini (Ita) Top Girls Fassa Bortolo Raxy Line          
73 Christina Becker (Ger) Equipe Nürnberger Versicherung           
74 Valentina Carretta (Ita) Top Girls Fassa Bortolo Raxy Line      
75 Danielle Bekkering (Ned) Team Hitec Products UCK                
76 Saskia Elemans (Ned) Team Flexpoint                         1.33
77 Olivia Koster (Ned) Jan Van Arckel                              
78 Anne Eversdijk (Ned) Ton Van Bemmelen Sports/Merida             
79 Mirjam Melchers-Van Poppel (Ned) Team Flexpoint                 
80 Latoya Brulee (Bel) Red Sun Cycling Team                        
81 Amber Neben (USA) Equipe Nürnberger Versicherung                
82 Esther Kortekaas (Ned) Restore Cycling Ladies                   
83 Laure Werner (Bel) Red Sun Cycling Team                     1.36
84 Kristin Sanders (USA) Team USA                              1.41
85 Hannah Welter (Ned) Ton Van Bemmelen Sports/Merida          1.45
86 Eleonora Suelotto (Ita) Gauss RDZ Ormu - Colnago            1.49
87 Suzanne Van Veen (Ned) Leontien.nl                          1.51
88 Jana Schemmer (Ger) Team Germany                            1.53
89 Wilma Korevaar (Ned) Jan Van Arckel                         2.15
90 Patricia Schwager (Swi) Cervélo TestTeam                    3.00
91 Katie Colclough (GBr) Team Great Britain                    3.05
92 Maddalena Dinato (Ita) Top Girls Fassa Bortolo Raxy Line    3.12
93 Sandra Dietl (Ger) Cervélo TestTeam                         3.34
94 Arenda Grimberg (Ned) Ton Van Bemmelen Sports/Merida            
95 Marlijn Binnendijk (Ned) Leontien.nl                            
96 Gema Pascual Torrecilla (Spa) Bizkaia - Durango             4.29
DNF Pascale Schnider (Swi) Cervélo TestTeam                        
DNF Josephine Groenveld (Ned) DSB Bank - LTO                       
DNF Bettina Kuhn (Swi) Bigla Cycling Team                          
DNF Laura Bozzolo (Ita) Selle Italia Ghezzi                        
DNF Luisa Tamanini (Ita) Selle Italia Ghezzi                       
DNF Martina Corazza (Ita) Gauss RDZ Ormu - Colnago                 
DNF Elise Van Hage (Ned) Red Sun Cycling Team                      
DNF Linn Torp (Nor) Lotto-Belisol Ladiesteam                       
DNF Suzie Godart (Lux) Fenixs                                      
DNF Alessia Quarta (Ita) S.C. Michela Fanini Record Rox            
DNF Rosane Kirch (Bra) S.C. Michela Fanini Record Rox              
DNF Carly Hibberd (Aus) S.C. Michela Fanini Record Rox             
DNF Giulia Lazzerini (Ita) S.C. Michela Fanini Record Rox          
DNF Serena Danesi (Ita) Top Girls Fassa Bortolo Raxy Line          
DNF Cristina Alcalde Huertanos (Spa) Bizkaia - Durango             
DNF Mireia Epelde Bikendi (Spa) Bizkaia - Durango                  
DNF Ana Garcia Antequera (Spa) Bizkaia - Durango                   
DNF Eyelien Bekkering (Ned) Team Hitec Products UCK                
DNF Tone Hatteland (Nor) Team Hitec Products UCK                   
DNF Karoline Haverstad (Nor) Team Hitec Products UCK               
DNF Margriet Helena Kloppenburg (Den) Team Hitec Products Uck      
DNF Stephanie Degle (Ger) Team Germany                             
DNF Laura Dittmann (Ger) Team Germany                              
DNF Giorgia Bronzini (Ita) Safi -Pasta Zara Titanedi               
DNF Alley Stacher (USA) Team USA                                   
DNF Amber Rais (USA) Team USA                                      
DNF Joanna Rowsell (GBr) Team Great Britain                        
DNF Sissy Van Alebeek (Ned) Ton Van Bemmelen Sports/Merida         
DNF Roxanne Knetemann (Ned) Ton Van Bemmelen Sports/Merida         
DNF Noortje De Kort (Ned) Restore Cycling Ladies                   
DNF Marielle Kerste (Ned) Restore Cycling Ladies                   
DNF Mirjam Van Dijk (Ned) Restore Cycling Ladies                   
DNF Alike Haanstra (Ned) Merida Ladies - WV Eemland                
DNF Catharina Mulders (Ned) Merida Ladies - WV Eemland             
DNF Rian Nijmeier (Ned) Merida Ladies - WV Eemland                 
DNF Bianca Van Den Hoek (Ned) Merida Ladies - WV Eemland           
DNF Judith Bloem (Ned) Jan Van Arckel                              
DNF Barbara De Ridder (Ned) Jan Van Arckel                         
DNF Petra Van Wijgerden (Ned) Jan Van Arckel                       
DNF Marieke Den Otter (Ned) Jan Van Arckel                         
DNF Daisy Vos (Ned) Regio Zuid                                     
DNF Sonja Boogaard (Ned) Regio Zuid                                
DNF Imke Hartogs (Ned) Regio Zuid                                  
DNF Joran Tromp (Ned) Regio Zuid                                   
DNF Anne Marieke Bruinsma (Ned) Regio Zuid                         
DNF Esra Tromp (Ned) Batavus Ladies Cycling Team                   
DNF Joan Boskamp (Ned) Batavus Ladies Cycling Team                 
DNF Ilona Meiring (Ned) Batavus Ladies Cycling Team                
DNF Adriene Snijder (Ned) Batavus Ladies Cycling Team              
DNF Anne De Wildt (Ned) Batavus Ladies Cycling Team                
DNF Anneloes Stoelwinder (Ned) Batavus Ladies Cycling Team

Points
 
1
1 Christina Becker (Ger) Equipe Nürnberger Versicherung           5 pts
2 Emanuela Azzini (Ita) Gauss RDZ Ormu - Colnago                  3
3 Saskia Elemans (Ned) Team Flexpoint                             1
 
2
1 Goede Suzanne De (Ned) Equipe Nürnberger Versicherung           5 pts
2 Rochelle Gilmore (Aus) Lotto-Belisol Ladiesteam                 3
3 Martine Bras (Ned) Selle Italia Ghezzi                          1
 
3
1 Andrea Bosman (Ned) Leontien.nl                                 5 pts
2 Sara Mustonen (Swe) Merida Ladies - Wv Eemland                  3
3 Elke Gebhardt (Ger) DSB Bank - LTO                              1
 
4
1 Kacey Manderfield (USA) USA National Team                       5 pts
2 Christina Becker (Ger) Equipe Nürnberger Versicherung           3
3 Linda Villumsen (Den) Team Columbia-Highroad                       1
 
5
1 Emanuela Azzini (Ita) Gauss RDZ Ormu - Colnago                  5 pts
2 Julia Martisova (Rus) Gauss RDZ Ormu - Colnago                  3
 
6
1 Patricia Schwager (Swi) Cervélo TestTeam                        5 pts
2 Emanuela Azzini (Ita) Gauss RDZ Ormu - Colnago                  3
3 Bertine Spijkerman (Ned) DSB Bank - LTO                         1
 
7
1 Sara Mustonen (Swe) Merida Ladies - Wv Eemland                  5 pts
2 Emanuela Azzini (Ita) Gauss RDZ Ormu - Colnago                  3
3 Loes Gunnewijk (Ned) Team Flexpoint                             1
 
8
1 Emanuela Azzini (Ita) Gauss RDZ Ormu - Colnago                  5 pts
2 Christina Becker (Ger) Equipe Nürnberger Versicherung           3
3 Patricia Schwager (Swi) Cervélo TestTeam                        1
 
9
1 Vera Koedooder (Ned) Lotto-Belisol Ladiesteam                   5 pts
2 Katherine Bates (Aus) Team Columbia-Highroad                    3
3 Linda Villumsen (Den) Team Columbia-Highroad                    1
 
10
1 Linda Villumsen (Den) Team Columbia-Highroad                    5 pts
2 Trixi Worrack (Ger) Equipe Nürnberger Versicherung              3
3 Eva Lutz (Ger) Equipe Nürnberger Versicherung                   1
 
Mountains
 
1
1 Kacey Manderfield (USA) USA National Team                       5 pts
2 Inge Klep (Ned) Red Sun Cycling Team                            3
3 Christina Becker (Ger) Equipe Nürnberger Versicherung           1
 
Most aggressive rider
 
1 Emanuela Azzini (Ita) Gauss RDZ Ormu - Colnago                 19 pts
2 Tania Belvederesi (Ita) Gauss RDZ Ormu - Colnago               11
3 Sarah Düster (Ger) Cervélo TestTeam                            10
4 Sara Mustonen (Swe) Merida Ladies - Wv Eemland                  8
5 Loes Gunnewijk (Ned) Team Flexpoint                             6
6 Katherine Bates (Aus) Team Columbia-Highroad                    1
 
Young rider
 
1 Lieselot Decroix (Bel) Cervélo TestTeam                   3.33.00
2 Oxana Kozonchuk (Rus) Selle Italia Ghezzi                    0.01
3 Jacobien Kanis (Ned) Team Flexpoint                          0.13
4 Alexandra Greenfield (GBr) Great Britain National Team           
5 Barbara Guarischi (Ita) Italian National Team                    
6 Anne Arnouts (Bel) Red Sun Cycling Team                          
7 Elizabeth Armitstead (GBr) Lotto-Belisol Ladiesteam              
8 Giada Borgato (Ita) Selle Italia Ghezzi                      0.18
9 Emilia Fahlin (Swe) Team Columbia-Highroad                   0.20
10 Isabelle Söderberg (Swe) Team Hitec Products UCK                
11 Chantal Blaak (Ned) Leontien.nl                             0.23
12 Josien Van Wingerden (Ned) Leontien.nl                          
13 Alice Marmorini (Ita) Fenixs                                0.28
14 Denise Zuckermandel (Ger) German National Team              0.33
15 Marta Tagliaferro (Ita) Gauss RDZ Ormu - Colnago            0.34
16 Lucy Martin (GBr) Great Britain National Team               0.37
17 Dorleta Zorrilla Braceras (Spa) Bizkaia - Durango           0.38
18 Eleonora Van Dijk (Ned) Team Columbia-Highroad                     
19 Valentina Scandolara (Ita) Italian National Team            1.20
20 Anna Van Der Breggen (Ned) Team Flexpoint                       
21 Marissa Otten (Ned) Regio Zuid                              1.23
22 Valentina Carretta (Ita) Top Girls Fassa Bortolo Raxy Line      
23 Anne Eversdijk (Ned) Ton Van Bemmelen Sports/Merida         1.27
24 Latoya Brulee (Bel) Red Sun Cycling Team                        
25 Hannah Welter (Ned) Ton Van Bemmelen Sports/Merida          1.39
26 Eleonora Suelotto (Ita) Gauss RDZ Ormu - Colnago            1.43
27 Suzanne Van Veen (Ned) Leontien.nl                          1.45
28 Jana Schemmer (Ger) German National Team                    1.47
29 Katie Colclough (GBr) Great Britain National Team           2.59
30 Maddalena Dinato (Ita) Top Girls Fassa Bortolo Raxy Line    3.06
31 Arenda Grimberg (Ned) Ton Van Bemmelen Sports/Merida        3.28
 
Points classification
 
1 Emanuela Azzini (Ita) Gauss RDZ Ormu - Colnago                 19 pts
2 Christina Becker (Ger) Equipe Nürnberger Versicherung          11
3 Sara Mustonen (Swe) Merida Ladies - Wv Eemland                  8
4 Linda Villumsen (Den) Team Columbia-Highroad                    7
5 Patricia Schwager (Swi) Cervélo TestTeam                        6
6 Vera Koedooder (Ned) Lotto-Belisol Ladiesteam                   5
7 Kacey Manderfield (USA) USA National Team                       5
8 Andrea Bosman (Ned) Leontien.nl                                 5
9 Goede Suzanne De (Ned) Equipe Nürnberger Versicherung           5
10 Trixi Worrack (Ger) Equipe Nürnberger Versicherung             3
11 Katherine Bates (Aus) Team Columbia-Highroad                   3
12 Julia Martisova (Rus) Gauss RDZ Ormu - Colnago                 3
13 Rochelle Gilmore (Aus) Lotto-Belisol Ladiesteam                3
14 Eva Lutz (Ger) Equipe Nürnberger Versicherung                  1
15 Loes Gunnewijk (Ned) Team Flexpoint                            1
16 Bertine Spijkerman (Ned) DSB Bank - LTO                        1
17 Elke Gebhardt (Ger) DSB Bank - LTO                             1
18 Martine Bras (Ned) Selle Italia Ghezzi                         1
19 Saskia Elemans (Ned) Team Flexpoint                            1
 
Mountains classification
 
1 Kacey Manderfield (USA) USA National Team                       5 pts
2 Inge Klep (Ned) Red Sun Cycling Team                            3
3 Christina Becker (Ger) Equipe Nürnberger Versicherung           1
 
Most aggressive rider classification
 
1 Emanuela Azzini (Ita) Gauss RDZ Ormu - Colnago                 19 pts
2 Tania Belvederesi (Ita) Gauss RDZ Ormu - Colnago               11
3 Sarah Düster (Ger) Cervélo TestTeam                            10
4 Sara Mustonen (Swe) Merida Ladies - Wv Eemland                  8
5 Loes Gunnewijk (Ned) Team Flexpoint                             6
6 Katherine Bates (Aus) Team Columbia-Highroad                    1

Past winners
2008 Ina Teutenberg (Ger) Team High Road Women
2007 Regina Schleicher (Ger) Equipe Nürnberger Versicherung