43rd Tour de Bretagne Cycliste - Trophée des Granitiers - 2.2
France, April 25-May 1, 2009
Main Page Results Overall standings Previous Stage Next Stage
Stage 5 - April 29: Saint-Brieuc - Ploeren, 169.9km
Engoulvent saves the honour of the professionals
By Jean-François Quénet in Ploeren, France
Jimmy Engoulvent (Besson Chaussures Sojasun) wins
Photo ©: Fabrice Lambert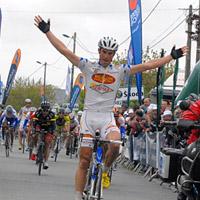 Jimmy Engoulvent of Besson Chaussures Sojasun narrowly won stage five in the Tour de Bretagne after spending 165 kilometres in a breakaway. He attacked the 19-rider break inside of 10 kilometres to go and just managed to hold off the peloton at the finish line.
The 17 bonus seconds he gained on the way to Ploeren are a small benefit compared to the efforts he and his Besson team put into the fight against race leader Julien Fouchard from the amateur team Côtes d'Armor-Maître Jacques who defended its jersey courageously once again.
"Fouchard has given a lot already, so I believe I can beat him by one to one and a half minute if not two minutes in the time trial," said Engoulvent who won the time trial of the Circuit de la Sarthe three weeks ago ahead of Andreas Klöden.
Engoulvent is 3:04 down on Fouchard on GC and still gives himself a chance to win the Tour de Bretagne overall. "I'm one of the strongest riders here," he said. "But therefore it's difficult to get rid of the riders who mark us. We have a lot of adversaries and some teams have strange tactics. On the last day, though, not many teams will be able to chase us down."
Fouchard, who has a good reputation as a time triallist after winning the U23 Chrono des Nations at the end of last year, remains in a perfect position but it's clear that the professionals are not happy enough with stage wins.
How it unfolded
As soon as Julien Fouchard (Côtes d'Armor-Maître Jacques) had a flat tyre after only five kilometres into the race, 19 riders attacked: Lilian Jégou, Cyrille Monnerais (Bretagne-Schuller), Bram Schmitz (Van Vliet), Steven Kruijswijk, Jetse Bol (Rabobank), Jimmy Engoulvent, Yannick Talabardon, Fabrice Jeandesbosz (Besson), Pierre Cazaux, Florian Vachon (Roubaix), Miyataka Shimizu (Meitan), Pieter Ghyllebert (Bourgas), Alexander Mironov (Katusha), Russell Hampton (Grande-Bretagne), Olivier Grammaire, Pierre-Luc Perichon (SCO Dijon), Rudy Lesschaeve (CC Nogent-sur-Oise), Julien Guay and Tony Hurel (Vendée U).
Initially, Benoît Ebrard from Côtes d'Armor-Maître Jacques was also in the leading group. However, Ebrard dropped back to assist Fouchard who was in difficulty and the Breton amateur team chased once again at the head of the peloton.
The Côtes d'Armor-Maître Jacques squad bravely defended its position and the breakaway never got more than a two minute advantage. Beveren 2000 later assisted in the chase effort as did the teams of the sprinters towards the end of the stage.
It looked like the stage would end in a bunch sprint but Engoulvent launched himself from the break and barely held off the peloton.
Fouchard retained his lead on the eve of the 24-kilometre time trial at Douarnenez.
Photography
For a thumbnail gallery of these images, click here
Images by Jean-Francois Quenet
Images by Fabrice Lambert/www.tourdebretagne.fr
Results
1 Jimmy Engoulvent (Fra) Besson Chaussures Sojasun                          3.55.52  (43.22 km/h)
2 Alexander Kristoff (Nor) Joker Bianchi                                           
3 Dennis Van Winden (Ned) Rabobank Continental                                     
4 Yuri Metlushenko (Ukr) Amore & Vita Mc Donalds                                   
5 Benoît Daeninck (Fra) C.C Nogent Sur Oise                                        
6 Romain Fondard (Fra) Lotto Bodysol Pcw                                           
7 Michel Kreder (Ned) Rabobank Continental                                         
8 Davy Commeyne (Bel) Beveren 2000 / Quick Step                                    
9 Jean-Luc Delpech (Fra) Bretagne Schuller                                         
10 Robert Hayles (GBr) Great Britain National Team                                 
11 Pieter Ghyllebert (Bel) C.C Bourgas                                             
12 Florian Vachon (Fra) Roubaix Lille Metropole                                    
13 Maarten De Jonge (Bel) Beveren 2000 / Quick Step                                
14 Morten Hoberg (Den) Team Capinordic                                             
15 Jérémie Galland (Fra) Besson Chaussures Sojasun                                 
16 Sven Vandousselacre (Bel) Jong Vlaanderen Bauknecht Lotto- Museeuw Bikes        
17 Julien Fouchard (Fra) Cotes D'Armor Cyclisme / Maitre Jacques                   
18 Jonathan Mcevoy (GBr) Great Britain National Team                               
19 Gwenael Teillet (Fra) U.C. Nantes Atlantique                                    
20 Nico Keinath (Ger) German National Team                                         
21 Sander Armee (Bel) Beveren 2000 / Quick Step                                    
22 Steven Tronet (Fra) Roubaix Lille Metropole                                     
23 Stefan Vreugdenhil (Ned) Van Vliet Ebh Elshof                                   
24 Laurent Le Gac (Fra) Brest Iroise Cyclisme 2000                                 
25 Lilian Jegou (Fra) Bretagne Schuller                                            
26 Timofey Kritskiy (Rus) Katyusha Continental Team                                
27 Pierre-Luc Perrichon (Fra) S.C.O Dijon                                          
28 Fabian Schaar (Ger) German National Team                                        
29 Joeri Calleeuw (Bel) Jong Vlaanderen Bauknecht Lotto- Museeuw Bikes             
30 Volodymyr Starchyk (Ukr) Amore & Vita Mc Donalds                                
31 Vincent Rouxel (Fra) Brest Iroise Cyclisme 2000                                 
32 Yasuharu Nakajima (Jpn) Eqa-Meitan Hompo-Graphite Design                        
33 Benjamin Pascual (Fra) S.C.O Dijon                                              
34 Philipp Mamos (Ger) Amore & Vita Mc Donalds                                     
35 Kazuya Okazaki (Jpn) Eqa-Meitan Hompo-Graphite Design                           
36 Thomas Berkhout (Ned) Rabobank Continental                                      
37 Jakob Steigmiller (Ger) German National Team                                    
38 Alexandre Lemair (Fra) Roubaix Lille Metropole                                  
39 Anthony Vignes (Fra) U.C. Nantes Atlantique                                     
40 Yannick Talabardon (Fra) Besson Chaussures Sojasun                              
41 Rudy Lesschaeve (Fra) C.C Nogent Sur Oise                                       
42 Yohan Cauquil (Fra) C.C Bourgas                                                 
43 Thibault Mace (Fra) Vendee U                                                    
44 Lars Petter Nordhaug (Nor) Joker Bianchi                                        
45 Gaël Malacarne (Fra) Bretagne Schuller                                          
46 Tom Copeland (GBr) Brest Iroise Cyclisme 2000                                   
47 Olivier Grammaire (Fra) S.C.O Dijon                                             
48 Alexander Mironov (Rus) Katyusha Continental Team                               
49 Andrew Tennant (GBr) Great Britain National Team                                
50 Ramon Sinkeldam (Ned) Rabobank Continental                                      
51 Peter Brouzes (Fra) C.C Nogent Sur Oise                                         
52 Miyataka Shimizu (Jpn) Eqa-Meitan Hompo-Graphite Design                         
53 Jan Ghyselinck (Bel) Beveren 2000 / Quick Step                                  
54 Stian Remme (Nor) Joker Bianchi                                                 
55 Mickael Damien (Fra) Eqa-Meitan Hompo-Graphite Design                           
56 Klaas Sys (Bel) Beveren 2000 / Quick Step                                       
57 Andrey Solomennikov (Rus) Katyusha Continental Team                             
58 Lars Vierbergen (Ned) Van Vliet Ebh Elshof                                      
59 Steven De Neef (Bel) Jong Vlaanderen Bauknecht Lotto- Museeuw Bikes             
60 Russell Hampton (GBr) Great Britain National Team                               
61 Ryan Wills (NZl) Lotto Bodysol Pcw                                              
62 Bram Schmitz (Ned) Van Vliet Ebh Elshof                                     0.14
63 Richard England (Aus) Amore & Vita Mc Donalds                               0.19
64 Pierre Cazaux (Fra) Roubaix Lille Metropole                                     
65 Tony Hurel (Fra) Vendee U                                                   0.22
66 Julien Guay (Fra) Vendee U                                                      
67 Joost Van Leijen (Ned) Van Vliet Ebh Elshof                                 0.24
68 Steven Kruijswijk (Ned) Rabobank Continental                                0.26
69 Joerg Lehmann (Ger) German National Team                                    0.29
70 Clément Mahe (Fra) Brest Iroise Cyclisme 2000                               0.33
71 Cyrille Monnerais (Fra) Bretagne Schuller                                   0.48
72 Fabrice Jeandesboz (Fra) Besson Chaussures Sojasun                          2.31
73 Jeremy Honorez (Bel) Lotto Bodysol Pcw                                      4.57
74 Julien Gonnet (Fra) U.C. Nantes Atlantique                                  4.59
75 Martin Prazdnovsky (Svk) C.C Bourgas                                        6.23
76 Frank Schulz (Ger) German National Team                                     8.52
77 Cédric Herve (Fra) Cotes D'Armor Cyclisme / Maitre Jacques                      
78 Benoit Ebrard (Fra) Cotes D'Armor Cyclisme / Maitre Jacques                 9.30
79 Erick Rowsell (GBr) Great Britain National Team                                 
80 Edward Clancy (GBr) Great Britain National Team                                 
81 Vladislas Borisov (Rus) Amore & Vita Mc Donalds                                 
82 Mathieu Halleguen (Fra) Cotes D'Armor Cyclisme / Maitre Jacques            14.24
83 Erwan Brenterch (Fra) Cotes D'Armor Cyclisme / Maitre Jacques              14.26
84 Romain Hardy (Fra) Cotes D'Armor Cyclisme / Maitre Jacques                      
85 Ronan Van Zandbeek (Ned) Van Vliet Ebh Elshof                                   
86 Kenny Terweduwe (Bel) Jong Vlaanderen Bauknecht Lotto- Museeuw Bikes       16.57
87 Willy Roseau (Fra) U.C. Nantes Atlantique                                  16.59
88 Mickael Renou (Fra) U.C. Nantes Atlantique                                      
89 Phil Cortes (Can) Amore & Vita Mc Donalds                                  20.52
90 Jetse Bol (Ned) Rabobank Continental                                            
91 Nariyuki Masuda (Jpn) Eqa-Meitan Hompo-Graphite Design                          
92 Mathieu Bernaudeau (Fra) Vendee U                                               
93 Bryan Nauleau (Fra) Vendee U                                                    
94 Matthieu Jeannes (Fra) Brest Iroise Cyclisme 2000                               
95 Yann Le Queau (Fra) Brest Iroise Cyclisme 2000                                  
96 Svein Erik Vold (Nor) Joker Bianchi                                             
97 Rob Woestenborghs (Bel) C.C Bourgas                                             
98 Evgeny Popov (Rus) Katyusha Continental Team                               26.26
99 François Roossens (Bel) Lotto Bodysol Pcw                                       
DNF Jean-Marc Bideau (Fra) Bretagne Schuller                                       
DNF Laurent Mangel (Fra) Besson Chaussures Sojasun                                 
DNF Julien Simon (Fra) Besson Chaussures Sojasun                                   
DNF Florian Guillou (Fra) Roubaix Lille Metropole                                  
DNF Dimitri Claeys (Bel) Jong Vlaanderen Bauknecht Lotto- Museeuw Bikes            
DNF Frédérik Verkinderen (Bel) Jong Vlaanderen Bauknecht Lotto- Museeuw Bikes      
DNF Zakkari Dempster (Aus) C.C Bourgas                                             
DNF Alexander Pretovskiy (Rus) Katyusha Continental Team                           
DNF Dennis Vanendert (Bel) Beveren 2000 / Quick Step                               
DNF Christophe Diguet (Fra) U.C. Nantes Atlantique                                 
 
General classification after stage 5
 
1 Julien Fouchard (Fra) Cotes D'Armor Cyclisme / Maitre Jacques            19.01.18
2 Yuri Metlushenko (Ukr) Amore & Vita Mc Donalds                               0.56
3 Alexander Kristoff (Nor) Joker Bianchi                                       1.43
4 Sander Armee (Bel) Beveren 2000 / Quick Step                                 2.10
5 Davy Commeyne (Bel) Beveren 2000 / Quick Step                                2.11
6 Michel Kreder (Ned) Rabobank Continental                                     2.24
7 Yannick Talabardon (Fra) Besson Chaussures Sojasun                           2.25
8 Maarten De Jonge (Bel) Beveren 2000 / Quick Step                             2.28
9 Philipp Mamos (Ger) Amore & Vita Mc Donalds                                  2.31
10 Lars Petter Nordhaug (Nor) Joker Bianchi                                        
11 Stian Remme (Nor) Joker Bianchi                                                 
12 Jan Ghyselinck (Bel) Beveren 2000 / Quick Step                              2.37
13 Yohan Cauquil (Fra) C.C Bourgas                                                 
14 Andrew Tennant (GBr) Great Britain National Team                                
15 Timofey Kritskiy (Rus) Katyusha Continental Team                            2.43
16 Rudy Lesschaeve (Fra) C.C Nogent Sur Oise                                   2.46
17 Jimmy Engoulvent (Fra) Besson Chaussures Sojasun                            3.04
18 Sven Vandousselacre (Bel) Jong Vlaanderen Bauknecht Lotto- Museeuw Bikes    3.10
19 Gwenael Teillet (Fra) U.C. Nantes Atlantique                                3.19
20 Jean-Luc Delpech (Fra) Bretagne Schuller                                    3.22
21 Alexander Mironov (Rus) Katyusha Continental Team                               
22 Klaas Sys (Bel) Beveren 2000 / Quick Step                                   3.28
23 Lilian Jegou (Fra) Bretagne Schuller                                        3.33
24 Florian Vachon (Fra) Roubaix Lille Metropole                                3.56
25 Dennis Van Winden (Ned) Rabobank Continental                                4.33
26 Lars Vierbergen (Ned) Van Vliet Ebh Elshof                                  4.38
27 Cyrille Monnerais (Fra) Bretagne Schuller                                   5.36
28 Joeri Calleeuw (Bel) Jong Vlaanderen Bauknecht Lotto- Museeuw Bikes         6.48
29 Tony Hurel (Fra) Vendee U                                                   6.52
30 Anthony Vignes (Fra) U.C. Nantes Atlantique                                 6.54
31 Bram Schmitz (Ned) Van Vliet Ebh Elshof                                     7.11
32 Steven Kruijswijk (Ned) Rabobank Continental                                7.18
33 Olivier Grammaire (Fra) S.C.O Dijon                                         8.21
34 Steven Tronet (Fra) Roubaix Lille Metropole                                 8.29
35 Volodymyr Starchyk (Ukr) Amore & Vita Mc Donalds                            9.01
36 Jonathan Mcevoy (GBr) Great Britain National Team                          10.07
37 Miyataka Shimizu (Jpn) Eqa-Meitan Hompo-Graphite Design                    10.30
38 Pierre-Luc Perrichon (Fra) S.C.O Dijon                                     10.40
39 Clément Mahe (Fra) Brest Iroise Cyclisme 2000                              10.53
40 Pieter Ghyllebert (Bel) C.C Bourgas                                        11.06
41 Gaël Malacarne (Fra) Bretagne Schuller                                     11.23
42 Laurent Le Gac (Fra) Brest Iroise Cyclisme 2000                            12.00
43 Peter Brouzes (Fra) C.C Nogent Sur Oise                                    12.06
44 Fabrice Jeandesboz (Fra) Besson Chaussures Sojasun                         12.28
45 Pierre Cazaux (Fra) Roubaix Lille Metropole                                12.31
46 Benoît Daeninck (Fra) C.C Nogent Sur Oise                                  13.30
47 Julien Guay (Fra) Vendee U                                                 13.44
48 Richard England (Aus) Amore & Vita Mc Donalds                              14.40
49 Thibault Mace (Fra) Vendee U                                               14.44
50 Andrey Solomennikov (Rus) Katyusha Continental Team                        16.36
51 Morten Hoberg (Den) Team Capinordic                                        18.08
52 Jérémie Galland (Fra) Besson Chaussures Sojasun                            18.41
53 Thomas Berkhout (Ned) Rabobank Continental                                 19.25
54 Vincent Rouxel (Fra) Brest Iroise Cyclisme 2000                            20.20
55 Fabian Schaar (Ger) German National Team                                   20.29
56 Russell Hampton (GBr) Great Britain National Team                          24.02
57 Ramon Sinkeldam (Ned) Rabobank Continental                                 24.37
58 Joost Van Leijen (Ned) Van Vliet Ebh Elshof                                25.07
59 Steven De Neef (Bel) Jong Vlaanderen Bauknecht Lotto- Museeuw Bikes        25.55
60 Benoit Ebrard (Fra) Cotes D'Armor Cyclisme / Maitre Jacques                26.02
61 Kazuya Okazaki (Jpn) Eqa-Meitan Hompo-Graphite Design                      26.38
62 Jakob Steigmiller (Ger) German National Team                               27.00
63 Romain Fondard (Fra) Lotto Bodysol Pcw                                     27.59
64 Romain Hardy (Fra) Cotes D'Armor Cyclisme / Maitre Jacques                 29.13
65 Joerg Lehmann (Ger) German National Team                                   30.31
66 Benjamin Pascual (Fra) S.C.O Dijon                                         32.21
67 Mickael Damien (Fra) Eqa-Meitan Hompo-Graphite Design                      33.15
68 Vladislas Borisov (Rus) Amore & Vita Mc Donalds                            34.28
69 Martin Prazdnovsky (Svk) C.C Bourgas                                       35.27
70 Matthieu Jeannes (Fra) Brest Iroise Cyclisme 2000                          35.41
71 Cédric Herve (Fra) Cotes D'Armor Cyclisme / Maitre Jacques                 35.55
72 Alexandre Lemair (Fra) Roubaix Lille Metropole                             36.06
73 Kenny Terweduwe (Bel) Jong Vlaanderen Bauknecht Lotto- Museeuw Bikes       36.52
74 Julien Gonnet (Fra) U.C. Nantes Atlantique                                 39.35
75 Yasuharu Nakajima (Jpn) Eqa-Meitan Hompo-Graphite Design                   41.44
76 Mathieu Halleguen (Fra) Cotes D'Armor Cyclisme / Maitre Jacques            42.20
77 Bryan Nauleau (Fra) Vendee U                                               42.22
78 Tom Copeland (GBr) Brest Iroise Cyclisme 2000                              42.51
79 Ronan Van Zandbeek (Ned) Van Vliet Ebh Elshof                              44.02
80 Evgeny Popov (Rus) Katyusha Continental Team                               44.14
81 Ryan Wills (NZl) Lotto Bodysol Pcw                                         44.42
82 Erick Rowsell (GBr) Great Britain National Team                            45.18
83 Willy Roseau (Fra) U.C. Nantes Atlantique                                  46.01
84 Jetse Bol (Ned) Rabobank Continental                                       46.50
85 Jeremy Honorez (Bel) Lotto Bodysol Pcw                                     49.49
86 Stefan Vreugdenhil (Ned) Van Vliet Ebh Elshof                              49.59
87 Phil Cortes (Can) Amore & Vita Mc Donalds                                  50.25
88 Edward Clancy (GBr) Great Britain National Team                            50.36
89 Svein Erik Vold (Nor) Joker Bianchi                                        53.59
90 Rob Woestenborghs (Bel) C.C Bourgas                                        56.11
91 Nico Keinath (Ger) German National Team                                    56.24
92 Erwan Brenterch (Fra) Cotes D'Armor Cyclisme / Maitre Jacques              58.31
93 Nariyuki Masuda (Jpn) Eqa-Meitan Hompo-Graphite Design                     59.05
94 Mathieu Bernaudeau (Fra) Vendee U                                        1.02.09
95 Yann Le Queau (Fra) Brest Iroise Cyclisme 2000                           1.04.06
96 Robert Hayles (GBr) Great Britain National Team                          1.05.02
97 Frank Schulz (Ger) German National Team                                  1.05.34
98 Mickael Renou (Fra) U.C. Nantes Atlantique                               1.07.13
99 François Roossens (Bel) Lotto Bodysol Pcw                                1.24.54
 
Points classification
 
1 Alexander Kristoff (Nor) Joker Bianchi                                         72 pts
2 Michel Kreder (Ned) Rabobank Continental                                       55
3 Davy Commeyne (Bel) Beveren 2000 / Quick Step                                  46
4 Dennis Van Winden (Ned) Rabobank Continental                                   41
5 Sander Armee (Bel) Beveren 2000 / Quick Step                                   35
6 Yuri Metlushenko (Ukr) Amore & Vita Mc Donalds                                 34
7 Jimmy Engoulvent (Fra) Besson Chaussures Sojasun                               30
8 Benoît Daeninck (Fra) C.C Nogent Sur Oise                                      28
9 Timofey Kritskiy (Rus) Katyusha Continental Team                               27
10 Julien Fouchard (Fra) Cotes D'Armor Cyclisme / Maitre Jacques                 25
11 Maarten De Jonge (Bel) Beveren 2000 / Quick Step                              25
12 Florian Vachon (Fra) Roubaix Lille Metropole                                  24
13 Jan Ghyselinck (Bel) Beveren 2000 / Quick Step                                16
14 Philipp Mamos (Ger) Amore & Vita Mc Donalds                                   15
15 Lars Petter Nordhaug (Nor) Joker Bianchi                                      15
16 Jean-Luc Delpech (Fra) Bretagne Schuller                                      14
17 Romain Hardy (Fra) Cotes D'Armor Cyclisme / Maitre Jacques                    14
18 Andrew Tennant (GBr) Great Britain National Team                              12
19 Gaël Malacarne (Fra) Bretagne Schuller                                        12
20 Yannick Talabardon (Fra) Besson Chaussures Sojasun                            10
21 Sven Vandousselacre (Bel) Jong Vlaanderen Bauknecht Lotto- Museeuw Bikes      10
22 Gwenael Teillet (Fra) U.C. Nantes Atlantique                                  10
23 Lilian Jegou (Fra) Bretagne Schuller                                          10
24 Romain Fondard (Fra) Lotto Bodysol Pcw                                        10
25 Rudy Lesschaeve (Fra) C.C Nogent Sur Oise                                      9
26 Steven Kruijswijk (Ned) Rabobank Continental                                   6
27 Robert Hayles (GBr) Great Britain National Team                                6
28 Stian Remme (Nor) Joker Bianchi                                                5
29 Yohan Cauquil (Fra) C.C Bourgas                                                5
30 Pieter Ghyllebert (Bel) C.C Bourgas                                            5
31 Julien Guay (Fra) Vendee U                                                     5
32 Alexander Mironov (Rus) Katyusha Continental Team                              4
33 Steven Tronet (Fra) Roubaix Lille Metropole                                    4
34 Julien Gonnet (Fra) U.C. Nantes Atlantique                                     4
35 Thomas Berkhout (Ned) Rabobank Continental                                     3
36 Pierre-Luc Perrichon (Fra) S.C.O Dijon                                         2
37 Morten Hoberg (Den) Team Capinordic                                            2
38 Jérémie Galland (Fra) Besson Chaussures Sojasun                                2
39 Cyrille Monnerais (Fra) Bretagne Schuller                                      1
 
Sprints classification
 
1 Bram Schmitz (Ned) Van Vliet Ebh Elshof                                        28 pts
2 Jimmy Engoulvent (Fra) Besson Chaussures Sojasun                               13
3 Alexander Kristoff (Nor) Joker Bianchi                                         13
4 Mickael Renou (Fra) U.C. Nantes Atlantique                                     11
5 Yannick Talabardon (Fra) Besson Chaussures Sojasun                             11
6 Erwan Brenterch (Fra) Cotes D'Armor Cyclisme / Maitre Jacques                   9
7 Dennis Van Winden (Ned) Rabobank Continental                                    7
8 Sven Vandousselacre (Bel) Jong Vlaanderen Bauknecht Lotto- Museeuw Bikes        6
9 Ryan Wills (NZl) Lotto Bodysol Pcw                                              6
10 Volodymyr Starchyk (Ukr) Amore & Vita Mc Donalds                               6
11 Julien Fouchard (Fra) Cotes D'Armor Cyclisme / Maitre Jacques                  5
12 Pierre-Luc Perrichon (Fra) S.C.O Dijon                                         4
13 Lilian Jegou (Fra) Bretagne Schuller                                           4
14 Vladislas Borisov (Rus) Amore & Vita Mc Donalds                                3
15 Yuri Metlushenko (Ukr) Amore & Vita Mc Donalds                                 3
16 Florian Vachon (Fra) Roubaix Lille Metropole                                   3
17 Rudy Lesschaeve (Fra) C.C Nogent Sur Oise                                      2
18 Benoît Daeninck (Fra) C.C Nogent Sur Oise                                      2
19 Joost Van Leijen (Ned) Van Vliet Ebh Elshof                                    2
20 Thibault Mace (Fra) Vendee U                                                   2
21 Julien Gonnet (Fra) U.C. Nantes Atlantique                                     2
22 Tony Hurel (Fra) Vendee U                                                      1
23 Sander Armee (Bel) Beveren 2000 / Quick Step                                   1
24 Philipp Mamos (Ger) Amore & Vita Mc Donalds                                    1
25 Fabrice Jeandesboz (Fra) Besson Chaussures Sojasun                             1
 
Mountains classification
 
1 Philipp Mamos (Ger) Amore & Vita Mc Donalds                                    70 pts
2 Bram Schmitz (Ned) Van Vliet Ebh Elshof                                        47
3 Volodymyr Starchyk (Ukr) Amore & Vita Mc Donalds                               30
4 Jimmy Engoulvent (Fra) Besson Chaussures Sojasun                               29
5 Yuri Metlushenko (Ukr) Amore & Vita Mc Donalds                                 28
6 Timofey Kritskiy (Rus) Katyusha Continental Team                               22
7 Julien Fouchard (Fra) Cotes D'Armor Cyclisme / Maitre Jacques                  20
8 Dennis Van Winden (Ned) Rabobank Continental                                   19
9 Alexander Mironov (Rus) Katyusha Continental Team                              18
10 Alexander Kristoff (Nor) Joker Bianchi                                        16
11 Pierre-Luc Perrichon (Fra) S.C.O Dijon                                        16
12 Cyrille Monnerais (Fra) Bretagne Schuller                                     14
13 Joost Van Leijen (Ned) Van Vliet Ebh Elshof                                   10
14 Mickael Renou (Fra) U.C. Nantes Atlantique                                     8
15 Erwan Brenterch (Fra) Cotes D'Armor Cyclisme / Maitre Jacques                  7
16 Yannick Talabardon (Fra) Besson Chaussures Sojasun                             6
17 Lilian Jegou (Fra) Bretagne Schuller                                           6
18 Julien Guay (Fra) Vendee U                                                     6
19 Russell Hampton (GBr) Great Britain National Team                              5
20 Ryan Wills (NZl) Lotto Bodysol Pcw                                             5
21 Sander Armee (Bel) Beveren 2000 / Quick Step                                   4
22 Pieter Ghyllebert (Bel) C.C Bourgas                                            4
23 Jérémie Galland (Fra) Besson Chaussures Sojasun                                3
24 Rudy Lesschaeve (Fra) C.C Nogent Sur Oise                                      2
25 Jean-Luc Delpech (Fra) Bretagne Schuller                                       2
26 Tony Hurel (Fra) Vendee U                                                      2
27 Gaël Malacarne (Fra) Bretagne Schuller                                         2
28 Benoît Daeninck (Fra) C.C Nogent Sur Oise                                      2
29 Michel Kreder (Ned) Rabobank Continental                                       1
30 Stian Remme (Nor) Joker Bianchi                                                1
31 Vladislas Borisov (Rus) Amore & Vita Mc Donalds                                1
32 Bryan Nauleau (Fra) Vendee U                                                   1
33 Phil Cortes (Can) Amore & Vita Mc Donalds                                      1
 
Young rider classification
 
1 Alexander Kristoff (Nor) Joker Bianchi                                   19.03.01
2 Michel Kreder (Ned) Rabobank Continental                                     0.41
3 Jan Ghyselinck (Bel) Beveren 2000 / Quick Step                               0.54
4 Andrew Tennant (GBr) Great Britain National Team                                 
5 Timofey Kritskiy (Rus) Katyusha Continental Team                             1.00
6 Sven Vandousselacre (Bel) Jong Vlaanderen Bauknecht Lotto- Museeuw Bikes     1.27
7 Dennis Van Winden (Ned) Rabobank Continental                                 2.50
8 Lars Vierbergen (Ned) Van Vliet Ebh Elshof                                   2.55
9 Tony Hurel (Fra) Vendee U                                                    5.09
10 Anthony Vignes (Fra) U.C. Nantes Atlantique                                 5.11
11 Steven Kruijswijk (Ned) Rabobank Continental                                5.35
12 Jonathan Mcevoy (GBr) Great Britain National Team                           8.24
13 Pierre-Luc Perrichon (Fra) S.C.O Dijon                                      8.57
14 Laurent Le Gac (Fra) Brest Iroise Cyclisme 2000                            10.17
15 Andrey Solomennikov (Rus) Katyusha Continental Team                        14.53
16 Morten Hoberg (Den) Team Capinordic                                        16.25
17 Vincent Rouxel (Fra) Brest Iroise Cyclisme 2000                            18.37
18 Fabian Schaar (Ger) German National Team                                   18.46
19 Russell Hampton (GBr) Great Britain National Team                          22.19
20 Ramon Sinkeldam (Ned) Rabobank Continental                                 22.54
21 Jakob Steigmiller (Ger) German National Team                               25.17
22 Romain Hardy (Fra) Cotes D'Armor Cyclisme / Maitre Jacques                 27.30
23 Joerg Lehmann (Ger) German National Team                                   28.48
24 Benjamin Pascual (Fra) S.C.O Dijon                                         30.38
25 Matthieu Jeannes (Fra) Brest Iroise Cyclisme 2000                          33.58
26 Alexandre Lemair (Fra) Roubaix Lille Metropole                             34.23
27 Kenny Terweduwe (Bel) Jong Vlaanderen Bauknecht Lotto- Museeuw Bikes       35.09
28 Mathieu Halleguen (Fra) Cotes D'Armor Cyclisme / Maitre Jacques            40.37
29 Bryan Nauleau (Fra) Vendee U                                               40.39
30 Tom Copeland (GBr) Brest Iroise Cyclisme 2000                              41.08
31 Ronan Van Zandbeek (Ned) Van Vliet Ebh Elshof                              42.19
32 Ryan Wills (NZl) Lotto Bodysol Pcw                                         42.59
33 Erick Rowsell (GBr) Great Britain National Team                            43.35
34 Willy Roseau (Fra) U.C. Nantes Atlantique                                  44.18
35 Jetse Bol (Ned) Rabobank Continental                                       45.07
36 Jeremy Honorez (Bel) Lotto Bodysol Pcw                                     48.06
37 Stefan Vreugdenhil (Ned) Van Vliet Ebh Elshof                              48.16
38 Nico Keinath (Ger) German National Team                                    54.41
39 Mathieu Bernaudeau (Fra) Vendee U                                        1.00.26
40 Yann Le Queau (Fra) Brest Iroise Cyclisme 2000                           1.02.23
 
Teams classificatioin
 
1 Wielergroep Beveren 2000                                                  9.10.53
2 Besson Chaussures - Sojasun                                                      
3 Joker Bianchi                                                                    
4 Bretagne - Schuller                                                          2.22
5 Roubaix Lille Metropole                                                      4.17
6 Amore & Vita - Mcdonald's                                                    5.20
7 Rabobank                                                                     6.07
8 C.C. Nogent Sur Oise                                                        11.28
9 Katyusha Continental Team                                                   11.52
10 Vendee U                                                                   15.00
11 Brest Iroise Cyclisme 2000                                                 15.48
12 Jong Vlaanderen - Bauknecht                                                17.35
13 U.C. Nantes Atlantique                                                     23.16
14 Cycling Club Bourgas                                                       25.53
15 Van Vliet Ebh Elshof                                                       27.38
16 Great Britain National Team                                                28.48
17 Eqa - Meitan Hompo - Graphite Design                                       39.17
18 S.C.O. Dijon                                                               42.03
19 Cotes D'armor Cyclisme                                                     42.55
20 German National Team                                                     1.07.33
21 Lotto - Bodysol                                                          1.46.10