43rd Tour de Bretagne Cycliste - Trophée des Granitiers - 2.2
France, April 25-May 1, 2009
Main Page Results Overall standings Next Stage
Stage 1 - April 25: Nantes - Vallet, 159km
Dennis Van Winden as a true finisseur
By Jean-François Quénet in Vallet, France
Van Winden is rewarded
Photo ©: Fabrice Lambert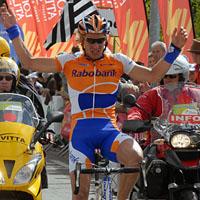 Rabobank's Dennis Van Winden has scored a significant win in the west of France one year after claiming the overall classification of the U23 Tour du Haut-Anjou. The 21-year-old from Berkel, near Rotterdam, restored the Dutch tradition of finisseurs - those who resist the peloton's advances in the pure style of a pursuiter - to take the first stage in Vallet, the home of a famous white wine – the muscadet.
"This is my first time riding the Tour de Bretagne but I've heard a lot about this race from Lars Boom who won it two years ago," said Van Winden, adding, "and also Coen Vermeltfoort, who is one of my best friends. He won the first two stages here last year. He couldn't come back because he's sick right now. This victory is for him."
This is Van Winden's second win of the 2009 season after the prologue of the Tour of Istria in February and a third place in the U23 Liège-Bastogne-Liège last week.
"I don't win much but I thought I could do well here because I like small hills where we have to be very explosive; that's my quality. The west part of France is a nice area for me. The Tour of Brittany is seven days long, it's a short race. I'm not the kind of rider who will let the jersey go with the aim of getting it back later. I'll fight for everything until the time trial that will be decisive on the second last day."
After Rabobank's usual captain Thomas Berkhout crashed, ruling him out of contention for the overall win, Van Winden will very likely be given the responsibilities inside the Dutch team in a race expected to be a dual between the two Breton continental squads of Besson Chaussures and Bretagne-Schuller.
Five make early move
Five riders went away after 15 kilometres: Volodymyr Starchyk (Amore e Vita), Dimitri Claeys (Jong Vlaanderen), Ryan Wills (Pôle continental wallon), Mickaël Renou (U Nantes-Atlantique) and Erwan Brenterc'h (Côtes d'Armor-Maître Jacques). Claeys was the first rider to disappear from that front group whose maximum lead reached eight minutes.
The continental Besson Chaussures French team took profit of two hills around kilometre 100 to put the hammer down. They made the bunch explode in two parts but it eventually came back together during the last one of the final laps because the Japanese team Meitan-Graphite Design had missed the first half. Starchyk, Renou and Brenterc'h were caught within 10 kilometres to go.
Another group of 11 riders tried to go clear. As soon as the bunch was about to rejoin them, Dennis Van Winden (Rabobank) went solo. It was the right move.
Photography
For a thumbnail gallery of these images, click here
Images by Fabrice Lambert
Images by Jean-Francois Quenet
Results

1 Dennis Van Winden (Ned) Rabobank Continental                               3.43.42
2 Florian Vachon (Fra) Roubaix Lille Metropole                                  0.09
3 Alexander Kristoff (Nor) Joker Bianchi                                            
4 Romain Hardy (Fra) Cotes D'Armor Cyclisme / Maitre Jacques                        
5 Michel Kreder (Ned) Rabobank Continental                                          
6 Sven Vandousselacre (Bel) Jong Vlaanderen Bauknecht Lotto- Museeuw Bikes          
7 Lilian Jegou (Fra) Bretagne Schuller                                              
8 Jan Ghyselinck (Bel) Beveren 2000 / Quick Step                                    
9 Timofey Kritskiy (Rus) Katyusha Continental Team                                  
10 Steven Kruijswijk (Ned) Rabobank Continental                                     
11 Jimmy Engoulvent (Fra) Besson Chaussures Sojasun                                 
12 Julien Gonnet (Fra) U.C. Nantes Atlantique                                       
13 Yannick Talabardon (Fra) Besson Chaussures Sojasun                               
14 Pierre-Luc Perrichon (Fra) S.C.O Dijon                                           
15 Jérémie Galland (Fra) Besson Chaussures Sojasun                                  
16 Russell Hampton (GBr) Great Britain National Team                                
17 Julien Simon (Fra) Besson Chaussures Sojasun                                     
18 Gwenael Teillet (Fra) U.C. Nantes Atlantique                                     
19 Dimitri Champion (Fra) Bretagne Schuller                                         
20 Willy Roseau (Fra) U.C. Nantes Atlantique                                        
21 Julien Fouchard (Fra) Cotes D'Armor Cyclisme / Maitre Jacques                    
22 Zakkari Dempster (Aus) C.C Bourgas                                               
23 Gaël Malacarne (Fra) Bretagne Schuller                                           
24 Rudy Lesschaeve (Fra) C.C Nogent Sur Oise                                        
25 Bram Schmitz (Ned) Van Vliet Ebh Elshof                                          
26 Maarten De Jonge (Bel) Beveren 2000 / Quick Step                                 
27 Christophe Diguet (Fra) U.C. Nantes Atlantique                                   
28 Yohan Cauquil (Fra) C.C Bourgas                                                  
29 Cédric Herve (Fra) Cotes D'Armor Cyclisme / Maitre Jacques                       
30 Ramon Sinkeldam (Ned) Rabobank Continental                                       
31 Bryan Nauleau (Fra) Vendee U                                                     
32 Volodymyr Starchyk (Ukr) Amore & Vita Mc Donalds                                 
33 Davy Commeyne (Bel) Beveren 2000 / Quick Step                                    
34 Laurent Mangel (Fra) Besson Chaussures Sojasun                                   
35 Alexander Mironov (Rus) Katyusha Continental Team                                
36 Philipp Mamos (Ger) Amore & Vita Mc Donalds                                      
37 Yuri Metlushenko (Ukr) Amore & Vita Mc Donalds                                   
38 Frederik Wilmann (Nor) Joker Bianchi                                             
39 Klaas Sys (Bel) Beveren 2000 / Quick Step                                        
40 Jean-Marc Bideau (Fra) Bretagne Schuller                                         
41 Jetse Bol (Ned) Rabobank Continental                                             
42 Romain Mary (Fra) S.C.O Dijon                                                    
43 Clément Mahe (Fra) Brest Iroise Cyclisme 2000                                    
44 Fabrice Jeandesboz (Fra) Besson Chaussures Sojasun                               
45 Andrew Tennant (GBr) Great Britain National Team                                 
46 Miyataka Shimizu (Jpn) Eqa-Meitan Hompo-Graphite Design                          
47 Arjen Pieter De Baat (Ned) Van Vliet Ebh Elshof                                  
48 Anthony Vignes (Fra) U.C. Nantes Atlantique                                      
49 Lars Petter Nordhaug (Nor) Joker Bianchi                                         
50 Matthieu Jeannes (Fra) Brest Iroise Cyclisme 2000                                
51 Peter Brouzes (Fra) C.C Nogent Sur Oise                                          
52 Steven De Neef (Bel) Jong Vlaanderen Bauknecht Lotto- Museeuw Bikes              
53 Gregor Gazvoda (Slo) Eqa-Meitan Hompo-Graphite Design                            
54 Sander Armee (Bel) Beveren 2000 / Quick Step                                     
55 Joeri Calleeuw (Bel) Jong Vlaanderen Bauknecht Lotto- Museeuw Bikes              
56 Cyrille Monnerais (Fra) Bretagne Schuller                                        
57 Lars Vierbergen (Ned) Van Vliet Ebh Elshof                                       
58 Jean-Luc Delpech (Fra) Bretagne Schuller                                         
59 Stéphane Rossetto (Fra) C.C Nogent Sur Oise                                      
60 Dmitri Kosyakov (Rus) Katyusha Continental Team                                  
61 Tony Hurel (Fra) Vendee U                                                        
62 Erwan Brenterch (Fra) Cotes D'Armor Cyclisme / Maitre Jacques                    
63 Nikola Aistrup (Den) Team Capinordic                                             
64 Mickael Renou (Fra) U.C. Nantes Atlantique                                       
65 Florian Guillou (Fra) Roubaix Lille Metropole                                    
66 Laurent Le Gac (Fra) Brest Iroise Cyclisme 2000                                  
67 Joost Van Leijen (Ned) Van Vliet Ebh Elshof                                      
68 Pierre Cazaux (Fra) Roubaix Lille Metropole                                      
69 Benjamin Gault (Fra) Vendee U                                                    
70 Mathieu Bernaudeau (Fra) Vendee U                                                
71 Benoit Ebrard (Fra) Cotes D'Armor Cyclisme / Maitre Jacques                      
72 Richard England (Aus) Amore & Vita Mc Donalds                                    
73 Pieter Ghyllebert (Bel) C.C Bourgas                                              
74 Stian Remme (Nor) Joker Bianchi                                                  
75 Ronan Van Zandbeek (Ned) Van Vliet Ebh Elshof                                    
76 Benoît Daeninck (Fra) C.C Nogent Sur Oise                                        
77 Mathieu Halleguen (Fra) Cotes D'Armor Cyclisme / Maitre Jacques              1.16
78 Tom Copeland (GBr) Brest Iroise Cyclisme 2000                                    
79 Kazuya Okazaki (Jpn) Eqa-Meitan Hompo-Graphite Design                            
80 Thibault Mace (Fra) Vendee U                                                     
81 Olivier Grammaire (Fra) S.C.O Dijon                                              
82 Mickael Damien (Fra) Eqa-Meitan Hompo-Graphite Design                        2.31
83 Paul Moucheraud (Fra) Roubaix Lille Metropole                                    
84 Fabian Schaar (Ger) German National Team                                         
85 Stefan Vreugdenhil (Ned) Van Vliet Ebh Elshof                                    
86 Daniel Kreutzfeldt (Den) Team Capinordic                                         
87 Dennis Vanendert (Bel) Beveren 2000 / Quick Step                                 
88 Svein Erik Vold (Nor) Joker Bianchi                                              
89 Kenny Terweduwe (Bel) Jong Vlaanderen Bauknecht Lotto- Museeuw Bikes             
90 Benjamin Pascual (Fra) S.C.O Dijon                                               
91 Andrey Solomennikov (Rus) Katyusha Continental Team                              
92 Frédérik Verkinderen (Bel) Jong Vlaanderen Bauknecht Lotto- Museeuw Bikes    5.10
93 Edward Clancy (GBr) Great Britain National Team                                  
94 Steven Tronet (Fra) Roubaix Lille Metropole                                      
95 Karl Christian Koenig (Ger) German National Team                             5.17
96 Evgeny Popov (Rus) Katyusha Continental Team                                     
97 Robert Hayles (GBr) Great Britain National Team                                  
98 Vincent Rouxel (Fra) Brest Iroise Cyclisme 2000                                  
99 Jonathan Mcevoy (GBr) Great Britain National Team                                
100 Rob Woestenborghs (Bel) C.C Bourgas                                             
101 Romain Fondard (Fra) Lotto Bodysol Pcw                                      6.52
102 Jakob Steigmiller (Ger) German National Team                                    
103 Martin Prazdnovsky (Svk) C.C Bourgas                                            
104 Rudy Rouet (Bel) Lotto Bodysol Pcw                                              
105 Stephen Collet (Bel) Lotto Bodysol Pcw                                          
106 Joerg Lehmann (Ger) German National Team                                        
107 Alexis Coulon (Fra) S.C.O Dijon                                                 
108 Yasuharu Nakajima (Jpn) Eqa-Meitan Hompo-Graphite Design                        
109 Nariyuki Masuda (Jpn) Eqa-Meitan Hompo-Graphite Design                          
110 Ryan Wills (NZl) Lotto Bodysol Pcw                                          8.25
111 Quentin Santy (Fra) C.C Nogent Sur Oise                                     8.30
112 Thomas Riber Sellebjerg (Den) Team Capinordic                                   
113 Nico Keinath (Ger) German National Team                                         
114 Casper Jorgensen (Den) Team Capinordic                                          
115 Jeremy Honorez (Bel) Lotto Bodysol Pcw                                          
116 Alexander Pretovskiy (Rus) Katyusha Continental Team                            
117 Matthieu Converset (Fra) C.C Nogent Sur Oise                                8.34
118 Morten Hoberg (Den) Team Capinordic                                        10.48
119 Phil Cortes (Can) Amore & Vita Mc Donalds                                       
120 Jens-Erik Madsen (Den) Team Capinordic                                          
121 Alexandre Lemair (Fra) Roubaix Lille Metropole                                  
122 Geoffrey Febvay (Fra) S.C.O Dijon                                               
123 Thomas Berkhout (Ned) Rabobank Continental                                      
124 François Roossens (Bel) Lotto Bodysol Pcw                                       
125 Ole Haavardsholm (Nor) Joker Bianchi                                            
126 Yann Le Queau (Fra) Brest Iroise Cyclisme 2000                                  
127 Erick Rowsell (GBr) Great Britain National Team                                 
128 Frank Schulz (Ger) German National Team                                         
129 Vladislas Borisov (Rus) Amore & Vita Mc Donalds                                 
130 Stefan Histrov (Bul) C.C Bourgas                                                
131 Julien Guay (Fra) Vendee U                                                      
132 Dimitri Claeys (Bel) Jong Vlaanderen Bauknecht Lotto- Museeuw Bikes        11.40
 
General classification after stage 1
 
1 Dennis Van Winden (Ned) Rabobank Continental                               3.43.42
2 Florian Vachon (Fra) Roubaix Lille Metropole                                  0.09
3 Alexander Kristoff (Nor) Joker Bianchi                                            
4 Romain Hardy (Fra) Cotes D'Armor Cyclisme / Maitre Jacques                        
5 Michel Kreder (Ned) Rabobank Continental                                          
6 Sven Vandousselacre (Bel) Jong Vlaanderen Bauknecht Lotto- Museeuw Bikes          
7 Lilian Jegou (Fra) Bretagne Schuller                                              
8 Jan Ghyselinck (Bel) Beveren 2000 / Quick Step                                    
9 Timofey Kritskiy (Rus) Katyusha Continental Team                                  
10 Steven Kruijswijk (Ned) Rabobank Continental                                     
11 Jimmy Engoulvent (Fra) Besson Chaussures Sojasun                                 
12 Julien Gonnet (Fra) U.C. Nantes Atlantique                                       
13 Yannick Talabardon (Fra) Besson Chaussures Sojasun                               
14 Pierre-Luc Perrichon (Fra) S.C.O Dijon                                           
15 Jérémie Galland (Fra) Besson Chaussures Sojasun                                  
16 Russell Hampton (GBr) Great Britain National Team                                
17 Julien Simon (Fra) Besson Chaussures Sojasun                                     
18 Gwenael Teillet (Fra) U.C. Nantes Atlantique                                     
19 Dimitri Champion (Fra) Bretagne Schuller                                         
20 Willy Roseau (Fra) U.C. Nantes Atlantique                                        
21 Julien Fouchard (Fra) Cotes D'Armor Cyclisme / Maitre Jacques                    
22 Zakkari Dempster (Aus) C.C Bourgas                                               
23 Gaël Malacarne (Fra) Bretagne Schuller                                           
24 Rudy Lesschaeve (Fra) C.C Nogent Sur Oise                                        
25 Bram Schmitz (Ned) Van Vliet Ebh Elshof                                          
26 Maarten De Jonge (Bel) Beveren 2000 / Quick Step                                 
27 Christophe Diguet (Fra) U.C. Nantes Atlantique                                   
28 Yohan Cauquil (Fra) C.C Bourgas                                                  
29 Cédric Herve (Fra) Cotes D'Armor Cyclisme / Maitre Jacques                       
30 Ramon Sinkeldam (Ned) Rabobank Continental                                       
31 Bryan Nauleau (Fra) Vendee U                                                     
32 Volodymyr Starchyk (Ukr) Amore & Vita Mc Donalds                                 
33 Davy Commeyne (Bel) Beveren 2000 / Quick Step                                    
34 Laurent Mangel (Fra) Besson Chaussures Sojasun                                   
35 Alexander Mironov (Rus) Katyusha Continental Team                                
36 Philipp Mamos (Ger) Amore & Vita Mc Donalds                                      
37 Yuri Metlushenko (Ukr) Amore & Vita Mc Donalds                                   
38 Frederik Wilmann (Nor) Joker Bianchi                                             
39 Klaas Sys (Bel) Beveren 2000 / Quick Step                                        
40 Jean-Marc Bideau (Fra) Bretagne Schuller                                         
41 Jetse Bol (Ned) Rabobank Continental                                             
42 Romain Mary (Fra) S.C.O Dijon                                                    
43 Clément Mahe (Fra) Brest Iroise Cyclisme 2000                                    
44 Fabrice Jeandesboz (Fra) Besson Chaussures Sojasun                               
45 Andrew Tennant (GBr) Great Britain National Team                                 
46 Miyataka Shimizu (Jpn) Eqa-Meitan Hompo-Graphite Design                          
47 Arjen Pieter De Baat (Ned) Van Vliet Ebh Elshof                                  
48 Anthony Vignes (Fra) U.C. Nantes Atlantique                                      
49 Lars Petter Nordhaug (Nor) Joker Bianchi                                         
50 Matthieu Jeannes (Fra) Brest Iroise Cyclisme 2000                                
51 Peter Brouzes (Fra) C.C Nogent Sur Oise                                          
52 Steven De Neef (Bel) Jong Vlaanderen Bauknecht Lotto- Museeuw Bikes              
53 Gregor Gazvoda (Slo) Eqa-Meitan Hompo-Graphite Design                            
54 Sander Armee (Bel) Beveren 2000 / Quick Step                                     
55 Joeri Calleeuw (Bel) Jong Vlaanderen Bauknecht Lotto- Museeuw Bikes              
56 Cyrille Monnerais (Fra) Bretagne Schuller                                        
57 Lars Vierbergen (Ned) Van Vliet Ebh Elshof                                       
58 Jean-Luc Delpech (Fra) Bretagne Schuller                                         
59 Stéphane Rossetto (Fra) C.C Nogent Sur Oise                                      
60 Dmitri Kosyakov (Rus) Katyusha Continental Team                                  
61 Tony Hurel (Fra) Vendee U                                                        
62 Erwan Brenterch (Fra) Cotes D'Armor Cyclisme / Maitre Jacques                    
63 Nikola Aistrup (Den) Team Capinordic                                             
64 Mickael Renou (Fra) U.C. Nantes Atlantique                                       
65 Florian Guillou (Fra) Roubaix Lille Metropole                                    
66 Laurent Le Gac (Fra) Brest Iroise Cyclisme 2000                                  
67 Joost Van Leijen (Ned) Van Vliet Ebh Elshof                                      
68 Pierre Cazaux (Fra) Roubaix Lille Metropole                                      
69 Benjamin Gault (Fra) Vendee U                                                    
70 Mathieu Bernaudeau (Fra) Vendee U                                                
71 Benoit Ebrard (Fra) Cotes D'Armor Cyclisme / Maitre Jacques                      
72 Richard England (Aus) Amore & Vita Mc Donalds                                    
73 Pieter Ghyllebert (Bel) C.C Bourgas                                              
74 Stian Remme (Nor) Joker Bianchi                                                  
75 Ronan Van Zandbeek (Ned) Van Vliet Ebh Elshof                                    
76 Benoît Daeninck (Fra) C.C Nogent Sur Oise                                        
77 Mathieu Halleguen (Fra) Cotes D'Armor Cyclisme / Maitre Jacques              1.16
78 Tom Copeland (GBr) Brest Iroise Cyclisme 2000                                    
79 Kazuya Okazaki (Jpn) Eqa-Meitan Hompo-Graphite Design                            
80 Thibault Mace (Fra) Vendee U                                                     
81 Olivier Grammaire (Fra) S.C.O Dijon                                              
82 Mickael Damien (Fra) Eqa-Meitan Hompo-Graphite Design                        2.31
83 Paul Moucheraud (Fra) Roubaix Lille Metropole                                    
84 Fabian Schaar (Ger) German National Team                                         
85 Stefan Vreugdenhil (Ned) Van Vliet Ebh Elshof                                    
86 Daniel Kreutzfeldt (Den) Team Capinordic                                         
87 Dennis Vanendert (Bel) Beveren 2000 / Quick Step                                 
88 Svein Erik Vold (Nor) Joker Bianchi                                              
89 Kenny Terweduwe (Bel) Jong Vlaanderen Bauknecht Lotto- Museeuw Bikes             
90 Benjamin Pascual (Fra) S.C.O Dijon                                               
91 Andrey Solomennikov (Rus) Katyusha Continental Team                              
92 Frédérik Verkinderen (Bel) Jong Vlaanderen Bauknecht Lotto- Museeuw Bikes    5.10
93 Edward Clancy (GBr) Great Britain National Team                                  
94 Steven Tronet (Fra) Roubaix Lille Metropole                                      
95 Karl Christian Koenig (Ger) German National Team                             5.17
96 Evgeny Popov (Rus) Katyusha Continental Team                                     
97 Robert Hayles (GBr) Great Britain National Team                                  
98 Vincent Rouxel (Fra) Brest Iroise Cyclisme 2000                                  
99 Jonathan Mcevoy (GBr) Great Britain National Team                                
100 Rob Woestenborghs (Bel) C.C Bourgas                                             
101 Romain Fondard (Fra) Lotto Bodysol Pcw                                      6.52
102 Jakob Steigmiller (Ger) German National Team                                    
103 Martin Prazdnovsky (Svk) C.C Bourgas                                            
104 Rudy Rouet (Bel) Lotto Bodysol Pcw                                              
105 Stephen Collet (Bel) Lotto Bodysol Pcw                                          
106 Joerg Lehmann (Ger) German National Team                                        
107 Alexis Coulon (Fra) S.C.O Dijon                                                 
108 Yasuharu Nakajima (Jpn) Eqa-Meitan Hompo-Graphite Design                        
109 Nariyuki Masuda (Jpn) Eqa-Meitan Hompo-Graphite Design                          
110 Ryan Wills (NZl) Lotto Bodysol Pcw                                          8.25
111 Quentin Santy (Fra) C.C Nogent Sur Oise                                     8.30
112 Thomas Riber Sellebjerg (Den) Team Capinordic                                   
113 Nico Keinath (Ger) German National Team                                         
114 Casper Jorgensen (Den) Team Capinordic                                          
115 Jeremy Honorez (Bel) Lotto Bodysol Pcw                                          
116 Alexander Pretovskiy (Rus) Katyusha Continental Team                            
117 Matthieu Converset (Fra) C.C Nogent Sur Oise                                8.34
118 Morten Hoberg (Den) Team Capinordic                                        10.48
119 Phil Cortes (Can) Amore & Vita Mc Donalds                                       
120 Jens-Erik Madsen (Den) Team Capinordic                                          
121 Alexandre Lemair (Fra) Roubaix Lille Metropole                                  
122 Geoffrey Febvay (Fra) S.C.O Dijon                                               
123 Thomas Berkhout (Ned) Rabobank Continental                                      
124 François Roossens (Bel) Lotto Bodysol Pcw                                       
125 Ole Haavardsholm (Nor) Joker Bianchi                                            
126 Yann Le Queau (Fra) Brest Iroise Cyclisme 2000                                  
127 Erick Rowsell (GBr) Great Britain National Team                                 
128 Frank Schulz (Ger) German National Team                                         
129 Vladislas Borisov (Rus) Amore & Vita Mc Donalds                                 
130 Stefan Histrov (Bul) C.C Bourgas                                                
131 Julien Guay (Fra) Vendee U                                                      
132 Dimitri Claeys (Bel) Jong Vlaanderen Bauknecht Lotto- Museeuw Bikes        11.40