Scody Cup Tour of Tasmania - NE
Australia, September 30-October 5, 2008
Main Page Results Overall standings Previous Stage Next Stage
Stage 7 - October 3: Ulverstone – Penguin, 78.5km
There's only one Porte in Praties
By Rod Morris in Penguin
Richie Porte (Praties) takes out stage seven into Penguin and moved into
Photo ©: Shane Goss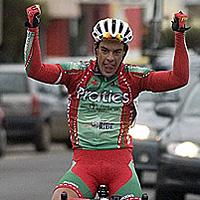 When the Praties Cycling Team was developed a little over five years ago, it was largely built on dreams. The dreams of co-owners Andrew Christie-Johnson and Steve Price came true when the team won stages six and seven of the Tour of Tasmania.
Praties' day in the sun – metaphorically – continued in the afternoon when 23 year-old Launceston based rider Richie Porte pulled off a stunning – and somewhat surprising – victory in the Ulverstone to Penguin stage over 78.5 kilometres.
Such was Porte's dominance of the stage, he powered away from his fellow riders at the base of the category 1 climb and then had 1:35 at the finish line before he saw second place Peter McDonald come into view. McDonald crossed the line with arms raised, thinking he had won the stage, not knowing Porte was already opening the champagne.
"Our team is without radios this week and I didn't know Richie was out in front... My fault completely, but good luck to Richie, a great ride from him," an embarrassed McDonald said.
Hey! Second best isn't bad too you know: Drapac Porsche rider Peter McDonald thought he'd won the stage
Photo ©: Shane Goss

Porte also leapfrogged about 20 riders on the GC to claim his first-ever yellow jersey, an honour he will wear with pride when Stage nine rolls away on Saturday morning out of his home towards nearby Longford.
How it unfolded
The Tasmanian based Praties team completed their most successful day yet when Richie Porte pulled off a stunning victory in the afternoon's road stage, from Ulverstone to Penguin, via some inland townships and including the tour's first category one hill climb. Porte and six other riders established a well-drilled breakaway group that put time and distance into the main protagonists on the GC and little did they know it, that leaderboard was about to undergo a massive shake-up.
Riders give chase to a leading group up the road with thirty kilometres to go
Photo ©: Shane Goss

Earlier this week we had the "Dirty Dozen" when a group of 12 riders slipped away from the field and did some damage on the leaderboard. Today it was the return of the "Magnificent Seven" led by sharpshooter Richie Porte. There was no Yul Brynner or Charles Bronson, but Porte had in his posse, Praties teammate Nathan Clarke, promising teammate Ben Grenda, Glenn O'Shea, Vaughan Bowman, Rohan Dennis and Will Dickeson.
For a large portion of the road stage, the "Magnificent Seven" did their part, just as the script would have suggested. They took no prisoners and wiped out anyone in their way. But when they saw the "start of the category one hill climb" sign, it was almost as if they'd run out of bullets – All but Porte that is.
Chief gunslinger Porte found a second lease of life and just shot away from his posse, leaving them to deal with the stampeding pack behind them. With less than 20 kilometres to travel, Porte was a man on a mission and wasn't going to let anything stop him.
Porte had more than 90 seconds when he crossed the line for his maiden victory, eclipsing his previous best effort of a third placing in the Mildura Kermesse in the 2006 Tour of the Murray River. A red-faced Peter McDonald crossed the finish line in second spot – thinking he had won – while settling for third was Scody Cup leader Leigh Howard.
Photography
For a thumbnail gallery of these images, click here
Images by Shane Goss/www.licoricegallery.com
Results
1 Richie Porte (Praties)                                  2.01.55 (38.63km/h)
2 Peter Mcdonald (Drapac Porsche)                            1.35
3 Leigh Howard (VIS/Jayco)                                       
4 Bernard Sulzberger (Virgin Blue)                               
5 Luke Durbridge (Plan B Racing Team)                            
6 Tim Roe (Savings & Loans)                                      
7 Cameron Peterson (Tarkine Forest Adventures)                   
8 Ben Grenda (DiscoverTasmania.com/TIS)                          
9 Chris Jongewaard (SASI)                                        
10 Jack Bobridge (SASI)                                          
11 Adam Semple (South Australia/AIS)                             
12 Benjamin King (South Australia/AIS)                           
13 William Ford (South Australia/AIS)                            
14 Glenn O'Shea (VIS/Jayco)                                  1.42
15 Pat Shaw (VIS/Jayco)                                      1.44
16 Will Dickeson (Savings & Loans)                           1.47
17 Rohan Dennis (SASI)                                       1.55
18 Gene Bates (Drapac Porsche)                               3.13
19 Stuart Shaw (Drapac Porsche)                                  
20 Chris Jory (Panasonic)                                        
21 Nick Walker (VIS/Jayco)                                       
22 Johnnie Walker (South Australia/AIS)                          
23 Darren Rolfe (Virgin Blue)                                    
24 David Kemp (Virgin Blue)                                      
25 Hayden Brooks (Virgin Blue)                                   
26 Richard England (Burnie-Johnson Design/GHD)                   
27 Ben Mather (Praties)                                          
28 Nathan Clarke (Praties)                                       
29 Kristian House (Budget Forklifts)                             
30 Dylan Newell (Praties)                                        
31 Matt Benson (SASI)                                            
32 Daniel Furmston (Praties)                                     
33 Chris Luxton (Savings & Loans)                                
34 Lauchlan Stewart (Cycle City Ballarat)                        
35 Jonathon Lovelock (VIS/Jayco)                                 
36 Peter Herzig (Panasonic)                                      
37 Vaughan Bowman (Hart/Ridewiser)                               
38 Peter Milostic (Budget Forklifts)                         3.33
39 Kane Walker (Hart/Ridewiser)                              5.02
40 Matthew Mcdonagh (Burnie-Johnson Design/GHD)                  
41 James Ibrahim (Central Coast/Simplot)                         
42 Mark O'Brien (Drapac Porsche)                                 
43 Caleb Manion (DiscoverTasmania.com/TIS)                       
44 Jack Anderson (Budget Forklifts)                              
45 Adam Phelan (Tarkine Forest Adventures)                   8.11
46 Aaron Donnelly (Central Coast/Simplot)                    8.22
47 Michael England (Budget Forklifts)                            
48 Tim Walker (Cannondale/Praties)                          12.43
49 Neil Manning (Plan B Racing Team)                             
50 Michael Phelan (Tarkine Forest Adventures)                    
51 William Clarke (Praties)                                      
52 Mark Jamieson (DiscoverTasmania.com/TIS)                      
53 Jason Rigg (Cannondale/Praties)                               
54 Ben Grieve Johnson (Praties)                                  
55 Ashley Baines (Cycle City Ballarat)                           
56 Joel Pearson (Savings & Loans)                                
57 Danny Pulbrook (Tarkine Forest Adventures)                    
58 Chris Martin (SASI)                                           
59 Nathan Wise (Cycle City Ballarat)                        15.42
60 Peter Ladd (Budget Forklifts)                            17.39
61 Cameron Hughes (Budget Forklifts)                             
62 Tim Decker (Central Coast/Simplot)                            
63 Michael Hepburn (Virgin Blue)                                 
64 Sean Boyle (SASI)                                             
65 Henry Morley (Plan B Racing Team)                             
66 Tommy Nankervis (Virgin Blue)                                 
67 Charles Howlett (Cycle City Ballarat)                         
68 Daniel Mcintyre (Tarkine Forest Adventures)                   
69 James Langedyk (VIS/Jayco)                                    
70 Tim Guy (Panasonic)                                      22.44
71 Aaron Jones (Burnie-Johnson Design/GHD)                  25.54
72 Will Robinson (Burnie-Johnson Design/GHD)                     
73 Jason Hegert (Panasonic)                                      
74 Russell Gill (Savings & Loans)                                
75 Mathew Camilleri (Burnie-Johnson Design/GHD)                  
76 Dale Scarfe (Panasonic)                                  26.38
77 Scott Cronly-Dillon (Cycle City Ballarat)                     
78 Patrick Gill (Plan B Racing Team)                             
79 Sam Brett (DiscoverTasmania.com/TIS)                          
80 Stefan Kirsch (Hart/Ridewiser)                                
81 Peter Loft (DiscoverTasmania.com/TIS)                         
82 Peter Howard (Hart/Ridewiser)                                 
83 Tom Robinson (Burnie-Johnson Design/GHD)                      
84 Michael Verheyen (Plan B Racing Team)                    28.41
85 Luke Ockerby (DiscoverTasmania.com/TIS)                  28.43
86 Jeremy Hills (Cannondale/Praties)                        28.47
87 Abram Manion (Budget Forklifts)                          28.52
88 Joshua Page (Tarkine Forest Adventures)                  29.12
DNF Shaun Mccarthy (Central Coast/Simplot)                       
DNF Joshua Wilson (Cannondale/Praties)                           
DNF Kyle Marwood (Central Coast/Simplot)                         
DNS Tony Chandler (Hart/Ridewiser)                               
DNS Andrew Roe (Tarkine Forest Adventures)                       
 
Sprints
 
Gawler General Sto
1 Pat Shaw (VIS/Jayco)                                          3 pts
2 Glenn O'Shea (VIS/Jayco)                                      2
3 Peter Loft (DiscoverTasmania.com/TIS)                         1
 
Sprent Primary Sch
1 Jack Bobridge (SASI)                                          3 pts
2 Bernard Sulzberger (Virgin Blue)                              2
3 David Kemp (Virgin Blue)                                      1
 
House Each Side
1 Nathan Clarke (Praties)                                       3 pts
2 Ben Grenda (DiscoverTasmania.com/TIS)                         2
3 Richie Porte (Praties)                                        1
 
House on Right
1 Vaughan Bowman (Hart/Ridewiser)                               3 pts
2 Nathan Clarke (Praties)                                       2
3 Richie Porte (Praties)                                        1
 
J.R. Lee Picnic Gro
1 Rohan Dennis (SASI)                                           3 pts
2 Will Dickeson (Savings & Loans)                               2
3 Richie Porte (Praties)                                        1
 
Eastley's Rd
1 Richie Porte (Praties)                                        3 pts
2 Chris Jongewaard (SASI)                                       2
3 Rohan Dennis (SASI)                                           1
 
Riana Store
1 Richie Porte (Praties)                                        3 pts
2 Chris Jongewaard (SASI)                                       2
3 Benjamin King (South Australia/AIS)                           1
 
Riana Store
1 Penguin                                                       3 pts
2 Penguin                                                       2
3 Penguin                                                       1
 
Mountains
 
Cat 3 J.A. Allen Sign
1 Jack Bobridge (SASI)                                          5 pts
2 Lauchlan Stewart (Cycle City Ballarat)                        3
3 Ben Mather (Praties)                                          2
 
Cat 4 Tank on Left 2 O'SHEA,
1 Glenn                                                         3 pts
2 Rohan Dennis (SASI)                                           2
3 Vaughan Bowman (Hart/Ridewiser)                               1
 
Cat 4 Preston Town Sign
1 Richie Porte (Praties)                                        3 pts
2 Vaughan Bowman (Hart/Ridewiser)                               2
3 Nathan Clarke (Praties)                                       1
 
Cat 1 Shed on Right
1 Richie Porte (Praties)                                       10 pts
2 Rohan Dennis (SASI)                                           6
3 Jack Anderson (Budget Forklifts)                              4
 
Teams 
 
1 South Australia/AIS                                     6.10.30
2 VIS/Jayco                                                  0.16
3 SASI                                                       0.20
4 Praties                                                    1.41
5 Savings & Loans                                            1.50
6 Drapac Porsche                                             3.16
7 Virgin Blue                                                    
8 Budget Forklifts                                           7.03
9 DiscoverTasmania.com/TIS                                  14.35
10 Tarkine Forest Adventures                                17.44
11 Panasonic                                                24.25
12 Central Coast/Simplot                                    26.18
13 Cycle City Ballarat                                      26.53
14 Plan B Racing Team                                       27.12
15 Burnie-Johnson Design/GHD                                29.24
16 Hart/Ridewiser                                           30.08
17 Cannondale/Praties                                       49.28
 
General classification after stage 7
 
1 Richie Porte (Praties)                                 10.36.52
2 William Ford (South Australia/AIS)                         0.18
3 Jack Bobridge (SASI)                                       0.35
4 Benjamin King (South Australia/AIS)                        0.44
5 Chris Jongewaard (SASI)                                    0.55
6 Bernard Sulzberger (Virgin Blue)                           1.21
7 Kristian House (Budget Forklifts)                          1.23
8 Leigh Howard (VIS/Jayco)                                   1.44
9 Tim Roe (Savings & Loans)                                  1.49
10 Luke Durbridge (Plan B Racing Team)                       2.09
11 Adam Semple (South Australia/AIS)                         3.18
12 Stuart Shaw (Drapac Porsche)                              3.53
13 Chris Jory (Panasonic)                                    4.01
14 Peter Herzig (Panasonic)                                  4.46
15 Ben Mather (Praties)                                      5.02
16 Hayden Brooks (Virgin Blue)                                   
17 Jonathon Lovelock (VIS/Jayco)                             5.07
18 Peter Mcdonald (Drapac Porsche)                           5.17
19 Johnnie Walker (South Australia/AIS)                      5.35
20 Caleb Manion (DiscoverTasmania.com/TIS)                   5.39
21 Richard England (Burnie-Johnson Design/GHD)               6.59
22 Pat Shaw (VIS/Jayco)                                      7.00
23 David Kemp (Virgin Blue)                                  7.14
24 Ben Grenda (DiscoverTasmania.com/TIS)                     7.39
25 Glenn O'Shea (VIS/Jayco)                                  7.42
26 Vaughan Bowman (Hart/Ridewiser)                           8.04
27 Nathan Clarke (Praties)                                   8.50
28 Nick Walker (VIS/Jayco)                                   8.56
29 Mark O'Brien (Drapac Porsche)                             9.09
30 Darren Rolfe (Virgin Blue)                                9.22
31 Michael England (Budget Forklifts)                        9.38
32 Chris Luxton (Savings & Loans)                           11.26
33 Matt Benson (SASI)                                       11.29
34 Lauchlan Stewart (Cycle City Ballarat)                   11.43
35 Daniel Furmston (Praties)                                12.38
36 Adam Phelan (Tarkine Forest Adventures)                  14.22
37 Ben Grieve Johnson (Praties)                             14.50
38 James Ibrahim (Central Coast/Simplot)                    15.00
39 Gene Bates (Drapac Porsche)                              16.03
40 Ashley Baines (Cycle City Ballarat)                      16.46
41 Jack Anderson (Budget Forklifts)                         17.01
42 Cameron Peterson (Tarkine Forest Adventures)             17.09
43 William Clarke (Praties)                                 18.35
44 Aaron Donnelly (Central Coast/Simplot)                   18.48
45 Michael Phelan (Tarkine Forest Adventures)               18.54
46 Jason Rigg (Cannondale/Praties)                          19.06
47 Dylan Newell (Praties)                                   19.41
48 Cameron Hughes (Budget Forklifts)                        19.46
49 Chris Martin (SASI)                                      23.48
50 Neil Manning (Plan B Racing Team)                        25.58
51 James Langedyk (VIS/Jayco)                               27.39
52 Peter Milostic (Budget Forklifts)                        27.46
53 Michael Hepburn (Virgin Blue)                            28.11
54 Charles Howlett (Cycle City Ballarat)                    28.15
55 Tommy Nankervis (Virgin Blue)                            28.25
56 Tim Walker (Cannondale/Praties)                          28.48
57 Henry Morley (Plan B Racing Team)                        32.01
58 Tim Decker (Central Coast/Simplot)                       35.13
59 Sean Boyle (SASI)                                        35.24
60 Dale Scarfe (Panasonic)                                  37.04
61 Mark Jamieson (DiscoverTasmania.com/TIS)                 37.27
62 Tom Robinson (Burnie-Johnson Design/GHD)                 39.39
63 Russell Gill (Savings & Loans)                           39.52
64 Jason Hegert (Panasonic)                                 39.58
65 Jeremy Hills (Cannondale/Praties)                        43.02
66 Aaron Jones (Burnie-Johnson Design/GHD)                  43.46
67 Peter Ladd (Budget Forklifts)                            44.21
68 Will Robinson (Burnie-Johnson Design/GHD)                44.23
69 Rohan Dennis (SASI)                                      45.23
70 Abram Manion (Budget Forklifts)                          57.13
71 Kane Walker (Hart/Ridewiser)                             57.42
72 Joel Pearson (Savings & Loans)                           58.32
73 Michael Verheyen (Plan B Racing Team)                    59.20
74 Tim Guy (Panasonic)                                    1.05.45
75 Will Dickeson (Savings & Loans)                        1.09.29
76 Daniel Mcintyre (Tarkine Forest Adventures)            1.12.58
77 Nathan Wise (Cycle City Ballarat)                      1.15.42
78 Matthew Mcdonagh (Burnie-Johnson Design/GHD)           1.15.51
79 Danny Pulbrook (Tarkine Forest Adventures)             1.24.21
80 Stefan Kirsch (Hart/Ridewiser)                         1.25.59
81 Mathew Camilleri (Burnie-Johnson Design/GHD)           1.27.53
82 Sam Brett (DiscoverTasmania.com/TIS)                   1.31.27
83 Joshua Page (Tarkine Forest Adventures)                1.32.36
84 Luke Ockerby (DiscoverTasmania.com/TIS)                1.36.02
85 Patrick Gill (Plan B Racing Team)                      1.41.34
86 Peter Howard (Hart/Ridewiser)                          1.42.16
87 Peter Loft (DiscoverTasmania.com/TIS)                  1.49.22
88 Scott Cronly-Dillon (Cycle City Ballarat)              1.49.50
 
Sprints classification
 
1 Bernard Sulzberger (Virgin Blue)                             30 pts
2 Chris Jongewaard (SASI)                                      26
3 Jack Bobridge (SASI)                                         24
4 Richie Porte (Praties)                                       21
5 Pat Shaw (VIS/Jayco)                                         20
6 Kristian House (Budget Forklifts)                            17
7 Nathan Clarke (Praties)                                      17
8 Rohan Dennis (SASI)                                          16
9 Peter Herzig (Panasonic)                                     15
10 Benjamin King (South Australia/AIS)                         13
11 Joel Pearson (Savings & Loans)                              12
12 David Kemp (Virgin Blue)                                    10
13 Adam Semple (South Australia/AIS)                           10
14 Leigh Howard (VIS/Jayco)                                     8
15 Ben Grenda (DiscoverTasmania.com/TIS)                        7
16 Peter Milostic (Budget Forklifts)                            6
17 Hayden Brooks (Virgin Blue)                                  6
18 Darren Rolfe (Virgin Blue)                                   6
19 Glenn O'Shea (VIS/Jayco)                                     6
20 Vaughan Bowman (Hart/Ridewiser)                              6
21 Johnnie Walker (South Australia/AIS)                         6
22 Andrew Roe (Tarkine Forest Adventures)                       5
23 Jonathon Lovelock (VIS/Jayco)                                4
24 Michael England (Budget Forklifts)                           4
25 Matt Benson (SASI)                                           4
26 William Ford (South Australia/AIS)                           4
27 Neil Manning (Plan B Racing Team)                            3
28 Richard England (Burnie-Johnson Design/GHD)                  3
29 Dylan Newell (Praties)                                       3
30 Daniel Furmston (Praties)                                    3
31 Jack Anderson (Budget Forklifts)                             2
32 Peter Mcdonald (Drapac Porsche)                              2
33 Chris Luxton (Savings & Loans)                               2
34 Will Dickeson (Savings & Loans)                              2
35 Lauchlan Stewart (Cycle City Ballarat)                       2
36 Luke Ockerby (DiscoverTasmania.com/TIS)                      2
37 Ben Mather (Praties)                                         1
38 Peter Loft (DiscoverTasmania.com/TIS)                        1
39 Jason Hegert (Panasonic)                                     1
40 Shaun Mccarthy (Central Coast/Simplot)                       1
41 James Langedyk (VIS/Jayco)                                   1
42 Nick Walker (VIS/Jayco)                                      1
43 Aaron Donnelly (Central Coast/Simplot)                       1
 
Mountains classification
 
1 Jack Bobridge (SASI)                                         18 pts
2 David Kemp (Virgin Blue)                                     18
3 Richie Porte (Praties)                                       17
4 Chris Jongewaard (SASI)                                      16
5 Benjamin King (South Australia/AIS)                          15
6 Peter Mcdonald (Drapac Porsche)                              14
7 Bernard Sulzberger (Virgin Blue)                             13
8 Rohan Dennis (SASI)                                          12
9 Tim Roe (Savings & Loans)                                    12
10 Daniel Furmston (Praties)                                   11
11 Kristian House (Budget Forklifts)                           11
12 William Ford (South Australia/AIS)                           9
13 Jonathon Lovelock (VIS/Jayco)                                7
14 Cameron Peterson (Tarkine Forest Adventures)                 6
15 Peter Milostic (Budget Forklifts)                            6
16 Vaughan Bowman (Hart/Ridewiser)                              5
17 Ben Mather (Praties)                                         5
18 Jack Anderson (Budget Forklifts)                             4
19 Darren Rolfe (Virgin Blue)                                   3
20 Glenn O'Shea (VIS/Jayco)                                     3
21 Matt Benson (SASI)                                           3
22 Lauchlan Stewart (Cycle City Ballarat)                       3
23 Peter Herzig (Panasonic)                                     2
24 Johnnie Walker (South Australia/AIS)                         2
25 Nathan Clarke (Praties)                                      1
26 Michael England (Budget Forklifts)                           1
27 Stuart Shaw (Drapac Porsche)                                 1
28 Adam Semple (South Australia/AIS)                            1
29 Charles Howlett (Cycle City Ballarat)                        1
30 Caleb Manion (DiscoverTasmania.com/TIS)                      1
 
Criterium Championships classification
 
1 Chris Jongewaard (SASI)                                      31 pts
2 Leigh Howard (VIS/Jayco)                                     27
3 Bernard Sulzberger (Virgin Blue)                             24
4 Nathan Clarke (Praties)                                      20
5 Joel Pearson (Savings & Loans)                               13
6 Russell Gill (Savings & Loans)                               13
7 Benjamin King (South Australia/AIS)                          10
8 Richard England (Burnie-Johnson Design/GHD)                  10
9 Caleb Manion (DiscoverTasmania.com/TIS)                       9
10 Peter Mcdonald (Drapac Porsche)                              9
11 Dale Scarfe (Panasonic)                                      9
12 Tim Roe (Savings & Loans)                                    8
13 Stuart Shaw (Drapac Porsche)                                 7
14 Gene Bates (Drapac Porsche)                                  5
15 Nick Walker (VIS/Jayco)                                      5
16 Pat Shaw (VIS/Jayco)                                         4
17 Jason Rigg (Cannondale/Praties)                              3
18 Michael Phelan (Tarkine Forest Adventures)                   3
19 Johnnie Walker (South Australia/AIS)                         3
20 Tommy Nankervis (Virgin Blue)                                3
21 Cameron Peterson (Tarkine Forest Adventures)                 3
22 Luke Durbridge (Plan B Racing Team)                          1
 
Tasmanian rider classification
 
1 Richie Porte (Praties)                                 10.36.52
2 Bernard Sulzberger (Virgin Blue)                           1.21
3 Ben Mather (Praties)                                       5.02
4 Caleb Manion (DiscoverTasmania.com/TIS)                    5.39
5 Ben Grenda (DiscoverTasmania.com/TIS)                      7.39
6 Nathan Clarke (Praties)                                    8.50
7 Daniel Furmston (Praties)                                 12.38
8 Ben Grieve Johnson (Praties)                              14.50
9 William Clarke (Praties)                                  18.35
10 Jason Rigg (Cannondale/Praties)                          19.06
11 Tim Walker (Cannondale/Praties)                          28.48
12 Mark Jamieson (DiscoverTasmania.com/TIS)                 37.27
13 Tom Robinson (Burnie-Johnson Design/GHD)                 39.39
14 Jeremy Hills (Cannondale/Praties)                        43.02
15 Aaron Jones (Burnie-Johnson Design/GHD)                  43.46
16 Will Robinson (Burnie-Johnson Design/GHD)                44.23
17 Abram Manion (Budget Forklifts)                          57.13
18 Matthew Mcdonagh (Burnie-Johnson Design/GHD)           1.15.51
19 Danny Pulbrook (Tarkine Forest Adventures)             1.24.21
20 Sam Brett (DiscoverTasmania.com/TIS)                   1.31.27
21 Luke Ockerby (DiscoverTasmania.com/TIS)                1.36.02
22 Peter Loft (DiscoverTasmania.com/TIS)                  1.49.22
 
Teams classification
 
1 South Australia/AIS                                    31.40.00
2 Praties                                                   17.43
3 SASI                                                      18.00
4 VIS/Jayco                                                 20.21
5 Budget Forklifts                                          22.45
6 Virgin Blue                                               25.15
7 Drapac Porsche                                            27.32
8 Savings & Loans                                           27.54
9 Panasonic                                                 43.05
10 Tarkine Forest Adventures                                46.24
11 DiscoverTasmania.com/TIS                                 53.07
12 Cycle City Ballarat                                      56.57
13 Central Coast/Simplot                                  1.02.16
14 Plan B Racing Team                                     1.07.25
15 Burnie-Johnson Design/GHD                              1.10.15
16 Cannondale/Praties                                     1.40.28
17 Hart/Ridewiser                                         2.42.32