Scody Cup Tour of Tasmania - NE
Australia, September 30-October 5, 2008
Main Page Results Overall standings Previous Stage Next Stage
Stage 3 - October 1: Burnie City Day, 39km
King takes honours
By Rod Morris in Burnie
Benjamin King (SouthAustralia/AIS)
Photo ©: Shane Goss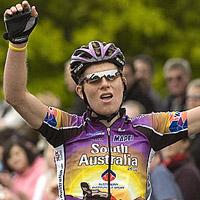 West Australian Benjamin King won the morning stage, a 39-kilometre criterium around a picturesque school ground course. Chris Jongewaard and Tim Roe finished second and third, respectively, in Burnie.
In one of the toughest – yet most unique – criterium races ever staged by race organizers in the 13-year history of the Scody Cup, riders were treated to 30 laps of a 1.3-kilometre circuit, which included a nagging hill climb. Raced in the surrounds of the picturesque Marist College in Burnie, the field was strung out over a large distance of the circuit very early in the piece.
In fact, 75 riders of the 107-strong field were lapped and were removed from the course by race commissaries. Whilst still being able to take part in the remainder of the tour, the lapped riders were removed to allow those challenging at the head of the peloton to race unimpeded.
Noted South Australian mountain biker Chris Jongewaard started this stage as the favourite, given his background and when he won the first intermediate hill climb, which for the stage replaced the regular intermediate sprints, his status appeared justified. However, NSW rider Peter McDonald settled into a solid rhythm and featured in five of the next six intermediates, which carried points in the Alpenberg Bread King of the Mountain Championship, as well as the all-important time bonuses for general classification.
Tour leader Leigh Howard
Photo ©: Shane Goss

McDonald amassed 13 points and on the leader board was able to erase part of his 24 second deficit to overnight leader, Leigh Howard. The GC was undergoing many twists and turns with favourite Tasmanian Bernard Sulzberger maintaining pressure on Howard and Jongewaard also keeping them honest.
On the 18th of the scheduled 30 laps, West Australian Benjamin King made his decisive move – a move that would prove fruitful. Within a short space of time, King had established a 20 second lead over his chasers and he was able to win each of the last five intermediates, completely wiping out his 12 second overnight deficit. Coupled with the time margin on the road, King was thrust into the limelight, as well as the GC lead.
King, with plenty of encouragement from students from the Marist College, crossed the finish line, 36 seconds ahead of Jongewaard and a further two-seconds to Adelaide based Timothy Roe, while the chasing bunch was led home by Tasmanian Caleb Manion some 54-seconds adrift of King. It was King's second win in this season's Scody Cup, following victory in the Euston Criterium in the recently completed Tour of the Murray River.
Photography
For a thumbnail gallery of these images, click here
Images by Shane Goss/www.licoricegallery.com
Results
1 Benjamin King (South Australia/AIS)                     1.04.03 (36.53 km/h)
2 Chris Jongewaard (SASI)                                    0.37
3 Tim Roe (Savings & Loans)                                  0.39
4 Caleb Manion (DiscoverTasmania.com/TIS)                    0.55
5 Peter Mcdonald (Drapac Porsche)                            0.56
6 Gene Bates (Drapac Porsche)                                    
7 Bernard Sulzberger (Virgin Blue)                               
8 Cameron Peterson (Tarkine Forest Adventures)               0.58
9 Leigh Howard (VIS/Jayco)                                       
10 Luke Durbridge (Plan B Racing Team)                           
11 Stuart Shaw (Drapac Porsche)                                  
12 Kristian House (Budget Forklifts)                             
13 Chris Jory (Panasonic)                                    1.01
14 Richie Porte (Praties)                                        
15 Michael England (Budget Forklifts)                            
16 Tim Guy (Panasonic)                                           
17 William Ford (South Australia/AIS)                            
18 Johnnie Walker (South Australia/AIS)                          
19 Mark O'Brien (Drapac Porsche)                                 
20 Peter Herzig (Panasonic)                                  1.56
21 Nick Walker (VIS/Jayco)                                   2.08
22 Hayden Brooks (Virgin Blue)                                   
23 Jack Bobridge (SASI)                                          
24 Pat Shaw (VIS/Jayco)                                          
25 Shaun Mccarthy (Central Coast/Simplot)                        
26 Jack Anderson (Budget Forklifts)                              
27 Cameron Hughes (Budget Forklifts)                             
28 Adam Semple (South Australia/AIS)                             
29 Dylan Newell (Praties)                                        
30 Ben Grieve Johnson (Praties)                                  
31 Ben Mather (Praties)                                          
32 Vaughan Bowman (Hart/Ridewiser)                           4.16
33 Ashley Baines (Cycle City Ballarat)                           
34 Glenn O'Shea (VIS/Jayco)                                      
35 Richard England (Burnie-Johnson Design/GHD)                   
36 Matt King (South Australia/AIS)                               
37 Daniel Furmston (Praties)                                 6.24
38 Rohan Dennis (SASI)                                           
39 Michael Hepburn (Virgin Blue)                                 
40 Nathan Clarke (Praties)                                       
41 Adam Phelan (Tarkine Forest Adventures)                       
42 Mark Isaacs (Cycle City Ballarat)                             
43 Brad Edmunds (Savings & Loans)                                
44 James Ibrahim (Central Coast/Simplot)                         
45 Sean Finning (VIS/Jayco)                                      
46 Jonathon Lovelock (VIS/Jayco)                                 
47 Jason Rigg (Cannondale/Praties)                               
48 William Clarke (Praties)                                      
49 Nathan Wise (Cycle City Ballarat)                             
50 Ben Grenda (DiscoverTasmania.com/TIS)                         
51 Joel Pearson (Savings & Loans)                                
52 James Langedyk (VIS/Jayco)                                    
53 Michael Phelan (Tarkine Forest Adventures)                    
54 Will Robinson (Burnie-Johnson Design/GHD)                     
55 Darren Rolfe (Virgin Blue)                                    
56 David Kemp (Virgin Blue)                                      
57 Tom Robinson (Burnie-Johnson Design/GHD)                  8.32
58 Sean Boyle (SASI)                                             
59 Patrick Gill (Plan B Racing Team)                             
60 Mark Jamieson (DiscoverTasmania.com/TIS)                      
61 Tommy Nankervis (Virgin Blue)                                 
62 Jason Hegert (Panasonic)                                      
63 Matthew Rice (Central Coast/Simplot)                          
64 Jeremy Hills (Cannondale/Praties)                             
65 Chris Luxton (Savings & Loans)                                
66 William Alexander (Virgin Blue)                               
67 Lauchlan Stewart (Cycle City Ballarat)                   10.40
68 Kane Walker (Hart/Ridewiser)                                  
69 Dale Scarfe (Panasonic)                                       
70 Daniel Mcintyre (Tarkine Forest Adventures)                   
71 Abram Manion (Budget Forklifts)                               
72 Aaron Donnelly (Central Coast/Simplot)                        
73 Peter Loft (DiscoverTasmania.com/TIS)                         
74 Matt Benson (SASI)                                            
75 Andrew Roe (Tarkine Forest Adventures)                        
76 Danny Pulbrook (Tarkine Forest Adventures)                    
77 Chris Martin (SASI)                                           
78 Matthew Mcdonagh (Burnie-Johnson Design/GHD)                  
79 Neil Manning (Plan B Racing Team)                             
80 Henry Morley (Plan B Racing Team)                             
81 Russell Gill (Savings & Loans)                                
82 Peter Ladd (Budget Forklifts)                                 
83 Joshua Wilson (Cannondale/Praties)                            
84 Luke Ockerby (DiscoverTasmania.com/TIS)                       
85 Sam Brett (DiscoverTasmania.com/TIS)                          
86 Charles Howlett (Cycle City Ballarat)                         
87 Tim Walker (Cannondale/Praties)                               
88 Michael Verheyen (Plan B Racing Team)                    12.48
89 Mathew Camilleri (Burnie-Johnson Design/GHD)                  
90 Scott Cronly-Dillon (Cycle City Ballarat)                     
91 Tim Decker (Central Coast/Simplot)                            
92 Stefan Kirsch (Hart/Ridewiser)                                
93 Aaron Jones (Burnie-Johnson Design/GHD)                       
94 Peter Milostic (Budget Forklifts)                             
95 Peter Howard (Hart/Ridewiser)                                 
96 Joshua Page (Tarkine Forest Adventures)                       
97 Kyle Marwood (Central Coast/Simplot)                          
98 Will Dickeson (Savings & Loans)                               
99 Tony Chandler (Hart/Ridewiser)                                
DNS Andrew Smith (Central Coast/Simplot)                         
DNS Brad Norton (Cannondale/Praties)                             
 
Mountains
 
Lap 6 (Cat 4)
1 Chris Jongewaard (SASI)                                       3 pts
2 William Ford (South Australia/AIS)                            2
3 Michael England (Budget Forklifts)                            1
 
Lap 8
1 Peter Mcdonald (Drapac Porsche)                               3 pts
2 Tim Roe (Savings & Loans)                                     2
3 Bernard Sulzberger (Virgin Blue)                              1
 
Lap 10
1 Peter Mcdonald (Drapac Porsche)                               3 pts
2 Bernard Sulzberger (Virgin Blue)                              2
3 William Ford (South Australia/AIS)                            1
 
Lap 12
1 Cameron Peterson (Tarkine Forest Adventures)                  3 pts
2 Bernard Sulzberger (Virgin Blue)                              2
3 Tim Roe (Savings & Loans)                                     1
 
Lap 14
1 Cameron Peterson (Tarkine Forest Adventures)                  3 pts
2 Peter Mcdonald (Drapac Porsche)                               2
3 Tim Roe (Savings & Loans)                                     1
 
Lap 16
1 Peter Mcdonald (Drapac Porsche)                               3 pts
2 Chris Jongewaard (SASI)                                       2
3 Caleb Manion (DiscoverTasmania.com/TIS)                       1
 
Lap 18
1 Benjamin King (South Australia/AIS)                           3 pts
2 Peter Mcdonald (Drapac Porsche)                               2
3 Tim Roe (Savings & Loans)                                     1
 
Lap 20
1 Benjamin King (South Australia/AIS)                           3 pts
2 Tim Roe (Savings & Loans)                                     2
3 Stuart Shaw (Drapac Porsche)                                  1
 
Lap 22
1 Benjamin King (South Australia/AIS)                           3 pts
2 Tim Roe (Savings & Loans)                                     2
3 Jack Bobridge (SASI)                                          1
 
Lap 24
1 Benjamin King (South Australia/AIS)                           3 pts
2 Tim Roe (Savings & Loans)                                     2
3 Chris Jongewaard (SASI)                                       1
 
Lap 26
1 Benjamin King (South Australia/AIS)                           3 pts
2 Chris Jongewaard (SASI)                                       2
3 Tim Roe (Savings & Loans)                                     1
 
Criterium Championships
 
1 Benjamin King (South Australia/AIS)                          10 pts
2 Chris Jongewaard (SASI)                                       9
3 Tim Roe (Savings & Loans)                                     8
4 Caleb Manion (DiscoverTasmania.com/TIS)                       7
5 Peter Mcdonald (Drapac Porsche)                               6
6 Gene Bates (Drapac Porsche)                                   5
7 Bernard Sulzberger (Virgin Blue)                              4
8 Cameron Peterson (Tarkine Forest Adventures)                  3
9 Leigh Howard (VIS/Jayco)                                      2
10 Luke Durbridge (Plan B Racing Team)                          1
 
Teams
 
1 South Australia/AIS                                     3.14.11
2 Drapac Porsche                                             0.48
3 Panasonic                                                  1.56
4 Budget Forklifts                                           2.05
5 VIS/Jayco                                                  3.12
6 Praties                                                    3.15
7 SASI                                                       7.07
8 Virgin Blue                                                7.26
9 Savings & Loans                                           11.25
10 Tarkine Forest Adventures                                11.44
11 DiscoverTasmania.com/TIS                                 13.49
12 Cycle City Ballarat                                      15.02
13 Central Coast/Simplot                                         
14 Burnie-Johnson Design/GHD                                17.10
15 Plan B Racing Team                                       18.08
16 Cannondale/Praties                                       23.34
17 Hart/Ridewiser                                           25.42
 
 
General classification after stage 3
 
1 Benjamin King (South Australia/AIS)                     3.01.50
2 Chris Jongewaard (SASI)                                    0.38
3 Tim Roe (Savings & Loans)                                  0.58
4 Bernard Sulzberger (Virgin Blue)                           1.07
5 Leigh Howard (VIS/Jayco)                                   1.11
6 Peter Mcdonald (Drapac Porsche)                            1.18
7 Caleb Manion (DiscoverTasmania.com/TIS)                    1.27
8 Kristian House (Budget Forklifts)                              
9 Cameron Peterson (Tarkine Forest Adventures)               1.29
10 Stuart Shaw (Drapac Porsche)                              1.30
11 Gene Bates (Drapac Porsche)                               1.32
12 Michael England (Budget Forklifts)                        1.33
13 Luke Durbridge (Plan B Racing Team)                       1.35
14 William Ford (South Australia/AIS)                            
15 Johnnie Walker (South Australia/AIS)                      1.38
16 Richie Porte (Praties)                                        
17 Chris Jory (Panasonic)                                        
18 Tim Guy (Panasonic)                                           
19 Mark O'Brien (Drapac Porsche)                                 
20 Pat Shaw (VIS/Jayco)                                      2.30
21 Peter Herzig (Panasonic)                                  2.33
22 Hayden Brooks (Virgin Blue)                               2.39
23 Adam Semple (South Australia/AIS)                         2.41
24 Jack Bobridge (SASI)                                      2.42
25 Nick Walker (VIS/Jayco)                                   2.44
26 Ben Mather (Praties)                                          
27 Jack Anderson (Budget Forklifts)                              
28 Dylan Newell (Praties)                                        
29 Shaun Mccarthy (Central Coast/Simplot)                    2.45
30 Cameron Hughes (Budget Forklifts)                             
31 Ben Grieve Johnson (Praties)                                  
32 Glenn O'Shea (VIS/Jayco)                                  4.49
33 Vaughan Bowman (Hart/Ridewiser)                           4.51
34 Matt King (South Australia/AIS)                           4.52
35 Richard England (Burnie-Johnson Design/GHD)               4.53
36 Ashley Baines (Cycle City Ballarat)                           
37 Joel Pearson (Savings & Loans)                            6.47
38 Nathan Clarke (Praties)                                   6.51
39 David Kemp (Virgin Blue)                                  6.56
40 Rohan Dennis (SASI)                                       6.57
41 Sean Finning (VIS/Jayco)                                      
42 Daniel Furmston (Praties)                                 6.58
43 Brad Edmunds (Savings & Loans)                                
44 Ben Grenda (DiscoverTasmania.com/TIS)                     6.59
45 James Langedyk (VIS/Jayco)                                7.00
46 Michael Phelan (Tarkine Forest Adventures)                7.01
47 Jason Rigg (Cannondale/Praties)                               
48 William Clarke (Praties)                                      
49 Jonathon Lovelock (VIS/Jayco)                                 
50 Nathan Wise (Cycle City Ballarat)                             
51 Adam Phelan (Tarkine Forest Adventures)                       
52 Darren Rolfe (Virgin Blue)                                    
53 Michael Hepburn (Virgin Blue)                             9.04
54 James Ibrahim (Central Coast/Simplot)                         
55 Matthew Rice (Central Coast/Simplot)                      9.09
56 Sean Boyle (SASI)                                             
57 Tommy Nankervis (Virgin Blue)                                 
58 William Alexander (Virgin Blue)                               
59 Mark Jamieson (DiscoverTasmania.com/TIS)                      
60 Chris Luxton (Savings & Loans)                                
61 Jason Hegert (Panasonic)                                      
62 Jeremy Hills (Cannondale/Praties)                         9.45
63 Patrick Gill (Plan B Racing Team)                         9.48
64 Mark Isaacs (Cycle City Ballarat)                        11.07
65 Russell Gill (Savings & Loans)                           11.11
66 Tom Robinson (Burnie-Johnson Design/GHD)                 11.12
67 Andrew Roe (Tarkine Forest Adventures)                   11.14
68 Neil Manning (Plan B Racing Team)                             
69 Dale Scarfe (Panasonic)                                  11.16
70 Abram Manion (Budget Forklifts)                          11.17
71 Aaron Donnelly (Central Coast/Simplot)                        
72 Matt Benson (SASI)                                            
73 Daniel Mcintyre (Tarkine Forest Adventures)                   
74 Sam Brett (DiscoverTasmania.com/TIS)                          
75 Charles Howlett (Cycle City Ballarat)                         
76 Peter Ladd (Budget Forklifts)                                 
77 Lauchlan Stewart (Cycle City Ballarat)                        
78 Kane Walker (Hart/Ridewiser)                                  
79 Chris Martin (SASI)                                      11.43
80 Tim Walker (Cannondale/Praties)                          12.21
81 Joshua Wilson (Cannondale/Praties)                       13.20
82 Henry Morley (Plan B Racing Team)                             
83 Peter Milostic (Budget Forklifts)                        13.25
84 Stefan Kirsch (Hart/Ridewiser)                                
85 Tim Decker (Central Coast/Simplot)                            
86 Matthew Mcdonagh (Burnie-Johnson Design/GHD)             15.23
87 Aaron Jones (Burnie-Johnson Design/GHD)                  15.28
88 Mathew Camilleri (Burnie-Johnson Design/GHD)                  
89 Will Dickeson (Savings & Loans)                               
90 Danny Pulbrook (Tarkine Forest Adventures)               16.41
91 Peter Howard (Hart/Ridewiser)                            17.31
92 Luke Ockerby (DiscoverTasmania.com/TIS)                  18.44
93 Will Robinson (Burnie-Johnson Design/GHD)                19.19
94 Joshua Page (Tarkine Forest Adventures)                  19.34
95 Peter Loft (DiscoverTasmania.com/TIS)                    20.47
96 Michael Verheyen (Plan B Racing Team)                    23.40
97 Tony Chandler (Hart/Ridewiser)                                
98 Kyle Marwood (Central Coast/Simplot)                     25.43
99 Scott Cronly-Dillon (Cycle City Ballarat)                27.46
 
Sprints classification
 
1 Pat Shaw (VIS/Jayco)                                         15 pts
2 Bernard Sulzberger (Virgin Blue)                             15
3 Chris Jongewaard (SASI)                                      12
4 Benjamin King (South Australia/AIS)                          12
5 Kristian House (Budget Forklifts)                             8
6 Joel Pearson (Savings & Loans)                                6
7 Hayden Brooks (Virgin Blue)                                   6
8 Leigh Howard (VIS/Jayco)                                      6
9 David Kemp (Virgin Blue)                                      5
10 Glenn O'Shea (VIS/Jayco)                                     4
11 Sean Finning (VIS/Jayco)                                     4
12 Nathan Clarke (Praties)                                      4
13 Rohan Dennis (SASI)                                          4
14 Michael England (Budget Forklifts)                           4
15 Adam Semple (South Australia/AIS)                            4
16 Andrew Roe (Tarkine Forest Adventures)                       3
17 Daniel Furmston (Praties)                                    3
18 Brad Edmunds (Savings & Loans)                               3
19 Neil Manning (Plan B Racing Team)                            3
20 Ben Grenda (DiscoverTasmania.com/TIS)                        2
21 Vaughan Bowman (Hart/Ridewiser)                              2
22 Jack Bobridge (SASI)                                         2
23 Ben Mather (Praties)                                         1
24 Dylan Newell (Praties)                                       1
25 Jack Anderson (Budget Forklifts)                             1
26 Matt King (South Australia/AIS)                              1
27 James Langedyk (VIS/Jayco)                                   1
 
Mountains classification
 
1 Benjamin King (South Australia/AIS)                          15 pts
2 Peter Mcdonald (Drapac Porsche)                              13
3 Tim Roe (Savings & Loans)                                    12
4 Chris Jongewaard (SASI)                                       8
5 Cameron Peterson (Tarkine Forest Adventures)                  6
6 Bernard Sulzberger (Virgin Blue)                              5
7 William Ford (South Australia/AIS)                            3
8 Stuart Shaw (Drapac Porsche)                                  1
9 Michael England (Budget Forklifts)                            1
10 Caleb Manion (DiscoverTasmania.com/TIS)                      1
11 Jack Bobridge (SASI)                                         1
 
Criterium Championships classification
 
1 Chris Jongewaard (SASI)                                      23 pts
2 Leigh Howard (VIS/Jayco)                                     21
3 Bernard Sulzberger (Virgin Blue)                             17
4 Joel Pearson (Savings & Loans)                               13
5 Benjamin King (South Australia/AIS)                          10
6 Nathan Clarke (Praties)                                      10
7 Caleb Manion (DiscoverTasmania.com/TIS)                       9
8 Peter Mcdonald (Drapac Porsche)                               9
9 Tim Roe (Savings & Loans)                                     8
10 Russell Gill (Savings & Loans)                               8
11 Stuart Shaw (Drapac Porsche)                                 7
12 Dale Scarfe (Panasonic)                                      5
13 Gene Bates (Drapac Porsche)                                  5
14 Nick Walker (VIS/Jayco)                                      5
15 Pat Shaw (VIS/Jayco)                                         4
16 Jason Rigg (Cannondale/Praties)                              3
17 Cameron Peterson (Tarkine Forest Adventures)                 3
18 Michael Phelan (Tarkine Forest Adventures)                   2
19 Luke Durbridge (Plan B Racing Team)                          1
20 Richard England (Burnie-Johnson Design/GHD)                  1
21 Johnnie Walker (South Australia/AIS)                         1
 
Tasmanian rider classification
 
1 Bernard Sulzberger (Virgin Blue)                        3.02.57
2 Caleb Manion (DiscoverTasmania.com/TIS)                    0.20
3 Richie Porte (Praties)                                     0.31
4 Ben Mather (Praties)                                       1.37
5 Ben Grieve Johnson (Praties)                               1.38
6 Nathan Clarke (Praties)                                    5.44
7 Daniel Furmston (Praties)                                  5.51
8 Ben Grenda (DiscoverTasmania.com/TIS)                      5.52
9 Jason Rigg (Cannondale/Praties)                            5.54
10 William Clarke (Praties)                                      
11 Matthew Rice (Central Coast/Simplot)                      8.02
12 Mark Jamieson (DiscoverTasmania.com/TIS)                      
13 Jeremy Hills (Cannondale/Praties)                         8.38
14 Tom Robinson (Burnie-Johnson Design/GHD)                 10.05
15 Abram Manion (Budget Forklifts)                          10.10
16 Sam Brett (DiscoverTasmania.com/TIS)                          
17 Tim Walker (Cannondale/Praties)                          11.14
18 Joshua Wilson (Cannondale/Praties)                       12.13
19 Matthew Mcdonagh (Burnie-Johnson Design/GHD)             14.16
20 Aaron Jones (Burnie-Johnson Design/GHD)                  14.21
21 Danny Pulbrook (Tarkine Forest Adventures)               15.34
22 Luke Ockerby (DiscoverTasmania.com/TIS)                  17.37
23 Will Robinson (Burnie-Johnson Design/GHD)                18.12
24 Peter Loft (DiscoverTasmania.com/TIS)                    19.40
 
Teams classification
 
1 South Australia/AIS                                     9.09.23
2 Drapac Porsche                                             0.48
3 Panasonic                                                  1.56
4 Budget Forklifts                                           2.05
5 VIS/Jayco                                                  3.12
6 Praties                                                    3.15
7 SASI                                                       7.07
8 Virgin Blue                                                7.26
9 Savings & Loans                                           11.25
10 Tarkine Forest Adventures                                11.44
11 DiscoverTasmania.com/TIS                                 13.49
12 Central Coast/Simplot                                    15.02
13 Cycle City Ballarat                                           
14 Plan B Racing Team                                       18.47
15 Burnie-Johnson Design/GHD                                21.16
16 Cannondale/Praties                                       24.10
17 Hart/Ridewiser                                           25.42