5th Souvenir Magali Pache Lausanne - 1.1
Sion, Switzerland, May 2, 2008
2007 Results Results Past winners
Swiss timing sees Soeder so good
By Ben Atkins in Sion
Christiane Soeder (Cervelo Lifeforce)
Photo ©: Ben Atkins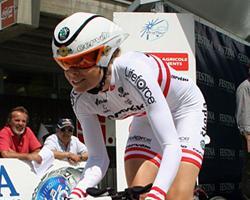 Austrian time trial champion Christiane Soeder (Cervelo Lifeforce) has won the sixth edition of the Grand Prix Suisse Feminin time trial on a blistering hot day in Sion, nestling between the Alps of southern Switzerland. The race, dedicated to the young Swiss time trial specialist Magali Pache – who tragically died in a French race in 2000 at the age of just 22 – was run over the same course on the same day as the time trial stage of the Tour de Romandie. Soeder finished twenty-two seconds ahead of her team-mate: US champion and last year's winner Kristin Armstrong. Armstrong's compatriot Amber Neben (Flexpoint) was another nine seconds back in third place.
Despite being made up of just eighteen riders, the field for the Grand Prix Suisse is all invited on merit and so represents the cream of women's time trialling – the only notable absence being the World champion Hanka Kupfernagel, who presumably declined her invitation.
Soeder was third from last to start ahead of the better-seeded Neben and last year's winner and hot favourite Armstrong. Soeder however, seemingly rode a perfectly judged race to overhaul the previous best time set by her team-mate Karin Thürig, and post a time that no one could match. Neben had started a minute ahead of Armstrong and her time as good enough for a provisional second place until the American champion just shaded her out, knocking Thürig off the podium in the process.
"Yeah, it was nice," Soeder told Cyclingnews on the way to the podium. "I think it was a hard course, but for all of us it was the same. In the beginning I tried to make a high cadence because mostly I like to take big gears, and if it's longer than 10ks it's not so good. So I tried the high cadence and in the end it was good.
"On the hill I tried to go not too hard," she continued "Hard, but not too hard – because it's very long and in the end very steep, I think in the last 3ks I put a big gear in and [went] very fast."
Cervelo Lifeforce riders filled three of the top four places, but as a team in form this was no surprise to the Austrian. "We are a good time trial team because of Kristin [Armstrong], Priska [Doppmann] and Karin [Thürig] and so I think it's good for us because we can learn from each other and we like each other, and it's a very good team."
Cervelo Lifeforce has a lot of talent
Photo ©: Ben Atkins

That the Cervelo Lifeforce team provided the winner may have been expected, but with other specialists – including two former World champions in the form of Armstrong and Thürig – perhaps the specific rider that took the win was less so. "Yes, [I'm] very surprised!" laughed Soeder. "I was very good in Geelong, but mostly I like the shorter distances, more the 10ks or 15ks, and so yeah it's good for me."
Amber Neben (Flexpoint) rode an excellent race to prevent a total Cervelo Lifeforce podium. "I had a good ride and I'm happy with it," she said. "I wish I'd had a 54 on; I was at 120rpms all the way down. It was a great ride; Kristin [Armstrong] rode fantastic; Christiane [Soeder] rode awesome. To get third in a field like this is really an honour, I'm very happy."
Asked if she was surprised if her compatriot Armstrong – the defending champion – had been beaten by Soeder, the Netherlands based rider was philosophical. "I've seen Christiane pull off some fantastic time trials before. Kristin has been dialled in since February, I think she's on the end of being at her peak; she's fine, I'm not worried about her."
2005 winner Karin Thürig (Cervelo Lifeforce) was disappointed, but optimistic about her own rising condition this season. "The podium is always nice," she told Cyclingnews. "I know where I lost a lot of time, so it's okay. I think my form's not perfect but it's not bad, my condition, but I hope I can be much stronger in Beijing."
The Swiss champion may not have made the top three, but two of her team-mates did: "That's great," she said, "because Cervelo is also the main sponsor [of the race – in fact Soeder's prize was a Cervelo P3C frame, just like the one she rode to victory!], so two of us on the podium is great.
"We have a lot of good riders and I hope we do well in Bern on Sunday," she continued, looking forward to the next round of the World Cup this coming weekend. "We are very motivated for this race; it's always nice to have a race in Switzerland. Also here, it was very nice to be able to start here before the men, and so it's very good for women's cycling."
Sixth placed Christine Thorburn (USA National Team) enjoyed her ride, but was frustrated by the technical nature of the final part of the course after she caught the rider who started one minute ahead of her. "It was really good until the last 5k," said the American to Cyclingnews. "Priska [Doppmann} and I were playing a little tag – back and forth – and she definitely interfered with my... I mean she didn't on purpose, but that's the way it turned out. There are a couple of technical turns on the descent where you have to set up your own line, which was frustrating, and then it got kind of narrow in here so it's hard to pass back."
Like most of the riders, Thorburn was very positive about the event, especially the race's parcours: "It was a great course," she enthused, "I like the course. [The climb] was very, very hard, it just got steeper and steeper: 17% at the top."
"Really good course," agreed High Road's Oenone Wood. "I don't think I was super fast here today, in fact I think I was quite slow [in fact she finished last of the eighteen riders], but it was a great course and a really well organised race."
Aussie Champion Bridie O'Donnell (AIS Australia)
Photo ©: Ben Atkins

Wood's compatriot, Australian champion Bridie O'Donnell (AIS Australia), was equally enthusiastic – and equally self-effacing about her own performance: "It was good. I rode as well as I could, I just need to lose about ten kilos if I'm going to get up that hill a little bit quicker," she joked. "It was generally pretty fast. There wasn't as much wind as there was on the other days when I've been here to practice, so it was quite fast when you weren't going uphill!"
As there are not many competitive time trials for women, this race was an important marker for those trying to qualify for the Olympic games in Beijing. For the Swiss, the race is treated as a qualifying event, so for Nicole Brändli (Bigla) eighth place was good enough to finish as second Swiss rider, and – she hopes – a ticket for the games. "I was happy," she said, "because I don't train much for time trails and today it was the best girls here for the race, [but] the parcours was not so [hard] like the Olympic race. The first, second and third girls [were much] better, but after I was there so I was really happy, it was important to make a good race for the selection."
"Karin Thurig is certain [to go to Beijing] because she is strong, but we have two places. When you look at the parcours for the Olympic games it's like a mountain in the beginning so I hope I can go."
Finishing in seventh place, only fractionally slower than Thorburn, was an evergreen Jeannie Longo-Ciprelli (Team Pro Feminin les Carroz). The thirteen-time World champion is bidding to qualify for yet another Olympic games this summer, just a few months shy of her fiftieth birthday.
Photography
For a thumbnail gallery of these images, click here
Images by CJ Farquharson/WomensCycling.net
Images by Ben Atkins/Cyclingnews.com
Results - 20.4 km
1 Christiane Soeder (Aut) Cervelo Lifeforce Pro Cycling Team    28.46.37
2 Kristin Armstrong (USA) Cervelo Lifeforce Pro Cycling Team     0.22.23
3 Amber Neben (USA) Team Flexpoint                               0.31.29
4 Karin Thürig (Swi) Cervelo Lifeforce Pro Cycling Team          0.46.50
5 Susanne Ljungskog (Swe) Menikini - Selle Italia                1.00.87
6 Christine Thorburn (USA) Webcor Builders Cycling Team          1.01.77
7 Jeannie Longo-Ciprelli (Fra) Team Pro Feminin Les Carroz       1.02.45
8 Nicole Brändli (Swi) Bigla Cycling Team                        1.12.64
9 Judith Arndt (Ger) Team High Road Women                        1.17.43
10 Trixi Worrack (Ger) Equipe Nürnberger Versicherung            1.21.41
11 Emma Pooley (GBr) Team Specialized Designs For Women          1.23.47
12 Nicole Cooke (GBr) Team Halfords Bikehut                      1.30.39
13 Mirjam Melchers-Van Poppel (Ned) Team Flexpoint               1.40.92
14 Priska Doppmann (Swi) Cervelo Lifeforce Pro Cycling Team      2.00.18
15 Andrea Thürig (Swi) Bigla Cycling Team                        2.50.14
16 Bridie O'Donnell (Aus) AIS                                    3.02.73
17 Pascale Schnider (Swi) Cervelo Lifeforce Pro Cycling Team     3.13.22
18 Oenone Wood (Aus) Team High Road Women                        3.23.33

Past winners

2007 Kristin Armstrong (USA) Team Lipton                 20.40 km in 30.31 (40.109 km/h)
2006 Nicole Cooke (GBr) Univega Pro Cycling Team         20.40 km in 30.43 (39.843 km/h)
2005 Karin Thürig (Swi) Univega Pro Cycling Team
2004 Oenone Wood (Aus) Australian National Team
 
Past winners by Mario Stiehl, www.world-of-cycling.com