Joe Martin Stage Race - NE
Fayetteville, Arkansas, USA, May 8-11, 2008
Main Page Results Overall standings Previous Stage
Stage 4 - May 11: Criterium, 90/60 minutes
Haedo takes second stage; Sutherland wins overall
By Kirsten Robbins in Fayetteville, Arkansas
Men's stage podium (L-R): Karl Menzies (HealthNet-Maxxis),
Photo ©: Kurt Jambretz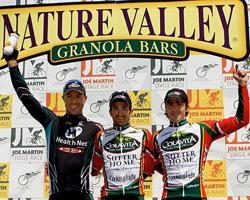 Colavita/Sutter Home's 'Argentinean Arrow' Lucas Sebastian Haedo shot up the finishing climb to take the final stage, his second stage victory of the Joe Martin stage race, ahead of Karl Menzies (Health Net-Maxxis) and team-mate Anibal Borrajo.
"HealthNet set up a very good lead out so Karl Menzies and Rory Sutherland could stay fresh," said Haedo, who took advantage of the green team's lead-out in order to save his sprinting legs for the victory. "Menzies came through the last corner first and I sat behind Sutherland with my team-mate Anibal Borrajo on my wheel. We made the turn and Sutherland sat up to open a two-bike length gap, which is why it took me so long to catch Menzies and win the race."
HealthNet-Maxxis' Rory Sutherland can call the Joe Martin stage race his own after taking the event for the second year running. He took the opening time trial stage and overall lead on Thursday, and held the lead right through to the end of today's final criterium. His final margin was 20 seconds over Anthony Colby (Colavita/Sutter Home) and 24 seconds ahead of third place Bernard van Ulden (Jelly Belly).
"The team did an amazing job this week and it's even more impressive if you think about the number of miles they had to do in the wind," Sutherland explained. "I think they did the most work out of anyone in the peloton and the only really hard effort I had to do myself this week was in the opening time trial.
"If you look at everyday and how my team worked, they made my job so easy to do," continued Southerland who will now focus his energy on the Mt Hood stage race starting this Wednesday. "Its great for the team and it's given us momentum as we get toward Mt Hood, Philadelphia and the bigger races coming up."
How it unfolded
Strong winds continued to blow through the final stage of the Joe Martin stage race, making a tough criterium even tougher for Health Net-Maxxis. With Sutherland's overall lead hovering at just 20 seconds they were expected to control the front of the peloton.
Kyle Wamsley (Colavita/Sutter Home) initiated an early break which included Nic Sanderson (Jelly Belly), Matt Wilson (Team Type 1) and John Durango (Toshiba). HealthNet held the four riders at 20 second for the first 60 minutes of a 90 minute stage.
The entire HealthNet-Maxxis team
Photo ©: Kurt Jambretz

The break away were later joined by Dan Timmerman (Team Race) and Chris Jones (Team Type 1), giving Team Type 1 two riders in the break. This obvious advantage allowed them to ride a more tactical race, launching several attacks until the break split in two.
Ted King (Bissell) initiated a flurry of attacks from the peloton which succeeded in throwing HealthNet's organization off-kilter while simultaneously bringing the field back together with ten laps to go. HealthNet then reorganized their train with five laps to go and continued to set the pace, undisturbed by the constant.
With the field in tact on the penultimate lap, race leader Sutherland sat comfortably on Menzies wheel, prepared to allow his Australian team-mate the opportunity to sprint after all his hard work through out the stage race. "Karl went too quickly for me in the last corner and I had to back down a little bit and let him have the chance at the sprint," said Sutherland.
"It was fun to watch the sprint from behind," said Sutherland who safetly crossed the line mid pack. "Haedo is going really well at the moment with a great kick and he can climb too, making it difficult for us. I think it was a fantastic race for us and for Colavita/Sutter Home. Everyone got a piece of the pie this week and I think we can all be happy with what we got out of it."
Wangsgard wins final stage; Cheerwine sweeps the overall
Colavita/Sutter Home sprinter Nichole Wangsgard put a halt to the dominant Cheerwine's winning streak when she won the final stage ahead of Cheerwine team-mates Laura Van Gilder and Catherine Cheatley.
"I could sense that Van Gilder wanted to win today so I made her my key rider to watch," Wangsgard said of her tactics. "It's the first time that I have ever beat Laura Van Gilder in a sprint. Our team won two of four stages so it was an exciting way to end the Joe Martin Stage Race."
The overall win went to Cheerwine's Robin Farina who took a massive ten minute lead in yesterday's stage under controversial circumstances and held on in today's criterium to take the race. After breaking away on her own during yesterdays stage, the women's field was twice neutralised, enabling her to build up her massive lead. Farina's Cheerwine team-mates, Catherine Cheatley and Laura Van Gilder took second and third respectively.
"All I really had to do today was sit in the criterium," Farina explained. "Our goal for the day was to get Laura onto the podium and in the GC so we felt like the criterium needed to be aggressive. We are very excited at the overall results of this week.
"I'm very thrilled to be in the leader's jersey and take my first win and it was exciting even though there was a little misunderstanding about neutralization in the field yesterday," she said. "But, I attacked just to do a good job as a team-mate and whatever happened was just what happened. I felt the opportunity to take a chance and it happened to be the right one."
How it unfolded
The women's 60 minute criterium blew to pieces in the cross winds thanks to Cheerwine's flurry of attacks. Their pace was so high it caused a number of riders to get into difficulty and eventually lose contact with the main field.
"Ally Brandt was off the front to initiate breaks," said Farina regarding the first early break away.'
Several counter attacks caused the threatening break to return to the peloton. "We could see the field was tired and in the end we were OK with the field sprint."
As the dwindled peloton approached one lap to go, Team Revolution used what strength they had left to provide their sprinter Bri Kovac an opportunity to take the stage.
With half a lap to go Cheerwine's notorious train rounded the corners out front and in tact, closely followed by Colavita/Sutter Home. "I could see Team Revolution girls set-up to lead out their sprinters and they did keep the pace high at the end but with all the lapped riders in the group, I knew that the only wheel I needed to follow was Van Gilder's because I could feel her wanting to win today," said Wangsgard.
"It was a long up hill and windy finish and we knew if we set it up properly we could win it," Wangsgard continued. "My team-mate and I didn't even have to talk about the finishing sprint. She waited for the right time to jump and I went with her and came around Van Gilder - it was really great momentum."
Farina attributed her team's success to their strength and dedication to the overall team goals. "The team we brought had a lot of depth and on any given day any of us could have won," said Farina. "It doesn't matter which rider wins as long as it's to achieve a common goal. We were able to work well together and it didn't matter who took the win. We felt like we raced really aggressive, kept the pace high, kept moves going up the road and kept the other teams racing."
Photography
For a thumbnail gallery of these images, click here
Images by Kurt Jambretz/www.actionimages.cc
Results
Elite Women

1 Nichole Wangsgard (Colavita/Sutter Home)                 1.00.09
2 Laura Van Gilder (Cheerwine)                                    
3 Catherine Cheatley (Cheerwine)                                  
4 Samantha Schneider (Colavita/Sutter Home)                   0.05
5 Shannon Koch (Metro Volkswagen)                                 
6 Allyson Brandt (Cheerwine)                                      
7 Mackenzie Woodring (Colavita/Sutter Home)                   0.10
8 Kristin Wentworth (Team Kenda Tire)                             
9 Jennifer Reither                                                
10 Bri Kovac (Team Revolution)                                    
11 Christina Smith (LoneStarWorks.com)                            
12 Denise Ramsden (Team Ultralink)                                
13 Sue Palmer-Komar (Team Advil-Chapstick)                        
14 Marisa Asplund-Owens (Cheerwine)                               
15 Anne Guzman (Team Kenda Tire)                                  
16 Robin Farina (Cheerwine)                                       
17 Sydney Brown (Team Revolution)                             0.16
18 Kathryn Clark (Team Kenda Tire)                            0.19
19 Ashley Anderson (Metro Volkswagen)                         0.28
20 Julie Bishop (Team Revolution)                             2.13
21 Christy Keely (Priority Health)                            2.22
22 Elisa Gagnon (Team Advil-Chapstick)                        3.42
23 Andrea Myers (Team Kenda Tire)                                 
24 Laura Bowles (Team Advil-Chapstick)                        3.49
25 Katharina Weber (Team Revolution)                          4.03
26 Carrie Cash-Wootten (Team Revolution)                      5.22
27 Michelle Jensen (Mercy Cycling Team)                       5.28
28 Tammy Wallace (LoneStarWorks.com)                              
29 Tashony Noplos (Cheerwine)                                 6.08
30 Mary Downing (Team Kenda Tire)                             6.41
31 Lee Farabaugh (Team Kenda Tire)                            6.51
32 Kirsten Robbins (Team Advil-Chapstick)                     7.13
33 Amy Mcguire (Team Kenda Tire)                              8.53
DNS Jenny Willhite (Metro Volkswagen Cycling Team)                
DNS Irene Beyerlein (Colavita-New Mexico)                         
DNS Debbie Dust (Team Kenda Tire)                                 
 
 
Final General classification
 
1 Robin Farina (Cheerwine)                                 7.11.50
2 Catherine Cheatley (Cheerwine)                              9.20
3 Laura Van Gilder (Cheerwine)                                9.25
4 Mackenzie Woodring (Colavita/Sutter Home)                   9.39
5 Marisa Asplund-Owens (Cheerwine)                            9.55
6 Sue Palmer-Komar (Team Advil-Chapstick)                    10.05
7 Bri Kovac (Team Revolution)                                10.27
8 Denise Ramsden (Team Ultralink)                                 
9 Shannon Koch (Metro Volkswagen)                            10.31
10 Anne Guzman (Team Kenda Tire)                             10.37
11 Jennifer Reither                                          10.43
12 Allyson Brandt (Cheerwine)                                11.04
13 Julie Bishop (Team Revolution)                            13.26
14 Andrea Myers (Team Kenda Tire)                            15.17
15 Katharina Weber (Team Revolution)                         15.38
16 Kristin Wentworth (Team Kenda Tire)                       16.02
17 Ashley Anderson (Metro Volkswagen)                        16.15
18 Sydney Brown (Team Revolution)                            16.32
19 Samantha Schneider (Colavita/Sutter Home)                 16.37
20 Christina Smith (LoneStarWorks.com)                       16.50
21 Michelle Jensen (Mercy Cycling Team)                      17.00
22 Kirsten Robbins (Team Advil-Chapstick)                    18.38
23 Laura Bowles (Team Advil-Chapstick)                       20.43
24 Nichole Wangsgard (Colavita/Sutter Home)                  20.53
25 Elisa Gagnon (Team Advil-Chapstick)                       21.07
26 Tammy Wallace (LoneStarWorks.com)                         22.11
27 Tashony Noplos (Cheerwine)                                22.41
28 Carrie Cash-Wootten (Team Revolution)                     22.55
29 Lee Farabaugh (Team Kenda Tire)                           23.15
30 Christy Keely (Priority Health)                           32.13
31 Mary Downing (Team Kenda Tire)                            35.49
32 Kathryn Clark (Team Kenda Tire)                           36.57
33 Amy Mcguire (Team Kenda Tire)                                  
 
Teams classification
 
1 Cheerwine Cycling                                       21.54.41
2 Team Revolution                                            15.17
3 Team Kenda Tire                                            18.30
4 Team Advil-Chapstick                                       25.49
5 Colavita Sutter Home p/b Cooking Light                     28.13
 
Elite Men
 
1 Lucas Sebastian Haedo (Colavita/Sutter Home)             1.28.06
2 Karl Menzies (HealthNet-Maxxis)                                 
3 Anibal Borrajo (Colavita/Sutter Home)                           
4 Rory Sutherland (HealthNet-Maxxis)                              
5 Luis Amaran (Colavita/Sutter Home)                              
6 John Fredy Parra (TOSHIBA-Santo)                                
7 Anthony Colby (Colavita/Sutter Home)                            
8 Mark Hekman (TOSHIBA-Santo)                                     
9 Emile Abraham (Team Type 1)                                     
10 Tyler Wren (Colavita/Sutter Home)                              
11 Jeremy Powers (Jelly Bellly)                                   
12 Robbie King (RiteAide-Shebell & Shebell)                       
13 Dan R. Timmerman (Team RACE Pro)                               
14 Bernard Van Ulden (Jelly Bellly)                               
15 Garett Peltonen (Bissell Pro Cycling)                          
16 Edward King (Bissell Pro Cycling)                              
17 Dustin Macburnie (Team RACE Pro)                               
18 Sheldon Deeny (CRCA / EMPIRE)                                  
19 Valeriy Kobzarenko (Team Type 1)                               
20 Aaron Tuckerman (Jelly Bellly)                             0.13
21 John Murphy (HealthNet-Maxxis)                                 
22 Chris Jones (Team Type 1)                                      
23 Tim Johnson (HealthNet-Maxxis)                                 
24 Kyle Wamsley (Colavita/Sutter Home)                        0.21
25 Ben Brooks (Team Type 1)                                   0.40
26 Frank Pipp (HealthNet-Maxxis)                                  
27 Glen Chadwick (Team Type 1)                                    
28 Brian Dziewa (THF Racing)                                  0.58
29 John Durango (TOSHIBA-Santo)                                   
30 Terrence Keenan (THF Racing)                                   
31 Predrag Prokic (TOSHIBA-Santo)                                 
32 Mark Walters (Team RACE Pro)                                   
33 Stefano Barberi (THF Racing)                                   
34 Michael Lange (Jelly Bellly)                                   
35 Kyle Gritters (HealthNet-Maxxis)                           1.11
36 Chad Cagle (Mercy Cycling Elite)                           1.35
37 Bill Elliston (RiteAide-Shebell & Shebell)                     
38 Stefan Rothe (Mercy Cycling Elite)                             
39 Nolan Froese (THF Racing)                                      
40 Ryan Knapp (Alderfer Bergen)                                   
41 Nic Sandersaon (Jelly Bellly)                              2.50
42 Mat Stephens (Mercy Cycling Elite)                         3.14
43 Nick Friesen (GS Mengoni)                                      
44 Scott Zwizanski (Bissell Pro Cycling)                          
45 Jesse Anthony (Team Type 1)                                3.23
46 Ben Raby (SRAM)                                                
47 Bryce Mead (Jelly Bellly)                                      
48 Austin Allison (THF Racing)                                3.32
49 Troy Wells (Team Clif Bar)                                 3.40
50 Matt Wilson (Team Type 1)                                  3.57
51 Kirk O'bee (HealthNet-Maxxis)                              4.17
52 Shaun Morris (Team Rubicon-ORBEA)                          4.53
53 Keir Plaice (Team RACE Pro)                                5.10
54 John Loehner (CRCA / EMPIRE)                               6.46
55 Mark Pozniak (Team RACE Pro)                                   
56 David Quist (Team Clif Bar)                                8.00
57 Chris Winn (RMCEF Racing / MOB Cyclery)                        
58 Greg Christian (Turin/Barker+Nestor)                           
59 Joseph Kukolla (Mesa Cycles)                               9.47
60 Logan Hunn (Team Rubicon-Orbea)                                
61 Noah Singer (Kahala/LaGrange)                                  
62 Joshua Bartlett (Team Rubicon-ORBEA)                           
63 Seth Meyer (Turin/Barker+Nestor)                               
64 Mat Ankney (Mercy Cycling Elite)                               
65 Joao Correia (Bissell Pro Cycling)                        11.00
DNF Eugene Boronow (GS Mengoni)                                   
DNF Alex Welch (Mercy Cycling Elite Team p/b Zero Mtn)            
DNF Miles Watson (Rite Aid pb Shebell & Shebell)                  
DNF Matty Rice (Jelly Belly)                                      
DNF Richard England (Bissell Pro Cycling Team)                    
DNF Frank Travieso (TOSHIBA-Santo Presented By Herbalife)         
DNF Joe Eldridge (Team Type 1)                                    
DNF David Sojo (Diego Mercy Cycling Elite Team p/b Zero Mtn)      
DNF Daniel Zmolik (CRCA / EMPIRE CYCLING TEAM)                    
DNF Michael Mathis (CRCA / EMPIRE CYCLING TEAM)                   
DNF Joel Dion-Poitras (Team RACE Pro)                             
DNF Carlos Alzate (TOSHIBA-Santo Presented By Herbalife)          
DNF Brian Alfermann (THF Racing)                                  
DNF Jonathan Chodroff (CRCA / EMPIRE CYCLING TEAM)                
DNF Ben Renkema (Turin/Barker+Nestor)                             
DNF Guido Palma (Rite Aid pb Shebell & Shebell)                   
DNF Bradley Payne (Team Rubicon-ORBEA)                            
DNF Buck Miller (Team RACE Pro)                                   
DNF Alejandro Borrajo (Colavita Sutter Home p/b Cooking Light)    
DNF Karl Kupecz (Velossimo Racing Team)                           
DNF John Minutrn (CRCA / EMPIRE CYCLING TEAM)                     
DNF Ian Dille (Team Snow Valley)                                  
DNF Brad Huff (Jelly Belly)                                       
DNF Yosvany Falcon (TOSHIBA-Santo Presented By Herbalife)         
DNF Gustavo Artacho (Colavita Sutter Home p/b Cooking Light)      
DNF Matt Belcher (Turin/Barker+Nestor)                            
DNF Roman VanUden (Team Rubicon-ORBEA)                            
DNF Noah Metzler (RGF Solutions/Panther Expedited Services)       
DNF Richard Geng (Rite Aid pb Shebell & Shebell)                  
DNF BIll Marshall (Mercy Cycling Elite Team p/b Zero Mtn)         
DNF Stephan Kincaid (Rite Aid pb Shebell & Shebell)               
DNF Rahsaan Bahati (Rock Racing)                                  
DNF Andrew Hunt (Team RACE Pro)                                   
DNF Jake Rytlewski (Rite Aid pb Shebell & Shebell)                
 
Elite Men Final General classification
 
1 Rory Sutherland (HealthNet-Maxxis)                       9.36.20
2 Anthony Colby (Colavita/Sutter Home)                        0.20
3 Bernard Van Ulden (Jelly Bellly)                            0.24
4 Tyler Wren (Colavita/Sutter Home)                           0.29
5 Edward King (Bissell Pro Cycling)                               
6 Valeriy Kobzarenko (Team Type 1)                            0.33
7 Karl Menzies (HealthNet-Maxxis)                             0.37
8 Luis Amaran (Colavita/Sutter Home)                          0.38
9 Lucas Sebastian Haedo (Colavita/Sutter Home)                0.40
10 Dustin Macburnie (Team RACE Pro)                               
11 Dan R. Timmerman (Team RACE Pro)                           0.47
12 Aaron Tuckerman (Jelly Bellly)                             0.50
13 John Murphy (HealthNet-Maxxis)                             0.52
14 Tim Johnson (HealthNet-Maxxis)                             0.53
15 Mark Hekman (TOSHIBA-Santo)                                    
16 Jeremy Powers (Jelly Bellly)                                   
17 John Fredy Parra (TOSHIBA-Santo)                           1.04
18 Glen Chadwick (Team Type 1)                                1.05
19 Chris Jones (Team Type 1)                                  1.06
20 Anibal Borrajo (Colavita/Sutter Home)                      1.08
21 Garett Peltonen (Bissell Pro Cycling)                      1.15
22 Ben Brooks (Team Type 1)                                   1.22
23 Robbie King (RiteAide-Shebell & Shebell)                   1.38
24 Michael Lange (Jelly Bellly)                               1.40
25 Sheldon Deeny (CRCA / EMPIRE)                              1.48
26 Stefano Barberi (THF Racing)                               1.49
27 Brian Dziewa (THF Racing)                                      
28 Predrag Prokic (TOSHIBA-Santo)                             1.50
29 Kyle Wamsley (Colavita/Sutter Home)                        1.55
30 Terrence Keenan (THF Racing)                               2.09
31 Mark Walters (Team RACE Pro)                               2.16
32 Frank Pipp (HealthNet-Maxxis)                              2.25
33 Stefan Rothe (Mercy Cycling Elite)                         2.34
34 Nolan Froese (THF Racing)                                  2.56
35 Kyle Gritters (HealthNet-Maxxis)                           3.00
36 Emile Abraham (Team Type 1)                                3.02
37 Chad Cagle (Mercy Cycling Elite)                           3.09
38 John Durango (TOSHIBA-Santo)                               3.10
39 Nic Sandersaon (Jelly Bellly)                              3.39
40 Ryan Knapp (Alderfer Bergen)                               3.52
41 Nick Friesen (GS Mengoni)                                  4.30
42 Troy Wells (Team Clif Bar)                                 4.56
43 Bryce Mead (Jelly Bellly)                                  5.56
44 Matt Wilson (Team Type 1)                                  6.01
45 Keir Plaice (Team RACE Pro)                                7.28
46 David Quist (Team Clif Bar)                                9.14
47 Mark Pozniak (Team RACE Pro)                               9.23
48 Chris Winn (RMCEF Racing / MOB Cyclery)                   10.12
49 Mat Stephens (Mercy Cycling Elite)                        10.23
50 Austin Allison (THF Racing)                               10.50
51 Logan Hunn (Team Rubicon-Orbea)                           10.55
52 Mat Ankney (Mercy Cycling Elite)                          11.19
53 Noah Singer (Kahala/LaGrange)                             11.21
54 John Loehner (CRCA / EMPIRE)                              14.04
55 Joao Correia (Bissell Pro Cycling)                        14.12
56 Greg Christian (Turin/Barker+Nestor)                      14.24
57 Seth Meyer (Turin/Barker+Nestor)                          17.03
58 Bill Elliston (RiteAide-Shebell & Shebell)                19.44
59 Scott Zwizanski (Bissell Pro Cycling)                     20.17
60 Ben Raby (SRAM)                                           21.22
61 Shaun Morris (Team Rubicon-ORBEA)                         23.09
62 Joshua Bartlett (Team Rubicon-ORBEA)                      28.14
63 Joseph Kukolla (Mesa Cycles)                              28.25
64 Jesse Anthony (Team Type 1)                               35.03
65 Kirk O'Bee (HealthNet-Maxxis)                             42.25
 
Teams Classifcation
 
1 Colavita Sutter Home p/b Cooking Light                  28.50.27
2 Health Net presented by Maxxis                              0.19
3 Team Type 1                                                 0.26
4 Jelly Belly                                                 0.29
5 Team RACE Pro                                               2.16
6 TOSHIBA-Santo Presented By Herbalife                        2.20
7 THF Racing                                                  4.20
8 Bissell Pro Cycling Team                                    4.46
9 Mercy Cycling Elite Team p/b Zero Mtn                       8.42
10 Team Rubicon-ORBEA                                        43.39