93rd Rund um Köln - 1.HC
Germany, March 24, 2008
2007 Results Results Past winners
Snow stops racers from Happy Easter
By Susan Westemeyer
The finish area in Kalk looked not very inviting for a bike race or an Easter egg hunt
Photo ©: Frank Wiemann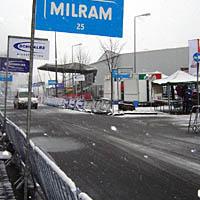 Rund um Köln is traditionally held on Easter Monday, and who would have expected snowfall on that day, after an exceptionally mild winter in Germany? But snow it did, enough to make the roads dangerous for cyclists, and race organizers had to reluctantly cancel the 100th anniversary edition of the race.
The riders awoke Monday morning to see snow coming down, lightly but consistently. It kept on all morning, with everything getting whiter and whiter, and the roads either wet, snow-covered, or mush-covered. The public race was quickly cancelled, but organisers held out hope that they could still hold the pro race, or even a shortened version of it.
Plans were hastily made for a course deleting all climbs and cobblestone sections, but even that proved impractical. Race director and former World Champion Rudi Altig drove out by car, to see the roads for himself, and came to the decision that it was just too dangerous. It was the first time in the race's 100 year history that it had been cancelled due to weather.
"The cancellation is ok," said Gerolsteiner's Markus Fothen. His boss, team manager Hans-Michael Holczer, emphasised that "Practicality ruled. We must remember that the riders' health is the most important thing."
Photography
For a thumbnail gallery of these images, click here
Images by Frank Wiemann
Images by Lucas Westemeyer
Results - race canceled due to snow
Past winners
Professional event 

2007 Juan Jose Haedo (Arg) Team CSC             
2006 Christian Knees (Ger) Team Milram
2005 David Kopp (Ger) Team Wiesenhof
2004 Erik Zabel (Ger) T-Mobile Team
2003 Jan Ullrich (Ger) Team Coast
2002 Peter Wrolich (Aut) Gerolsteiner   
2001 Gian Matteo Fagnini (Ita) Telekom
2000 Steffen Wesemann (Ger)
1999 Jens Heppner (Ger)
1998 Not Held
1997 Frank Vandenbroucke (Bel)
1996 Erik Zabel (Ger)
1995 Erik Dekker (Ned)
1994 Udo Bölts (Ger)
1993 Wim Van Eynde (Bel)
1992 Louis De Koning (Ned)
1991 Jerry Coman (Bel)
1990 Noél Segers (Bel)

Amateur event

1989 Domenik Krieger (Ger)
1988 Lutz Losch (Ger)
1987 Werner Wüller (Ger)
1986 Remig Stumpf (Ger)
1985 Han Vaanhold (Ned)
1984 Stani Mikolajczuk (Ger)
1983 Wolf-Dieter Wohlfshohl (Ger)
1982 J. Echter-mann (Ger)
1981 Michael Mohr (Ger)
1980 Achim Stadler (Ger)
1979 (3) Wilfried Trott (Ger)
1978 Arie Hassink (Ned)
1977 Scheunemann (Ned)
1976 (2) Wilfried Trott (Ger)
1975 Jan Smyrak (Ger)
1974 Dietrich Thurau (Ger)
1973 H. Jungbluth (Ger)
1972 Wilfried Trott (Ger)
1971 R. Gilson (Lux)
1970 Streckies (Ger)
1969 Jürgen Tschan (Ger)

Professional event

1968 Burkhard Ebert (Ger)
1967 Noél Foré (Bel)
1966 Piet Glemser (Ger)
1965 (2) Horst Oldenburg (Ger)
1964 Horst Oldenburg (Ger)

Amateur event

1963 Wilfried Bölke (Ger)
1962 S. Koch (Ger)
1961 Smits (Bel)
1960 Mathias Löder (Ger)
1959 H. Hofmann (Ger)
1958 W.-J. Edler (Ger)
1957 W. Grabo (Ger)
1956 Edi Ziegler (Ger)
1955 (2) Hans Preiskeit (Ger)
1954 W. Irr-gang (Ger) - Amateur
1953 Günther Otto (Ger)
1952 Popp (Ger) - Amateur
1951 H. Schwarzer (Ger)
1950 a) Holzmann - b) Scherpenborg (Ger) - Amateur
1949 Schultenjohann (Ger)
1948 (2) H. Schwarzer (Ger) - Amateur
1947 Holthöfer (Ger) - Amateur
1946 Nowa-kowski (Ger) - Amateur

1944-1945: Not Held

1943 Kittsteiner (Ger) - Amateur
1942 H. Schwarzer (Ger) - Amateur
1941 Hans Preiskeit (Ger) - Amateur
1940 J. Kropp (Ger) - Amateur
1939 Willi Meurer (Ger) - Amateur
1938 Franz Bronold  (Ger) - Amateur
1937 (29 Emil Kijewski (Ger)
1936 (2) Erich Bautz (Ger)
1935 Emil Kijewski (Ger)
1934 Kurt Stöpel (Ger)
1933 a) Erich Bautz - J. Neumeyer (Ger) - Amateur
1932 a) J. Kraus (Lux) - b) H. Weiß - Amateur
1931 H. Rü-diger (Ger)
1930 Otto Kratz (Ger) - Amateur
1929 a) Franz Schmitz - b) W. Frielingsdorf (Ger) - Amateur
1928 Alfredo Binda (Ita)
1927 Gaetano Belloni (Ita)
1926 Heinriich Suter (Swi)
1925 (2) Paul Kohl (Ger)
1924 Paul Kohl (Ger)
1923 Fritz Fischer (Ger)
1922 Paul Koch (Ger)
1921 (2) Adolf Huschke (Ger)
1920 Adam Sachs (Ger) - Amateur

1915-1919: Not Held

1914 (2) Ernst Franz (Ger)
1913 Ernst Franz (Ger)
1912 J. Steingass (Ger)
1911 Adolf Huschke (Ger)
1910 Jean Rosellen & Karl Wittig (Ger)
1909 Otto Wincziers (Ger)
1908 Fritz Tacke (Ger)

Past winners by Mario Stiehl, www.world-of-cycling.com