French National Championships - CN
France, June 26-29, 2008
Main Page Results Previous Day
Day 3 - June 29: Road Races: Elite Men, Juniors, 239.2 km
A second time for Vogondy
By Jean-François Quénet
Nicolas Vogondy (Agritubel)
Photo ©: Fabrice Lambert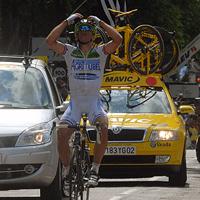 Six years after winning the French championship for the first time and one and half year after being close to putting an end to his career, Nicolas Vogondy won, for his second time, the blue, white and red jersey of French champion. His win came after a long, solo effort.
Unlike his captain Christophe Moreau, the Agritubel rider was not a favourite. The defending champion but got trapped in the main group together with the most successful French rider this year, Sylvain Chavanel. But Vogondy attacked at the right time in pursuit of the early escapees.
"When I did it [attack - ed.], I didn't think I'd be able to stay alone till the end", he said. "But everybody was at their max. I was a bit disappointed to have finished fourth in the time trial on Thursday but before the road race, a few people made me notice that I had the number 13 on my back, just like the guy [former mountain biker Jean-Christophe Péraud, - ed.] who had won the amateur race yesterday. I am a superstitious person, so I believed there was a chance for me to win today."
The 30 year-old from Saint-Aignan-sur-Cher near Blois in the Loire valley, who turned pro 11 years ago, remembered that he might have already been retired. At the end of the 2006 season, his contract wasn't renewed by Crédit Agricole, the team he had re-joined after eight years with Française des Jeux. "As I became the French champion at the age of 24, maybe I've thought I had achieved everything and I took it easy," Vogondy admitted. "I'm very thankful to Agritubel that they called me at the end of November that year. I'm super happy to keep the jersey in the team."
It was the first time that the Pro Continental outfit won the French championship, but they have had the distinctive jersey in their ranks since Moreau joined them at the end of last year. "I was suffering cramps at the end of the race," Vogondy commented. "It was hot and 240km was a lot. As I was alone I didn't keep any energy for later. I think I was under a good star today."
How it unfolded
After 15 kilometers, Jimmy Casper (Agritubel), Matthieu Sprick (Bouygues Telecom), Mickael Delage (Française des Jeux), Stéphane Poulhies (Ag2r - La Mondiale), Maryan Hary (Cofidis) and Jean-Marc Marino (Crédit Agricole) broke away. The six Tour de France teams were represented in the front group.
After 100 kilometers in the lead, they reached a maximum advantage of 11'20. Française des Jeux was the first team to take the responsibility of reducing the gap. Their action formed a chasing group of 15 riders with 115 kilometres to go: Freddy Bichot and Geoffroy Lequatre (Agritubel), Julien Belgy and Anthony Geslin (Bouygues Telecom), Lilian Jégou and Guillaume Levarlet (FDJ), Hubert Dupont and Lloyd Mondory (Ag2r), Sylvain Chavanel, Jean-Eudes Demaret, Samuel Dumoulin and Damien Monier (Cofidis), Christophe Kern and Yannick Talabardon (Crédit Agricole), Steve Chainel (Auber 93) and Clément Lhôtellerie (Skil – Shimano).
But that chasing group exploded. With 100km to go, it was Bouygues Telecom pacing hard in front of the bunch this time. The gap went down to 6'30 and the peloton split into four different groups. With 66km to go, Christophe Laurent (Slipstream) attacked while the six leaders were only 2'30 ahead. Christophe Le Mével (Crédit Agricole) and Stéphane Goubert (Ag2r) joined Laurent.
The front group split up as well. With 49km to go, Sprick became the lone leader. With 35km to go, Nicolas Vogondy (Agritubel), who had launched a counter-attack with Carl Naibo (Apipflo), went alone in pursuit of Sprick. He dropped the Bouygues Telecom rider off with 30km to go and looked in a good position for staying away and winning by himself. Pierre Rolland (Crédit Agricole) led a chasing group but didn't get much help.
With 15km to go, Vogondy's advance was 1'25 over a group of four: Julien Loubet (Ag2r - La Mondiale), Dimitri Champion (Bouygues Telecom), Stéphane Augé (Cofidis) and Arnaud Coyot (Caisse d'Epargne) but it was reduced to five seconds five kilometres before the end. Champion had tried to reach Vogondy by himself but was caught by the others. The cat-and-mouse of the chasers and Vogondy's new acceleration over a little rise saw his lead go up again. He stayed away and won. Coyot rode strongly in the final climb for taking the silver medal while Loubet was happy with third.
Photography
For a thumbnail gallery of these images, click here
Images by Fabrice Lambert
Results
Elite men - 239.2km
1 Nicolas Vogondy (Agritubel)                                6.03.02 (39.533 km/h)
2 Arnaud Coyot (Caisse d'Epargne)                               0.36
3 Julien Loubet (AG2R La Mondiale)                              0.42
4 Dimitri Champion (Bouygues Telecom)                           0.50
5 Stéphane Augé (Cofidis - Le Crédit par Téléphone)             1.02
6 Pierre Rolland (Crédit Agricole)                              1.59
7 Aurélien Passeron (Saunier Duval - Scott)                     2.00
8 Laurent Lefèvre (Bouygues Telecom)                            2.04
9 Francis Mourey (Française des Jeux)                           2.11
10 Benoît Vaugrenard (Française des Jeux)                       2.17
11 Rémi Pauriol (Crédit Agricole)                                   
12 Mathieu Perget (Caisse d'Epargne)                                
13 Hubert Dupont (AG2R La Mondiale)                                 
14 Thomas Voeckler (Bouygues Telecom)                               
15 David Moncoutié (Cofidis - Le Crédit par Téléphone)          2.22
16 Pierrick Fédrigo (Bouygues Telecom)                          2.25
17 Amaël Moinard (Cofidis - Le Crédit par Téléphone)            2.52
18 Christophe Laurent (Slipstream Chipotle Presented By H30)    3.49
19 Renaud Dion (AG2R La Mondiale)                                   
20 Freddy Bichot (Agritubel)                                        
21 Yoann Offredo (Française des Jeux)                               
22 Mathieu Drujon (Caisse d'Epargne)                                
23 Yannick Talabardon (Crédit Agricole)                             
24 Sébastien Duret (Bretagne - Armor Lux)                           
25 Nicolas Portal (Caisse d'Epargne)                                
26 Florian Guillou (Roubaix Lille Metropole)                    3.55
27 Tony Gallopin (Auber 93)                                         
28 Christophe Kern (Crédit Agricole)                            3.58
29 Florent Brard (Cofidis - Le Crédit par Téléphone)                
30 Christophe Le Mével (Crédit Agricole)                            
31 Cycril Lemoine (Crédit Agricole)                                 
32 Christophe Moreau (Agritubel)                                    
33 Maxime Bouet (Agritubel)                                         
34 Sébastien Joly (Française des Jeux)                              
35 Morgan Chedhomme (Auber 93)                                  4.04
36 Christophe Mengin (Française des Jeux)                           
37 Cédric Coutouly (Agritubel)                                      
38 Frédéric Guesdon (Française des Jeux)                            
39 Jean-Marc Bideau (Roubaix Lille Metropole)                       
40 Guillaume Levarlet (Française des Jeux)                      4.06
41 Christophe Rinero (Agritubel)                                    
42 Nicolas Hartmann (Cofidis - Le Crédit par Téléphone)         4.13
43 Florian Morizot (Auber 93)                                       
44 Mickael Larpe (Roubaix Lille Metropole)                          
45 Anthony Geslin (Bouygues Telecom)                            4.21
46 Noan Lelarge (Bretagne - Armor Lux)                              
47 William Bonnet (Crédit Agricole)                                 
48 Sébastien Hinault (Crédit Agricole)                              
49 Yoann Le Boulanger (Française des Jeux)                          
50 John Gadret (AG2R La Mondiale)                                   
51 Sylvain Chavanel (Cofidis - Le Crédit par Téléphone)         4.26
52 Patrice Halgand (Crédit Agricole)                                
53 Pierre Cazaux (Roubaix Lille Metropole)                          
54 Jérôme Pineau (Bouygues Telecom)                                 
55 Arnaud Gérard (Française des Jeux)                               
56 Stéphane Poulhies (AG2R La Mondiale)                             
57 Sandy Casar (Française des Jeux)                             4.30
58 Arnold Jeannesson (Auber 93)                                     
59 Jérôme Coppel (Française des Jeux)                           5.01
60 Jimmy Casper (Agritubel)                                     5.03
61 Carl Naibo (Differdange - Apiflo Vacances)                   5.27
62 Laurent Mangel (AG2R La Mondiale)                            7.34
63 David Lelay (Bretagne - Armor Lux)                           7.50
64 Jean Mespoulède (Auber 93)                                   7.57
65 Mickaël Buffaz (Cofidis - Le Crédit par Téléphone)           8.35
66 Paul Moucheraud (Roubaix Lille Metropole)                    9.20
67 Thomas Bodo (Differdange - Apiflo Vacances)                  9.42
68 Paul Brousse (A-Style Somn)                                 10.05
69 Matthieu Sprick (Bouygues Telecom)                          10.11
70 Anthony Roux (Française des Jeux)                           10.55
71 Christophe Riblon (AG2R La Mondiale)                        11.41
72 Mickael Delage (Française des Jeux)                         13.33
DNF Romain Villa (Cofidis - Le Crédit par Téléphone)                
DNF Jean Eudes Demaret (Cofidis - Le Crédit par Téléphone)          
DNF Hervé Duclos-Lassalle (Cofidis - Le Crédit par Téléphone)       
DNF Samuel Dumoulin (Cofidis - Le Crédit par Téléphone)             
DNF Julien El Farès (Cofidis - Le Crédit par Téléphone)             
DNF Maryan Hary (Cofidis - Le Crédit par Téléphone)                 
DNF Yann Huguet (Cofidis - Le Crédit par Téléphone)                 
DNF Damien Monier (Cofidis - Le Crédit par Téléphone)               
DNF Eric Berthou (Crédit Agricole)                                  
DNF Emilien Benoit Bergès (Agritubel)                               
DNF Mickaël Chérel (Française des Jeux)                             
DNF Stéphane Goubert (AG2R La Mondiale)                             
DNF Christophe Edaleine (AG2R La Mondiale)                          
DNF Cyril Dessel (AG2R La Mondiale)                                 
DNF Sylvain Calzati (AG2R La Mondiale)                              
DNF Jérémy Roy (Française des Jeux)                                 
DNF Cyrille Monnerais (Française des Jeux)                          
DNF Mathieu Ladagnous (Française des Jeux)                          
DNF Saïd Haddou (Bouygues Telecom)                                  
DNF Rémy Di Grégorio (Française des Jeux)                           
DNF Cédric Pineau (AG2R La Mondiale)                                
DNF Sébastien Chavanel (Française des Jeux)                         
DNF Sébastien Turgot (Bouygues Telecom)                             
DNF Franck Rénier (Bouygues Telecom)                                
DNF Perrig Quemeneur (Bouygues Telecom)                             
DNF Alexandre Pichot (Bouygues Telecom)                             
DNF Rony Martias (Bouygues Telecom)                                 
DNF Arnaud Labbe (Bouygues Telecom)                                 
DNF Sébastien Portal (Cofidis - Le Crédit par Téléphone)            
DNF Lilian Jégou (Française des Jeux)                               
DNF Sébastien Fournet-Fayard (A-Style Somn)                         
DNF David Boucher (Landbouwkrediet - Tönissteiner)                  
DNF Denis Flahaut (Saunier Duval - Scott)                           
DNF Kilian Patour (Slipstream Chipotle Presented By H30)            
DNF Martial Ricci Poggi (Mitsubishi-Jartazi)                        
DNF Mathieu Drouilly (Mitsubishi-Jartazi)                           
DNF Yohan Cauquil (Mitsubishi-Jartazi)                              
DNF David Derepas (Groupe Gobert.com)                               
DNF Jean Zen (Groupe Gobert.com)                                    
DNF Lloyd Mondory (AG2R La Mondiale)                                
DNF Sylvain Georges (A-Style Somn)                                  
DNF Jean-Patrick Nazon (AG2R La Mondiale)                           
DNF Alexandre Aulas (A-Style Somn)                                  
DNF Fabien Bacquet (Skil-Shimano)                                   
DNF Thierry Hupond (Skil-Shimano)                                   
DNF Clément Lhotellerie (Skil-Shimano)                              
DNF Blaise Sonnery (AG2R La Mondiale)                               
DNF Jean-Charles Senac (AG2R La Mondiale)                           
DNF Nicolas Rousseau (AG2R La Mondiale)                             
DNF Yohann Gène (Bouygues Telecom)                                  
DNF Pierre Drancourt (Groupe Gobert.com)                            
DNF Cyril Gautier (Bretagne - Armor Lux)                            
DNF Niels Brouzes (Auber 93)                                        
DNF Steven Tronet (Roubaix Lille Metropole)                         
DNF Florian Vachon (Roubaix Lille Metropole)                        
DNF Denis Robin (Roubaix Lille Metropole)                           
DNF Alexandre Lemair (Roubaix Lille Metropole)                      
DNF Bastien Delrot (Roubaix Lille Metropole)                        
DNF Benoît Poilvet (Bretagne - Armor Lux)                           
DNF Vincent Jérôme (Bouygues Telecom)                               
DNF Guillaume Le Floch (Bretagne - Armor Lux)                       
DNF Jérémie Galland (Auber 93)                                      
DNF Jean-Luc Delpech (Bretagne - Armor Lux)                         
DNF Antoine Dalibard (Bretagne - Armor Lux)                         
DNF Stéphane Bonsergent (Bretagne - Armor Lux)                      
DNF Julien Simon (Crédit Agricole)                                  
DNF Maxime Méderel (Crédit Agricole)                                
DNF Jean-Marc Marino (Crédit Agricole)                              
DNF Jonathan Hivert (Crédit Agricole)                               
DNF Jimmy Engoulvent (Crédit Agricole)                              
DNF Yann Pivois (Bretagne - Armor Lux)                              
DNF Romain Feillu (Agritubel)                                       
DNF Damien Gaudin (Bouygues Telecom)                                
DNF Mathieu Claude (Bouygues Telecom)                               
DNF Olivier Bonnaire (Bouygues Telecom)                             
DNF Giovanni Bernaudeau (Bouygues Telecom)                          
DNF Julien Belgy (Bouygues Telecom)                                 
DNF Benoît Sinner (Agritubel)                                       
DNF Benoît Salmon (Agritubel)                                       
DNF Anthony Ravard (Agritubel)                                      
DNF Steve Chainel (Auber 93)                                        
DNF Nicolas Jalabert (Agritubel)                                    
DNF Christophe Diguet (Auber 93)                                    
DNF David Deroo (Skil-Shimano)                                      
DNF Sébastien Harbonnier (Differdange - Apiflo Vacances)            
DNF Nicolas Bazin (Differdange - Apiflo Vacances)                   
DNF Frédéric Finot (Differdange - Apiflo Vacances)                  
DNF Fabien Patanchon (Caisse d'Epargne)                             
DNF Anthony Charteau (Caisse d'Epargne)                             
DNF Jonathan Thire (Auber 93)                                       
DNF Geoffroy Lequatre (Agritubel)                                   
DNS Alexandre Blain (Cofidis - Le Crédit par Téléphone)