21st Internationale Thüringen-Rundfahrt der Frauen - 2.1W
Germany, July 22-27, 2008
Main Page Results Overall standings Previous Stage Next Stage
Stage 2 - July 23: Rund um Gera, 122.5km
Doppmann escapes for stage and lead
By Susan Westemeyer
Priska Doppmann (Cervelo Lifeforce)
Photo ©: WomensCycling.net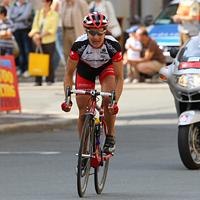 Priska Doppmann of Team Cervélo Lifeforce used an 18-kilometre long solo escape to win the second stage of the Internationale Thüringen Rundfahrt der Frauen and took over the leader's jersey as well. Former leader Angela Hennig (DSB Bank) won the field sprint 17 seconds later for second place in both the stage and the overall, with Anita Valen-de Vries (Flexpoint) finishing third on the day.
"I knew I wouldn't have any chance against the good sprinters in the field," Doppmann said, "so I had to take my chance with a solo flight. And when they hesitated in the field, I gave gas. Up until nearly the finish, I thought, if they work together, they would get me. But today it all worked out."
An 11-rider strong group formed after 35 kilometres, which included favourites Judith Arndt, Hanka Kupfernagel, Noemi Cantele and Suzanne de Goede. But after reaching a lead of 1'10, the gap melted away and the peloton caught up.
When Swiss rider Doppmann accelerated through a turn the field hesitated. Doppmann quickly realised it and took off. She was able to stay away until the end.
300 metres before the finish line Arndt was leading the chase when she misdirected her bike and ended up off the course. She did not crash and was able to return and finish 26 seconds down.
Photography
For a thumbnail gallery of these images, click here
Images by WomensCycling.net/WomensCycling.net
Results
1 Priska Doppmann (Swi) Cervelo Lifeforce Pro Cycling Team          2.47.51 (43.789 km/h)
2 Angela Hennig (Ger) Team DSB Bank                                    0.17
3 Anita Valen-de Vries (Nor) Team Flexpoint                            0.18
4 Emma Johansson (Swe) Swedish National Team                               
5 Sarah Düster (Ger) Cervelo Lifeforce Pro Cycling Team                    
6 Grace Verbeke (Bel) Belgian National Team                            0.20
7 Grete Treier (Est) Gauss RDZ Ormu                                        
8 Diana Ziliute (Ltu) Safi - Pasta Zara Manhattan                          
9 Tania Belvederesi (Ita) Gauss RDZ Ormu                                   
10 Elodie Touffet (Fra) Gauss RDZ Ormu                                     
11 Laure Werner (Bel) Belgian National Team                                
12 Kori Kelley Seehafer (USA) Menikini - Selle Italia                      
13 Alison Powers (USA) USA National Team                                   
14 Karin Aune (Swe) Swedish National Team                                  
15 Alex Wrubleski (Can) Webcor Builders Cycling Team                       
16 Noemi Cantele (Ita) Bigla Cycling Team                                  
17 Marina Romoli (Ita) Menikini - Selle Italia                             
18 Bianca Knöpfle (Ger) Team Flexpoint                                     
19 Trixi Worrack (Ger) Equipe Nürnberger Versicherung                      
20 Giada Borgato (Ita) Menikini - Selle Italia                             
21 Liesbeth De Vocht (Bel) Belgian National Team                           
22 Hanka Kupfernagel (Ger) German National Team                            
23 Suzanne De Goede (Ned) Equipe Nürnberger Versicherung                   
24 Martina Corazza (Ita) Gauss RDZ Ormu                                    
25 Claudia Häusler (Ger) Equipe Nürnberger Versicherung                    
26 Karen Steurs (Bel) Belgian National Team                                
27 Lieselot Decroix (Bel) Belgian National Team                            
28 Nicole Brändli (Swi) Bigla Cycling Team                                 
29 Erinne Willock (Can) Webcor Builders Cycling Team                       
30 Loes Gunnewijk (Ned) Team Flexpoint                                 0.26
31 Lauren Franges (USA) USA National Team                                  
32 Andrea Thürig (Swi) Bigla Cycling Team                                  
33 Verónica Leal Balderas (Mex) Gauss RDZ Ormu                             
34 Leigh Hobson (Can) Canadian National Team                               
35 Sara Mustonen (Swe) Swedish National Team                               
36 Oxana Kozonchuk (Rus) Menikini - Selle Italia                           
37 Anke Wichmann (Ger) Team Columbia  Women                                
38 Luise Keller (Ger) Team Columbia  Women                                 
39 Janel Holcomb (USA) Webcor Builders Cycling Team                        
40 Eneritz Iturriagaechevarria Mazaga (Spa) Safi - Pasta Zara Manhattan    
41 Heather Logan (Can) Canadian National Team                              
42 Marianne Vos (Ned) Team DSB Bank                                        
43 Beate Zanner (Ger) Mix-Team Rothaus – Rügenfisch                        
44 Carmen McNellis (USA) USA National Team                                 
45 Katheryn Curi Mattis (USA) Webcor Builders Cycling Team                 
46 Felicia Gomez (Can) Canadian National Team                              
47 Patricia Schwager (Swi) Cervelo Lifeforce Pro Cycling Team              
48 Saskia Elemans (Ned) Team Flexpoint                                     
49 Katharine Carroll (USA) USA National Team                               
50 Francesca Faustini (Ita) Safi - Pasta Zara Manhattan                    
51 Kimberly Anderson (USA) Team Columbia  Women                            
52 Modesta Vzesniauskaite (Ltu) Equipe Nürnberger Versicherung             
53 Julie Beveridge (Can) Canadian National Team                            
54 Christina Ruiter (USA) USA National Team                                
55 Adrie Visser (Ned) Team DSB Bank                                        
56 Tina Liebig (Ger) Team DSB Bank                                         
57 Karin Thürig (Swi) Cervelo Lifeforce Pro Cycling Team                   
58 Carla Ryan (Aus) Cervelo Lifeforce Pro Cycling Team                     
59 Stephanie Pohl (Ger) German National Team                               
60 Elena Berlato (Ita) Safi - Pasta Zara Manhattan                         
61 Christiane Soeder (Aut) Cervelo Lifeforce Pro Cycling Team              
62 Christine Thorburn (USA) Webcor Builders Cycling Team                   
63 Judith Arndt (Ger) Team Columbia  Women                                 
64 Sabine Spitz (Ger) German National Team                                 
65 Adelheid Morath (Ger) German National Team                          0.35
66 Andrea Grauss (Aut) Bigla Cycling Team                              2.01
67 Lisa Brennauer (Ger) German National Team                           2.54
68 Monica Holler (Swe) Bigla Cycling Team                              3.40
69 Marlen Jöhrend (Ger) Mix-Team Rothaus – Rügenfisch                  4.43
70 Charlotte Becker (Ger) Equipe Nürnberger Versicherung                   
71 Romy Kasper (Ger) German National Team                                  
72 Regina Schleicher (Ger) Equipe Nürnberger Versicherung                  
73 Jennie Stenerhag (Swe) Swedish National Team                       12.17
74 Rosemarie Mayer (Ger) Mix-Team Rothaus – Rügenfisch                     
75 Elke Gebhardt (Ger) Mix-Team Rothaus – Rügenfisch                       
76 Alison Testroete (Can) Canadian National Team                           
77 Nathalie Bates (Aus) Menikini - Selle Italia                            
78 Martina Scoppa (Ita) Gauss RDZ Ormu                                     
79 Inge Van Den Broeck (Bel) Belgian National Team                         
80 Marieke Van Wanroy (Ned) Team DSB Bank                                  
81 Virginia Henning (Ger) Mix-Team Rothaus – Rügenfisch                    
82 Sharon Van Essen (Ned) Team DSB Bank                                    
83 Jacobien Kanis (Ned) Team Flexpoint                                     
84 Rebecca Much (USA) Webcor Builders Cycling Team                         
85 Madeleine Sandig (Ger) Team Columbia  Women                             
86 Odette Bertolin (Ita) Safi - Pasta Zara Manhattan                  18.57
87 Kettj Manfrin (Ita) Safi - Pasta Zara Manhattan                         
88 Bettina Kuhn (Swi) Bigla Cycling Team                                   
89 Karol-Ann Canuel (Can) Canadian National Team                           
90 Mandy Milow (Ger) Mix-Team Rothaus – Rügenfisch                         
 
Points
 
Sprint #1
1 Karin Thürig (Swi) Cervelo Lifeforce Pro Cycling Team                   3 pts
2 Katheryn Curi Mattis (USA) Webcor Builders Cycling Team                 2
3 Diana Ziliute (Ltu) Safi - Pasta Zara Manhattan                         1
 
Sprint #2
1 Suzanne De Goede (Ned) Equipe Nürnberger Versicherung                   3 pts
2 Karin Aune (Swe) Swedish National Team                                  2
3 Christine Thorburn (USA) Webcor Builders Cycling Team                   1
 
Sprint #3
1 Suzanne De Goede (Ned) Equipe Nürnberger Versicherung                   3 pts
2 Hanka Kupfernagel (Ger) German National Team                            2
3 Judith Arndt (Ger) Team Columbia  Women                                 1
 
Sprint #4
1 Priska Doppmann (Swi) Cervelo Lifeforce Pro Cycling Team                3 pts
2 Giada Borgato (Ita) Menikini - Selle Italia                             2
3 Emma Johansson (Swe) Swedish National Team                              1
 
Mountains
 
KOM #1
1 Felicia Gomez (Can) Canadian National Team                              5 pts
2 Elena Berlato (Ita) Safi - Pasta Zara Manhattan                         3
3 Trixi Worrack (Ger) Equipe Nürnberger Versicherung                      2
 
KOM #2
1 Stephanie Pohl (Ger) German National Team                               3 pts
2 Karin Aune (Swe) Swedish National Team                                  2
3 Christine Thorburn (USA) Webcor Builders Cycling Team                   1
 
Teams
 
1 Cervélo Lifeforce Pro Cycling Team                                8.24.17
2 Gauss RDZ Ormu                                                       0.16
3 Belgian National Team                                                    
4 Menikini Selle Italia                                                    
5 Equipe Nürnberger Versicherung                                           
6 Team Flexpoint                                                       0.20
7 Swedish National Team                                                    
8 Bigla Cycling Team                                                   0.22
9 Webcor Builders                                                          
10 Team DSB Bank                                                       0.25
11 USA National Team                                                   0.28
12 Safi-Pasta Zara Manhatten                                               
13 German National Team                                                    
14 Canadian National Team                                              0.34
15 Team Columbia Women                                                     
16 Team Rothaus - Rügenfisch                                          16.42
 
General classification after stage 2
 
1 Priska Doppmann (Swi) Cervelo Lifeforce Pro Cycling Team          4.20.53
2 Angela Hennig (Ger) Team DSB Bank                                    0.09
3 Noemi Cantele (Ita) Bigla Cycling Team                               0.21
4 Anita Valen-de Vries (Nor) Team Flexpoint                            0.22
5 Emma Johansson (Swe) Swedish National Team                           0.23
6 Diana Ziliute (Ltu) Safi - Pasta Zara Manhattan                      0.26
7 Hanka Kupfernagel (Ger) German National Team                             
8 Suzanne De Goede (Ned) Equipe Nürnberger Versicherung                0.27
9 Grete Treier (Est) Gauss RDZ Ormu                                    0.28
10 Grace Verbeke (Bel) Belgian National Team                               
11 Alex Wrubleski (Can) Webcor Builders Cycling Team                       
12 Sarah Düster (Ger) Cervelo Lifeforce Pro Cycling Team               0.31
13 Karin Aune (Swe) Swedish National Team                                  
14 Kori Kelley Seehafer (USA) Menikini - Selle Italia                  0.33
15 Elodie Touffet (Fra) Gauss RDZ Ormu                                     
16 Laure Werner (Bel) Belgian National Team                                
17 Marina Romoli (Ita) Menikini - Selle Italia                             
18 Trixi Worrack (Ger) Equipe Nürnberger Versicherung                      
19 Martina Corazza (Ita) Gauss RDZ Ormu                                    
20 Claudia Häusler (Ger) Equipe Nürnberger Versicherung                    
21 Nicole Brändli (Swi) Bigla Cycling Team                                 
22 Lieselot Decroix (Bel) Belgian National Team                            
23 Judith Arndt (Ger) Team Columbia  Women                                 
24 Giada Borgato (Ita) Menikini - Selle Italia                         0.36
25 Bianca Knöpfle (Ger) Team Flexpoint                                 0.38
26 Liesbeth De Vocht (Bel) Belgian National Team                           
27 Tania Belvederesi (Ita) Gauss RDZ Ormu                                  
28 Erinne Willock (Can) Webcor Builders Cycling Team                       
29 Karen Steurs (Bel) Belgian National Team                                
30 Andrea Thürig (Swi) Bigla Cycling Team                              0.39
31 Christine Thorburn (USA) Webcor Builders Cycling Team               0.43
32 Lauren Franges (USA) USA National Team                              0.44
33 Leigh Hobson (Can) Canadian National Team                               
34 Anke Wichmann (Ger) Team Columbia  Women                                
35 Oxana Kozonchuk (Rus) Menikini - Selle Italia                           
36 Verónica Leal Balderas (Mex) Gauss RDZ Ormu                             
37 Kimberly Anderson (USA) Team Columbia  Women                            
38 Loes Gunnewijk (Ned) Team Flexpoint                                     
39 Luise Keller (Ger) Team Columbia  Women                                 
40 Felicia Gomez (Can) Canadian National Team                              
41 Janel Holcomb (USA) Webcor Builders Cycling Team                        
42 Karin Thürig (Swi) Cervelo Lifeforce Pro Cycling Team                   
43 Christiane Soeder (Aut) Cervelo Lifeforce Pro Cycling Team              
44 Modesta Vzesniauskaite (Ltu) Equipe Nürnberger Versicherung             
45 Eneritz Iturriagaechevarria Mazaga (Spa) Safi - Pasta Zara Manhattan    
46 Katheryn Curi Mattis (USA) Webcor Builders Cycling Team                 
47 Stephanie Pohl (Ger) German National Team                               
48 Saskia Elemans (Ned) Team Flexpoint                                     
49 Julie Beveridge (Can) Canadian National Team                            
50 Tina Liebig (Ger) Team DSB Bank                                         
51 Carla Ryan (Aus) Cervelo Lifeforce Pro Cycling Team                     
52 Patricia Schwager (Swi) Cervelo Lifeforce Pro Cycling Team              
53 Christina Ruiter (USA) USA National Team                                
54 Elena Berlato (Ita) Safi - Pasta Zara Manhattan                         
55 Marianne Vos (Ned) Team DSB Bank                                    1.01
56 Regina Schleicher (Ger) Equipe Nürnberger Versicherung              4.45
57 Charlotte Becker (Ger) Equipe Nürnberger Versicherung               5.01
58 Heather Logan (Can) Canadian National Team                          6.18
59 Katharine Carroll (USA) USA National Team                           8.03
60 Sara Mustonen (Swe) Swedish National Team                           8.05
61 Beate Zanner (Ger) Mix-Team Rothaus – Rügenfisch                        
62 Carmen McNellis (USA) USA National Team                                 
63 Adrie Visser (Ned) Team DSB Bank                                        
64 Francesca Faustini (Ita) Safi - Pasta Zara Manhattan                    
65 Alison Powers (USA) USA National Team                               8.20
66 Andrea Grauss (Aut) Bigla Cycling Team                              9.40
67 Monica Holler (Swe) Bigla Cycling Team                             11.16
68 Romy Kasper (Ger) German National Team                             12.22
69 Jacobien Kanis (Ned) Team Flexpoint                                12.35
70 Rebecca Much (USA) Webcor Builders Cycling Team                         
71 Sabine Spitz (Ger) German National Team                            12.59
72 Adelheid Morath (Ger) German National Team                         13.14
73 Marlen Jöhrend (Ger) Mix-Team Rothaus – Rügenfisch                 14.22
74 Lisa Brennauer (Ger) German National Team                          15.33
75 Nathalie Bates (Aus) Menikini - Selle Italia                       18.13
76 Marieke Van Wanroy (Ned) Team DSB Bank                                  
77 Inge Van Den Broeck (Bel) Belgian National Team                    19.22
78 Elke Gebhardt (Ger) Mix-Team Rothaus – Rügenfisch                  19.56
79 Alison Testroete (Can) Canadian National Team                           
80 Rosemarie Mayer (Ger) Mix-Team Rothaus – Rügenfisch                     
81 Sharon Van Essen (Ned) Team DSB Bank                                    
82 Jennie Stenerhag (Swe) Swedish National Team                       24.50
83 Virginia Henning (Ger) Mix-Team Rothaus – Rügenfisch                    
84 Madeleine Sandig (Ger) Team Columbia  Women                        24.56
85 Martina Scoppa (Ita) Gauss RDZ Ormu                                25.06
86 Bettina Kuhn (Swi) Bigla Cycling Team                              26.36
87 Odette Bertolin (Ita) Safi - Pasta Zara Manhattan                  31.32
88 Kettj Manfrin (Ita) Safi - Pasta Zara Manhattan                    31.41
89 Karol-Ann Canuel (Can) Canadian National Team                      31.42
90 Mandy Milow (Ger) Mix-Team Rothaus – Rügenfisch                    31.47
 
Points classification
 
1 Suzanne De Goede (Ned) Equipe Nürnberger Versicherung                   6 pts
2 Priska Doppmann (Swi) Cervelo Lifeforce Pro Cycling Team                3
3 Noemi Cantele (Ita) Bigla Cycling Team                                  3
4 Emma Johansson (Swe) Swedish National Team                              3
5 Diana Ziliute (Ltu) Safi - Pasta Zara Manhattan                         3
6 Karin Thürig (Swi) Cervelo Lifeforce Pro Cycling Team                   3
7 Monica Holler (Swe) Bigla Cycling Team                                  3
8 Hanka Kupfernagel (Ger) German National Team                            2
9 Karin Aune (Swe) Swedish National Team                                  2
10 Giada Borgato (Ita) Menikini - Selle Italia                            2
11 Katheryn Curi Mattis (USA) Webcor Builders Cycling Team                2
12 Katharine Carroll (USA) USA National Team                              2
13 Judith Arndt (Ger) Team Columbia  Women                                1
14 Christine Thorburn (USA) Webcor Builders Cycling Team                  1
 
Mountains classification
 
1 Trixi Worrack (Ger) Equipe Nürnberger Versicherung                      9 pts
2 Felicia Gomez (Can) Canadian National Team                              8
3 Angela Hennig (Ger) Team DSB Bank                                       6
4 Karin Thürig (Swi) Cervelo Lifeforce Pro Cycling Team                   5
5 Claudia Häusler (Ger) Equipe Nürnberger Versicherung                    3
6 Stephanie Pohl (Ger) German National Team                               3
7 Elena Berlato (Ita) Safi - Pasta Zara Manhattan                         3
8 Judith Arndt (Ger) Team Columbia  Women                                 3
9 Karin Aune (Swe) Swedish National Team                                  2
10 Nicole Brändli (Swi) Bigla Cycling Team                                2
11 Christine Thorburn (USA) Webcor Builders Cycling Team                  1
 
Young rider classification
 
1 Marina Romoli (Ita) Menikini - Selle Italia                       4.21.26
2 Lieselot Decroix (Bel) Belgian National Team                             
3 Oxana Kozonchuk (Rus) Menikini - Selle Italia                        0.11
4 Stephanie Pohl (Ger) German National Team                                
5 Julie Beveridge (Can) Canadian National Team                             
6 Elena Berlato (Ita) Safi - Pasta Zara Manhattan                          
7 Marianne Vos (Ned) Team DSB Bank                                     0.28
8 Francesca Faustini (Ita) Safi - Pasta Zara Manhattan                 7.32
9 Romy Kasper (Ger) German National Team                              11.49
10 Jacobien Kanis (Ned) Team Flexpoint                                12.02
11 Rebecca Much (USA) Webcor Builders Cycling Team                         
12 Marlen Jöhrend (Ger) Mix-Team Rothaus – Rügenfisch                 13.49
13 Lisa Brennauer (Ger) German National Team                          15.00
14 Virginia Henning (Ger) Mix-Team Rothaus – Rügenfisch               24.17
15 Martina Scoppa (Ita) Gauss RDZ Ormu                                24.33
16 Karol-Ann Canuel (Can) Canadian National Team                      31.09
17 Mandy Milow (Ger) Mix-Team Rothaus – Rügenfisch                    31.14
 
Teams classification
 
1 Cervélo Lifeforce Pro Cycling Team                               13.04.07
2 Gauss RDZ Ormu                                                       0.06
3 Equipe Nürnberger Versicherung                                           
4 Belgian National Team                                                    
5 Bigla Cycling Team                                                   0.12
6 Menikini Selle Italia                                                0.16
7 Team Flexpoint                                                       0.20
8 Webcor Builders                                                      0.22
9 Safi-Pasta Zara Manhatten                                            0.28
10 Team Columbia Women                                                 0.34
11 Team DSB Bank                                                       0.42
12 Canadian National Team                                              0.44
13 Swedish National Team                                               7.36
14 German National Team                                                7.49
15 USA National Team                                                   7.59
16 Team Rothaus - Rügenfisch                                          38.55