International Cycling Classic - Superweek - NE
USA, July 11-27, 2008
Main Page Results Overall standings Previous Stage Next Stage
Stage 5 - July 15: Ray Basso Bensenville Criterium,
Bahati doubles up at Superweek
By Mark Zalewski in Bensenville, Illinois
Anyone? Who's next? Rahsaan Bahati (Rock Racing)
Photo ©: Mark Zalewski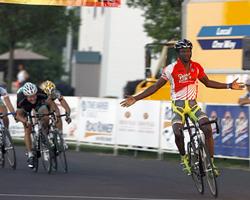 Rahsaan Bahati (Rock Racing) made winning look effortless in the fifth race of the International Cycling Classic series, lapping the field with several break riders and then out-sprinting each of them with ease to be the series' first double winner. Bahati retained his lead in the sprint category while inching closer to the overall lead - but that lead is held by his team-mate Sterling Magnell.
"We are definitely working for Sterling all the way," he said. "But it's Superweek and things change a lot - there are riders you don't know about they get away - like Russ Langley (Battley Harley Davidson), he was really strong."
Another strong rider making it into another lapping break is Australia's Bernard Sulzberger (Virgin Blue). The amateur racing in the States for the first time won the 'field sprint' behind Bahati. Sulzberger made it into the lapping break the day before in Richton Park and also finished second, putting him fifth on the overall.
The two leaders are finding it difficult to get away as their jerseys act as targets, so Bahati went back to his Saturn racing days for a tactic. "I was just following wheels and my team-mate did the ol' 'Saturn sit-up' and I took a couple of guys with me," he said. "We just rotated pretty evenly - there were a few guys stronger than the others but I still did my fair share so they wouldn't dog me out."
Karla Kingsley (Easton/Sugar CRM/Specialized)
Photo ©: Mark Zalewski

After the first points sprint Carlos Vargas (Hotel San Jose/RGM Advisors) was chatting with Bahati. "He was saying he would help me if I helped him, but I'm here to win so there is no deal making in 2008," he said.
In the women's race, two riders escaped the field and held their advantage for much of the race. Karla Kingsley (Easton/ Sugar CRM/ Specialized) and Katie Weber (Team Revolution) put more than 40 seconds on the chasing field. All looked set for a two-up sprint when a moment of inattention over a dodgy corner by Weber sent her to the ground with 10 laps to go. Weber was able to rejoin the break on a free lap but conceded the race to Kingsley for having to ride solo for more than two laps.
A bubbling winner was still surprised by her win when Cyclingnews caught up with her. "I've never won a big race - I've won a 16 person race before, so I am so excited," she said.
"I wish it was more glorious but that's how it happened," she laughed regarding the circumstances. "That corner is kinda sketchy and I think she took it too hot and crashed, and I ran over her wheel."
Crash out of the break? No problem!
Photo ©: Mark Zalewski

"It was a silly mistake by having my pedal down in a corner," Weber said. "She worked hard for two laps on the road while I was out, so I wanted her to have the win."
"I'm here alone so I was just watching the big teams," Kinglsey said about her strategy. "If there was going to be a break I knew Team Revolution was going to be in it, so when [Weber] went I went with her. Her team did a lot of blocking in the back which helped."
Back in the field both Teresa Cliff-Ryan and Kacey Manderfield of Verducci-Breakaway held onto their respective leads in the overall and sprint categories.
Photography
For a thumbnail gallery of these images, click here
Images by Mark Zalewski/Cyclingnews.com
Results
Pro 1/2 men
 
1 Rahsaan Bahati (Rock Racing)                                 
2 Bernard Sulzberger (Virgin Blue Cycling Team)                
3 Jake Keough (Kelly Benefit Strategies/Medifast)              
4 Emile Abraham (Team Type 1)                                  
5 Carlos Vargas (txTough/Hotel San Jose/RGM Advisors)          
6 Juan Pablo Forero Carreno (Colombia)                         
7 Russell Langley (Battley Harley Davidson)                    
8 Brian Buchholz (Kelly Benefit Strategies/Medifast)           
9 Jairo Perez Suarez (Colombia)                                
10 Jeff Schroetlin (ABD/Geargrinder)                           
11 Greg Christian (Turin/Barker+Nestor)                        
12 Juan Esteban Araugo Caruzjul (Colombia)                     
13 Tommy Nankervis                                             
14 Zachary Davies (RockyMounts~Izze Racing)                    
15 David Kemp (Virgin Blue Cycling Team)                       
16 Chad Hartley (The Jittery Joes Pro Cycling Team)            
17 Zach Watson (ABD/Geargrinder)                               
18 Chris Keane (Preferred Alliance Cycling Team)               
19 Oscar Clark (Kudzu.com U-23)                                
20 Bryce Mead (Jelly Belly Cycling)                            
21 Jonathan Sundt (Kelly Benefit Strategies/Medifast)          
22 Josh Carter (ABD/Geargrinder)                               
23 Carlos Alzate Escobar (Colombia)                            
24 Sterling Magnell (Rock Racing)                              
25 Alex Candelario (Kelly Benefit Strategies/Medifast)         
26 Jonathan Page (Battley Harley Davidson)                     
27 Logan Loader (BPG/Montano Velo)                             
28 Daniel Holt (Team Type 1)                                   
29 Mike Sherer (Alderfer Bergen)                               
30 Andrew Dahleim (txTough/Hotel San Jose/RGM Advisors)        
31 Jonathan Cantwell (Jittery Joe's)                           
32 Kris Koke (Liquid Cycling)                                  
33 Danny Kam (Allegiant Air)                                   
34 Markus Weinberg (Kahala-LaGrange)                           
35 (unknown rider)                                             
36 Ben King (Kelly Benefit Strategies/Medifast)                
37 Ryan Wohlrabe (Bicycle Heaven)                              
38 Joey Rosskopf (Kudzu.com U-23)                              
39 Matthew Hansley (Locos)                                     
40 Barry Lee (txTough/Hotel San Jose/RGM Advisors)             
41 Emiliano Jordan (Colavita Racing)                           
42 Tom Burke (West Michigan Coast Riders)                      
43 (unknown rider)                                             
44 Salvatore Scotto DiVetta (Sommerville Sports World Team)    
45 Eric Wiecek (Team Get-A-Grip Cycles)                        
46 Greg Campbell (Virgin Blue Cycling Team)                    
47 Arlex Castro Caverde (Colombia)                             
48 Reid Mumford (Kelly Benefit Strategies/Medifast)            
49 Andrew Armstrong (Matrix / RBM)                             
50 Rudolph Napolitano (Rock Racing)                            
 
Pro 1/2 women
 
1 Karla Kingsley (Easton/ Sugar CRM/ Specialized)              
2 Katie Weber (Team Revolution)                                
3 Lisa Jellett (Verducci/Breakaway)                            
4 Jenette Williams (HPC Powered by Altarum)                    
5 Samantha Schneider (Mesa Cycles)                             
6 Theresa Cliff-Ryan (Verducci/Breakaway)                      
7 Brooke O'Connor (Hub Racing)                                 
8 Skye-Lee Armstrong (Bicycle John's Serious Cycling)          
9 Sherri Stedje (Hub Racing)                                   
10 Sydney Brown (Team Revolution)                              
11 Cari Higgins (Americas Dairyland)                           
12 Lorena Candrian (HPC Powered by Altarum)                    
13 Amy McGuire (Team Kenda Tire)                               
14 Carrie Cash (Team Revolution)                               
15 Jennifer Rasmusson (HPC Powered by Altarum)                 
16 Tiffany Pezzulo (Squadra Velocita)                          
17 Louise Turner (Morris Trucking Velo)                        
18 Kacey Manderfield (Verducci/Breakaway)                      
19 Genevieve Whitson (HPC Powered by Altarum)                  
20 Julie Bishop (Revolution)                                   
21 Starla Teddergreen (Dolce Vita)                             
22 Jessica Prinner (ABD Cycling Team)                          
23 Elizabeth Morse Hill (Hub Racing)                           
24 Trish Black (Morgan Stanley/Specialized/24HR Fitness)       
25 Whitney Schultz (txTough/Hotel San Jose/RGM Advisors)       
26 Christine Roettger (Team Revolution)                        
27 Susan Hefler (HPC Powered by Altarum)                       
28 Kate Ross (Americas Dairyland)                              
29 Dale Tye (Hub Racing)                                       
30 Kristin Wentworth (Team Kenda Tire)                         
31 Kendi Thomas (Team Revolution)                              
32 Emma Giddens (Hub Racing)                                   
33 Michele Bote (HPC Powered by Altarum)                       
34 alison Fischer (Hub Racing)