International Cycling Classic - Superweek - NE
USA, July 11-27, 2008
Main Page Results Overall standings Previous Stage Next Stage
Stage 17 - July 26: The Great Downer Avenue Bike Race All Day Belgian Beer Fest and a full day of bike Racing! ,
Magnell, Rock Racing cash in at Downer Avenue
By Mark Zalewski, North American Editor in Milwaukee, Wisconsin
Sterling Magnell (Rock Racing) takes the win
Photo ©: Mark Zalewski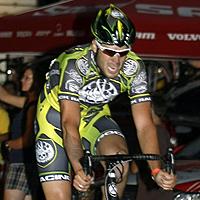 With the battle for the yellow jersey heating up into the final two races, it was anyone's guess as to how the queen race of the Superweek series would turn out. The Great Downer Avenue criterium once again lived up to its name, with tons of fans, heaps of cash and a climatic finish that puts the overall series lead up for grabs in Sunday's final race. Sterling Magnell (Rock Racing) served notice to his rivals after a tumultuous race the night before, soloing around the lead-out trains of the sprinter's teams and holding the field off for half-a-lap to take the win.
"How do you like them apples?" he asked Cyclingnews after the race. However, this was about 30 minutes after the finish as Magnell was in no shape to talk immediately after his win. "I couldn't even see down the home stretch. I had to lay down on the street after the first turn for ten minutes to recover!"
Magnell said that he thought there was a rider up the road, and he was going full-gas to put as many places between him and series leader Jonathan Cantwell (Jittery Joe's.) "I was sitting up behind Cantwell and some others, there were a lot of ins-and-outs going on, and I knew I needed to go. As soon as I felt the momentum slowing I hit it as hard as I could, all out. It was instinct, I just had to try."
While there was a lot of jawing after the Kenosha race, particularly against Magnell, the bike did his talking tonight.
More than a few riders were critical of the lead-out train of Kelly Benefits Strategies-Medifast, saying it was not nearly fast enough, including Cantwell.
Jonathan Cantwell (Jittery Joe's) rides in defense of his lead.
Photo ©: Mark Zalewski

"Coming into the finish [Magnell and I] were shadowing each other, and the guys on the front were not going fast enough at all. If someone can hit over a lead-out train and stay away for a half lap it means they weren't going hard enough. I thought we were going to chase him down and then I got boxed in the sprint."
Second place Alex Candelario (Kelly Benefits Strategies-Medifast) said his team's lead-out was going fast but that Magnell just made a good move. " We were riding well but we got jumped by Sterling and it took us a while to get our speed guys up there. Hats off to Sterling, it was a good move. I hope he did take over the jersey because the people he is riding against are riding pretty lame."
The comments from different teams and riders hint to alliances forming within the peloton. But Magnell, who was in tears rolling back to the finish to greet his team-mates and father, put it in perspective. "We are just going to race our bikes, it's all about that. As long as I am happy with my racing and put my best effort out there, that is all that matters."
Super prime
Team Colombia chased hard after the Super prime
Photo ©: Mark Zalewski

The Downer Avenue race is notorious for a lot of cash primes, including an unsanctioned crowd prime that is often organised on the back stretch. Last year it reached $1,000. This year the organisers of the race put a 'Super Prime' at the location, 100 metres past the first turn, with 12 laps to go. And they started it at a minimum of $4,000 and allowing the crowd to pitch in for more. By the time the bell rang the purse was at $7,000 and every rider took notice.
The Colombian national team, which always seems to be on the front for big primes, had a train set-up as the prime approached. Then the Texas Roadhouse team organised a counter-train as the bell rang. But it was Rahsaan Bahati's protege Justin Williams (Rock Racing) who used some of Bahati's sprinting moves to solo around the turn and take the cash.
"It was crazy!" said Williams. "Everyone was setting their trains up and I just bided my time. Dawson really took care of me. I'm more of a jumper so I went a bit earlier before the corner. We were going more than 40 mph!"
The Kelly Benefits Strategies-Medifast train was criticised for being too slow, but nobody else took over
Photo ©: Mark Zalewski

Before the 90-degree right turn Williams swung from the far left to the far right, and then back to the left. When asked why he did this, he said, "I was trying to get momentum going into the corner. It's something Rahsaan taught me -- whenever he leads me out he swings and and swings out to get the momentum to get through the corner."
Also sprinting for the prime, as well as for additional sprint points to pad his lead over Bahati, was Chad Hartley (Jitttery Joe's.) "It was a fast race -- the whole field was amped for that prime. I just sat in and waited but I didn't have the greatest legs today." Hartley did get a few more points on Bahati, who was still away at a friend's wedding in Atlanta. But he is confirmed to race the final race, and will be looking to regain his red jersey.
Hartley was rather amicable in his comments about Rock. "Congratulations to Rock, they got the prime and the win. Magnell made an incredible move at the end and nobody could touch him."
However, his team-mate Cantwell was all business. "I got fourth so he got three points back on me, so I go into the final with three points on him. They like to have commotion and drama, it doesn't matter where they are at they just love it. They can bring whatever they want tomorrow because now I am more motivated than ever."
Photography
For a thumbnail gallery of these images, click here
Images by Mark Zalewski/Cyclingnews.com
Images by Scott Herman
Results
1 Sterling Magnell (Rock Racing)                               
2 Alex Candelario (Kelly Benefit Strategies/Medifast)          
3 Jake Keough (Kelly Benefit Strategies/Medifast)              
4 Jonathan Cantwell (Jittery Joe's)                            
5 Thomas Soladay (Time Pro Cycling)                            
6 Carlos Vargas (txTough/Hotel San Jose/RGM Advisors)          
7 Keven Lacombe (Kelly Benefit Strategies/Medifast)            
8 Clayton Goldsmith (Wheel & Sprocket)                         
9 Chad Cagle (Mercy Cycling Team)                              
10 James Stemper (velo trocadero cycling)                      
11 Aram Dellalian (Bearclaw)                                   
12 Alex Boyd (Team Waste Management)                           
13 Jonathan Page (Battley Harley Davidson / Planet Bike)       
14 Bucky Miller (Team RACE)                                    
15 Juan Pablo Forero Carreno (Colombia)                        
16 Zachary Davies (RockyMounts~Izze Racing)                    
17 Daniel Chavez (Preferred Alliance)                          
18 Paul Martin (Texas Roadhouse)                               
19 Thacker Reeves (Matrix/Richardson Bike Mart)                
20 Justin Kerr (Liquid Cycling)                                
21 Carlos Alzate Escobar (Colombia)                            
22 Juan Esteban Araugo Caruzjul (Colombia)                     
23 Markus Walters (Team RACE)                                  
24 Nicholas Martinez (NOW-MS Society)                          
25 Jorge Espinoza (Horizon Organic Cycling Team)               
26 Daniel Lionberg (Velox Cycles)                              
27 David Veilleux (Kelly Benefit Strategies/Medifast)          
28 Ben Renkema (Turin/Barker+Nestor)                           
29 Adam Thuss (Team RACE)                                      
30 Chad Hartley (The Jittery Joes Pro Cycling Team)            
31 Nick Friesen (GS Mengoni USA)                               
32 Christopher Uberti (Turin/Barker+Nestor)                    
33 Ben King (Kelly Benefit Strategies/Medifast)                
34 Thom Coupe (MetLife p/b unlose.it)                          
35 Peter Rennie (Now-Ms society)                               
36 Ryan Fleming (MetLife p/b unlose.it)                        
37 Erik Tomlinson (Turin Bicycle/Barker+Nestor)                
38 Greg Christian (Turin/Barker+Nestor)                        
39 Brent Emery (Velo Trocadero/ Emerys.com)                    
40 Stefan Rothe (Mercy Cycling Team)                           
41 Barry Lee (txTough/Hotel San Jose/RGM Advisors)             
42 Rudolph Napolitano (Rock Racing)                            
43 Mike Sherer (Alderfer Bergen)                               
44 Julian Kyer (RMCEF Racing)                                  
45 Patrick Kilmurray (NUVO Cultural Trail)                     
46 Michael Woell (MBRC/Flanders)                               
47 (unknown rider) ( )                                         
48 Steven Scholzen (IS Corp Cycling Team)                      
49 Andrew Armstrong (Matrix / RBM)                             
50 John Trujillo (txTough/Hotel San Jose/RGM Advisors)         
51 Chris Hall (HRRC Trek)                                      
52 Kip Spaude (ISCorp)                                         
53 Nat Thompson (Rocky Mountain Bicycles/STOK)                 
54 Brad Sheehan (MetLife p/b unlose.it)                        
55 Ryan Wohlrabe (Bicycle Heaven)                              
56 Daniel Carruthers (Hansaton Hearing Systems)                
57 Tim Srenaski (Tokyo Joe's Cycling Team)                     
58 Jens Brabbit (Bianchi/Grand Performance)                    
59 Ross White (Gear Grinder)                                   
60 Brett Stewart (ABD/Geargrinder)                             
61 Kevin Berger (Wheel & Sprocket)                             
62 John Voigt (Lakes Area Physical Therapy)                    
63 Christopher Mantel (velo trocadero cycling)                 
64 David Hackworthy (Bianchi / Grand Performance)              
65 Chad Burdzilauskas (Texas Roadhouse)                        
66 Darin Divine (Adobe/Schwalbe pres by Lombardi Sports)       
67 Dallas Fowler ( )                                           
68 Dan Teaters (Matrix/RBM)                                    
69 Jairo Perez Suarez (Colombia)                               
70 Tristan Uhl (txTough/Hotel San Jose/RGM Advisors)           
71 Vincent Roberge (Cycling Center/JBCA)                       
72 Matt Seagrave (Kahala-LaGrange)                             
73 Alex Wieseler (Nova/ISCorp)                                 
74 Arlex Castro Caverde (Colombia)                             
75 David Sachs (Vison Quest)                                   
76 Matt Welch (vitaminwater-Trek cycling team)                 
77 Josh Nagode (Gear Grinder)                                  
78 ?                                       
79 Chris Keane (Preferred Alliance Cycling Team)               
80 Derek Graham (Bissel Masters Elite)                         
81 Eddy Kwon (MOB Cyclery Racing)                              
82 Brian Alfermann (THF Racing)                                
83 Patrick Weddell (Carolina Triathlon-Metro Reprographics)    
84 Chris Winn (Mob Cyclery Racing / RMCEF)                     
85 Bryce Mead (Jelly Belly Cycling)                            
86 Denny Yunk (CZ Velo)                                        
87 Greg Bauer (GCCA)                                           
88 Randy Reichardt (Vitamin Cottage)                           
89 Jeff Schroetlin (ABD/Geargrinder)                           
90 Eric Bean (Nova Cycle Sports Foundation Inc.)               
91 Patrick Fasse (Ski Utah Cycling Team)                       
92 Ryan White (ABD/Geargrinder)                                
93 Tyler Jewell (txTough/Hotel San Jose/RGM Advisors)          
94 Hans Higdon (Caf? Hollander)                                
95 Derek Laan (Turin/Barker+Nestor)                            
96 Frank Pipp (Health Net-Maxxis)                              
97 Charles McCarthy (MetLife p/b unlose.it)                    
98 Victor Ayala (Kahala-LaGrange)                              
99 Josh Carter (ABD/Geargrinder)                               
100 Adam Mills (HRRC / Trek Stores)                            
101 Brock Curry (Rock Racing)                                  
102 Russell Langley (Battley Harley Davidson / Planet Bike)    
103 Ben Whitehead (Priority Health Bissel)                     
104 Kirk Albers (Texas Roadhouse)                              
105 Aaron Beardsley (Wells Fargo Racing)                       
106 Ryan Roth (Team RACE)                                      
107 Andrew Touchstone (Olympic Club)                           
108 Emiliano Jordan (Colavita Racing)                          
109 Sean Finning (Jayco/VIS)                                   
110 Reid Mumford (Kelly Benefit Strategies/Medifast)           
111 Brian Buchholz (Kelly Benefit Strategies/Medifast)         
112 Casey Masterson (Velo Trocadero)                           
113 Gregg Brandt (Bianchi Grand Performance)                   
114 Pat Lemieux (Bianchi/Grand Performance)                    
115 Dale Sedgwick (Bianchi/Grand Performance)   

Sprints
 
Sprint #1
1 Tristan Uhl (txTough/Hotel San Jose/RGM Advisors)            
2 Frank Pipp (Health Net-Maxxis)                               
3 Jairo Perez Suarez (Colombia)                                
4 Luis-Alejandro Zamudio (American RADD Presented by AGEL)     
5 Justin Williams (Rock Racing)                                
6 Jorge Espinoza (Horizon Organic Cycling Team)                
7 Russell Langley (Battley Harley Davidson / Planet Bike)      
 
Sprint #2
1 Peter Dawson (Rock Racing)                                   
2 Ronnie Strange (Jet Fuel Coffee)                             
3 Chad Hartley (The Jittery Joes Pro Cycling Team)             
4 Carlos Vargas (txTough/Hotel San Jose/RGM Advisors)          
5 Erik Tomlinson (Turin Bicycle/Barker+Nestor)                 
6 Carlos Alzate Escobar (Colombia)                             
7 Chad Burdzilauskas (Texas Roadhouse)                         
 
Sprint #3
1 Russell Langley (Battley Harley Davidson / Planet Bike)      
2 Paul Martin (Texas Roadhouse)                                
3 Brock Curry (Rock Racing)                                    
4 Chad Hartley (The Jittery Joes Pro Cycling Team)             
5 Chad Cagle (Mercy Cycling Team)                              
6 Ronnie Strange (Jet Fuel Coffee)                             
7 Carlos Vargas (txTough/Hotel San Jose/RGM Advisors)          
 
Sprint #4
1 Peter Dawson (Rock Racing)                                   
2 Rudolph Napolitano (Rock Racing)                             
3 Chad Hartley (The Jittery Joes Pro Cycling Team)             
4 Carlos Vargas (txTough/Hotel San Jose/RGM Advisors)          
5 Jonathan Page (Battley Harley Davidson / Planet Bike)        
6 Reid Mumford (Kelly Benefit Strategies/Medifast)             
7 Jeff Schroetlin (ABD/Geargrinder)