USA Crits Speedweek - NE
USA, April 28-May 4, 2008
Main Page Results Overall standings Previous Race Next Race
Race 3 - April 30: Downtown Walterboro Criterium,
Clarke takes two
By Kirsten Robbins in Walterboro, South Carolina
Hilton Clarke (Toyota-United) sprints home ahead
Photo ©: Dennis Johnson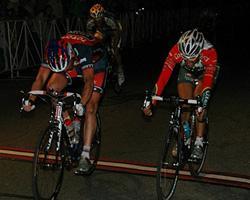 The lone Toyota-United sprinter from Australia, Hilton Clarke, snagged another stage victory at the US Crits Speedweek series, winning the down town Walterboro criterium. Clarke claimed his second back-to-back victory from Argentinean Sebastian Haedo (Colavita/Sutter Home) and Alex Candelario (Kelly Benefit Strategies-Medifast).
It was clear early in proceedings that no break-away would gain more than 10 seconds over the peloton during the 90 minute criterium. The fast racing led to Clarke again taking full advantage of Symmetrics' lead-out, sitting behind the yellow-clad team as the race entered its final three laps.
Colavita/Sutter Home added its cavalry to the lead-out mixture with two laps to go. With the two lead-out trains lined up the race was on between the heavy-hitting sprinters.
A flyer from Cameron Evans (Symmetrics) with on lap remaining looked set to give the Canadian National Champion a break-away victory. However it wasn't to be for Evans, with an untimely accident forcing him out of contention.
As the riders rounded the last two narrow corners Candelario led from Clarke and Haedo, but Clarke proved strongest down the final drag to the finish line, claiming another Speedweek victory.
Benjamin wins break sprint
Women's podium (L-R): Shontell Gauthier (Colavita/Sutter Home),
Photo ©: Dennis Johnson

Kelly Benjamin (Cheerwine) claimed victor at the down town Walterboro criterium after making the decisive break-away 40 minutes into the race. Benjamin out-sprinted her rivals from the 55 minute event's final corner, winning ahead of Shontell Gauthier (Colavita/Sutter Home) and Holli Steelman (Juice Plus).
Top women's teams like Cheerwine, Aaron's and Colavita/Sutter Home lined up ready to tear the legs off of one another as they battled for the third round victory. In particular the teams were on the hunt for the overall series lead, held by Tina Pic (Colavita/Sutter Home).
The highly-animated field saw a six rider break split off the front with 15 minutes remaining. The break included Benjamin, Gauthier, Tiffany Cromwell, Anna Lang (Aaron's), Ally Brandt (Cheerwine) and Holli Steelman (Juice Plus).
The winning break crossed the finish line 30 seconds ahead of the field sprint. Pic won the bunch sprint, from Laura Van Gilder (Cheerwine).
Photography
For a thumbnail gallery of these images, click here
Images by Dennis Johnson
Results
1 Hilton Clarke (Toyota)                             1.19.47
2 Sebastian Haedo (Colavita Sutter Home)                    
3 Alex Candelario (Kelly Benefit Strategies/Medifast)       
4 Jake Keough (CRCA/Sakonnet Technology)                0.01
5 Peter Dawson (Rock Racing)                                
6 Kyle Gritters (HealthNet p/b Maxxis)                  0.02
7 Emile Abraham (Team Type 1)                               
8 Keith Norris (Toshiba-Santo)                              
9 Kyle Wamsley (Colavita Sutter Home)                       
10 Dave Guttenplan (TIME Pro Cycling)                       
11 Eric Boily (Myogenesis.com)                          0.03
12 Eric Wohlberg (Symmetrics)                               
13 Maxime Vives (Calyon Pro Cycling Team)               0.04
14 Mark Hekman (Toshiba-Santo)                          0.05
15 Chris Scott (Locos)                                      
16 Jeff Hopkins (Team Inferno Pro Cycling)                  
17 Juan Forero (Colombian National Team)                    
18 Martin Gilbert (Kelly Benefit Strategies/Medifast)       
19 Oscar Henao (Clinica Union)                          0.06
20 Svein Tuft (Symmetrics)                                  
21 Andy Jacques-Maynes (California Giant)                   
22 Spencer Gaddy (Black Sheep Cartel)                       
23 Alex Bnogal (Jet Fuel Coffee)                            
24 Matt Winstead (Team Inferno Pro Cycling)                 
25 Robbie King (Rite Aid)                                   
26 Kenneth Hanson (California Giant)                    0.07
27 Will Hoffarth (Black Sheep Cartel)                       
28 Mike Stoop (TIME Pro Cycling)                        0.08
29 Rob White (ABD/Geargrinder Cycling)                      
30 Christan Helmig (Metro Volkswagen)                       
31 Mathieu Roy (Calyon Pro Cycling Team)                    
32 Thomas Brown (Kudzu.com U23)                         0.09
33 Lacombe Keven (Kelly Benefit Strategies/Medifast)    0.11
34 Rahsaan Bahati (Rock Racing)                             
35 Anibal Borrajo (Colavita Sutter Home)                    
36 Jonny Sundt (Kelly Benefit Strategies/Medifast)          
37 Eric Murphy (Myogenesis.com)                         0.13
38 Luca Damiani (Colavita Sutter Home)                      
39 Yosvany Falcon (Toshiba-Santo)                           
40 Fabio Calabria (Team Type 1)                         0.14
41 Josh England (Team Inferno Pro Cycling)              0.16
42 Guido Palma (Rite Aid)                                   
43 Tommy Nankervis (Toshiba-Santo)                      0.17
44 James Baldesare (Team Inferno Pro Cycling)               
45 Derrick Ivey (Jet Fuel Coffee)                       0.18
46 Chad Burdzilauskas (Texas Roadhouse)                     
47 Ryan White (ABD/Geargrinder Cycling)                     
48 Diego Garavito (AeroCat/ Latino Cycling Team)            
49 Juan Arango (Colombian National Team)                0.19
50 Ben King (Kelly Benefit Strategies/Medifast)             
51 Hector Pastorino (Herbal Life/ Bike America)             
52 Jacob Fetty (Myogenesis.com)                         0.20
53 Michael Norton (Calyon Pro Cycling Team)                 
54 Adam Myerson (TIME Pro Cycling)                      0.21
55 Esteban Jukich (Richmond Pro Cycling fueled)             
56 Jason Meidhof (Clean Currents p/b Don Beyer)         0.22
57 Davide Frattini (Colavita Sutter Home)                   
58 Adam Branfman (CRCA/Sakonnet Technology)                 
59 Bennet Van (Der Genugte Team Inferno Pro Cycling)    0.23
60 Justin Beard (Black Sheep Cartel)                        
61 John Parra (Toshiba-Santo)                           0.24
62 Gerardo Castro (Richmond Pro Cycling fueled)             
63 David Veilleux (Kelly Benefit Strategies/Medifast)       
64 David Duncan (TIME Pro Cycling)                      0.25
65 John Puffer (Texas Roadhouse)                        0.30
66 Leo Frayre (Metro Volkswagen)                            
67 John Murphy (HealthNet p/b Maxxis)                       
68 Whit Clifford (Locos)                                0.31
69 John Grant (Texas Roadhouse)                             
70 Cleve Blackwell (Myogenesis.com)                         
71 Rich Harper (Team Inferno Pro Cycling)                   
72 Daniele Defranceschi (Jet Fuel Coffee)                   
73 Peter Cavey (Metro Volkswagen)                       0.32
74 Jackie Simes (TIME Pro Cycling)                      0.34
75 Mark Hinnen (Kelly Benefit Strategies/Medifast)      0.57
76 Matt Guse (Calyon Pro Cycling Team)                      
77 Bill Elliston (Rite Aid)                             1.05
78 Bobby Lea (Rite Aid)                                     
79 Jared Nieters (Haymarket Bicycles/Function)          1.13
80 Andrew Armstrong (Matrix/RBM)                        1.25
81 Seth Hansley (Locos)                                 1.32
82 Bruno Langlois (Myogenesis.com)                      1.35
83 Devon Vigos (California Giant)                       1.40
84 Karel Sumbal (Lindner Capital)                       2.19
85 Matt Decanio (Haymarket Bicycles/Function)           2.21
86 Sebastian Sinisterra (Clinica Union)                 2.22
 
Women
 
1 Kelly Benjamin (Cheerwine Cycling)                   53.39
2 Shontell Gauthier (Colavita/Sutter Home)                  
3 Holli Steelman (Juice Plus/NC cycling)                0.01
4 Anna Lang (Aaron's Professional Women's)                  
5 Tiffany Cromwell (Colavita/Sutter Home)                   
6 Allyson Brandt (Cheerwine Cycling)                    0.03
7 Tina Pic (Colavita/Sutter Home)                       0.18
8 Laura Van (Gilder Cheerwine Cycling)                      
9 Jenny Trew (Vanderkitten Racing)                          
10 Sarah Caravella (Tibco)                              0.19
11 Rebecca Larson (Aaron's Corporate Furnishings)       0.20
12 Catherine Cheatley (Cheerwine Cycling)                   
13 Taitt Sato (Value Act Capital)                           
14 Erica Allar (Aaron's Professional Women's)           0.21
15 Jennifer Wilson (Vanderkitten Racing)                    
16 Nichole Wangsgard (Colavita/Sutter Home)                 
17 Elizabeth Morse (Hill Hub Racing)                        
18 Sherri Stedje (Hub Racing)                               
19 Robin Farina (Cheerwine Cycling)                     0.22
20 Morgan Patton (Team Type 1)                              
21 Iona Wynter (Parks Colavita/Sutter Home)             0.23
22 Laura McCaughey (Juice Plus/NC cycling)                  
23 Monique Hanley (Blackburn Cycling)                       
24 Julie Bishop (Team Bents)                                
25 Tamayra Barnard (Herbalife/Bike America)             0.24
26 Casey Gale                                               
27 Melissa Sanborn (Vanderkitten Racing)                    
28 Kele Murdin (Team Vanderkitten)                          
29 Kathryn Clark (Team Kenda Tire)                      0.25
30 Anna Milkowski (Advil/ChapStick)                         
31 Shannon Koch (Metro)                                 0.26
32 Christy Blakely (BMW-Bianchi)                        0.30
33 Meredith Miller (Aaron's Professional Women's)       0.32
34 Hannah Banks (Value Act Capital)                     0.33
35 Gina Voci (Juice Plus Cycling)                       2.23
36 Rachel Warner (Juice Plus/NC cycling)                4.29
37 Leeanne Manderson (Hub Racing)                       5.14
38 Sheila Lopez (Herbalife/Bike America)                5.15
39 Christi-An Hansley (Team MedPlan)                    5.17
40 Kathryn Wilder (Team Somerset)                       5.18