La Vuelta de Bisbee - NE
USA, April 25-27, 2008
Main Page Results Overall standings Previous Stage
Stage 3 - April 27: Tombstone Road Race, 87.2 mi
Tecos takes title
By Matt Hickman
Francisco Navarro (Tecos)
Photo ©: Mason Ibas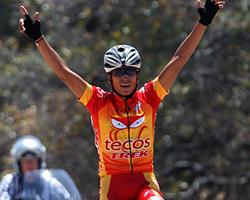 In probably the most dominant team showing since the revival of La Vuelta de Bisbee, Team Tecos from Mexico finished one-through-four in the final stage to push Colombian Gregorio Vega to a wire-to-wire victory.
Vega grabbed hold of the yellow jersey following Friday's prologue and wore it all weekend, beating team-mates Fausto Muñoz, Carlos Guinez and Francisco Navarro, who finished two-through-four in the overall.
Muñoz called it a whole-team victory and said Vega became their horse to bet on after his performance in Friday's time trial, the same climb from Old Bisbee to the top of the Mule Pass Tunnel that concluded Sunday's final stage race.
"It depends on what's going to happen in the race," Muñoz said as to how the team chooses its leader to back. "(Vega) won the prologue, so we worked for him. We never worried. The whole team was working for Gregorio - working for our leader."
Vega's top challenger heading into the final stage was 21-year-old Kiel Reijnen, who entered Sunday's 83-mile Tombstone Road Race in third. With nine Waste Management team-mates backing him, he was the only real threat to a Vega win.
That threat, however was dashed when Reijnen was part of a crash outside of Tombstone that took out at least three riders. According to reports, Reijnen tried to quickly shake off the injury and got back on his bike. He rode for a couple hundred meters before dismounting his bike and falling to the ground, writhing and screaming in pain.
Medical professionals responded to the scene with Reijnen unable to continue.
Kiel Reijnen (Team WM), second on G.C.
Photo ©: Mason Ibas

With Reijnen no longer in the hunt, the lone American challengers were Adam Livingston and Karl Bordine from Team 5 Star WVO, who finished fifth and sixth, respectively, but came nowhere near cracking the Tecos cocoon around Vega.
So confident was Team Tecos, they chose which among them would win the stage long before the final climb.
"With 20 miles left in the race, we decided Francisco Navarro would win," Muñoz said.
Navarro wound up winning the stage by less than a second.
Vega, who grew up cycling in the mountains of Colombia, is the prototypical South American racer.
"In South America the mountains are harder," Vega said through Muñoz's translation. "So being king of the mountain is very difficult. There, everybody climbs faster. (In the United States) the time trials are faster than in South America."
Muñoz said Tecos plans to have a team return next year.
"We really like this race," Muñoz said. "We're so happy because we won. But we like this course, there's beautiful weather here - it's better than Mexico."
Kelly McDonald of California-based Touchstone Climbing won the women's race by 27 seconds over Chloe Forsman of Tucson and the lone representative from Luna racing.
Forsman, who took the yellow jersey Friday after winning the prologue, rode the same climb to victory in Sunday's Tombstone Road Race, but her 12-second margin of victory was not nearly enough.
"I attacked right before we went into the tunnel, which might not have been the smartest strategy," Forsman said. "I just put my head down and went for it and up the steepest part of the climb, Kelly and I pulled away."
The Morgan Stanley Team duo of Michael Buckley and Michael Hutchinson finished first and second, respectively, in the men's masters' race. Matthew Novakovich of Team Alaska Cannon finished third and Dave Swanson of Summit Velo was fourth.
Photography
For a thumbnail gallery of these images, click here
Images by Mason Ibas/www.masonibas.com
Results
Pro & Senior men
 
1 Francisco M Navarro (Tecos)                               3.36.28
2 Carlos I O Guinez (Tecos)                                        
3 Fausto M E Munoz (Tecos)                                         
4 Gregorio L Vega (Tecos)                                          
5 Adam Livingston (Team 5 Star WVO)                                
6 Karl Bordine (Team 5 Star WVO)                            0.01.45
7 Luis F Macias (Tecos)                                     0.02.08
8 David Salomon (P&S-Specialized)                           0.03.11
9 Ron Jensen (Team WM)                                      0.04.58
10 Jon Parrish (Team WM)                                    0.06.04
11 Gilberto Porras (Rica Burguer)                           0.06.12
12 Mario Armend-A¡Riz (Rica Burguer)                        0.07.02
13 Carlos Lopez (P&S-Specialized)                           0.10.35
14 Joshua Liberles (Colavita NM)                            0.11.02
15 Nick Schreiber (Landis-Trek)                             0.11.20
16 Dan Vasichek (RideClean)                                 0.11.35
17 Mark Aasmundstad (RideClean)                             0.11.36
18 Brian Forbes (RideClean)                                 0.14.03
19 Antonio Aldape (P&S-Specialized)                         0.14.09
20 Juan P Magallanes (Tecos)                                       
21 Bernardo C Tepoz (Tecos)                                 0.15.49
22 Omar C Diaz (Tecos)                                             
23 Luis G Colunga (Tecos)                                          
24 Rodolfo Avila (P&S-Specialized)                          0.19.13
25 Stephen Slabodnick (Landis-Trek)                         0.26.52
26 George Ganoung (US Armed Forces)                                
27 Vincent Owens (Sierra Pacific)                           0.27.42
28 Juan Villela (Rica Burguer)                              0.28.50
29 Woodruff Tj (MomentumEndur.)                             0.28.52
30 Martin Adamczyk (WDT Intl Cycl)                          0.28.59
31 Mark Weideman (Simply Fit)                               0.29.09
32 Emiliano Jordan (Colavita NM)                            0.29.36
33 Scott Hubbard (KHSnm.com)                                0.30.22
34 Lewis Elliot (Team WM)                                   0.31.27
35 Kamden Reedy (RideClean)                                 0.36.48
36 Antonio Velasquez (Rica Burguer)                         0.39.18
37 Henry Swinty (Rica Burguer)                              0.44.14
38 Randy Corcoran (NMVS)                                    0.45.02
DNF Mark Wald-Hopkins (Bike -n- Sport)                             
DNF Jesus Zapata (Colavita NM)                                     
DNF Ryan W. Blicken (Landis-Trek)                                  
DNF Brian Lemke (Landis-Trek)                                      
DNF Drew Miller (Landis-Trek)                                      
DNF David Reid (Landis-Trek)                                       
DNF Carlos Hernandez (P&S-Specialized)                             
DNF Kyle Colavito (RideClean)                                      
DNF Chad Derosier (Team 5 Star WVO)                                
DNF Anthony Steenbergen (Team H&R Block)                           
DNF Brian Cornelius (Team WM)                                      
DNF Stevie Cullinan (Team WM)                                      
DNF Tim Doud (Team WM)                                             
DNF Austin King (Team WM)                                          
DNF Sean Mazich (Team WM)                                          
DNF Kiel Reijnen (Team WM)                                         
DNF David Schulhofer (Team WM)                                     
DNF Kyle Ward (Team WM)                                            
DNF Paul Ward (Unattached)                                         
DNF Hugh Selby (Velo Del Norte)                                    
 
Master men
 
1 Matthew Novakovich (Team AK Cannon.)                      2.41.43
2 Michael Buckley (Morgan Stanley)                          0.00.07
3 Michael Hutchinson (Morgan Stanley)                       0.00.44
4 John Sawasky (Colavita AZ)                                0.01.12
5 Travis Waldron (Bicycle Haus)                             0.01.14
6 William White (Team WM)                                   0.01.16
7 Scott Conover (HLHAP)                                     0.01.20
8 Kevin Kirkwood (Bicycle Haus)                             0.01.34
9 Al Senft (Colavita NM)                                           
10 Dave Swanson (Summit Velo)                                      
11 Bryan Antol (RideClean)                                  0.01.47
12 Scott Biaggi (GST Racing)                                0.01.52
13 Peter Brown (GST Racing)                                 0.01.57
14 Matt Jordan (Team Kaladi)                                0.02.09
15 Daniel Naef (Procon/FNBA)                                0.02.10
16 Thane Wright (Pactimo)                                   0.02.17
17 Jon Salskov (Bicycle Haus)                               0.02.18
18 Brian Palen (Colavita NM)                                0.02.38
19 Frank Barnes (Summit Velo)                               0.05.04
20 Shawn Daly (Southwest Hand)                              0.05.20
21 Lane Sanders (Focus Cyclery)                             0.05.35
22 Kurt Kroese (GST Racing)                                 0.05.48
23 Andre Mcnulty (HLHAP)                                    0.05.57
24 Jonathan Rath (NMVS)                                     0.06.19
25 Chris Poole (Team WM)                                    0.06.22
26 Tod Smith (Team WM)                                             
27 Bryan Schlegel (Aggress)                                 0.06.35
28 Thomas Kachelmeyer (Team Giant-MI)                       0.06.37
29 Kurt Garbe (Unattached)                                  0.06.47
30 Rod Michael (SportsSystMtnTC)                            0.06.50
31 Jim Silverman (RideClean)                                0.06.52
32 Scott Baker (GST Racing)                                 0.07.02
33 Jon Black (GST Racing)                                   0.07.07
34 Joshua Powers (Colavita AZ)                              0.07.10
35 Dermot Kealey (Summit Velo)                              0.07.22
36 Lew Perna (SchwabCyclesRT)                               0.07.25
37 Silvio Menezes (NMVS)                                    0.07.33
38 Nels Guloien (Natural Earth)                             0.07.59
39 Todd Mion (RideClean)                                    0.08.01
40 Paul Kealey (Summit Velo)                                0.08.15
41 Greg Mcglinn (Colavita AZ)                               0.08.46
42 Justin Martin (Colavita AZ)                              0.08.49
43 Matthias Feurer (Team Rhino)                             0.09.16
44 Edward A. Cartwright (Team Patimo)                       0.09.19
45 Donald Williams (Bicycle Haus)                           0.09.41
46 Eddie Urcadez (Presteza)                                 0.09.48
47 Jesus Lamb (GST Racing)                                  0.10.15
48 Scott Arnold (Bicycle Haus)                              0.10.38
49 Richard Hutton (Summit Velo)                             0.11.16
50 David Gay (SanTan Racing)                                0.11.24
51 Justin Beope (Team 5 Star WVO)                           0.11.35
52 Scott Wall (Procon/FNBA)                                 0.11.40
53 John Simonson (GST Racing)                               0.11.50
54 Andy Duvall (Summit Velo)                                0.11.59
55 Bill Mcdorman (Team One Rcg)                             0.12.15
56 Rick Cimaglia (RideClean)                                0.12.19
57 Tony Routley (Team Whistler)                             0.14.02
58 Alex Koss (Summit Velo)                                  0.15.14
59 Peter Chagaris (Eclipse Racing)                          0.17.30
60 Josh Rider (NMVS)                                        0.17.31
61 Greg Howard (Summit Velo)                                0.17.33
62 David Green (SanTan Racing)                              0.18.29
63 Richard Biocca (Desert Whl Club)                         0.20.36
64 Jim Peot (Unattached)                                    0.21.05
65 Elliot Skultin (PAA)                                     0.22.39
66 James Stull (Team Kaladi)                                0.23.17
67 Jay Guyot (GST Racing)                                   0.23.20
68 Lindsay Crawford (G S Strada)                            0.23.22
69 Craig Peters (Colavita AZ)                               0.24.33
70 Sean Patrick (Colavita AZ)                               0.24.36
71 Kiral Thompson (Summit Velo)                             0.26.25
72 Joe Struttmann (SanTan Racing)                           0.27.47
73 George Varhola (Summit Velo)                             0.31.30
74 Doug Stewart (Presteza)                                  0.34.12
75 Kevin Kraus (Desert Whl Club)                            0.39.12
76 William Fleming (Team Kaladi)                            0.45.08
77 Glenn Harris (Thunder Mtn Cyc)                           0.45.13
78 Martin Liddell (SanTan Racing)                           1.06.02
79 Alan Fischer (AZ Cycling)                                1.18.11
80 Norman J. Beasley (Thunder Mtn Cyc)                      1.53.11
DNF Adrian Schumacher (Presteza)                                   
DNF Donald Guess (SanTan Racing)                                   
DNF Eric Nelson (Team RPM)                                         
 
Women
 
1 Chloe Forsman (LUNA)                                      3.29.41
2 Kelly Mcdonald (Touchstone Clmg)                          0.00.12
3 Heather Sborz (Bicycle Haus)                              0.00.13
4 Marisa Russell (Procon/FNBA)                              0.00.17
5 Maria Monica (Touchstone Clmg)                            0.00.22
6 Olivia Dillon (Touchstone Clmg)                           0.00.29
7 Chrissy Saraceni (Verducci)                                      
8 Sarah S. Swanson (Summit Velo)                            0.00.40
9 Kristen Hetzel (Summit Velo)                              0.00.43
10 Mary Downing (Team Kenda Tire)                           0.00.50
11 Colleen Whealdon-Haught (Summit Velo)                    0.00.53
12 Chloe Black (Landis-Trek)                                0.00.59
13 Sabrina Savage (Landis-Trek)                             0.01.18
14 Maggie Williams (Bicycle Haus)                           0.01.42
15 Heidi Clayton (Bicycle Haus)                             0.04.13
16 Tiffanie Novakovich (Team AK Cannon.)                    0.04.21
17 Spring Clegg (Broadway Bikes)                            0.04.30
18 Shannon Jones (Summit Velo)                              0.04.43
19 Meredith Peterson (Summit Velo)                          0.05.03
20 Gina Taylor (Kinley'sCycling)                            0.05.19
21 Katherine Farago (Tribe Racing)                          0.05.30
22 Carolyn Carbone (Summit Velo)                            0.06.02
23 Tamara Bernstein (HLHAP)                                 0.06.50
24 Deenie Robertson (Pipsport)                              0.06.53
 
Final General classification
 
Pro & Senior men
 
1 Gregorio L Vega (Tecos)                                   6.57.57
2 Fausto M E Munoz (Tecos)                                  0.00.47
3 Carlos I O Guinez (Tecos)                                 0.00.49
4 Francisco M Navarro (Tecos)                               0.01.09
5 Adam Livingston (Team 5 Star WVO)                         0.01.57
6 Karl Bordine (Team 5 Star WVO)                            0.03.33
7 Luis F Macias (Tecos)                                     0.04.48
8 Ron Jensen (Team WM)                                      0.06.31
9 David Salomon (P&S-Specialized)                           0.06.57
10 Gilberto Porras (Rica Burguer)                           0.09.49
11 Mario Armend-A¡Riz (Rica Burguer)                        0.10.04
12 Jon Parrish (Team WM)                                    0.10.19
13 Carlos Lopez (P&S-Specialized)                           0.11.41
14 Joshua Liberles (Colavita NM)                            0.12.39
15 Mark Aasmundstad (RideClean)                             0.12.51
16 Dan Vasichek (RideClean)                                 0.13.43
17 Nick Schreiber (Landis-Trek)                             0.14.10
18 Brian Forbes (RideClean)                                 0.15.58
19 Antonio Aldape (P&S-Specialized)                         0.17.14
20 Bernardo C Tepoz (Tecos)                                 0.17.31
21 Omar C Diaz (Tecos)                                      0.17.37
22 Juan P Magallanes (Tecos)                                0.18.21
23 Luis G Colunga (Tecos)                                   0.22.13
24 Rodolfo Avila (P&S-Specialized)                          0.22.41
25 George Ganoung (US Armed Forces)                         0.28.57
26 Stephen Slabodnick (Landis-Trek)                         0.30.15
27 Vincent Owens (Sierra Pacific)                           0.31.12
28 Emiliano Jordan (Colavita NM)                            0.31.47
29 Juan Villela (Rica Burguer)                              0.32.03
30 Lewis Elliot (Team WM)                                   0.33.12
31 Woodruff Tj (MomentumEndur.)                             0.33.36
32 Martin Adamczyk (WDT Intl Cycl)                          0.33.37
33 Scott Hubbard (KHSnm.com)                                0.35.23
34 Mark Weideman (Simply Fit)                               0.35.29
35 Kamden Reedy (RideClean)                                 0.39.27
36 Antonio Velasquez (Rica Burguer)                         0.45.43
37 Randy Corcoran (NMVS)                                    0.48.13
38 Henry Swinty (Rica Burguer)                              0.54.53
 
Master men
 
1 Michael Buckley (Morgan Stanley)                          5.02.18
2 Michael Hutchinson (Morgan Stanley)                       0.00.21
3 Matthew Novakovich (Team AK Cannon.)                      0.01.05
4 Dave Swanson (Summit Velo)                                0.01.36
5 Al Senft (Colavita NM)                                    0.01.52
6 William White (Team WM)                                   0.02.09
7 Scott Conover (HLHAP)                                     0.02.49
8 Scott Biaggi (GST Racing)                                 0.03.05
9 Matt Jordan (Team Kaladi)                                 0.03.18
10 John Sawasky (Colavita AZ)                               0.03.20
11 Peter Brown (GST Racing)                                 0.03.21
12 Kevin Kirkwood (Bicycle Haus)                            0.03.39
13 Brian Palen (Colavita NM)                                0.03.51
14 Daniel Naef (Procon/FNBA)                                0.04.04
15 Jon Salskov (Bicycle Haus)                               0.04.14
16 Bryan Antol (RideClean)                                  0.04.50
17 Thane Wright (Pactimo)                                   0.05.23
18 Shawn Daly (Southwest Hand)                              0.07.45
19 Travis Waldron (Bicycle Haus)                            0.08.26
20 Jonathan Rath (NMVS)                                     0.08.31
21 Frank Barnes (Summit Velo)                               0.08.43
22 Lane Sanders (Focus Cyclery)                             0.09.01
23 Andre Mcnulty (HLHAP)                                    0.09.22
24 Jim Silverman (RideClean)                                0.09.48
25 Chris Poole (Team WM)                                    0.10.14
26 Silvio Menezes (NMVS)                                    0.10.35
27 Bryan Schlegel (Aggress)                                 0.10.39
28 Tod Smith (Team WM)                                      0.10.44
29 Thomas Kachelmeyer (Team Giant-MI)                       0.11.04
30 Dermot Kealey (Summit Velo)                              0.11.11
31 Lew Perna (SchwabCyclesRT)                               0.11.33
32 Jon Black (GST Racing)                                   0.11.35
33 Kurt Garbe (Unattached)                                  0.12.07
34 Jesus Lamb (GST Racing)                                  0.12.22
35 Rod Michael (SportsSystMtnTC)                            0.12.24
36 Paul Kealey (Summit Velo)                                0.12.37
37 Justin Martin (Colavita AZ)                              0.13.04
38 Donald Williams (Bicycle Haus)                           0.13.08
39 Nels Guloien (Natural Earth)                             0.13.48
40 Joshua Powers (Colavita AZ)                              0.14.06
41 John Simonson (GST Racing)                               0.14.16
42 Matthias Feurer (Team Rhino)                             0.14.21
43 Edward A. Cartwright (Team Patimo)                       0.14.22
44 Todd Mion (RideClean)                                    0.14.23
45 Eddie Urcadez (Presteza)                                 0.15.40
46 Scott Wall (Procon/FNBA)                                        
47 Richard Hutton (Summit Velo)                             0.16.12
48 David Gay (SanTan Racing)                                0.16.23
49 Scott Arnold (Bicycle Haus)                              0.16.51
50 Greg Mcglinn (Colavita AZ)                               0.16.52
51 Justin Beope (Team 5 Star WVO)                           0.17.23
52 Kurt Kroese (GST Racing)                                 0.17.27
53 Andy Duvall (Summit Velo)                                0.18.04
54 Scott Baker (GST Racing)                                 0.18.14
55 Bill Mcdorman (Team One Rcg)                             0.18.39
56 Tony Routley (Team Whistler)                             0.18.46
57 Josh Rider (NMVS)                                        0.19.45
58 Alex Koss (Summit Velo)                                  0.20.56
59 Peter Chagaris (Eclipse Racing)                          0.22.10
60 Rick Cimaglia (RideClean)                                0.23.02
61 Greg Howard (Summit Velo)                                0.25.07
62 Richard Biocca (Desert Whl Club)                         0.25.22
63 Lindsay Crawford (G S Strada)                            0.27.45
64 Elliot Skultin (PAA)                                     0.29.28
65 James Stull (Team Kaladi)                                0.29.49
66 Jay Guyot (GST Racing)                                   0.29.53
67 Jim Peot (Unattached)                                    0.30.06
68 David Green (SanTan Racing)                              0.31.12
69 Kiral Thompson (Summit Velo)                             0.33.12
70 Craig Peters (Colavita AZ)                               0.33.38
71 Joe Struttmann (SanTan Racing)                           0.39.30
72 Doug Stewart (Presteza)                                  0.41.40
73 Sean Patrick (Colavita AZ)                               0.44.56
74 George Varhola (Summit Velo)                             0.45.16
75 Kevin Kraus (Desert Whl Club)                            0.49.37
76 William Fleming (Team Kaladi)                            0.58.31
77 Glenn Harris (Thunder Mtn Cyc)                           1.12.52
78 Martin Liddell (SanTan Racing)                           1.38.49
79 Alan Fischer (AZ Cycling)                                2.03.49
80 Norman J. Beasley (Thunder Mtn Cyc)                      2.52.20
 
Women
 
1 Kelly Mcdonald (Touchstone Clmg)                          6.26.23
2 Chloe Forsman (LUNA)                                      0.00.27
3 Maria Monica (Touchstone Clmg)                            0.00.46
4 Heather Sborz (Bicycle Haus)                              0.01.28
5 Olivia Dillon (Touchstone Clmg)                           0.01.54
6 Marisa Russell (Procon/FNBA)                              0.02.31
7 Sarah S. Swanson (Summit Velo)                            0.02.53
8 Colleen Whealdon-Haught (Summit Velo)                     0.03.36
9 Kristen Hetzel (Summit Velo)                              0.03.47
10 Chrissy Saraceni (Verducci)                              0.04.17
11 Mary Downing (Team Kenda Tire)                           0.04.27
12 Chloe Black (Landis-Trek)                                0.04.32
13 Sabrina Savage (Landis-Trek)                             0.04.58
14 Maggie Williams (Bicycle Haus)                           0.08.24
15 Heidi Clayton (Bicycle Haus)                             0.08.44
16 Spring Clegg (Broadway Bikes)                            0.08.53
17 Katherine Farago (Tribe Racing)                          0.10.20
18 Tiffanie Novakovich (Team AK Cannon.)                    0.10.28
19 Gina Taylor (Kinley'sCycling)                            0.11.42
20 Tamara Bernstein (HLHAP)                                 0.13.24
21 Meredith Peterson (Summit Velo)                          0.13.57
22 Deenie Robertson (Pipsport)                              0.14.11
23 Carolyn Carbone (Summit Velo)                            0.15.05
24 Shannon Jones (Summit Velo)                              0.15.23