44th Tour de l'Avenir - 2.Ncup
France, September 6-15, 2007
Main Page Results Overall standings Previous Stage
Stage 10 - September 15: Craponne-sur-Arzon - Saint-Flour, 148 km
Mollema begins a new chapter
By Jean-François Quénet
Bauke Mollema (Netheralnds)
Photo ©: AFP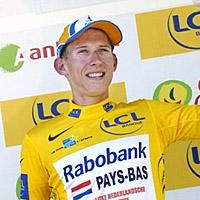 Dutchman Bauke Mollema has won the 44th edition of the Tour de l'Avenir, while Oleg Opryshko from the Ukraine has taken the last stage to Saint-Flour in a similar fashion to which Russian Ivan Rovny did the day before.
At the end of the 10-day race, Mollema beat Tony Martin from Germany and Andre Steensen from Denmark by less than one second, although he had controlled the situation since Stage 3 when he claimed the yellow jersey for the first time thanks to a breakaway on the flat roads to Cholet. Martin took it from him after the individual time trial on Stage 5 but Mollema became the race leader again two days later when the race hit the little mountains in central France.
Stage winner Opryshko was a member of a breakaway that took off just 30 kilometres into the race. He wasn't initially with Spain's Marcos Garcia and Valerio Agnoli from Italy but rejoined them at km 80 while the bunch was hovering four minutes behind. It was the same gap at the top of the Côte de Garabit after 110 kilometres.
Just like the previous days, the Norwegian and Dutch teams accelerated at front of the bunch, but Opryshko was riding so hard that, at km 120, he dropped Garcia and Agnoli from his wheel. The Ukrainian held off the fast finishing bunch while second place was taken by Dario Cataldo from Italy who claimed both the green and polka dot jerseys.
"I could do it today because I was far down on GC," Opryshko explained. "I hope this win will help me to be selected for the World's in Stuttgart."
Mollema was delighted after the most prestigious win of his young career. "It's a huge satisfaction because the level of participation was very high," the rider from Groningen said. "It's a very nice race. I've been able to win it because of the help of my team-mates." Mollema was really part of a Rabobank team officially entered as the Dutch National Team.
With the revival of the Tour de l'Avenir as the final race of the nations cup for under 23 riders, Mollema has entered the history books and we should see more of this pure climber in the future.
Photography
For a thumbnail gallery of these images, click here
Images by AFP Photo
Images by PhotoSport International
Results

1 Oleh Opryshko (Ukr) Ukrainian National Team             3.47.42 (38.999 km/h)
2 Dario Cataldo (Ita) Italian National Team                  0.38
3 Tony Martin (Ger) German National Team                     0.40
4 Jelle Vanendert (Bel) Belgian National Team                0.42
5 Bauke Mollema (Ned) Dutch National Team                        
6 Andre Steensen (Den) Danish National Team                      
7 Edvald Boasson Hagen (Nor) Norwegian National Team             
8 Guillaume Levarlet (Fra) French National Team A                
9 Benat Intxausti (Spa) Spanish National Team                    
10 Marcel Wyss (Swi) Swiss National Team                         
11 Kristof Vandewalle (Bel) Belgian National Team                
12 Frederik Wilmann (Nor) Norwegian National Team            0.46
13 Simon Spilak (Slo) Slovenian National Team                0.48
14 Maciej Paterski (Pol) Polish National Team                    
15 Thomas Peterson (USA) USA National Team                       
16 Anthony Roux (Fra) French National Team A                 0.50
17 Ignatas Konovalovas (Ltu) Lithuanian National Team        0.52
18 Dalivier Ospina (Col) Mixed Team                          0.54
19 Jarlinson Pantano (Col) Mixed Team                        0.55
20 Rui Costa (Por) Portuguese National Team                  0.56
21 Martin Kohler (Swi) Swiss National Team                       
22 Tejay Van Garderen (USA) USA National Team                    
23 Thomas Kvist (Den) Danish National Team                       
24 Craig Lewis (USA) USA National Team                           
25 Lukasz Modzelewski (Pol) Polish National Team                 
26 Abdelkader Belmokhtar (Alg) Mixed Team                        
27 José Mendes (Por) Portuguese National Team                    
28 Adrian Honkisz (Pol) Polish National Team                     
29 Jose Herrada (Spa) Spanish National Team                      
30 Sébastien Fournet Fayard (Fra) French National Team B     1.04
31 Diego Milan (Spa) Spanish National Team                       
32 Jakob Bering (Den) Danish National Team                       
33 Laurent Beuret (Swi) Swiss National Team                      
34 Mickael Larpe (Fra) French National Team B                    
35 Dominic Klemme (Ger) German National Team                 1.09
36 Paul Voss (Ger) German National Team                      1.15
37 Michael Randin (Swi) Swiss National Team                  1.19
38 Steven Kruijswijk (Ned) Dutch National Team               1.21
39 Jonas Jörgensen (Den) Danish National Team                    
40 Dmytro Novosad (Ukr) Ukrainian National Team                  
41 Reto Hollenstein (Swi) Swiss National Team                1.23
42 Javier Aramendia (Spa) Spanish National Team                  
43 Simon Geschke (Ger) German National Team                      
44 Herberts Pudans (Lat) Latvian National Team               1.31
45 Nelson Rocha (Por) Portuguese National Team               1.40
46 Peter Stetina (USA) USA National Team                     1.44
47 Jean-Charles Senac (Fra) French National Team A           1.45
48 Fabio Taborre (Ita) Italian National Team                 1.54
49 Kristofers Racenajs (Lat) Latvian National Team               
50 Aleksey Kunshin (Rus) Russian National Team               2.01
51 Dennis Van Winden (Ned) Dutch National Team               2.15
52 Andrey Klyuev (Rus) Russian National Team                 2.53
53 Rafaa Chtioui (Tun) Mixed Team                            3.07
54 Dmitriy Gruzdev (Kaz) Kazakh National Team                    
55 Kristjan Koren (Slo) Slovenian National Team                  
56 Andriy Suralyov (Ukr) Ukrainian National Team                 
57 Grega Bole (Slo) Slovenian National Team                      
58 Adriano Malori (Ita) Italian National Team                    
59 Andreas Frisch (Den) Danish National Team                     
60 Mathias Belka (Ger) German National Team                  3.18
61 Cyril Bessy (Fra) French National Team B                  3.30
62 Nicolas Hartmann (Fra) French National Team A                 
63 Tom Leezer (Ned) Dutch National Team                      3.40
64 Sergey Shcherbakov (Rus) Russian National Team            4.12
65 Viesturs Luksevics (Lat) Latvian National Team            5.14
66 Valerio Agnoli (Ita) Italian National Team                7.17
67 Yoann Offredo (Fra) French National Team B                    
68 Stijn Neirynck (Bel) Belgian National Team                    
69 Oscar Sanchez (Col) Mixed Team                                
70 Thomas Brigaud (Fra) French National Team B                   
71 Marcos Garcia (Spa) Spanish National Team                     
72 Ivan Rovny (Rus) Russian National Team                        
73 Marco Coledan (Ita) Italian National Team                     
74 Blaz Jarc (Slo) Slovenian National Team                       
75 Gediminas Kaupas (Ltu) Lithuanian National Team               
76 Sondre Sortveit (Nor) Norwegian National Team                 
77 Ryan Anderson (Can) Canadian National Team                    
78 Stefan Schafer (Ger) German National Team                     
79 David Veilleux (Can) Canadian National Team               7.23
80 Lars Boom (Ned) Dutch National Team                           
81 Jos Van Emden (Ned) Dutch National Team                   9.57
82 Joze Senekovic (Slo) Slovenian National Team                  
83 Tomasz Krupinski (Pol) Polish National Team                   
84 Stian Sommerseth (Nor) Norwegian National Team           12.26
85 Alexander Kristoff (Nor) Norwegian National Team              
86 Nazar Jumabekov (Kaz) Kazakh National Team               24.26
87 Christer Rake (Nor) Norwegian National Team              26.33
DNF Haijun Ma (Chn) Mixed Team
DNF Bradley Fairall (Can) Canadian National Team
DNF Christian Meier (Can) Canadian National Team
DNF Pawel Cieslik (Pol) Polish National Team
 
Points
 
Pinols, km 69
1 Valerio Agnoli (Ita) Italian National Team                    3 pts
2 Marcos Garcia (Spa) Spanish National Team                     2
3 Oleh Opryshko (Ukr) Ukrainian National Team                   1
 
Saint-Flour, km 120
1 Oleh Opryshko (Ukr) Ukrainian National Team                   3 pts
2 Marcos Garcia (Spa) Spanish National Team                     2
3 Valerio Agnoli (Ita) Italian National Team                    1
 
Saint-Flour, km 148
1 Oleh Opryshko (Ukr) Ukrainian National Team                  30 pts
2 Dario Cataldo (Ita) Italian National Team                    27
3 Tony Martin (Ger) German National Team                       25
4 Jelle Vanendert (Bel) Belgian National Team                  23
5 Bauke Mollema (Ned) Dutch National Team                      21
6 Andre Steensen (Den) Danish National Team                    19
7 Edvald Boasson Hagen (Nor) Norwegian National Team           17
8 Guillaume Levarlet (Fra) French National Team A              15
9 Benat Intxausti (Spa) Spanish National Team                  13
10 Marcel Wyss (Swi) Swiss National Team                       11
11 Kristof Vandewalle (Bel) Belgian National Team              10
12 Frederik Wilmann (Nor) Norwegian National Team               9
13 Simon Spilak (Slo) Slovenian National Team                   8
14 Maciej Paterski (Pol) Polish National Team                   7
15 Thomas Peterson (USA) USA National Team                      6
16 Anthony Roux (Fra) French National Team A                    5
17 Ignatas Konovalovas (Ltu) Lithuanian National Team           4
18 Dalivier Ospina (Col) Mixed Team                             3
19 Jarlinson Pantano (Col) Mixed Team                           2
20 Rui Costa (Por) Portuguese National Team                     1
 
Mountains
 
Col de Lestival, km 63
1 Marcos Garcia (Spa) Spanish National Team                    15 pts
2 Valerio Agnoli (Ita) Italian National Team                   13
3 Ivan Rovny (Rus) Russian National Team                       11
4 Dario Cataldo (Ita) Italian National Team                     9
5 Nelson Rocha (Por) Portuguese National Team                   8
6 Fabio Taborre (Ita) Italian National Team                     7
7 Bauke Mollema (Ned) Dutch National Team                       6
8 Mathias Belka (Ger) German National Team                      5
 
 
Côte de Garabit, km 110.5
1 Marcos Garcia (Spa) Spanish National Team                    10 pts
2 Oleh Opryshko (Ukr) Ukrainian National Team                   9
3 Valerio Agnoli (Ita) Italian National Team                    8
4 Stian Sommerseth (Nor) Norwegian National Team                7
5 Sondre Sortveit (Nor) Norwegian National Team                 6
6 Tom Leezer (Ned) Dutch National Team                          5
 
 
Saint-Flour (first finishing circuit), km 122.5
1 Oleh Opryshko (Ukr) Ukrainian National Team                   5 pts
2 Valerio Agnoli (Ita) Italian National Team                    3
3 Marcos Garcia (Spa) Spanish National Team                     2
4 Lars Boom (Ned) Dutch National Team                           1
 
 
Saint-Flour (second finishing circuit), km 129
1 Oleh Opryshko (Ukr) Ukrainian National Team                   5 pts
2 Valerio Agnoli (Ita) Italian National Team                    3
3 Marcos Garcia (Spa) Spanish National Team                     2
4 Lars Boom (Ned) Dutch National Team                           1
 
 
Saint-Flour (third finishing circuit), km 135
1 Oleh Opryshko (Ukr) Ukrainian National Team                   5 pts
2 Jose Herrada (Spa) Spanish National Team                      3
3 Dario Cataldo (Ita) Italian National Team                     2
4 José Mendes (Por) Portuguese National Team                    1
 
 
Saint-Flour (fourth finishing circuit), km 141.5
1 Oleh Opryshko (Ukr) Ukrainian National Team                   5 pts
2 Nelson Rocha (Por) Portuguese National Team                   3
3 Jose Herrada (Spa) Spanish National Team                      2
4 Fabio Taborre (Ita) Italian National Team                     1
 
 
Saint-Flour (finish), km 148
1 Oleh Opryshko (Ukr) Ukrainian National Team                   5 pts
2 Dario Cataldo (Ita) Italian National Team                     3
3 Tony Martin (Ger) German National Team                        2
4 Jelle Vanendert (Bel) Belgian National Team                   1
 
Teams
 
1 USA National Team                                      11.25.46
2 Polish National Team                                           
3 Danish National Team                                       0.02
4 Swiss National Team                                            
5 Spanish National Team                                          
6 Mixed Team                                                 0.05
7 German National Team                                       0.24
8 France National Team A                                     0.37
9 Portugese National Team                                    0.52
10 Dutch National Team                                       1.38
11 Ukrainian National Team                                   1.48
12 France National Team B                                    2.58
13 Italian National Team                                     2.59
14 Slovenian National Team                                   4.22
15 Latvian National Team                                     5.59
16 Belgian National Team                                     6.01
17 Norwegian National Team                                   6.05
18 Russian National Team                                     6.26
 
Final general classification
 
1 Bauke Mollema (Ned) Dutch National Team                35.14.04
2 Tony Martin (Ger) German National Team                     0.44
3 Andre Steensen (Den) Danish National Team                  0.55
4 Simon Spilak (Slo) Slovenian National Team                 1.09
5 Benat Intxausti (Spa) Spanish National Team                1.32
6 Guillaume Levarlet (Fra) French National Team A            2.58
7 Craig Lewis (USA) USA National Team                        3.24
8 Kristof Vandewalle (Bel) Belgian National Team             3.45
9 Frederik Wilmann (Nor) Norwegian National Team             3.48
10 Dario Cataldo (Ita) Italian National Team                 4.37
11 Jose Herrada (Spa) Spanish National Team                  5.02
12 Thomas Kvist (Den) Danish National Team                   5.20
13 Michael Randin (Swi) Swiss National Team                  7.38
14 Laurent Beuret (Swi) Swiss National Team                  7.54
15 Edvald Boasson Hagen (Nor) Norwegian National Team        8.17
16 Ignatas Konovalovas (Ltu) Lithuanian National Team        8.30
17 Marcel Wyss (Swi) Swiss National Team                     8.43
18 Jelle Vanendert (Bel) Belgian National Team               9.10
19 José Mendes (Por) Portuguese National Team                9.53
20 Tejay Van Garderen (USA) USA National Team               10.47
21 Dalivier Ospina (Col) Mixed Team                         10.58
22 Rui Costa (Por) Portuguese National Team                 11.41
23 Maciej Paterski (Pol) Polish National Team               11.46
24 Rafaa Chtioui (Tun) Mixed Team                           12.31
25 Mickael Larpe (Fra) French National Team B               13.01
26 Thomas Peterson (USA) USA National Team                  13.14
27 Dennis Van Winden (Ned) Dutch National Team              13.29
28 Sébastien Fournet Fayard (Fra) French National Team B    14.05
29 Peter Stetina (USA) USA National Team                    14.48
30 Aleksey Kunshin (Rus) Russian National Team              15.18
31 Adrian Honkisz (Pol) Polish National Team                15.39
32 Dmytro Novosad (Ukr) Ukrainian National Team             15.43
33 Javier Aramendia (Spa) Spanish National Team             16.23
34 Anthony Roux (Fra) French National Team A                16.30
35 Nelson Rocha (Por) Portuguese National Team              16.36
36 Adriano Malori (Ita) Italian National Team               17.09
37 Jarlinson Pantano (Col) Mixed Team                       18.37
38 Jakob Bering (Den) Danish National Team                  18.53
39 Steven Kruijswijk (Ned) Dutch National Team              20.40
40 Lukasz Modzelewski (Pol) Polish National Team            20.47
41 Simon Geschke (Ger) German National Team                 20.54
42 Nicolas Hartmann (Fra) French National Team A            21.19
43 Dmitriy Gruzdev (Kaz) Kazakh National Team               25.14
44 Oleh Opryshko (Ukr) Ukrainian National Team              25.41
45 Abdelkader Belmokhtar (Alg) Mixed Team                   26.11
46 Fabio Taborre (Ita) Italian National Team                26.25
47 Martin Kohler (Swi) Swiss National Team                  26.42
48 Ivan Rovny (Rus) Russian National Team                   28.40
49 Valerio Agnoli (Ita) Italian National Team               29.00
50 Grega Bole (Slo) Slovenian National Team                 29.05
51 Reto Hollenstein (Swi) Swiss National Team               29.31
52 Marcos Garcia (Spa) Spanish National Team                30.26
53 Mathias Belka (Ger) German National Team                 30.39
54 Kristjan Koren (Slo) Slovenian National Team             30.45
55 Andriy Suralyov (Ukr) Ukrainian National Team            32.20
56 Lars Boom (Ned) Dutch National Team                      36.39
57 Tom Leezer (Ned) Dutch National Team                     36.48
58 Viesturs Luksevics (Lat) Latvian National Team           37.54
59 Diego Milan (Spa) Spanish National Team                  39.45
60 Ryan Anderson (Can) Canadian National Team               40.01
61 Andreas Frisch (Den) Danish National Team                42.44
62 Cyril Bessy (Fra) French National Team B                 45.23
63 Marco Coledan (Ita) Italian National Team                45.32
64 Paul Voss (Ger) German National Team                     45.40
65 Herberts Pudans (Lat) Latvian National Team              46.47
66 Sondre Sortveit (Nor) Norwegian National Team            46.55
67 Stian Sommerseth (Nor) Norwegian National Team           47.28
68 Jos Van Emden (Ned) Dutch National Team                  48.23
69 Jean-Charles Senac (Fra) French National Team A          49.08
70 Yoann Offredo (Fra) French National Team B               49.09
71 Oscar Sanchez (Col) Mixed Team                           52.29
72 Andrey Klyuev (Rus) Russian National Team                52.36
73 Sergey Shcherbakov (Rus) Russian National Team           55.22
74 Stijn Neirynck (Bel) Belgian National Team               56.15
75 Jonas Jörgensen (Den) Danish National Team             1.00.56
76 Dominic Klemme (Ger) German National Team              1.03.35
77 Blaz Jarc (Slo) Slovenian National Team                1.03.53
78 Alexander Kristoff (Nor) Norwegian National Team       1.05.56
79 Kristofers Racenajs (Lat) Latvian National Team        1.07.07
80 Tomasz Krupinski (Pol) Polish National Team            1.12.27
81 Thomas Brigaud (Fra) French National Team B            1.17.28
82 Gediminas Kaupas (Ltu) Lithuanian National Team        1.21.40
83 David Veilleux (Can) Canadian National Team            1.25.54
84 Nazar Jumabekov (Kaz) Kazakh National Team             1.26.17
85 Stefan Schafer (Ger) German National Team              1.28.00
86 Christer Rake (Nor) Norwegian National Team            1.36.02
87 Joze Senekovic (Slo) Slovenian National Team           1.52.01
 
Points classification
 
1 Dario Cataldo (Ita) Italian National Team                   159 pts
2 Bauke Mollema (Ned) Dutch National Team                     159
3 Andre Steensen (Den) Danish National Team                    99
4 Edvald Boasson Hagen (Nor) Norwegian National Team           84
5 Tony Martin (Ger) German National Team                       83
6 Guillaume Levarlet (Fra) French National Team A              77
7 Jose Herrada (Spa) Spanish National Team                     75
8 Maciej Paterski (Pol) Polish National Team                   68
9 Jelle Vanendert (Bel) Belgian National Team                  64
10 Marcel Wyss (Swi) Swiss National Team                       61
11 Ivan Rovny (Rus) Russian National Team                      60
12 Benat Intxausti (Spa) Spanish National Team                 56
13 Kristof Vandewalle (Bel) Belgian National Team              55
14 Ignatas Konovalovas (Ltu) Lithuanian National Team          55
15 Rafaa Chtioui (Tun) Mixed Team                              54
16 Martin Kohler (Swi) Swiss National Team                     54
17 Nicolas Hartmann (Fra) French National Team A               53
18 Simon Spilak (Slo) Slovenian National Team                  52
19 Tom Leezer (Ned) Dutch National Team                        49
20 Aleksey Kunshin (Rus) Russian National Team                 47
21 Oleh Opryshko (Ukr) Ukrainian National Team                 35
22 Jonas Jörgensen (Den) Danish National Team                  33
23 Diego Milan (Spa) Spanish National Team                     31
24 Dennis Van Winden (Ned) Dutch National Team                 31
25 Lars Boom (Ned) Dutch National Team                         31
26 Thomas Kvist (Den) Danish National Team                     30
27 Kristjan Koren (Slo) Slovenian National Team                29
28 Marco Coledan (Ita) Italian National Team                   29
29 Laurent Beuret (Swi) Swiss National Team                    28
30 Blaz Jarc (Slo) Slovenian National Team                     28
31 Frederik Wilmann (Nor) Norwegian National Team              27
32 Steven Kruijswijk (Ned) Dutch National Team                 27
33 Nelson Rocha (Por) Portuguese National Team                 25
34 Lukasz Modzelewski (Pol) Polish National Team               25
35 Yoann Offredo (Fra) French National Team B                  24
36 Andrey Klyuev (Rus) Russian National Team                   22
37 Dominic Klemme (Ger) German National Team                   21
38 Craig Lewis (USA) USA National Team                         19
39 Paul Voss (Ger) German National Team                        17
40 José Mendes (Por) Portuguese National Team                  16
41 Abdelkader Belmokhtar (Alg) Mixed Team                      16
42 Fabio Taborre (Ita) Italian National Team                   15
43 Andriy Suralyov (Ukr) Ukrainian National Team               14
44 Adriano Malori (Ita) Italian National Team                  10
45 Jos Van Emden (Ned) Dutch National Team                      9
46 Stijn Neirynck (Bel) Belgian National Team                   9
47 Dalivier Ospina (Col) Mixed Team                             8
48 Thomas Peterson (USA) USA National Team                      7
49 Herberts Pudans (Lat) Latvian National Team                  7
50 Alexander Kristoff (Nor) Norwegian National Team             6
51 Rui Costa (Por) Portuguese National Team                     5
52 Valerio Agnoli (Ita) Italian National Team                   5
53 Michael Randin (Swi) Swiss National Team                     5
54 Adrian Honkisz (Pol) Polish National Team                    5
55 Anthony Roux (Fra) French National Team A                    5
56 Reto Hollenstein (Swi) Swiss National Team                   5
57 Mickael Larpe (Fra) French National Team B                   4
58 Marcos Garcia (Spa) Spanish National Team                    4
59 Oscar Sanchez (Col) Mixed Team                               3
60 Jarlinson Pantano (Col) Mixed Team                           2
61 Dmitriy Gruzdev (Kaz) Kazakh National Team                   2
62 Grega Bole (Slo) Slovenian National Team                     2
63 Sergey Shcherbakov (Rus) Russian National Team               1
 
Mountains classification
 
1 Dario Cataldo (Ita) Italian National Team                    97 pts
2 Bauke Mollema (Ned) Dutch National Team                      63
3 Jose Herrada (Spa) Spanish National Team                     62
4 Ivan Rovny (Rus) Russian National Team                       52
5 Diego Milan (Spa) Spanish National Team                      50
6 Nicolas Hartmann (Fra) French National Team A                47
7 Maciej Paterski (Pol) Polish National Team                   41
8 Marcos Garcia (Spa) Spanish National Team                    38
9 Rui Costa (Por) Portuguese National Team                     35
10 Nelson Rocha (Por) Portuguese National Team                 34
11 Oleh Opryshko (Ukr) Ukrainian National Team                 34
12 Fabio Taborre (Ita) Italian National Team                   29
13 Simon Spilak (Slo) Slovenian National Team                  27
14 Valerio Agnoli (Ita) Italian National Team                  27
15 Cyril Bessy (Fra) French National Team B                    25
16 José Mendes (Por) Portuguese National Team                  22
17 Marco Coledan (Ita) Italian National Team                   22
18 Tony Martin (Ger) German National Team                      21
19 Andre Steensen (Den) Danish National Team                   21
20 Jelle Vanendert (Bel) Belgian National Team                 21
21 Grega Bole (Slo) Slovenian National Team                    20
22 Andreas Frisch (Den) Danish National Team                   19
23 Andrey Klyuev (Rus) Russian National Team                   18
24 Marcel Wyss (Swi) Swiss National Team                       13
25 Benat Intxausti (Spa) Spanish National Team                 11
26 Dalivier Ospina (Col) Mixed Team                             9
27 Martin Kohler (Swi) Swiss National Team                      8
28 Lars Boom (Ned) Dutch National Team                          8
29 Aleksey Kunshin (Rus) Russian National Team                  7
30 Kristof Vandewalle (Bel) Belgian National Team               7
31 Dmitriy Gruzdev (Kaz) Kazakh National Team                   7
32 Stian Sommerseth (Nor) Norwegian National Team               7
33 Guillaume Levarlet (Fra) French National Team A              6
34 Adriano Malori (Ita) Italian National Team                   6
35 Sondre Sortveit (Nor) Norwegian National Team                6
36 Edvald Boasson Hagen (Nor) Norwegian National Team           5
37 Mickael Larpe (Fra) French National Team B                   5
38 Mathias Belka (Ger) German National Team                     5
39 Tom Leezer (Ned) Dutch National Team                         5
40 Kristjan Koren (Slo) Slovenian National Team                 3
41 Frederik Wilmann (Nor) Norwegian National Team               2
42 Adrian Honkisz (Pol) Polish National Team                    2
43 Steven Kruijswijk (Ned) Dutch National Team                  2
44 Herberts Pudans (Lat) Latvian National Team                  2
45 Sergey Shcherbakov (Rus) Russian National Team               2
46 Paul Voss (Ger) German National Team                         1
47 Yoann Offredo (Fra) French National Team B                   1
48 Oscar Sanchez (Col) Mixed Team                               1
 
Teams classification
 
1 Danish National Team                                  105.59.07
2 Swiss National Team                                        2.52
3 Spanish National Team                                      4.58
4 Dutch National Team                                        7.32
5 USA National Team                                          9.37
6 France National Team A                                    10.01
7 Mixed Team                                                13.15
8 Polish National Team                                      18.59
9 Italian National Team                                     19.28
10 Portugese National Team                                  20.25
11 Norwegian National Team                                  23.45
12 Slovenian National Team                                  23.49
13 German National Team                                     24.02
14 Ukrainian National Team                                  29.33
15 France National Team B                                   34.23
16 Belgian National Team                                    44.02
17 Russian National Team                                  1.05.47
18 Latvian National Team                                  1.36.15