47th Rund um den Henninger Turm - 1.HC
Frankfurt, Germany, May 1, 2007
2006 Results Results Past winners
Sinkewitz works Labour Day
Patrik Sinkewitz (T-Mobile)
Photo ©: Luc Claessen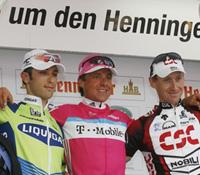 German Patrik Sinkewitz (T-Mobile) won his country's 47th Rund um den Henninger Turm. The 26 year-old collected his biggest win since the 2004 Deutschland Tour by finishing four seconds ahead of Norwegian Kurt-Asle Arvesen (Team CSC) and five over Italian Dario Cataldo (Liquigas).
Although T-Mobile had two leaders in Linus Gerdemann and sprinter Gerald Ciolek, it was Sinkewitz who profited from the team's dominance by escaping in the last kilometre with Arvesen and neo-pro Cataldo.
Closing in on the trio were Elnathan Heizmann and Danilo Wyss, with the favourites led by Milram at 25 seconds.
Photography
For a thumbnail gallery of these images, click here
Images by Luc Claessen/www.ctm-images.com
Images by Sabine & Rolf Jost
Results - 192.7
1 Patrik Sinkewitz (Ger) T-Mobile Team                   4.46.54 (40.30km/h)
2 Kurt-Asle Arvesen (Nor) Team CSC                          0.04
3 Dario Cataldo (Ita) Liquigas                              0.05
4 Elnathan Heizmann (Ger) Team 3C - Gruppe Lamonta          0.13
5 Marcel Wyss (Swi) Atlas - Romer's Hausbäckerei                
6 Thomas Rohregger (Aut) Elk Haus - Simplon                     
7 Maarten Tjallingii (Ned) Skil - Shimano                       
8 Florian Stalder (Swi) Team Volksbank                          
9 Stefan Denifl (Aut) Elk Haus - Simplon                    0.18
10 Heinrich Haussler (Ger) Gerolsteiner                     0.24
11 Matteo Priamo (Ita) Ceramica Panaria - Navigare              
12 Tiziano Dall'Antonia (Ita) Ceramica Panaria - Navigare       
13 Erik Zabel (Ger) Team Milram                                 
14 Markus Zberg (Swi) Gerolsteiner                              
15 Luca Solari (Ita) Team L.P.R.                                
16 Daniele Callegarin (Ita) Team L.P.R.                         
17 Alessandro Petacchi (Ita) Team Milram                        
18 Daniel Lloyd (GBr) DFL - Cyclingnews - Litespeed             
19 Marco Marcato (Ita) Team L.P.R.                              
20 René Obst (Ger) Team 3C - Gruppe Lamonta                     
21 Max Van Heeswijk (Ned) Rabobank                              
22 Peter Velits (Svk) Team Wiesenhof Felt                       
23 Markus Eibegger (Aut) Elk Haus - Simplon                     
24 Daniel Musiol (Ger) Team Wiesenhof Felt                      
25 Kjell Carlström (Fin) Liquigas                               
26 Jens Voigt (Ger) Team CSC                                    
27 Paul Martens (Ger) Skil - Shimano                            
28 Gerald Ciolek (Ger) T-Mobile Team                            
29 Tomas Konecny (Cze) Elk Haus - Simplon                       
30 Matteo Carrara (Ita) Unibet.com                              
31 Pedro Horrillo Munoz (Spa) Rabobank                          
32 Alexander Efimkin (Rus) Barloworld                           
33 Matej Mugerli (Slo) Liquigas                             0.31
34 Danilo Wyss (Swi) Atlas - Romer's Hausbäckerei               
35 Andreas Matzbacher (Aut) Team Volksbank                      
36 Pieter Weening (Ned) Rabobank                                
37 Harald Morscher (Aut) Team Volksbank                         
38 Marcus Burghardt (Ger) T-Mobile Team                         
39 Sergey Lagutin (Uzb) Navigators Insurance Cycling Team       
40 Harald Totschnig (Aut) Elk Haus - Simplon                    
41 Paolo Longo Borghini (Ita) Barloworld                        
42 Richard Faltus (Cze) Team Sparkasse                          
43 Alessandro Vanotti (Ita) Liquigas                            
44 Luke Roberts (Aus) Team CSC                                  
45 Matthew Lloyd (Aus) Predictor - Lotto                        
46 Rodrigue Pasamontes (Spa) Unibet.com                         
47 Anders Lund (Nor) Team CSC                                   
48 Francesco Failli (Ita) Liquigas                              
49 Holger Sievers (Ger) Team 3C - Gruppe Lamonta            0.35
50 Pascal Hungerbühler (Swi) Team Volksbank                     
51 Krzysztof Miara (Pol) Intel - Action                         
52 Alessandro Maserati (Ita) Team L.P.R.                        
53 Nicki Sørensen (Den) Team CSC                                
54 Sören Hofman (Ger) TLM                                       
55 Thomas Geraint (GBr) Barloworld                              
56 Mauricio Soler (Col) Barloworld                          0.39
57 Valery Kobzarenko (Ukr) Navigators Insurance Cycling Team    
58 Laurent Didier (Lux) Team Regiostrom - Senges                
59 Preben Van Hecke                                             
60 Andrea Pagoto (Ita) Ceramica Panaria - Navigare              
61 Filippo Savini (Ita) Ceramica Panaria - Navigare             
62 Floris Goesinnen (Ned) Skil - Shimano                        
63 Bert De Waele (Bel) Landbouwkrediet - Tönissteiner           
64 Grischa Niermann (Ger) Rabobank                              
65 Bert Grabsch (Ger) T-Mobile Team                             
66 Jörg Ludewig (Ger) Team Wiesenhof Felt                       
67 Björn Papstein (Ger) Team 3C - Gruppe Lamonta                
68 Steffen Wesemann (Swi) Team Wiesenhof Felt                   
69 Adam Hansen (Aus) T-Mobile Team                              
70 Davide Rebellin (Ita) Gerolsteiner                           
71 Mauricio Alberto Ardila Cano (Col) Rabobank                  
72 Dmitry Kozontchouk (Rus) Rabobank                            
73 Mala Van Ruitenbeek (Ned) Team Regiostrom - Senges           
74 Daniele Nardello (Ita) Team L.P.R.                           
75 Frédéric Gabriel (Fra) Landbouwkrediet - Tönissteiner        
76 Danny Pate (USA) Team Slipstream powered by Chipotle         
77 Nico Sijmens (Bel) Landbouwkrediet - Tönissteiner            
78 Jason Donald (USA) Team Slipstream powered by Chipotle       
79 Steven Kleynen (Bel) Landbouwkrediet - Tönissteiner          
80 Dominique Cornu (Bel) Predictor - Lotto                      
81 Jan Kuyckx (Bel) Landbouwkrediet - Tönissteiner              
82 Maarten Den Bakker (Ned) Skil-Shimano                        
83 Stefan Rucker (Aut) Elk Haus - Simplon                       
84 Sergey Kolesnikow (Rus) Unibet.com                           
85 Björn Thurau (Ger) Atlas - Romer's Hausbäckerei              
86 Andreas Klier (Ger) T-Mobile Team                            
87 Juan José Haedo (Arg) Team CSC                               
88 Magnus Backstedt (Swe) Liquigas                              
89 Markus Eichler (Ger) Unibet.com                              
90 Fabian Wegmann (Ger) Gerolsteiner                        0.52
91 Lars Wackernagel (Ger) Team Sparkasse                    0.53
92 Ronny Scholz (Ger) Gerolsteiner                              
93 Stefan Schumacher (Ger) Gerolsteiner                         
94 Bram De Groot (Ned) Rabobank                                 
95 Linus Gerdemann (Ger) T-Mobile Team                          
96 Dirk Müller (Ger) Team Sparkasse                         0.57
97 Sebastian Skiba (Pol) Intel - Action                     0.59
98 Uwe Hardter (Ger) Atlas - Romer's Hausbäckerei           1.17
99 Craig Lewis (USA) Team Slipstream powered by Chipotle    1.23
100 Christian Knees (Ger) Team Milram                       1.35
101 David Harrigan (Aus) DFL - Cyclingnews - Litespeed      1.51
102 Dan Fleeman (GBr) DFL - Cyclingnews - Litespeed             
103 Ralf Grabsch (Ger) Team Milram                              
104 Roberto Traficante (Ita) Team L.P.R.                        
105 Maurizio Bellin (Ita) Team L.P.R.                           
106 Alberto Ongarato (Ita) Team Milram                          
107 Hans-Jürgen Juretzek (Ger) Team Regiostrom - Senges     2.06
108 Maint Berkenbosch (Ned) Team Regiostrom - Senges            
109 Wolfgang Murer (Aut) Elk Haus - Simplon                     
110 Piet Rooijakkers (Ned) Skil - Shimano                   2.14
111 Albert Timmer (Ned) Skil - Shimano                          
112 Paul Manning (GBr) Landbouwkrediet - Tönissteiner           
113 Marcel Sieberg (Ger) Team Milram                        2.19
114 Laurent Arn (Swi) Atlas - Romer's Hausbäckerei          2.40
115 Christoph Meschenmoser (Ger) Skil - Shimano             4.12            

Past winners
2006
1 Stefano Garzelli (Ita) Liquigas             190 km in 4.34.20
2 Gerald Ciolek (Ger) Team Wiesenhof Akud                            
3 Danilo Hondo (Ger) Team Lamonta                                    

2005 
1 Erik Zabel (Ger) T-Mobile                   211 km in 5.10.34
2 Alejandro Alberto Borrajo (Arg) Ceramica Panaria          
3 Markus Zberg (Swi) Gerolsteiner                           

2004 

1 Karsten Kroon (Ned) Rabobank                205 km in 5.21.10
2 Danilo Hondo (Ger) Gerolsteiner                                    
3 Johan Coenen (Bel) MrBookmaker.com-Palmans                         

2003 

1 Davide Rebellin (Ita) Gerolsteiner          206 km in 5.09.17 (40.41 km/h)
2 Erik Zabel (Ger) Team Telekom                        
3 Igor Astarloa (Spa) Team Saeco

2002
 
1 Erik Zabel (Ger) Team Telekom               206km in 5.00.17 (41.26 km/h)
2 Jo Planckaert (Bel) Cofidis
3 Serguei Ivanov (Rus) Fassa Bortolo
 
2001
 
1 Marcus Zberg (Swi) Rabobank                 206 kms in 5.05.35
2 Rebellin (Ita) Liquigas-Pata
3 Kurt Van De Wouwer (Bel) Lotto-Adecco
 
2000
 
1 Kai Hundertmark (Ger) Deutsche Telekom-ARD  206 kms in 5.01.08
2 Matteo Tosatto (Ita) Fassa Bortolo
3 Jens Heppner (Ger) Deutsche Telekom-ARD
 
1999
 
1 Erik Zabel (Ger) Team Telekom 206 kms in 5.03.40
2 Leon Van Bon (Ned) Rabobank
3 Alberto Ongarato (Ita) Ballan-Alessio
 
1998
 
1 Fabio Baldato (Ita) Riso Scotti 206 kms in 5.00.14
2 Nicolaij Bo Larsen (Den) TVM-Farm Frites
3 Stefano Garzelli (Ita) Mercatone Uno
 
1997
 
1 Michele Bartoli (Italy)
2 Bjarne Riis (Denmark)
3 Mauro Gianetti (Swi)
 
1996
 
1 Beat Zberg (Switzerland)
2 Jens Heppner (Germany)
3 Rolf Sörensen (Denmark)
 
1995
 
1 Francesco Frattini (Italy)
2 Jens Heppner (Germany)
3 Massimo Podenzana (Italy)
 
1994
 
1 Olaf Ludwig (Germany)
2 Andreas Kappes (Germany)
3 Emmanuele Magnien (France)
 
1993
 
1 Rolf Sörensen (Denmark)
2 Max Sciandri (Italy)
3 Eddy Bouwmans (Belgium)
 
1992
 
1 Frank Van den Abbeele (Belgium)
2 Claudio Chiappucci (Italy)
3 Frans Maassen (Netherlands)
 
1991
 
1 Johan Bruyneel (Belgium)
2 Johan Musseuw (Belgium)
3 Martin Earley (Ireland)
 
1990
 
1 Thomas Wegmüller (Switzerland)
2 Jan Wijnants (Belgium)
3 Peter Winnen (Netherlands)
 
1989
 
1 Jean-Marie Wampers (Belgium)
2 Martial Gayant (France)
3 Claudio Chiappucci (Italy)
 
1988
 
1 Michel Dernies (Belgium)
2 Rolf Sörensen (Denmark)
3 G Montovani (Italy)
 
1987
 
1 Dag-Otto Lauritzen (Norway)
2 Peter Stevenhaagen (Netherlands)
3 Henk Lubberding (Netherlands)
 
1986
 
1 Jean-Marie Wampers (Belgium)
2 Steve Bauer (Canada)
3 Micheal Wilson (Australia)
 
1985
 
1 Phil Anderson (Australia)
2 Johan Lammerts (Netherlands)
3 Rolf Gölz (Germany)
 
1984
 
1 Phil Anderson (Australia)
2 Erik Vanderaerden (Belgium)
3 Sean Kelly (Ireland)
 
1983
 
1 Ludo Peters (Belgium)
2 Leo van Vliet (Netherlands)
3 Luc Colijn (Belgium)
 
1982
 
1 Ludo Peters (Belgium)
2 Jostien Wilmann (Norway)
3 Sean Kelly (Ireland)
 
1981
 
1 Jos Jakobs (Belgium)
2 Didi Thurau (Germany)
3 Daniel Willems (Belgium)
 
1980
 
1 Giabattista Baronchelli (Italy)
2 Francesco Moser (Italy)
3 Alfons de Wolf (Belgium)
 
1979
 
1 Daniel Willems (Belgium)
2 Henk Lubberding (Netherlands)
3 Gregor Braun (Germany)
 
1978
 
1 Gregor Braun (Germany)
2 Rudy Pevenage (Belgium)
3 Hennie Kuiper (Netherlands)
 
1977
 
1 Gerrei Knetemann (Netherlands)
2 Didi Thurau (Germany)
3 Frans Veerbeck (Belgium)
 
1976
 
1 Freddy Maertens (Belgium)
2 Frans Verbeek (Belgium)
3 Roger De Vlaeminick (Belgium)
 
1975
 
1 Roi Schuiten (Netherlands)
2 Frans Verbeeck (Belgium)
3 Walter Godefroot (Belgium)
 
1974
 
1 Walter Godefrood (Belgium)
2 Eddy Merckx (Belgium)
3 Frans Verbeeck (Belgium)
 
1973
 
1 Georges Pintens (Belgium)
2 Jürgen Tschan (Germany)
3 Freddy Maertens (Belgium)
 
1972
 
1 Gilbert Bellone (France)
2 Eddy Merckx (Belgium)
3 Noël Vantygmen (Belgium)
 
1971
 
1 Eddy Merckx (Belgium)
2 Jos Deschoenmaker (Belgium)
3 Lucien Aimar (France)
 
1970
 
1 Rudi Altig (Germany)
2 Joop Zopetemelk (Netherlands)
3 Ottavio Crepaldi (Italy)
 
1969
 
1 Georges Pintens (Belgium)
2 Michele Dancelli (Italy)
3 Herman van Springel (Belgium)
 
1968
 
1 Eddy Beugels (Netherlands)
2 V van Sweevelt (Belgium)
3 Herman van Springel (Belgium)
 
1967
 
1 Daniël von Rijckeghem (Belgium)
2 Willy Planckaert (Belgium)
3 Georges van Coningsloo (Belgium)
 
1966
 
1 Barry Hoban (England)
2 Walter Godefroot (Belgium)
3 Willy Planckaert (Belgium)
 
1965
 
1 Jean Stablinski (France)
2 Frans Verbeeck (Belgium)
3 Georges van Coningsloo (Belgium)
 
1964
 
1 Clement Roman (Belgium)
2 François Mahé (France)
3 Yvo Molengers (Belgium)
 
1963
 
1 Hans Junkermann (Germany)
2 Willi Altig (Germany)
3 Jean Stablinski (France)
 
1962
 
1 Armand Desmet (Belgium)
2 Huub Zilverberg (Netherlands)
3 Rik van Looy (Belgium)
 
Past winners courtesy of Mario Stiehl, www.world-of-cycling.com