Recently on Cyclingnews.com
45th Giro del Friuli Venezia Giulia - 2.2
Italy, May 9-13, 2007
Main Page Results Overall standings Previous Stage
Stage 5 - May 13: San Martino al Tagliamento - Sacile, 121.9 km
Solo attack decides final stage
Colombian Rafael Infantino (G.S. Podenzano)
Photo ©: Giro del Friuli Venezia Giulia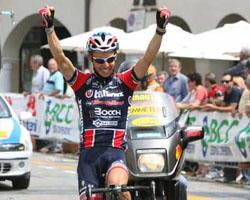 The 45th cycling Tour of region Friuli Venezia Giulia finished in the best way with Rafael Infantino Abreu (Gs Podenzano), yesterday's unlucky escapee who suffered a puncture in the final descent, today took his revenge with an epic victory. The action started on the climb of Piancavallo, when Julian Dario Atehortua (San Marco Caneva) escaped from the peloton, joined by Infantino and other six riders, who made the long descent towards the last 30 kilometres.
With only 10 kilometres to go on the last climb, Caneva Castles, Infantino attacked, leaving the other riders in the break in his wake. Only Bostjan Rezman (Radenska Powerbar) tried to follow, but the Colombian could only get within 30 seconds of Rezman, a gap that stayed to the end.
Stage 5 podium (L-R): Grega Bole (Sava Kranj)
Photo ©: Giro del Friuli Venezia Giulia
"I'm very happy," said Infantino Abreu after the finish line, "because I can give my mom a wonderful present for the mom's feast, that is today. I thought of her in the last kilometres, when I attacked. I told myself: 'Either I win or I break down, if they catch me because I am finished', and I resisted until the end. A great thank you to my team and to my team manager Giancarlo."
The white jersey remains on the shoulders of Alexander Filippov (Gruppo Lupi), and giving the San Marino team its second consecutive victory at the event. "Now I have a great condition," said Filippov. "I hope I will win other races this month, and then to do a good end of season. The future? Two professional teams contacted me, but now I want to collect some other successes, then I will think of the future".
First of the Italian riders, and leader of the young classification, was 22 year-old Simone Stortoni (Finauto Neri Lucchini). "I'm disappointed for the lucky we had during the time trial, because I could have some advantage more in the classification, and maybe I'd ran in a different way," said Stortoni, who finished third on the final stage and on GC. "Today I attacked with all my force, but in the ends I was tired. However, I think that mine is a great result."
Photography
For a thumbnail gallery of these images, click here
Images by Giro del Friuli Venezia Giulia/www.girofriuliveneziagiulia.it
Results
1 Rafael Infantino (Col) G.S. Podenzano                               3.10.33 (38.4 km/h)
2 Grega Bole (Slo) Sava Kranj                                            0.27
3 Simone Stortoni (Ita) Agi Finauto Neri Lucchini                            
4 Gianluca Brambilla (Ita) G.S. Zalf Desirée Fior                            
5 Alexander Filippov (Rus) A.C.S. Gruppo Lupi                            0.28
6 Alessandro Bisolti (Ita) U.C. Palazzago Saclà Maiet                        
7 Peter Kusztor (Hun) P-Nívó Betonexpressz 2000 Kft.Se                       
8 Julian Dari Atehortua Bedoya (Col) San Marco Concrete Caneva               
9 Bastjan Rezman (Slo) Radenska Powerbar                                     
10 Gabriele Graziani (Ita) San Marco Concrete Caneva                         
11 Robert Vrecer (Slo) Radenska Powerbar                                     
12 Tomislav Danculovic (Cro) B.K. Loborika                                   
13 Massimo Iannetti (Ita) A.C.S. Gruppo Lupi                                 
14 Massimiliano Turco (Ita) G.S. Podenzano                                   
15 Fabrizio Galeazzi (Ita) U.C. Trevigiani                                   
16 Vladimir Kerkez (Slo) Sava Kranj                                      0.31
17 Stefano Usaii (Ita) U.C. Palazzago Saclà Maiet                        1.00
18 Emanuel Kiserlovski (Cro) B.K. Loborika                                   
19 Angelo Ciccone (Ita) Cycling Team Friuli                              4.02
20 Sven Schelling (Swi) Team Fidibc.com                                      
21 Gasper Svab (Slo) Sava Kranj                                              
22 David Tratnik (Slo) Radenska Powerbar                                     
23 Bart Oegema (Ned) AVC Aix En Provence                                     
24 Soren Nissen (Den) Continental Cycling Team Differdange                   
25 Massimo Demarin (Cro) Sava Kranj                                          
26 Julian David Munoz Giraldo (Col) Massi Team Euronics                      
27 Jan Mckissick (USA) BMC Professional Cycling Team                     4.05
28 Daniele Troian (Ita) Filmop Sorelle Ramonda                               
29 Ivan Mauricio Casas Buitrago (Col) Boyaca - Marche Team                   
30 Emanuele Fornasier (Ita) Marchiol Ima Famila Liquigas Site                
31 Vincenzo Ianniello (Ita) San Marco Concrete Caneva                        
32 Marco Ponta (Ita) Cycling Team Friuli                                     
33 Federico Bonifetto (Ita) Cycling Team Friuli                              
34 Hrvoje Miholjevic (Cro) B.K. Loborika                                     
35 Emanuele Vona (Ita) Agi Finauto Neri Lucchini                             
36 Luca Zanasca (Ita) G.S. Podenzano                                         
37 Eddy Forner (Ita) Continental Cycling Team Differdange                    
38 Mauro Finetto (Ita) Filmop Sorelle Ramonda                            4.10
39 Marco Bandiera (Ita) G.S. Zalf Desirée Fior                               
40 Valeriy Dmitriyev (Kaz) Kazakhstan National Team                      7.29
41 Alessandro De Marchi (Ita) G.S. Permac Brisot Biba                        
42 Kristijan Fajt (Slo) Radenska Powerbar                                    
43 Daniele Pina (Ita) Tad Pharma Named Team Aurora                      10.01
44 Christian Puricelli (Swi) Team Fidibc.com                                 
45 Saverio Crocetti (Ita) Team Ciaponi Edilizia                              
46 Scott Nydam (USA) BMC Professional Cycling Team                           
47 Andrey Zeits (Kaz) Kazakhstan National Team                               
48 Christian Marietta (Ita) Team Tata                                        
49 Junya Sano (Jpn) Nippo-Meitan Hompo-Asada                                 
50 Davide Ricci Bitti (Ita) Agi Finauto Neri Lucchini                        
51 Joseg Palcak (Svk) Slovakian National Team                           12.29
52 Alberto Tronchin (Ita) G.C. Feralpi                                       
53 Florian From (Rom) Dinamo Secrom Bucuresti                                
54 Miroslav Keliar (Svk) Slovakian National Team                             
55 Dan Creaven (Nam) Team Fidibc.com                                         
56 Gabriele Emilio Pastori (Ita) G.S. Podenzano                         12.35
57 Giuseppe Pecoraro (Ita) Agi Finauto Neri Lucchini                         
58 Anatoliy Varvaruk (Ukr) Puris Kamen Pazin                            16.13
59 Mattia Michelusi (Ita) S.C. F.W.R. Bata Seep Wilier                       
60 Jonathan Garcia (USA) BMC Professional Cycling Team                       
61 Ivan Viglassky (Svk) Slovakian National Team                              
62 Alexandre Blain (Fra) AVC Aix En Provence                                 
63 Zoltan Remak (Svk) P-Nívó Betonexpressz 2000 Kft.Se                       
64 Vergara Luis Urrea (Ven) A.C.S. Gruppo Lupi                          16.17
65 Volodymyr Gumenuk (Ukr) Ukranian National Team                       16.50
66 Rudy Campa (Ita) V.C. Mantovani Rovigo                               18.07
67 Ondrej Pavec (Cze) AC Sparta Praha                                        
68 Vladimir Tuychiev (Uzb) U.C. Palazzago Saclà Maiet                        
69 Mario Redaelli (Ita) Tad Pharma Named Team Aurora                         
70 Daniele Perinetto (Ita) Team Tata                                         
71 Istvan Cziraki (Hun) P-Nívó Betonexpressz 2000 Kft.Se                     
72 Alessandro Garziera (Ita) Moro Scott Bicycle Line Team Spercenigo         
73 Matej Gnezda (Slo) Radenska Powerbar                                      
74 Yasuharu Nakajima (Jpn) Nippo-Meitan Hompo-Asada                          
75 Gianluca Mirenda (Ita) Agi Finauto Neri Lucchini                          
76 Mauro Vicini (Ita) Tad Pharma Named Team Aurora                           
77 Andrey Labutin (Kaz) Kazakhstan National Team                             
78 Thomas Tiozzo (Ita) V.C. Mantovani Rovigo                                 
79 Carlo Corra' (Ita) G.S. Zalf Desirée Fior                                 
80 Fabio Casotto (Ita) G.S. Zalf Desirée Fior                                
81 Dejan Vracic (Slo) B.K. Loborika                                          
82 Damiano Margutti (Ita) G.S. Podenzano                                     
83 Daniele Ricci (Ita) Massi Team Euronics                                   
84 Sergey Renev (Kaz) Kazakhstan National Team                               
85 Yoshiyuki Shimizu (Jpn) Nippo-Meitan Hompo-Asada                          
86 Marco Segat (Ita) Cycling Team Friuli                                     
87 Vinko Zaninovic (Cro) Puris Kamen Pazin                                   
88 Cristiano Colombo (Ita) U.C. Palazzago Saclà Maiet                        
89 Paolo Capponcelli (Ita) V.C. Mantovani Rovigo                             
90 Paolo Corra' (Ita) G.S. Permac Brisot Biba                                
91 Marco Padoan (Ita) G.S. Permac Brisot Biba                                
92 Diego Cargnelutti (Ita) G.S. Permac Brisot Biba                           
93 Pasquale Di Monaco (Ita) Boyaca - Marche Team                             
94 Alessandro Fantini (Ita) US Fracor Modolo Prosciutto                      
95 Christoph Masson (Fra) Continental Cycling Team Differdange               
96 Kazuo Inoue (Jpn) Nippo-Meitan Hompo-Asada                                
97 Jackson Stewart (USA) BMC Professional Cycling Team                       
98 Manolo Zanella (Ita) Filmop Sorelle Ramonda                               
99 Tomas Hruby (Cze) AC Sparta Praha                                    21.10
100 Josef Soukup (Cze) AC Sparta Praha                                       
101 Oleksiy Shepilov (Ukr) Ukranian National Team                            
102 Primoz Segina (Slo) Puris Kamen Pazin                                    
103 Michal Skvarka (Svk) Slovakian National Team                        21.13
104 Kristijan Cvek (Cro) Puris Kamen Pazin                                   
105 Daniele Passi (Ita) San Marco Concrete Caneva                            
106 Gianluca Maggiore (Ita) Team Ciaponi Edilizia                            
107 Frank Dressler (Ger) Continental Cycling Team Differdange                
108 Andrea Bassani (Ita) S.C. F.W.R. Bata Seep Wilier                        
109 Norberto Castelli (Ita) U.C. Trevigiani                                  
110 Umberto Nardecchia (Ita) Boyaca - Marche Team                            
111 Norja Jelic (Slo) Puris Kamen Pazin                                      
112 Tiziano Mattion (Ita) Cycling Team Friuli                                
113 Roberto Longo (Ita) V.C. Mantovani Rovigo                                
114 Marcello Marsico (Ita) Team Fidibc.com                                   
115 Davide Pontiroli (Ita) V.C. Mantovani Rovigo                             
116 Raffaele Pallante (Ita) US Fracor Modolo Prosciutto                      
117 Alberto Curtolo (Ita) Marchiol Ima Famila Liquigas Site                  
118 Davide Bonuccelli (Ita) Team Ciaponi Edilizia                            
119 Nicola Peterle (Ita) Marchiol Ima Famila Liquigas Site                   
120 Albino Corazzin (Ita) Marchiol Ima Famila Liquigas Site                  
121 Andrey Canecky (Svk) Slovakian National Team                             
122 Konstantin Volik (Uzb) Team Ciaponi Edilizia                             
123 Luca Dalla Libera (Ita) S.C. F.W.R. Bata Seep Wilier                     
124 Matteo Loda (Ita) U.C. Palazzago Saclà Maiet                             
125 Gabor Arany (Hun) P-Nívó Betonexpressz 2000 Kft.Se                       
126 Andriy Pryshchepavkri (Ukr) A.C.S. Gruppo Lupi                           
127 Alexander Buttazzoni (Ita) Marchiol Ima Famila Liquigas Site             
128 Stanislav Belov (Rus) A.C.S. Gruppo Lupi                                 
129 Ciro Massimo Santoro (Ita) Massi Team Euronics                           
130 Fabien Rey (Fra) AVC Aix En Provence                                     
131 Jonathan Mouchel (Fra) AVC Aix En Provence                               
NP  Mykola Bondarenko (Ukr) Ukranian National Team                           
NP  Eddy Rosolen (Ita) Moro Scott Bicycle Line Team Spercenigo               
NP  Pavel Maksimchyk (Blr) Moro Scott Bicycle Line Team Spercenigo           
NP  Gabriele Savorgnano (Ita) Moro Scott Bicycle Line Team Spercenigo        
NA  Fabrizio Amerighi (Ita) U.C. Trevigiani                                  
NA  Mauro Colombera (Ita) U.C. Trevigiani                                    
NA  Carlo Rebellin (Ita) U.C. Trevigiani                                     
NA  Fabio Angeli (Ita) Team Fidibc.com                                       
NA  Roman Zeno (Ukr) Ukranian National Team                                  
NA  Ryan Michael Sullivan (Aus) G.S. Permac Brisot Biba                      
NA  Marco Ghiselli (Ita) Massi Team Euronics                                 
NA  Armando Camelo (Ita) Massi Team Euronics                                 
NA  Cristiano Fumagalli (Ita) Filmop Sorelle Ramonda                         
NA  Bernardo Riccio (Ita) Filmop Sorelle Ramonda                             
NA  Roman Kireyev (Kaz) Kazakhstan National Team                             
NA  Matteo Bertolazzi (Ita) G.C. Feralpi                                     
NA  Mario Boattini (Ita) G.C. Feralpi                                        
NA  Pietro Calabrese (Ita) G.C. Feralpi                                      
NA  Fabrizio Libonati (Ita) G.C. Feralpi                                     
NA  Luca D'osvaldi (Ita) Moro Scott Bicycle Line Team Spercenigo             
 
Final general classification

1 Alexander Filippov (Rus) A.C.S. Gruppo Lupi                        15.47.49
2 Vladimir Kerkez (Slo) Sava Kranj                                       1.00
3 Simone Stortoni (Ita) Agi Finauto Neri Lucchini                        1.37
4 Massimiliano Turco (Ita) G.S. Podenzano                                1.50
5 Gianluca Brambilla (Ita) G.S. Zalf Desirée Fior                        2.06
6 Tomislav Danculovic (Cro) B.K. Loborika                                2.10
7 Fabrizio Galeazzi (Ita) U.C. Trevigiani                                2.15
8 Rafael Infantino (Col) G.S. Podenzano                                  2.22
9 Julian Dari Atehortua Bedoya (Col) San Marco Concrete Caneva           2.38
10 Robert Vrecer (Slo) Radenska Powerbar                                 2.46
11 Bastjan Rezman (Slo) Radenska Powerbar                                2.54
12 Alessandro Bisolti (Ita) U.C. Palazzago Saclà Maiet                   2.58
13 Massimo Iannetti (Ita) A.C.S. Gruppo Lupi                             3.05
14 Emanuel Kiserlovski (Cro) B.K. Loborika                               3.24
15 Peter Kusztor (Hun) P-Nívó Betonexpressz 2000 Kft.Se                  4.09
16 Grega Bole (Slo) Sava Kranj                                           5.26
17 Luca Zanasca (Ita) G.S. Podenzano                                     5.47
18 Soren Nissen (Den) Continental Cycling Team Differdange               6.13
19 Emanuele Fornasier (Ita) Marchiol Ima Famila Liquigas Site            6.16
20 Vincenzo Ianniello (Ita) San Marco Concrete Caneva                    6.30
21 Gabriele Graziani (Ita) San Marco Concrete Caneva                     6.47
22 Daniele Troian (Ita) Filmop Sorelle Ramonda                           7.31
23 Ivan Mauricio Casas Buitrago (Col) Boyaca - Marche Team                   
24 Hrvoje Miholjevic (Cro) B.K. Loborika                                 7.32
25 Massimo Demarin (Cro) Sava Kranj                                      7.40
26 David Tratnik (Slo) Radenska Powerbar                                 7.49
27 Stefano Usaii (Ita) U.C. Palazzago Saclà Maiet                        7.51
28 Eddy Forner (Ita) Continental Cycling Team Differdange                8.47
29 Federico Bonifetto (Ita) Cycling Team Friuli                          9.24
30 Bart Oegema (Ned) AVC Aix En Provence                                 9.56
31 Marco Bandiera (Ita) G.S. Zalf Desirée Fior                          10.59
32 Jan Mckissick (USA) BMC Professional Cycling Team                    11.13
33 Alessandro De Marchi (Ita) G.S. Permac Brisot Biba                   11.22
34 Valeriy Dmitriyev (Kaz) Kazakhstan National Team                     11.31
35 Sven Schelling (Swi) Team Fidibc.com                                 11.34
36 Julian David Munoz Giraldo (Col) Massi Team Euronics                 11.43
37 Emanuele Vona (Ita) Agi Finauto Neri Lucchini                        12.07
38 Marco Ponta (Ita) Cycling Team Friuli                                14.39
39 Scott Nydam (USA) BMC Professional Cycling Team                      15.08
40 Davide Ricci Bitti (Ita) Agi Finauto Neri Lucchini                   16.08
41 Christian Marietta (Ita) Team Tata                                   17.46
42 Mauro Finetto (Ita) Filmop Sorelle Ramonda                           18.53
43 Saverio Crocetti (Ita) Team Ciaponi Edilizia                         20.50
44 Giuseppe Pecoraro (Ita) Agi Finauto Neri Lucchini                    21.09
45 Dan Creaven (Nam) Team Fidibc.com                                    21.21
46 Kristijan Fajt (Slo) Radenska Powerbar                               22.22
47 Junya Sano (Jpn) Nippo-Meitan Hompo-Asada                            23.06
48 Vergara Luis Urrea (Ven) A.C.S. Gruppo Lupi                          23.26
49 Alberto Tronchin (Ita) G.C. Feralpi                                  24.01
50 Angelo Ciccone (Ita) Cycling Team Friuli                             24.24
51 Andrey Zeits (Kaz) Kazakhstan National Team                          25.27
52 Gasper Svab (Slo) Sava Kranj                                         25.30
53 Fabio Casotto (Ita) G.S. Zalf Desirée Fior                           25.50
54 Daniele Pina (Ita) Tad Pharma Named Team Aurora                           
55 Cristiano Colombo (Ita) U.C. Palazzago Saclà Maiet                   26.26
56 Joseg Palcak (Svk) Slovakian National Team                           29.30
57 Christian Puricelli (Swi) Team Fidibc.com                            30.15
58 Zoltan Remak (Svk) P-Nívó Betonexpressz 2000 Kft.Se                  30.16
59 Florian From (Rom) Dinamo Secrom Bucuresti                           30.41
60 Christoph Masson (Fra) Continental Cycling Team Differdange          31.10
61 Diego Cargnelutti (Ita) G.S. Permac Brisot Biba                      31.25
62 Mattia Michelusi (Ita) S.C. F.W.R. Bata Seep Wilier                  31.40
63 Alessandro Garziera (Ita) Moro Scott Bicycle Line Team Spercenigo    31.46
64 Gabriele Emilio Pastori (Ita) G.S. Podenzano                         31.56
65 Matej Gnezda (Slo) Radenska Powerbar                                 32.34
66 Paolo Corra' (Ita) G.S. Permac Brisot Biba                           32.47
67 Miroslav Keliar (Svk) Slovakian National Team                        32.52
68 Gianluca Mirenda (Ita) Agi Finauto Neri Lucchini                     32.58
69 Mario Redaelli (Ita) Tad Pharma Named Team Aurora                         
70 Thomas Tiozzo (Ita) V.C. Mantovani Rovigo                            33.13
71 Paolo Capponcelli (Ita) V.C. Mantovani Rovigo                        34.24
72 Daniele Ricci (Ita) Massi Team Euronics                              34.29
73 Jonathan Garcia (USA) BMC Professional Cycling Team                  34.32
74 Damiano Margutti (Ita) G.S. Podenzano                                35.23
75 Michal Skvarka (Svk) Slovakian National Team                         35.56
76 Konstantin Volik (Uzb) Team Ciaponi Edilizia                         37.49
77 Volodymyr Gumenuk (Ukr) Ukranian National Team                       39.08
78 Kazuo Inoue (Jpn) Nippo-Meitan Hompo-Asada                           39.24
79 Sergey Renev (Kaz) Kazakhstan National Team                          39.38
80 Ciro Massimo Santoro (Ita) Massi Team Euronics                       39.53
81 Yoshiyuki Shimizu (Jpn) Nippo-Meitan Hompo-Asada                     40.16
82 Andrey Labutin (Kaz) Kazakhstan National Team                        40.57
83 Daniele Passi (Ita) San Marco Concrete Caneva                        41.05
84 Istvan Cziraki (Hun) P-Nívó Betonexpressz 2000 Kft.Se                41.48
85 Dejan Vracic (Slo) B.K. Loborika                                     41.53
86 Ivan Viglassky (Svk) Slovakian National Team                         42.38
87 Albino Corazzin (Ita) Marchiol Ima Famila Liquigas Site              42.44
88 Anatoliy Varvaruk (Ukr) Puris Kamen Pazin                            42.51
89 Carlo Corra' (Ita) G.S. Zalf Desirée Fior                            43.05
90 Marco Padoan (Ita) G.S. Permac Brisot Biba                           43.20
91 Daniele Perinetto (Ita) Team Tata                                    43.23
92 Norberto Castelli (Ita) U.C. Trevigiani                              43.28
93 Frank Dressler (Ger) Continental Cycling Team Differdange            43.39
94 Yasuharu Nakajima (Jpn) Nippo-Meitan Hompo-Asada                     43.43
95 Ondrej Pavec (Cze) AC Sparta Praha                                   43.44
96 Alessandro Fantini (Ita) US Fracor Modolo Prosciutto                 43.46
97 Alexandre Blain (Fra) AVC Aix En Provence                            43.49
98 Marco Segat (Ita) Cycling Team Friuli                                     
99 Luca Dalla Libera (Ita) S.C. F.W.R. Bata Seep Wilier                 44.26
100 Andriy Pryshchepavkri (Ukr) A.C.S. Gruppo Lupi                      44.35
101 Jonathan Mouchel (Fra) AVC Aix En Provence                          45.02
102 Alexander Buttazzoni (Ita) Marchiol Ima Famila Liquigas Site        46.50
103 Mauro Vicini (Ita) Tad Pharma Named Team Aurora                          
104 Vladimir Tuychiev (Uzb) U.C. Palazzago Saclà Maiet                  47.33
105 Manolo Zanella (Ita) Filmop Sorelle Ramonda                         48.26
106 Norja Jelic (Slo) Puris Kamen Pazin                                 49.19
107 Pasquale Di Monaco (Ita) Boyaca - Marche Team                       49.33
108 Oleksiy Shepilov (Ukr) Ukranian National Team                       49.54
109 Jackson Stewart (USA) BMC Professional Cycling Team                 50.07
110 Alberto Curtolo (Ita) Marchiol Ima Famila Liquigas Site             51.00
111 Nicola Peterle (Ita) Marchiol Ima Famila Liquigas Site                   
112 Tiziano Mattion (Ita) Cycling Team Friuli                           51.38
113 Fabien Rey (Fra) AVC Aix En Provence                                52.04
114 Josef Soukup (Cze) AC Sparta Praha                                  52.24
115 Gianluca Maggiore (Ita) Team Ciaponi Edilizia                       53.17
116 Primoz Segina (Slo) Puris Kamen Pazin                               54.23
117 Davide Pontiroli (Ita) V.C. Mantovani Rovigo                        54.36
118 Roberto Longo (Ita) V.C. Mantovani Rovigo                           54.59
119 Kristijan Cvek (Cro) Puris Kamen Pazin                              55.20
120 Gabor Arany (Hun) P-Nívó Betonexpressz 2000 Kft.Se                  55.24
121 Davide Bonuccelli (Ita) Team Ciaponi Edilizia                       55.26
122 Matteo Loda (Ita) U.C. Palazzago Saclà Maiet                        56.15
123 Umberto Nardecchia (Ita) Boyaca - Marche Team                       57.39
124 Stanislav Belov (Rus) A.C.S. Gruppo Lupi                            58.51
125 Vinko Zaninovic (Cro) Puris Kamen Pazin                             59.07
126 Rudy Campa (Ita) V.C. Mantovani Rovigo                            1.00.09
127 Andrea Bassani (Ita) S.C. F.W.R. Bata Seep Wilier                 1.02.18
128 Andrey Canecky (Svk) Slovakian National Team                      1.04.10
129 Marcello Marsico (Ita) Team Fidibc.com                            1.04.17
130 Raffaele Pallante (Ita) US Fracor Modolo Prosciutto               1.08.34
131 Tomas Hruby (Cze) AC Sparta Praha                                 1.09.36
 
Points classification
 
1 Grega Bole (Slo) Sava Kranj                                              64 pts
2 Simone Stortoni (Ita) Agi Finauto Neri Lucchini                          44
3 Alexander Filippov (Rus) A.C.S. Gruppo Lupi                              38
4 Gianluca Brambilla (Ita) G.S. Zalf Desirée Fior                          32
5 Tomislav Danculovic (Cro) B.K. Loborika                                  32
6 Ivan Mauricio Casas Buitrago (Col) Boyaca - Marche Team                  31
7 Alberto Curtolo (Ita) Marchiol Ima Famila Liquigas Site                  25
8 Vladimir Kerkez (Slo) Sava Kranj                                         25
9 Rafael Infantino (Col) G.S. Podenzano                                    25
10 Marco Bandiera (Ita) G.S. Zalf Desirée Fior                             24
11 Bastjan Rezman (Slo) Radenska Powerbar                                  21
12 Bart Oegema (Ned) AVC Aix En Provence                                   20
13 Mauro Finetto (Ita) Filmop Sorelle Ramonda                              18
14 Kazuo Inoue (Jpn) Nippo-Meitan Hompo-Asada                              16
15 Alessandro Bisolti (Ita) U.C. Palazzago Saclà Maiet                     16
16 Julian Dari Atehortua Bedoya (Col) San Marco Concrete Caneva            16
17 Davide Ricci Bitti (Ita) Agi Finauto Neri Lucchini                      14
18 Hrvoje Miholjevic (Cro) B.K. Loborika                                   14
19 Massimo Iannetti (Ita) A.C.S. Gruppo Lupi                               13
20 Michal Skvarka (Svk) Slovakian National Team                            12
21 Emanuele Fornasier (Ita) Marchiol Ima Famila Liquigas Site              12
22 Soren Nissen (Den) Continental Cycling Team Differdange                 11
23 Robert Vrecer (Slo) Radenska Powerbar                                   11
24 Vincenzo Ianniello (Ita) San Marco Concrete Caneva                       9
25 Peter Kusztor (Hun) P-Nívó Betonexpressz 2000 Kft.Se                     9
26 Massimiliano Turco (Ita) G.S. Podenzano                                  9
27 Emanuele Vona (Ita) Agi Finauto Neri Lucchini                            8
28 David Tratnik (Slo) Radenska Powerbar                                    7
29 Valeriy Dmitriyev (Kaz) Kazakhstan National Team                         6
30 Gabriele Graziani (Ita) San Marco Concrete Caneva                        6
31 Fabrizio Galeazzi (Ita) U.C. Trevigiani                                  6
32 Dan Creaven (Nam) Team Fidibc.com                                        5
33 Daniele Passi (Ita) San Marco Concrete Caneva                            5
34 Jonathan Garcia (USA) BMC Professional Cycling Team                      4
35 Thomas Tiozzo (Ita) V.C. Mantovani Rovigo                                3
36 Emanuel Kiserlovski (Cro) B.K. Loborika                                  3
37 Frank Dressler (Ger) Continental Cycling Team Differdange                2
38 Matej Gnezda (Slo) Radenska Powerbar                                     2
39 Eddy Forner (Ita) Continental Cycling Team Differdange                   2
40 Federico Bonifetto (Ita) Cycling Team Friuli                             2
41 Andriy Pryshchepavkri (Ukr) A.C.S. Gruppo Lupi                           1
42 Marco Segat (Ita) Cycling Team Friuli                                    1
 
Mountains classification
 
1 Rafael Infantino (Col) G.S. Podenzano                                    16 pts
2 Ivan Mauricio Casas Buitrago (Col) Boyaca - Marche Team                  11
3 Gianluca Mirenda (Ita) Agi Finauto Neri Lucchini                          6
4 Bastjan Rezman (Slo) Radenska Powerbar                                    6
5 Konstantin Volik (Uzb) Team Ciaponi Edilizia                              4
6 Vladimir Kerkez (Slo) Sava Kranj                                          4
7 Gasper Svab (Slo) Sava Kranj                                              4
8 Julian Dari Atehortua Bedoya (Col) San Marco Concrete Caneva              3
9 Robert Vrecer (Slo) Radenska Powerbar                                     2
10 Emanuel Kiserlovski (Cro) B.K. Loborika                                  2
11 Tomislav Danculovic (Cro) B.K. Loborika                                  2
12 Alexander Filippov (Rus) A.C.S. Gruppo Lupi                              2
13 Cristiano Colombo (Ita) U.C. Palazzago Saclà Maiet                       1
14 Bart Oegema (Ned) AVC Aix En Provence                                    1
15 Simone Stortoni (Ita) Agi Finauto Neri Lucchini                          1
16 Massimo Iannetti (Ita) A.C.S. Gruppo Lupi                                1
 
Sprint classification
 
1 Gianluca Maggiore (Ita) Team Ciaponi Edilizia                            33 pts
2 Konstantin Volik (Uzb) Team Ciaponi Edilizia                             17
3 Andrea Bassani (Ita) S.C. F.W.R. Bata Seep Wilier                        14
4 Vladimir Tuychiev (Uzb) U.C. Palazzago Saclà Maiet                       10
5 Mauro Finetto (Ita) Filmop Sorelle Ramonda                                5
6 Federico Vitali (Ita) U.S. F.Coppi Gazzera Videa                          5
7 Tomas Hruby (Cze) AC Sparta Praha                                         4
8 Vladimir Kerkez (Slo) Sava Kranj                                          3
9 Fabio Negri (Ita) Tad Pharma Named Team Aurora                            2
10 Julian David Munoz Giraldo (Col) Massi Team Euronics                     1
11 Kazuo Inoue (Jpn) Nippo-Meitan Hompo-Asada                               1
12 Junya Sano (Jpn) Nippo-Meitan Hompo-Asada                                1
13 Daniele Pina (Ita) Tad Pharma Named Team Aurora                          1